We have spent some time in Texas in the winter.  Y'all!  Love it!  We like the area on the Gulf of Mexico so we have access to fresh fish and seafood. When we travel for longer visits I bring a few of my favourite kitchen items. I just happened to have a well seasoned cast iron pan which is perfect for this because you need to sear it on a high temperature without the tuna sticking to the pan. This Seared Tuna with Cilantro Lime Glaze is best enjoyed rare and has an awesome sweet hot zesty sauce. Choose a nice thick fresh tuna steak with a deep red colour.
I bought a beautiful fresh piece of tuna and patted it dry, then seasoned it with salt and pepper.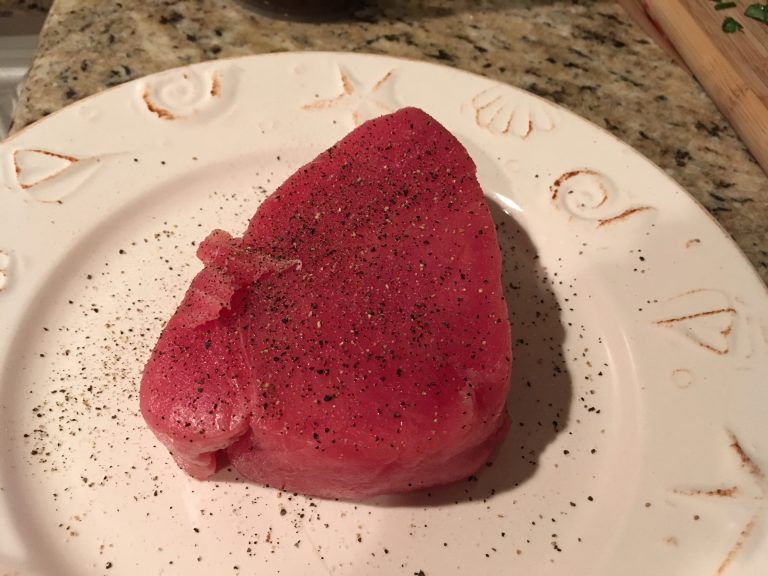 Isn't this beautiful?
Then I made up a glaze. I mixed olive oil, the juice of 1 lime, honey, soy sauce, a big handful of chopped cilantro, a clove of garlic, ginger and 1 jalapeno pepper.  Remember to taste the pepper and judge how much you need by how hot it is and your heat tolerance! And don't touch your eye! You can add salt and pepper to taste, but the tuna is already seasoned so you don't need much.
How do you cook a tuna steak?
I heated the cast iron pan on medium-high and drizzled a bit of extra virgin olive oil.  When the pan was hot I seared the tuna for only about 1 minute, then turned it over.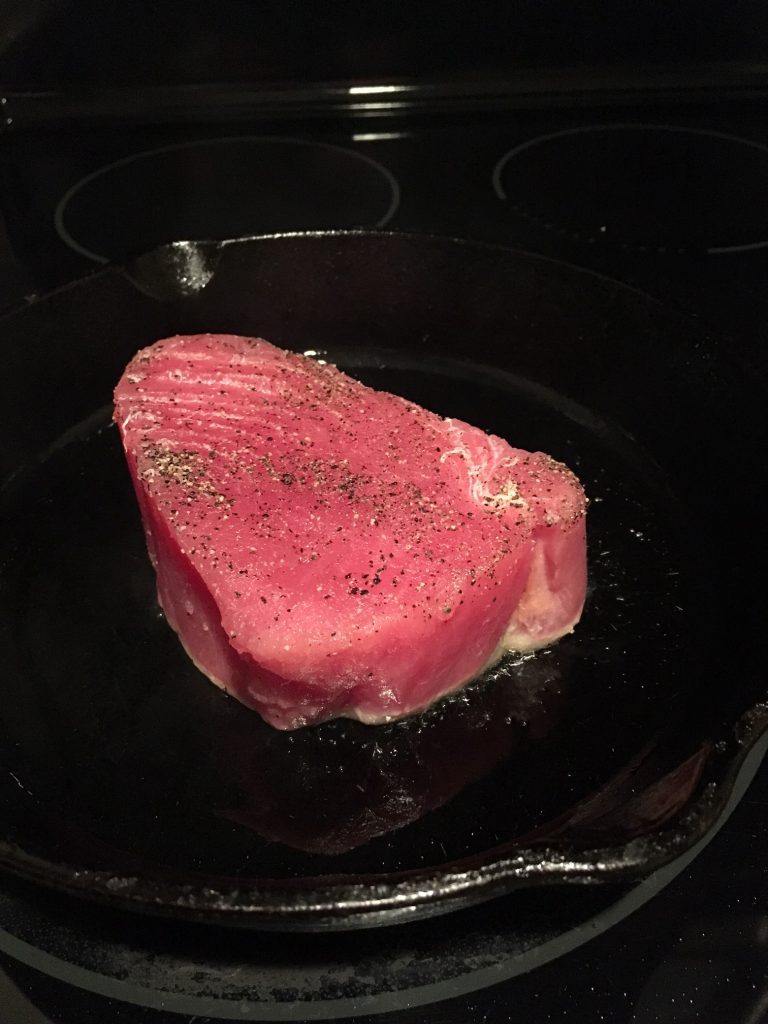 Nice crust huh?  That's why it's important to pat it dry! And make sure the pan is hot when you add the tuna or you won't get that outer crust with a rare centre.
After about a minute on the second side, I poured the glaze over the tuna.  Once the glaze started to caramelize, I removed the pan from the heat and spooned the glaze over top a few times.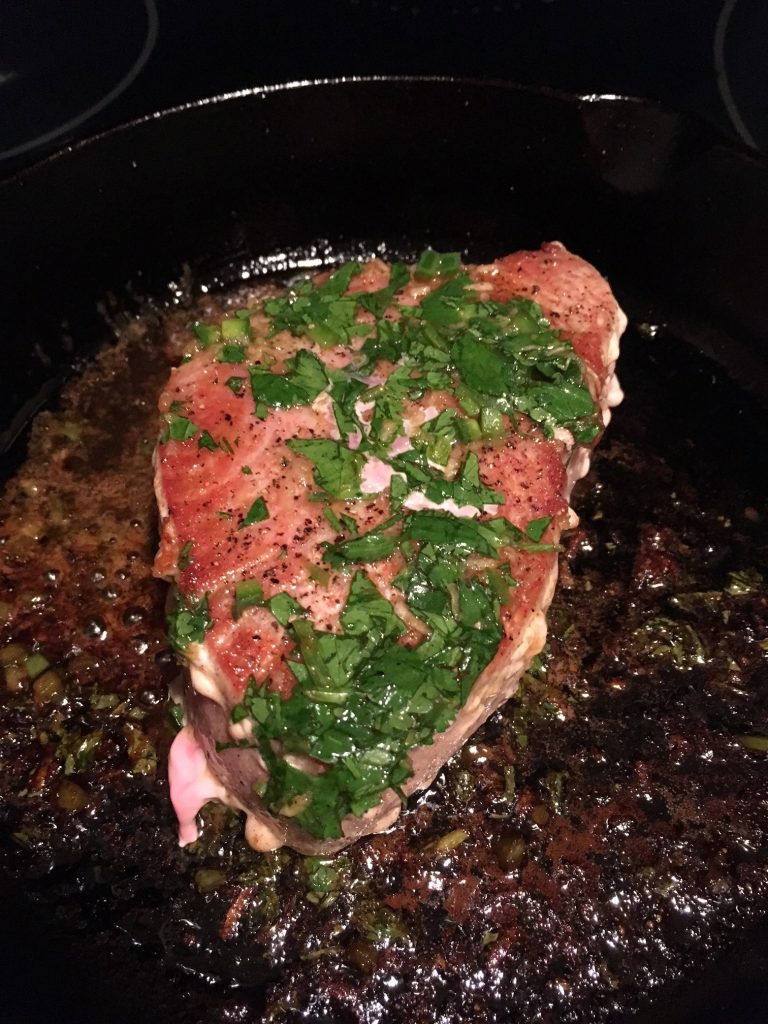 Mmmmmm…….
This is best enjoyed super rare!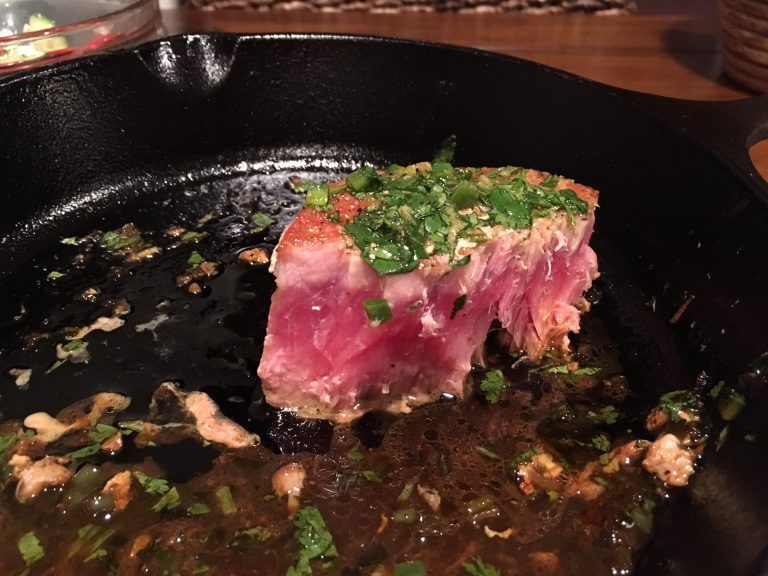 If you aren't comfortable with rare tuna, you can cook it longer.  But trust me, this way is best!
If you love rare tuna, Salad Nicoise will be right up your alley!
See above, we ate it right out of the pan!  We didn't even wait to put it on a plate!
Here's the recipe:
Texas Tuna for Two



1 large (approx. 2 inch thick) fresh tuna steak, or 2 smaller
salt and pepper to taste
1 tsp olive oil



Glaze



1 T olive oil
1 lime, juiced
1 T soy sauce
1 Tbsp honey
1 handful fresh cilantro, chopped (approx. 2 T)
1 clove garlic, minced
1 tsp finely minced ginger
1 jalapeno finely minced, seeds removed



Method



Pat tuna dry and season with salt and pepper.

Combine all glaze ingredients. 

Heat cast iron pan to medium-high, drizzle 1 tsp olive oil and add tuna when oil is hot.  Sear for 1 minute or until tuna has formed a crust, turn, and add glaze after 1 minute.  Let glaze thicken for about 30 seconds, then remove pan from heat and spoon glaze over top a few times as it rests.