This is one of my all time favourite soups. The curry powder adds not only a terrific flavour, it also enhances the colour. And that crispy sage…..it actually tastes a bit like buttered popcorn. There are only a few ingredients in Curried Squash Soup with Crispy Sage and it doesn't take long to make. Also, it has a creamy texture without cream or thickeners. And, best of all, I get to use my retro inversion blender!
I like to use a squash that has a deep orange colour and sweet flavour for this soup. Butternut or Buttercup are good choices but any squash will work.
Roast the squash whole for about an hour or more. Depending on the size, it may take up to an hour and a half to fully cook. It's done when the squash is soft and a sharp knife inserted in the neck pierces easily. The bulb end actually cooks more quickly than the neck.
When the squash is cool enough to handle, cut it in half, remove the seeds and scrape out the cooked squash. You need about 2 ½ cups of cooked squash for the best consistency of the soup. If you have less you can either use less broth or simmer a little longer, uncovered, so it reduces.
Chop the onion and sauté in butter over low-medium heat until it has softened. Add peeled and chopped apple, curry powder and chopped fresh sage leaves and sauté for another minute or two. You can adjust the curry powder to your taste, anywhere from 1/2 to 1 teaspoon. For me 1 teaspoon is perfect. Cooking the curry powder before adding the broth helps bring out the flavour.
Add the broth, season with salt to taste and simmer for 15 minutes. Add cooked squash and continue to cook for about 10 more minutes, stirring occasionally.
Then puree with the immersion blender. Make sure you taste and season as you go, keeping in mind that some broths have more salt than others.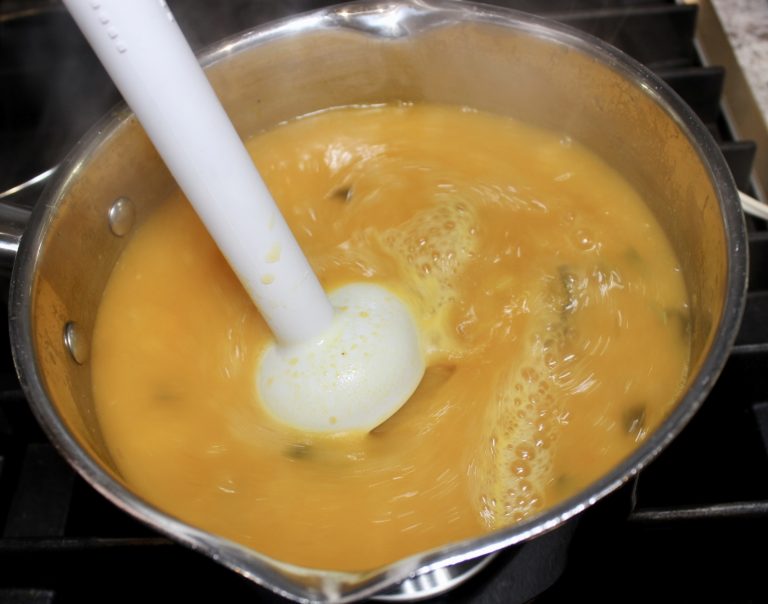 You can simmer it a little longer if you want it to thicken more. Curried Squash Soup is naturally gluten free because it's thickened with puréed squash.
It's that simple!
This soup can easily be made ahead and served the next day. It's delicious with Cheddar Bacon Bread.
You might also like Roasted Garlic and Asparagus Soup, Ham and Split Pea Soup or Mushroom Cheddar Chowder which are all thick and delicious soups.
Right before serving, pick off as many tiny sage leaves as you can, or cut larger leaves into thin strips.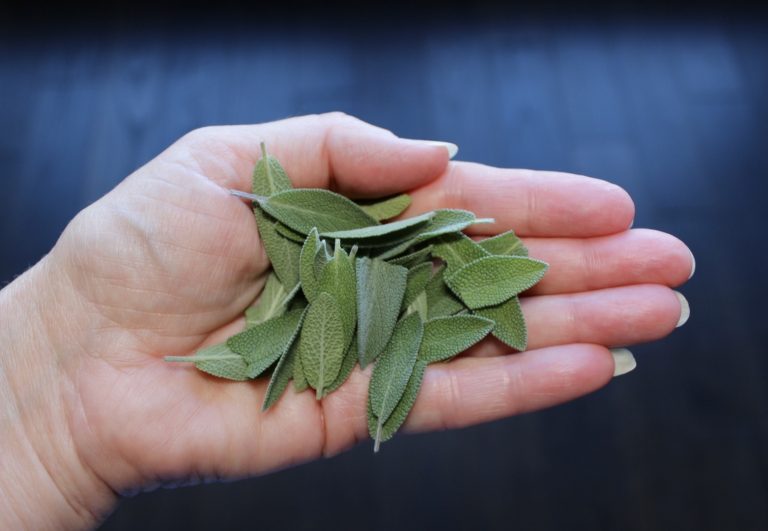 Heat a small frying pan to medium-high heat and add a spoonful of butter when the pan is hot. As soon as the butter is foaming and beginning to brown, spread the sage leaves in the pan and let sizzle for about 1 minute. You can give them a quick swirl or stir. Remove to a paper towel to drain.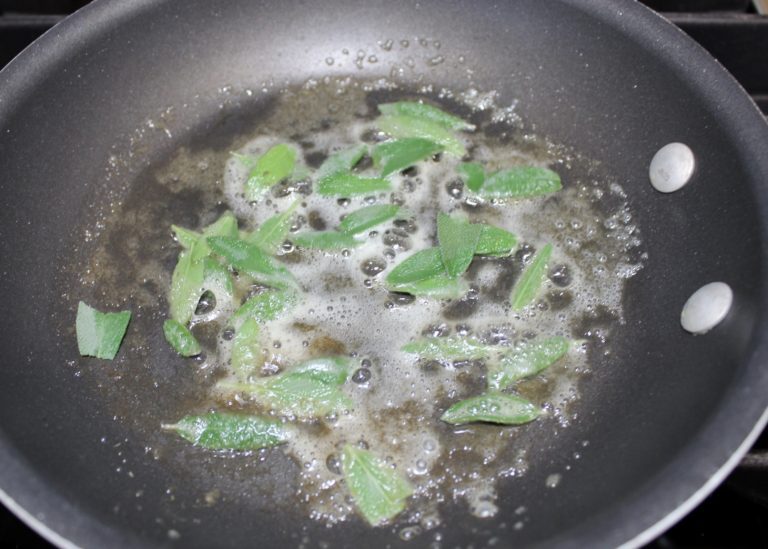 Crispy sage makes an excellent garnish for Curried Squash Soup.
Here's the recipe:
Curried Squash Soup with Crispy Sage
Ingredients



1 Tbsp butter
½ onion, approx ⅓ cup
1 small apple, approx ⅔ cup
1 tsp curry powder
1 900 ml carton of unsalted vegetable broth (or approx. 3¾ cups)
1 large squash, approx. 2 - 2½ cups
10-12 sage leaves
salt and pepper to taste

1 Tbsp butter
tiny sage leaves



Method



Roast squash until soft and cooked through. Slice in half, remove seeds and remove squash.

Peel and dice onion and apple. Sauté onion in butter until golden and soft, then add apples, curry powder and chopped sage and continue to sauté for a few more minutes. Add broth, season with salt and bring to simmer for about 15 minutes.

Stir in squash and simmer about 10 more minutes, taste and season again if necessary. Puree using immersion blender. Continue to simmer a few more minutes, longer if you wish to thicken slightly. Add fresh ground pepper at the end.

Add 1 Tbsp butter to small frying pan. Pick tiny sage leaves or slice larger leaves into strips and add to pan when butter is bubbling and browning. Cook for 1 minute until browning and crispy. Drain on paper towel and serve as garnish.