When the days get shorter and the temperatures start to fall there's nothing like a hot bowl of soup with some warm fresh bread. French Onion and Leek Soup is slightly different than traditional French Onion Soup. The leeks add a milder element for those who aren't so keen on onion and I use a beef stock and port for a darker richer broth.
French Onion and Leek Soup is pretty simple to make. This version uses homemade stock which is always best but feel free to use store bought beef broth. Try to choose reduced sodium broth so you can add your own salt to your taste. I've included Port instead of wine to add a hint of sweetness and depth of flavour instead of adding sugar to the onion and leek mixture.
Check out a similar post for French Onion Soup made with chicken stock and white wine which is a more traditional recipe.
You need more onions than you think. They really reduce when they cook. Leeks too. This recipe makes 4 servings and there's literally half an onion and half a leek in each bowl. Don't worry. Unless onions bother you. I had a great aunt who would say "onions repeat on me." I never really knew what she meant. But I think it had something to do with gas. ?
Finely slice 2 medium onions and 2 small or 1 large leek. Slice the onion in half and lay it cut side down so it's stable so you can slice it nice and thin safely. Slice the leek lengthwise in half and fan it under water to ensure there is no sand between the layers. Slice it thinly as well using the same technique, laying it cut side down. Use only the white and light green parts.
Saute them slowly in butter over low heat. Taking your time ensures they don't burn and allows the natural sugar to release. And it ensures your kitchen has that awesome aroma. This will take about 20-30 minutes.
See how much they reduce?
I don't like mine to brown, I prefer to add the stock when they have a golden colour and are very soft. This is because it easily can change from caramelized onion to burnt onion very quickly. Add a carton of beef stock plus about a cup more. You can use the dried stock package and boiling water. Or open another carton. Or maybe you made your own beef stock, that's even better. You just want to make sure you have enough broth for 4 generous servings. Now add Worcestershire sauce and Port. If you don't have Port, just use any full bodied red wine. Taste and season with salt and pepper. Toss in a bay leaf, turn the heat up slightly to a simmer.
While it's simmering away, slice a stale baguette into about 1 inch thick rounds and toast lightly under the broiler. Turn and broil the other side. While they are still warm, peel a clove of garlic and rub each piece of bread, as if you are "colouring" it. You can use a fresh baguette, it's just a tasty way to use up stale bread. I always toss stale bread in the freezer. Comes in handy if you're making stuffing too.
Rubbing the bread adds a subtle hint of garlic without overpowering the soup.
After the broth has simmered for about half an hour, fill 4 oven safe bowls with soup. Press a few pieces of baguette into each bowl so that they are slightly submerged. Top with shredded Swiss or Gruyere cheese. Mozzerella is fine too since Swiss and Gruyere aren't French either. It's just milder.
Place bowls on a baking sheet and toast under the broiler until the cheese is melted and bubbling. It only takes a few minutes so keep a close watch.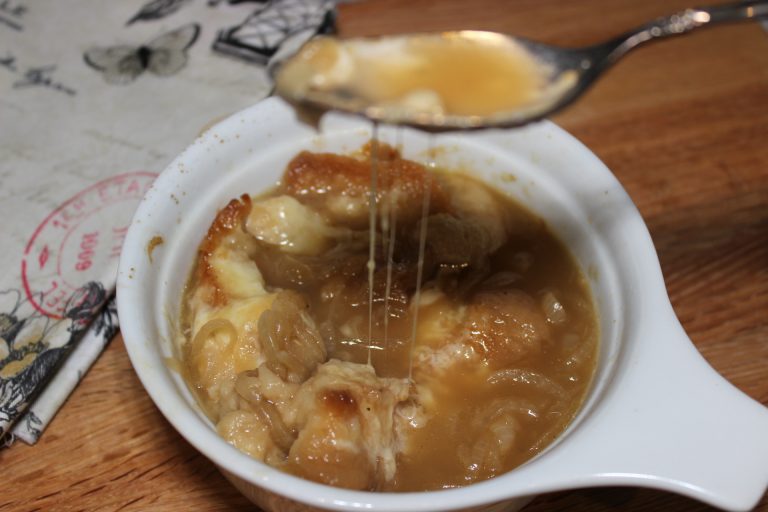 Mmmmm.
Here's the recipe:
French Onion and Leek Soup
French Onion and Leek Soup



Ingredients



2 medium yellow onions
2 small leeks
2 Tbsp butter
6 Cups beef broth
1 Tbsp Worcestershire sauce
1/4 Cup port
1 bay leaf
salt and pepper
1 small baguette, stale or fresh
1 clove garlic
1 cup shredded Gruyere, Swiss or mozzarella cheese



Method



Finely slice onions and leeks, slicing in half first with cut side down. Gently sauté over low heat for 20-30 minutes until soft and golden. Add beef broth, Worcestershire sauce and port. Taste and season with salt and pepper. Add bay leaf and simmer for about 30 minutes.

Slice baguette into rounds and toast both sides under the broiler until lightly brown. Peel a garlic clove and rub each piece of baguette.
Divide soup into 4 oven safe bowls. Press a few pieces of baguette into each soup until partially submerged. Shred cheese and divide evenly on top of the toasted bread.

Broil for a few minutes until cheese is melted and bubbling.