People think it takes a long time to make soup but….well, sometimes it does.  But not YOUR time.  Just time. You need to simmer your bones for about 3 hours but you can do other stuff while that's happening!  And you need to be patient.  Good stock takes time, and you want the meat to be falling off the bone. This Ham and Split Pea Soup is worth the wait.
Whenever I have a roasted bone-in ham I always leave some meat on the bone and toss it in the freezer. Wrap it up tightly with a few layers of plastic bags and make sure you label it so you remember what's in there when you find it in the back of your freezer. This way you can make soup when it's convenient. Ham and split pea soup is best if you start to make it the day before or early in the morning. Ham has a lot of fat so this gives you a chance to cool the broth and scrape the fat off the top once it hardens.
If you have a large pot with an insert for steaming or draining, this works great. Otherwise a large pot will work, you just have to pour everything into a new pot through a strainer.
Jump to Recipe
How to make Ham and Split Pea Soup
Start with cold water in a big pot with a ham bone and once the water boils, turn it down to a simmer. The water won't completely cover the bone. Add a few bay leaves and let the magic happen. The meat literally falls off the bone after about 3 hours. You'll notice the stock reduces as it simmers away. So starting with 10 cups of cold water will end up being around 8.
Put the strained ham stock (or broth, I use these terms interchangeably) in the fridge, or outside if you live in the great white north and it's cold enough. For safety reasons it should be a maximum of 5 degrees outside and make sure the pot is out of the sun. And nowhere racoons can find it. Tricky little buggers.
When the meat is cool enough to handle, pick all the good stuff off and chop it up. It's pretty easy to get lots of meat from a bone once it's been cooked this long. And you'll be amazed how much you find. Toss the meat in the refrigerator until you're ready to complete the soup.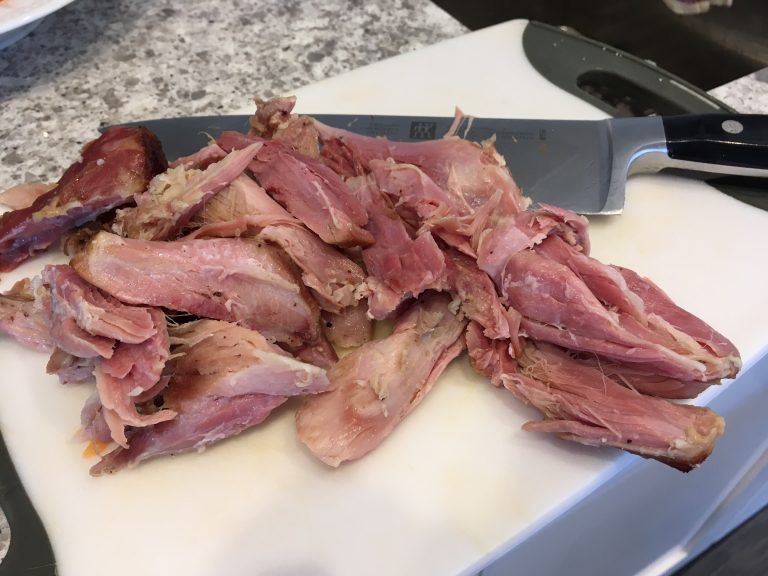 Sometimes I make Ham and Split Pea Soup with 2 bones which gives more meat and you can make a larger quantity. You can easily adjust this recipe by adding another 4 cups or so of water and increasing the amount of onion, carrot and celery. Also you will need another cup of dried split peas. But this recipe is perfect for one good ham bone and conveniently a 450 g package of split peas is just right.
Once you have removed the fat, dice some onion, carrot and celery. This is the flavour base for most soups and stews. It's called a mirepoix.
Add to the broth and bring to a simmer. Taste and season with salt and pepper. I  like to add a spoonful of dried chicken stock which helps give it a bit more flavour. And a few sprigs of fresh thyme makes it perfect. No need to remove the tiny leaves, they will fall off and incorporate into the soup as it cooks. Then you just remove the stems before serving. And remove the bay leaves. You aren't supposed to eat them! I don't think….
How to cook dried split peas
Rinse your dried split peas and drain. The package advises you to check for dirt or foreign material. I'm happy to report I have never found anything suspicious in a package of split peas. Add them to the pot and leave it to simmer for about an hour. Split peas are actually legumes which are high in protein and fibre. They're also low in fat. They break down after about an hour of cooking and thicken the soup.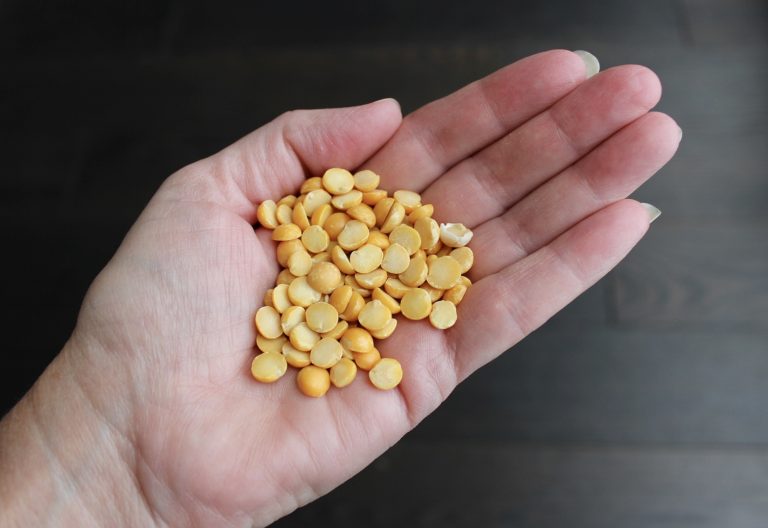 The Ham and Split Pea Soup is ready when the peas are soft and the soup is thick.
Garnish with fresh parsley if desired.
Here's the recipe:
Ham and Split Pea Soup
Thick and hearty soup made with a ham bone and split yellow peas
Ingredients
1

ham bone with at least some meat left on it

10

C

cold water

1

onion

4

carrots

2

stalks

celery

2

bay leaves

1

Tbsp

dry chicken bouillon

cube or package

2-3

sprigs

fresh thyme

2

C

dried split yellow peas

1

tsp

salt

½

tsp

pepper

¼

C

fresh chopped parsley

if desired for garnish
Instructions
Add cold water to ham bone in a large soup pot. Bring to a boil, then reduce to a simmer. Add 2 bay leaves and simmer for about 3 hours, until the meat is falling off the bone.

Remove bone and meat from pot. Remove bay leaves and refrigerate the stock to allow fat to rise after cooling.

When ham is cooled enough to handle, remove as much meat as possible and chop into pieces.

Once stock is cooled, remove as much fat as possible from the top. Place pot on stovetop and bring to a simmer.

Chop onion, carrots and celery. Add to broth along with chicken bouillon and chopped ham. Taste and season with salt and pepper. Add thyme stems to soup.

Rinse and drain split peas. Remove any debris. Add to soup. Simmer up to 1 hour until the peas are very soft and the soup is thickened.

Remove thyme stems before serving and garnish with chopped fresh parsley if desired.
Print Recipe
more awesome homemade soup