Notice "bacon" is the 3rd word in the title? That makes it sound like Spinach Leek and Bacon Quiche has some nutritional value with 2 vegetables coming in first and second. I figure there's only 4 pieces of bacon in the whole pie so it hardly counts. And then there's all the calcium in the milk. So go ahead and make this without guilt.
This Spinach Leek and Bacon Quiche can be made quickly if the bacon, leeks and spinach are cooked ahead of time. You just have to crack a few eggs and throw it together. It will be ready to bake before your oven is preheated! So it's perfect for a brunch, Christmas morning or really any time you want to make something special without going to much trouble.
I'm using a store bought frozen pie crust. Gasp! I know, it's cheating. I usually make my own pastry but I've been trying to clean out my freezer and for some reason I had one in there. And you know how I hate to throw anything out! But if you want to make your own, here's a recipe for Perfect Pie Pastry.
The ingredient amounts are for an 8 inch pie shell. If you're using a larger one just increase the milk, add an extra egg and one more piece of bacon.
Slice the bacon into small strips and cook until it's browning and getting crispy. Remove as much fat as possible with a spoon. Add the leeks and spinach and sauté a few minutes.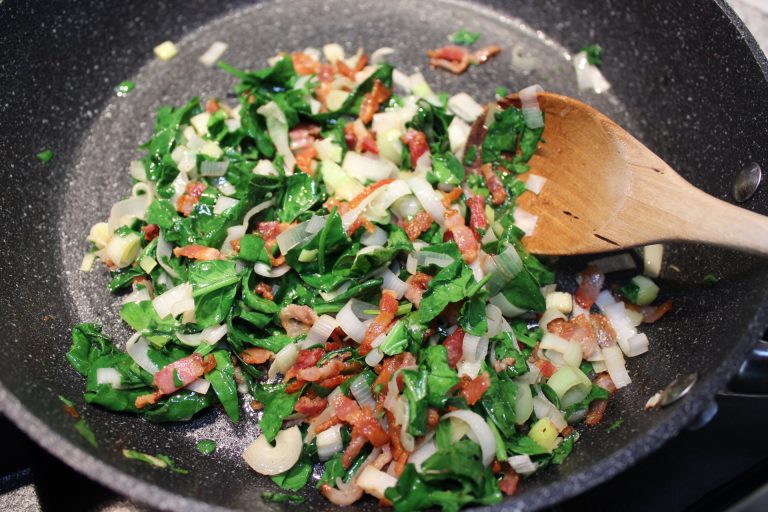 Scrape everything onto a paper towel lined plate and press to drain.
Add the filling to the pie crust and spread evenly.
Shred the cheeses. I like to use a combination of Swiss and sharp cheddar. Feel free to use any cheese you like but use at least one sharper variety because it pairs well with the ingredients. Sprinkle the cheese evenly over top.
Mix up the egg and milk mixture and pour over top. If you're using a store bought pastry you may not be able to get all the liquid into the shell. They really cheap out on these pie crusts! A good reason to make your own.
Hint: Store bought pie shells come in a flimsy pan. Put it on a cookie sheet before you pour in the egg so it doesn't tip and spill.
Bake at 325.  No higher than that. Eggs brown easily and should be cooked at lower temperatures. I hate getting breakfast at a restaurant where the eggs are brown. Cooking eggs properly is one of the most basic lessons in cooking, so if they can't get eggs right it's probably not the best place to eat!
The quiche will puff up when it's done. It's ok if it's very slightly jiggly in the centre because it will continue to cook a few more minutes after it comes out of the oven. For an 8 inch pie shell it will take about 35 minutes. Don't use the convection setting for this or your eggs will brown too quickly. You can use it for a few minutes at the end if you like. And bake it on the bottom rack to ensure the crust cooks before the eggs get brown. A larger quiche will take another 5 minutes or so.
Let it rest for at least 5 minutes to set.  It will be easier to cut too. It will deflate slightly, that's ok.
Spinach Leek and Bacon Quiche can be served at room temperature so if you're making this for Christmas morning you can go back to ripping open your large pile of expensive gifts and eat it later.
If your loving family doesn't gobble it all up it can be reheated the next day at 300 degrees for 8-10 minutes.
Here's the recipe:
Spinach Leek and Bacon Quiche
Spinach Leek and Bacon Quiche





Ingredients



8 inch frozen single pie crust
4 slices bacon
1 leek (or ½ large leek)
1 large handful spinach
4 large eggs
½ tsp Dijon mustard
1 cup milk
salt and pepper
½ cup shredded old cheddar cheese
½ cup shredded Swiss cheese
(or 1 cup combination of any cheeses of your choice)

Method

Preheat oven to 325 degrees.
Slice bacon into thin strips and fry until browning and getting crispy. Remove as much fat from the pan as possible. 

Rinse leek and cut in half lengthwise. Fan under running water to ensure no dirt is caught between the layers. Place flat side down and slice into half circles. Roughly chop spinach. Sauté along with the bacon until slightly softened. Remove mixture to paper lined plate and drain well, squeezing to ensure all the fat and any moisture from the spinach is removed. Let cool slightly then arrange evenly in the bottom of the pie crust. 

Shred cheese and spread evenly over top.
Wisk together eggs, milk, Dijon, salt and pepper. Carefully pour over the top. Place pie plate on baking sheet and carefully pour milk mixture over top.
Bake on the lower rack of the oven for 35 minutes. Allow to rest for 10 minutes before slicing.