Overnight Breakfast is the perfect Christmas morning or New Year's Day breakfast casserole. Or brunch if you partied into the wee hours of the morning. You make it the night before and bake it in the morning. Low maintenance! What's even better about this is you can be totally creative in what ingredients to use. I've made it with leftover turkey and switched out the cheddar for Swiss and Brie. I've used stale croissants, made sweet versions with raisin bread….the possibilities are endless!
Some people call this Wife Saver. I don't like that title because it implies that women are the ones doing the cooking. Married women. Kind of old fashioned! But whatever you call it, this breakfast casserole is versatile and easy, not to mention yummy. This time I'm making one with meat and one vegetarian.
Make it Tonight, Bake it Tomorrow
Start by laying out some chunks of bread to let them get stale. You can speed up the process by toasting them in a low temperature oven. Use about half a slice of bread per serving. Lay them in a large baking dish or 2 smaller dishes if you're making 2 versions. You can make this in one large baking dish if you aren't doing two versions.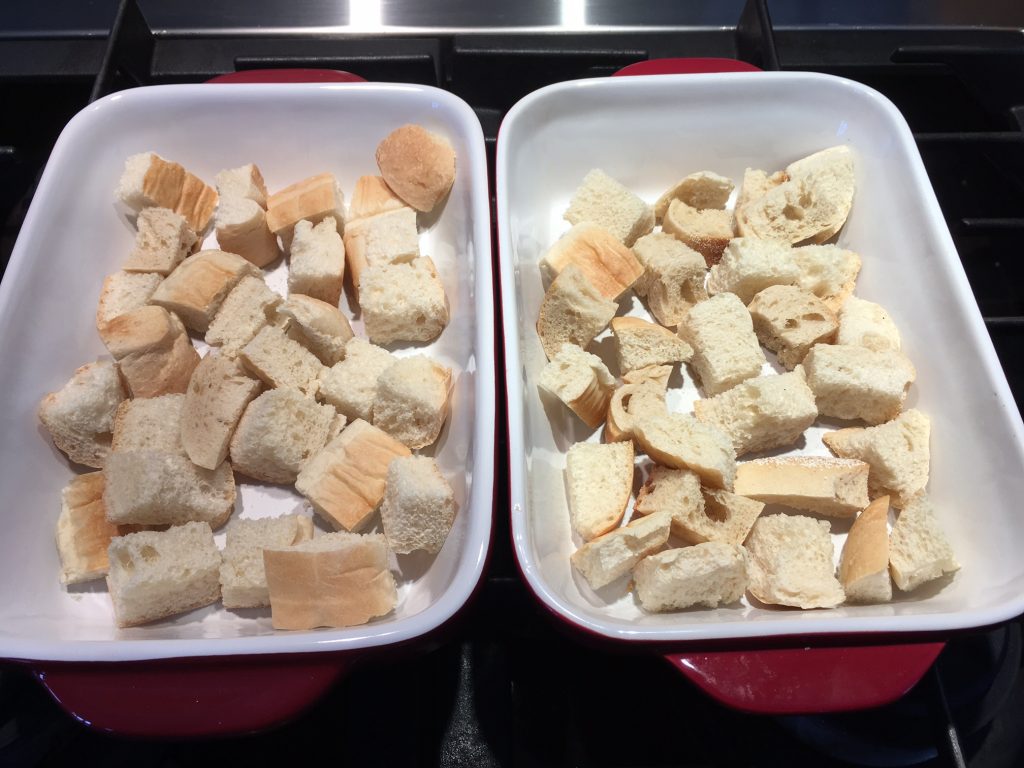 Chop up onions or leeks, peppers, mushrooms and spinach. This looks best if you use a variety of colours. I used spinach this time but parsley works too. Mushrooms release liquid so don't use too many.
Arrange the veggies evenly over top of the bread. Cube the ham and sprinkle over top of one dish.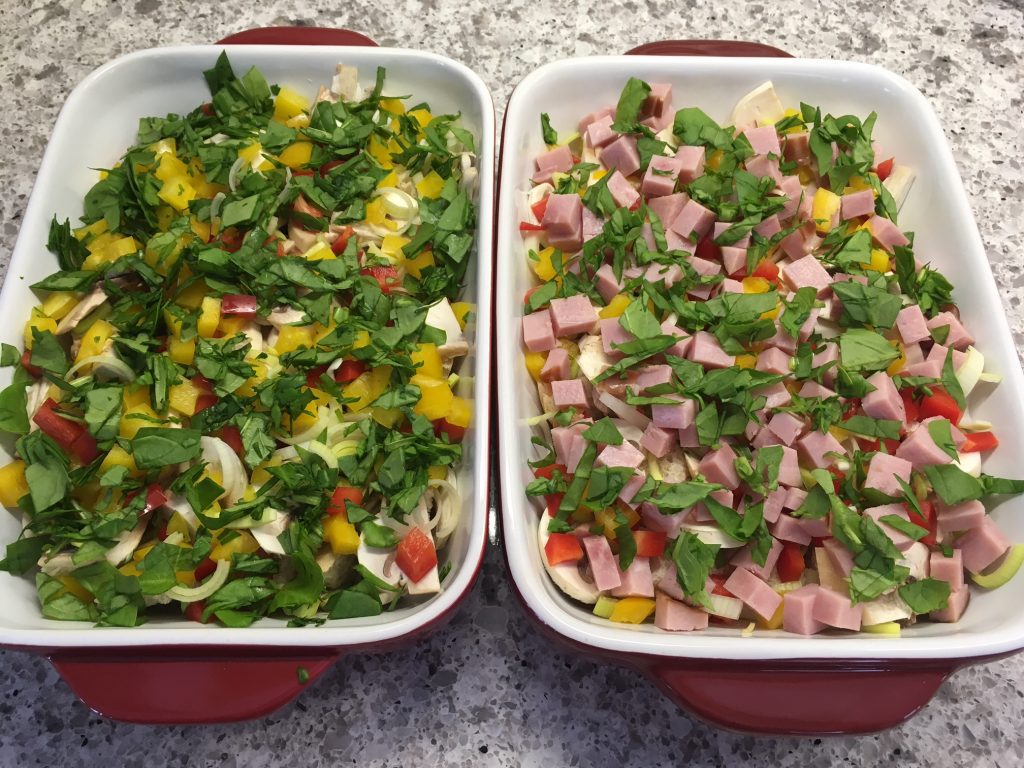 Shred the cheese and divide evenly over the top of each dish. Whisk the eggs and add Dijon, milk, salt and pepper. Pour evenly over each dish. The liquid should be about an inch from the top. Cover with plastic wrap and press down slightly. Refrigerate over night.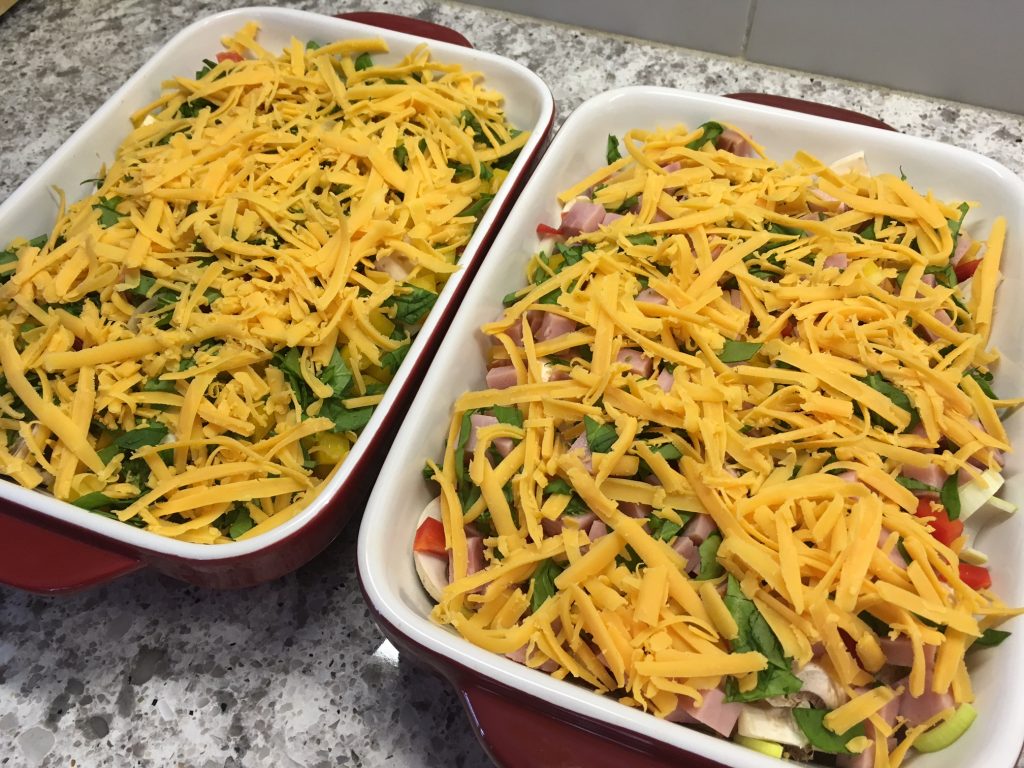 In the morning preheat the oven to 325 degrees. Bake on the middle rack for about an hour until they're puffed up and no longer jiggly in the centre. If you're making smaller sizes they'll be done in 45-50 minutes. Let them rest for about 10 minutes before serving. They will deflate as they cool.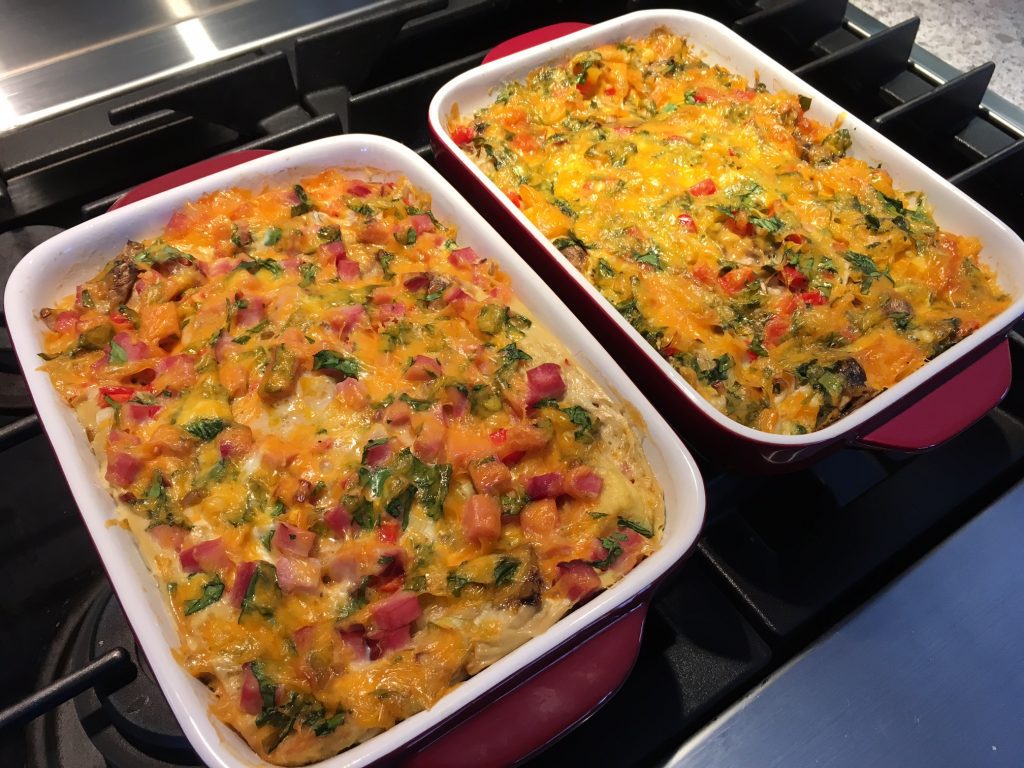 Here's the recipe:
Overnight Breakfast
Overnight Breakfast





Ingredients



4 cups large cubes of stale bread
1/2 red pepper
1/2 yellow pepper
1/2 leek, white and light green parts only
4 mushrooms
2 large handfuls spinach
1 1/2 cups cubed ham
2 cups shredded old cheddar cheese
8 eggs
1 tsp Dijon mustard
3 1/2 cups milk
salt and pepper



Method



Cube bread and let sit out or lightly toast in the oven until no longer soft. 
Chop peppers, clean and slice leeks and mushrooms. Chop spinach. Cube ham.
Arrange bread in 1 large 9x12 or 2 smaller baking dishes. Sprinkle vegetables evenly over top. Add ham. Top with shredded cheese. 
Wisk together eggs, Dijon, milk, salt and pepper. Pour over top.
Cover with plastic wrap and refrigerate over night.

Preheat oven the 325 degrees. Bake on the middle rack for approximately 60 minutes or until puffed up and set. Reduce time by about 10 minutes if making smaller pans.
Let rest for 10 minutes before serving.

Makes approximately 12 servings.