If you haven't tried Pho, it's a Vietnamese dish. It's pronounced "fuh." The broth is made with spices you may associate with sweet flavours like cinnamon and cloves, however it's not sweet. But don't worry, you can buy the broth ready made and it's pretty good!
The first time I made this was right after New Years, after eating lots of leftover turkey and the finishing up the last of the baking and treats still hanging around from the holidays. Beef Noodle Pho is a healthy AND tasty meal. It's also inexpensive and quick to prepare so you have no excuses! And if you're making it in the summer it doesn't heat up the kitchen much and most of the veggies can be local. Feel free to use whatever is in season.
I'm a statistic when it comes to a new year. I always try to make a clean start. Mostly because I go a little crazy from Thanksgiving until Christmas so like many, I usually pack on a few pounds. It doesn't have to be January for a fresh start. In fact, I always felt that a new year started after Labour Day. Probably because I worked in Education. Whatever season it is, it's always a great time to make Beef Noodle Pho.
I had a sirloin steak in the freezer that was raised locally, grass fed from the farm where I get my CSA share. Sirloin is a perfect cut for this because it's a little less expensive than the more premium cuts of steak but has good flavour, especially after marinating. And you don't need to use a lot of meat. I used half of the steak, about half a pound and saved the other half for next time.
You might also like Easy Thai Chicken Noodle Bowl. Very similar.
Marinate the steak over night or all day in soy sauce, lime juice, garlic, salt and pepper. Save the other half of the lime for garnish. Cut the beef into thin strips. If you cut across the grain the pieces will be more tender. Sear it quickly in sesame oil until brown. Sesame oil has a strong flavour so use only a teaspoon or less.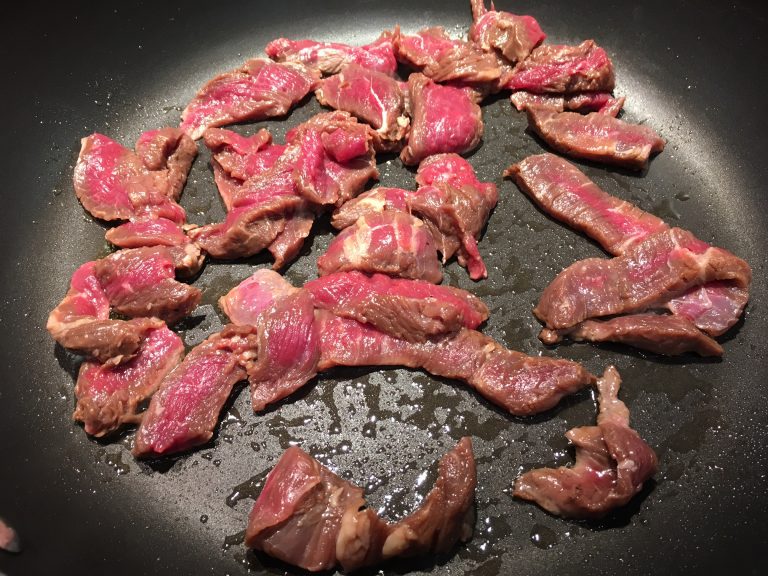 Prepare your vegetables by thinly slicing mushrooms and carrots. Cut the ends off the bok choy and slice in half lengthwise. Feel free to improvise with other vegetables. Broccoli works instead of bok choy, add onion if desired.
Add the carrots first since they need to cook longest. Stir fry for about 5 minutes, then add the mushrooms and bok choy.
While this is happening, bring a pot of water to a boil for the noodles and heat the Pho Broth in another pot. You want to cook the noodles separately or they will absorb too much of the broth.
Don't be tempted to cook the meat and vegetable mixture too long. You want them to be tender crisp and colourful.
Break off a handful of rice noodles from the package and stir into the boiling water. Cook about 5 minutes or according to the package directions.
Assemble the bowl by piling in the meat and veggie mixture, then adding the noodles. Pour the hot broth over top.
Top with green onions and fresh pea shoots. Serve with fresh cilantro, a squeeze of lime and some Sriracha or other hot sauce if you like some heat.
If you're like me you'll need a fork and a spoon.
Mr. H is a show off, he can handle chopsticks. Me, not so good. It doesn't matter how you eat it, what's important is to slurp up every last drop of the tasty broth!
Here's the recipe:
Beef Noodle Pho
Beef Noodle Pho





Ingredients



½ pound sirloin steak
2 Tbsp soy sauce
½ lime juice
1 clove garlic, crushed
salt and pepper to taste
1 tsp sesame oil
1 900 ml carton Pho broth
1 carrot
6-8 mushrooms
6-8 heads baby bok choy
salt and pepper
¼ package rice stick vermicelli noodles (red package)
1 handful fresh chopped cilantro
2 minced green onions
½ lime, quartered
Sriracha or other hot sauce if desired
fresh pea shoots



Method



Combine soy sauce, lime juice, crushed garlic, salt and pepper. Pour over the beef in small shallow container or freezer bag and marinate over night or all day.

Thinly slice the beef across the grain. Heat sesame oil in a large frying pan or wok. Sear the beef until starting to brown. 

Thinly slice carrot and mushrooms. Cut the ends off the bok choy and slice in half lengthwise, keeping the leaves whole. Add the carrots first, stir fry a few minutes, then add mushrooms and bok choy. Stir fry about 5 more minutes while noodles cook and broth heats.

Meanwhile, bring a wide shallow pan of water to a boil. Break off about 1/4 of a package of rice noodles (approximately 150 grams or less) and boil for about 5 minutes(or according to package direction if using larger noodles).

In a third pot, heat carton of Pho Broth.

Assemble bowl by adding stir fry ingredients, then noodles. Pour hot broth over top. Garnish with fresh chopped cilantro, pea shoots, green onions and a squeeze of lime. Add Sriracha is desired.