Shrimp Scampi with Linguine is very simple to make and pretty tasty too. It's juicy grilled shrimp tossed with linguine in a light lemony white wine pasta sauce with garlic and some fresh parsley. So quick and simple but tastes like a complicated recipe.
Many people associate Shrimp Scampi with pasta but it's actually a method of cooking shrimp and can also be served with crusty bread or just on its own. By adding the pasta to the juices before it's completely cooked, the linguine soaks up some of the liquid and flavour so in my humble opinion, it completes the dish.
Click here to go right to the recipe!
My friends Gil and Vicki bought me this neat kitchen gadget that peels and deveins shrimp. It's pretty slick and makes short work of the prep. Peeling shrimp can take time but this baby splits them down the vein in one easy slice and then you just peel off the shell and pull or scrape out the "vein" which is actually the intestinal tract. So it's not exactly poo. Well, kind of. This step isn't really necessary because the vein is totally edible. It's your choice. Depending on the stage of digestion it will be black or brown or lighter in colour.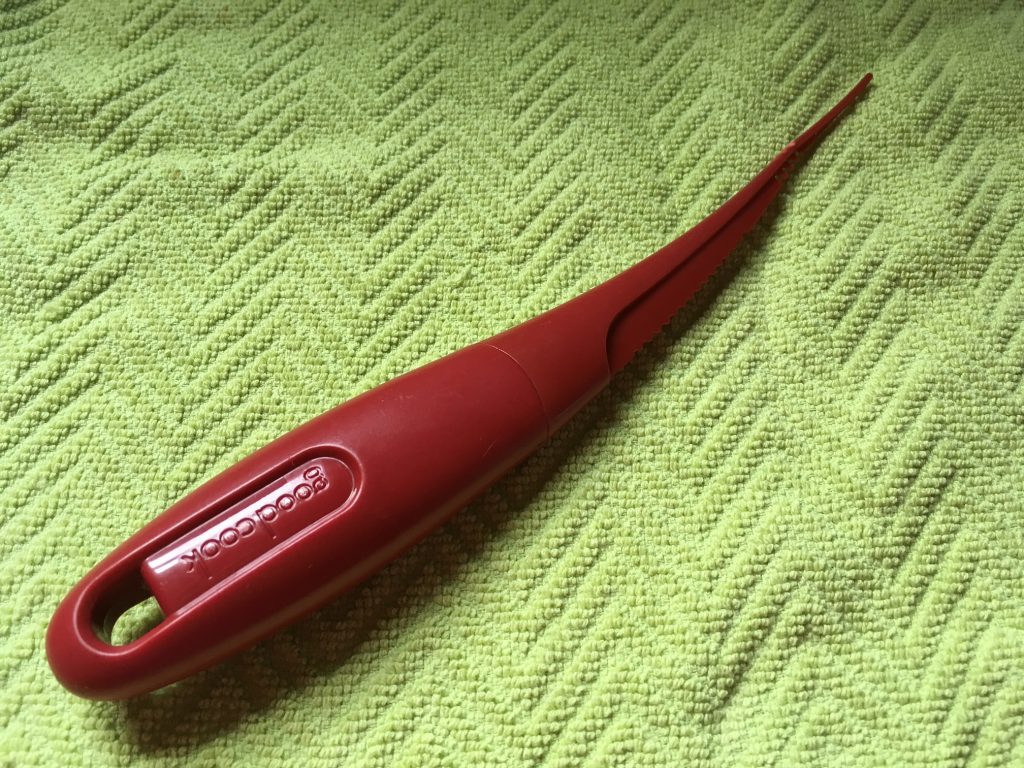 If it grosses you out, scrape it out. If you don't have this awesome gadget a paring knife will work too.
Do you peel shrimp before cooking?
For this recipe I'm taking off the shells before cooking. Gasp! I know, it's best not to….the shell adds to the flavour and even helps protect them from over cooking. But it's really annoying to have to peel the shrimp while you're eating. I'm all for peel-n-eat shrimp but not when it's part of a dish you eat with a fork.
Once they're all peeled, give them a good rinse and drain well so you can marinate them. Shrimp don't need much time to marinate. In fact they shouldn't be left longer than an hour. But having them bask in some good olive oil, salt and pepper and lots of minced garlic will really add to the final dish. There are only a few ingredients in this dish so you want to taste all the components.
Heat up a wide skillet to just above medium and add olive oil and butter. I like to use both. The oil can withstand a higher temperature and the butter adds more flavour. So it's a balance. Add the shrimp and marinating juices and quickly sauté, just until the shrimp are starting to turn pink, about one minute. Turn them quickly so both sides get some heat, about one more minute. Depending on the size of the shrimp you choose, you might want to reduce the cooking time. I used size 21/25 meaning there are between 21 and 25 shrimp to a pound. If you choose smaller shrimp, cook them about 30 seconds per side. It doesn't matter what size shrimp you use. A serving is anywhere from 1/4 to 1/2 pound per person.
How long do you cook shrimp?
Here's the thing about shrimp. Many people over cook them. It really only takes a few minutes. If they curl up into a tight circle, they're over cooked. They should look like the letter C. So C is cooked, O is over cooked. Easy way to remember.
Remove the shrimp from the pan before they're totally cooked. Don't worry, they'll finish cooking at the end. If you try to remove them one by one you'll end up over cooking some so just dump the whole pan onto a plate.
Now turn the heat down a bit, add the rest of the minced garlic and a large minced shallot and sauté until just soft. You can use onion too but a shallot is slightly milder than an onion so it works well in this dish.
Pour in 3/4 cup of white wine and the juice of one lemon. Save the rest of the wine for the end. It sounds like a lot of liquid but the pasta finishes cooking in it and will absorb most of it. Including the flavour. A freshly squeezed lemon is best. I'm using a Meyer lemon which is sort of a cross between a lemon and a mandarin or orange. These citrus fruits have a sweeter and less acidic juice but a regular lemon will work just fine! You get the most juice from a room temperature lemon and if you give it a good roll on the counter before you cut it you get the most juice. You want at least 2 tablespoons and if you're lucky you might get a bit more. And don't be afraid to get some pulp in there too! But watch out for seeds.
Can you make Shrimp Scampi without wine?
If you're worried about the alcohol content, most of it dissipates during cooking. You could add all of the wine at once to simmer away instead of adding the last 1/4 cup at the end but I wouldn't recommend substituting anything because the wine is an important component to this dish.
Let the wine and lemon juice simmer to incorporate the flavours in the pan. If you cook the pasta while the wine and lemon juice is simmering, it should reduce to a perfect amount in the time it takes to cook the pasta. Add the pasta to the pan when it's al dente and add a bit of the pasta cooking liquid as well. Cook the pasta in the liquid for a few minutes, then add the shrimp and any liquid and garlic back in pan. Toss it around for another minute or so, then add the remaining 1/4 cup white wine, fresh chopped parsley, chili flakes and a tablespoon of butter. Toss to ensure everything is combined well. At this point most of the liquid will be absorbed.
Don't be tempted to add too much pasta because it soaks up most of the liquid. You want the shrimp to be the star of the show!
This makes 4 small servings but who am I kidding, the 2 of us ate almost all of it!
Here's the recipe:
Shrimp Scampi with Linguine
Scrumptious marinated shrimp sautéed in garlic butter, tossed with linguine.
Ingredients
1 1/2

lb

shrimp, peeled and deveined
Marinade
2

cloves

garlic

1

Tbsp

extra virgin olive oil

salt and pepper
Scampi
1

Tbsp

extra virgin olive oil

2

Tbsp

butter

divided

2

cloves

garlic

1

large shallot

pinch

dried chili flakes

optional

1

lemon

Meyer recommended

1

cup

white wine

divided

8

oz

whole wheat linguine

1/4

cup

fresh chopped parsley
Instructions
Peel and devein shrimp. Rinse and pat dry.

Mince 2 cloves garlic and combine with 1 Tbsp olive oil, salt and pepper. Add shrimp, mix well and refrigerate for 30-60 minutes.

Bring large pot of salted water to a boil. Cook pasta according to package directions for al dente. Drain, reserving some of the cooking liquid.

While preparing pasta, heat 1 Tbsp olive oil and 1 Tbsp butter in large skillet over medium heat. Add shrimp, all at once, including juice and marinade. Cook 1 minute, then turn each shrimp as quickly as possible and cook other side. Reduce cooking time if using smaller shrimp. Empty skillet onto a large plate.

Finely mince 2 remaining cloves of garlic and shallot. Reduce heat in skillet to medium-low and sauté until soft. Add 3/4 cup white wine and the juice of 1 lemon. Simmer for 8-9 minutes or the time it takes to cook pasta, then add drained pasta along with a ladle or 2 of cooking water and simmer for 1 minute or until pasta has absorbed most of the liquid.

Add shrimp with any juices back to the skillet along with the other 1/4 cup white wine and the other 1 Tbsp of butter. Simmer for another minute or two to allow flavours to combine and shrimp to finish cooking. Most of liquid will be absorbed.

Toss with fresh chopped parsley and chili flakes, combine well and serve hot.
Print Recipe
hungry for more shrimp?
Spicy Thai Grapefruit Salad with Shrimp
Nutritional Information:
(based on myfitnesspal calculations)
4 servings
503 calories
15.3 g fat
47.9 g carbs
30.3 g protein