I have to give credit to my friend Deb for the name of this dish. It started out as an idea that changed into another idea, then changed again as I was making it. The end result was surprisingly good but a bit convoluted, kind of like Caesar salad meets guacamole meets lobster roll meets crab legs. I liked the way it looked so I sent Deb a picture and described what it was. She sent back the idea for the name and I loved it. Crabocado Caesar Salad. Catchy!
I'd really intended to have some king crab legs with melted butter but I thought maybe I should make something a bit healthier. So I started thinking about all the flavours that go well with seafood. Lemon. Garlic. Then I started thinking about this amazing lobster roll I had in Maine.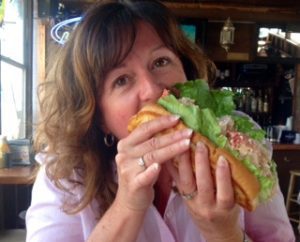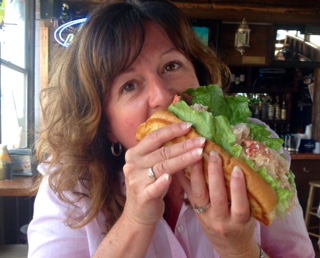 It was delicious! But later, as we enjoyed a rough overnight crossing by boat to Yarmouth, Nova Scotia, I did barf it all up. Sadly. What a waste!
In spite of the memory, I still wanted to replicate those flavours. Maybe I could make something similar to that without serving it in a bun. Maybe in an avocado. Mr. H doesn't really like avocado. But I do. I love the creaminess. I've often said I could eat one with a spoon like ice cream. So instead of combining the crab with the avocado I thought….I will top lettuce with a salad that's creamy like the filling in a lobster roll but is made with avocado then put warm crab on top! But the lettuce would need some kind of dressing. My first thought was a light mayo based dressing with fresh tarragon. But I didn't have any and I was on a roll. Pardon the pun! I did, however, have some Caesar dressing that I'd made the night before. I thought "why not?" It's my neighbour Mike's recipe and is made with mayo instead of olive oil, perfect for this combination.
Since we don't live in Alaska we have to buy frozen pre-cooked crab legs. Sometimes they have them at one of the larger grocery stores. Along with a pretty hefty price tag. These were on sale so it didn't hurt as much. I've read a lot about sources of seafood and sustainability and try to make responsible consumer choices. However, if you read the small print it's interesting to see where products are "harvested" and where they are "processed" which can be on two different sides of the planet – before arriving in the stores. Confusing and frustrating.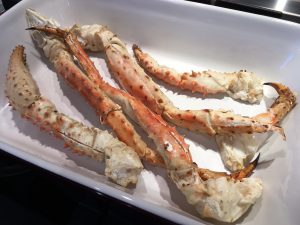 These ones came pre cut so the crab was easier to remove. Heat them up while you're assembling the salad. I poured a bit of boiling water in the bottom and covered with foil, then steamed in a hot oven for about 15 minutes.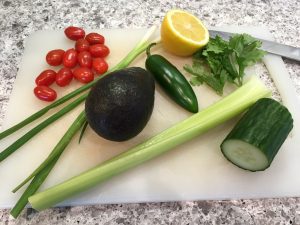 Nice fresh colourful ingredients.
Chop up celery, cucumber, green onion, jalapeno and cilantro. I also added grape tomatoes for flavour and colour. Cut the avocado last and squeeze the juice of half a lemon over top. This helps maintain the green colour since avocados brown quickly. Make sure you choose an avocado that isn't too green or too ripe. It should still feel firm (ish) but not hard.
Here's how to properly (and safely) cut an avocado. Slice the avocado lengthwise all the way around. Twist each half in the opposite direction and it will come apart easily. Take a sharp knife and CAREFULLY hit the pit – like a chopping motion. Then twist the knife to pull out the pit. Don't try to pull the pit off with your hands, it's slippery and you will cut yourself. I know this from experience! The easiest way is to use a ledge – hang the pit over the end of the counter and pull back with the knife.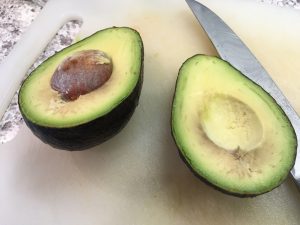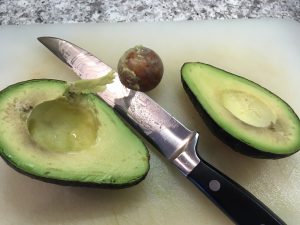 Scoop the avocado out with a spoon and cut with flat side down into slices, then cubes. Combine with other vegetables and season with salt and pepper.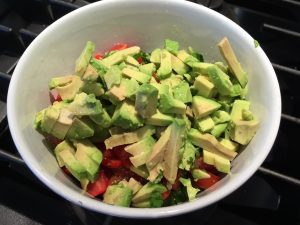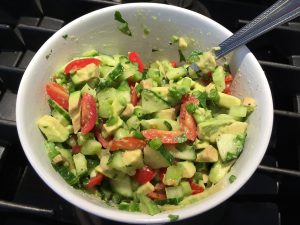 Now chop or tear up the romaine and toss with a small amount of dressing. You don't need too much. Divide onto 4 plates, top with a generous amount of avocado mixture then top with warm crab. Season with cracked black pepper.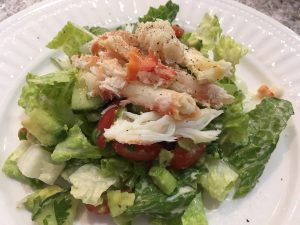 This makes about 4 servings. You may have some Caesar dressing left over which is a good thing! It will keep for about a week.
You probably won't have any crab legs left over! Mr. H suggested it should have had twice as much crab, however this already has a pretty high price tag! But feel free to go crazy or serve it with some bread or have a nice cheese board appetizer before dinner.
Here's the recipe:
Crabocado Caesar Salad
Crabocado Caesar Salad



Ingredients



Approximately 1 1/2 - 2 lb king crab legs/claws, about 2 legs/claws per person

1 avocado, diced
juice of 1/2 lemon
12 grape tomatoes, quartered
2 green onions, finely diced
1/2 jalapeno pepper, seeded and finely diced
1 stalk celery, finely diced
1/4 seedless cucumber, finely diced
small handful fresh chopped cilantro
salt and pepper to taste

2 heads romaine lettuce, chopped



Caesar Dressing



1 clove garlic, minced
1/2 tsp anchovy paste
1 Tbsp freshly squeezed lemon juice
1/2 tsp Dijon mustard
1/2 tsp Worcestershire sauce
1/2 C mayonnaise
1/4 C freshly grated Parmigiano-Reggiano cheese
pinch of salt and pepper


Method



Preheat oven to 350 degrees.
Arrange crab legs and claws in a single layer in a baking dish. Pour approximately 1 cup boiling water in the bottom and cover with foil. Steam in the oven for about 10 minutes if thawed and 15 minutes if still frozen.

Prepare Caesar dressing by whisking together all ingredients.

Rinse and chop romaine.

Finely dice green onion, celery, cucumber. Remove seeds and membrane from jalapeno and finely dice. Quarter tomatoes and chop cilantro. Cut avocado in half, remove seed, scoop out, slice and chop into small pieces. Add to diced vegetables and squeeze lemon juice over top. Mix and season with salt and pepper.

Lightly dress romaine with Caesar dressing. Divide between 4 plates and top with generous spoonfuls of avocado mixture. Top with warm crab meat. Season if desired with fresh cracked black pepper.