A modern version of a patty melt, Turkey Patty Melt Panini is made with lean ground turkey with creamy brie and zesty sweet peony jelly or red pepper jelly. Pressing the sandwich in a panini press or between 2 hot pans gives the exterior a golden crust.
The concept of the Turkey Patty Melt Panini all started with a little jar of peony jelly.
And I know you're thinking "I don't have peony jelly," but red pepper jelly would be just as yummy in this!
My last CSA share in the fall included a really interesting creation from Sarah who had made some unique preserves using edible flowers. I'd forgotten about it because the little jar had slipped behind some other larger but less exciting items. So I opened it right away and served it with some Brie and thought wouldn't this be great incorporated into a sandwich or panini. Well, wouldn't you know, the next day I find ground turkey on sale. You know I can't pass up a sale.
Later, I'm driving down the road with Mr. H and telling him I'm going to make turkey burgers and describe what I'm thinking. He usually smiles politely and half listens when I go on and on about food but this time something must have caught his attention because he said, "That's a patty melt. My mom used to make them." He goes on to describe how she put beef patties on bread with cheese and sautéed onion and grilled them. So it got me thinking, ya, that sounds pretty much what I had in mind. My beef about burgers is they're usually too thick to bite. (Did you get that pun? Beef? Burgers?) Especially if you have a serious bun and lots of toppings. So I decided to use the panini grill. Not only will it squash your sandwich to a biteable size, it will also give it a crusty exterior and help melt the Brie.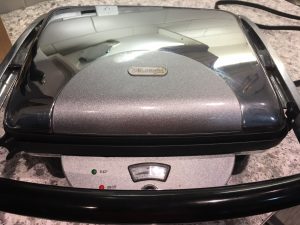 I love this! You can still accomplish the same thing if you don't have one, just heat a second heavy pan and press it on top. The grill marks are nice but you'll forget about them when you take your first juicy cheesy bite.
Ground turkey has less fat than beef so it's a bit healthier. But that also means it needs some help in the juicy and tasty department. No need to go crazy with ingredients, I find it's best to keep it simple. A pound of ground turkey makes 4 perfect sized patties. I added mayo and Dijon for fat and flavour as well as Worcestershire, ground thyme (because my herb garden isn't planted yet….I'll make them again with fresh thyme) salt and pepper and a small amount of bread crumbs that I softened in a bit of milk.
The old egg and breadcrumb thing isn't really necessary. It may actually be counterproductive because an egg will make the patties too soft and will actually dry it out. And they stay together just fine. So I just used a spoonful of breadcrumbs to help bind everything together.  Softening them in milk is important (especially if you're using dried breadcrumbs) because it actually helps retain moisture.
Mix it all together. Gently. 
Divide the meat into 4 equal amounts and shape into patties. You can do this while the onions are cooking.
Hint 1 – if you use a piece of plastic wrap you can press and shape easier!
Hint 2 – if you make the patties on parchment paper it's easier to get them into the hot pan. Just cut the paper around each one, flip it over, place it in the pan then peel off the paper. Easy peasy. Ground turkey is softer than beef so they may lose their shape if you try to use a spatula. Don't try this with plastic wrap. You know why.
Hint 3 – make the patties slightly larger than your bun and press your thumb into the centre of each one to help prevent "baseballing" which is when they shrink and get thick in the middle, almost round like a baseball.
Slice your onion thinly and sauté in a bit of olive oil until they're just starting to brown.
Add a splash of balsamic vinegar and sauté another few minutes. This adds some zing.
Slice the buns in half. A denser bun works best in the panini press. And, they don't need to be super fresh so day olds are perfect! Spread peony jelly (or pepper jelly or cranberry jelly or really, any kind of sweet and tart jelly) on one side of the bun and put the sautéed onions on the other side.
Grill the patties in the pan you used for the onions.
Reason 1 – one less pan to wash.
Reason 2 – flavour.
Make sure they're well browned and cooked until there's no pink in the centre. And don't be tempted to press down on the patties because you'll squeeze out the juice.
Place the patties on top of the onions. Top with a generous slice (or two) of Brie.
Using a paper towel, dab some of the oil left in the pan and wipe it on the top and bottom grill of your panini press. This helps leave nice grill marks on your bun. If you're using a 2 pan press, remove most of the oil. You can wipe a bit on the bottom of the pan you use to press the top.
Close the grill slightly and apply a bit of pressure. You'll need to hold the sandwich in place at first or it will slide out! Especially if you press too hard.
A wooden spoon works great.
Then you can slowly press it down a bit more but don't compress it too much or you'll lose most of the Brie. It's ready when the cheese starts to ooze out and you have nice grill marks. If your Panini press is large enough you can grill two buns at the same time.
Here's the recipe:
Turkey Patty Melt Panini
Turkey Patty Melt Panini





Ingredients



1 lb ground turkey
1 Tbsp real mayonnaise
1 tsp Dijon mustard
1/2 tsp Worcestershire sauce
1 T bread crumbs
1 tsp milk
1/4 tsp dried thyme or 1 tsp fresh thyme leaves
salt and pepper

1/2 red onion, thinly sliced
1 Tbsp olive oil
1 tsp balsamic vinegar

4-8 slices Brie
4 Tbsp peony jelly, pepper jelly, jelled cranberries or any sweet/tart jelly
4 dense rolls



Method



Thinly slice onion. Saute in 1 T olive oil over medium heat until softening and slightly brown. Add balsamic vinegar and continue cooking until soft and brown.

Combine bread crumbs and milk and let sit a few minutes until soft.
Combine turkey, mayonnaise, Dijon, Worcestershire, thyme, salt, pepper and soaked breadcrumbs. Divide into 4 parts and shape into patties that are slightly wider than the buns. Press your thumb into the centre of each patty.

Remove onions from pan and add patties. Cook until well browned and insides are no longer pink. 

Cut buns in half. Spread jelly on one half and onions on the other. Place cooked patties over onions, top with Brie and close buns.

Heat a Panini grill to medium-high and lightly oil top and bottom grills. Press buns gently, holding in place at first so they don't slide out. Grill until warmed through, cheese starts to ooze and buns have nice grill marks.