Meatballs are always a crowd pleaser at happy hour. You can buy Italian, Asian, Swedish….then there are the multiple varieties of sauce options. Dump the meatballs and sauce into a slow cooker and voila, you have an easy but popular dish. OR, if you want some kitchen swagger, you can make your own. And as a bonus, it costs less to make these Sweet and Sour Meatballs yourself.
I like to use a combination of beef and pork at a ratio of 2 parts beef to 1 part pork. I think it's the best combination of fat and flavour for this dish. Start with a couple pieces of bread, white or brown but nothing grainy.
Add a small amount of milk to soften the bread. Push it down with a spoon so all the bread gets soaked.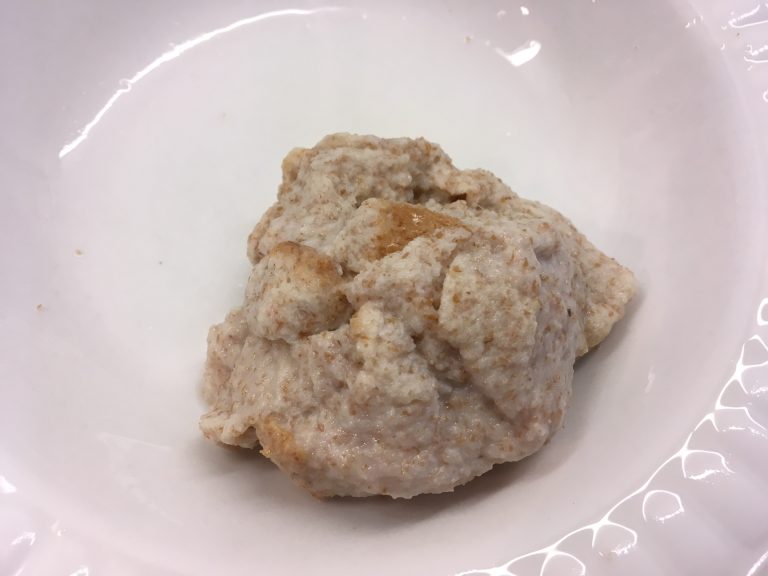 Squeeze most of the milk from the bread before adding to the meat mixture.
Add about 1/3 of the ground pork and 1/3 of the ground beef to a food processor along with the bread, soy sauce, sesame oil, garlic powder, onion powder, ground ginger, salt and pepper. Pulse the mixture until it's pureed. Then add it to the rest of the ground meats and combine without over mixing.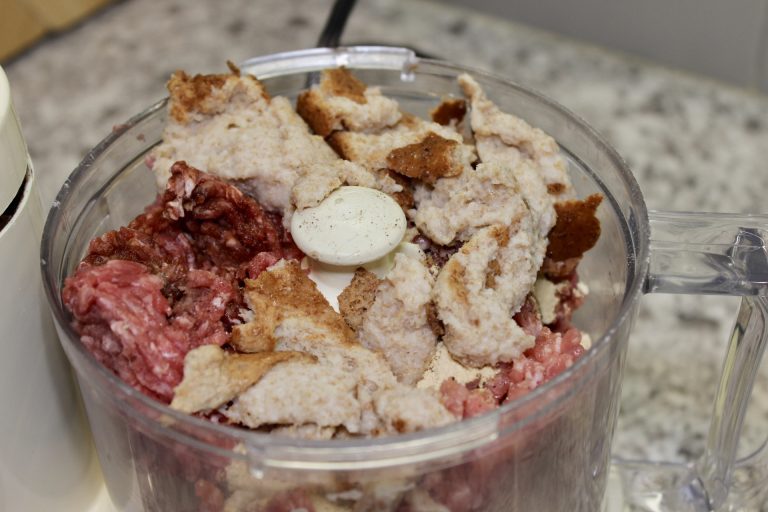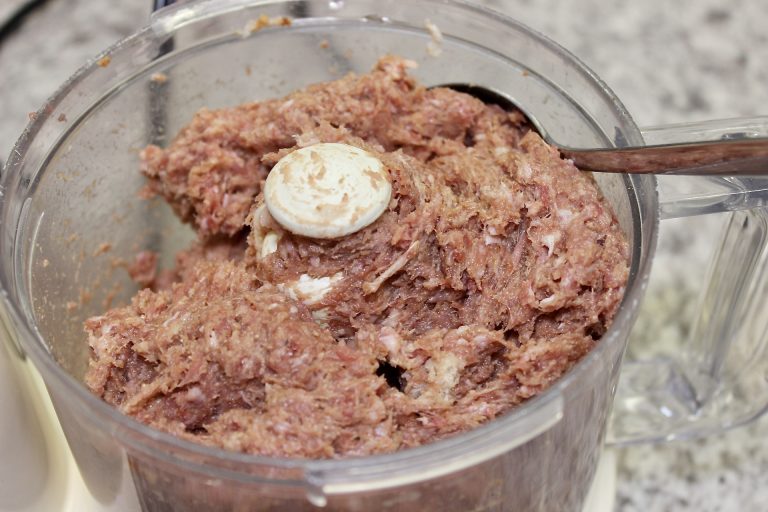 Here's why I decided to puree some of the meat. I read something once that claimed pureeing beef before making Italian meatballs gave them an awesome texture. I wasn't sure if that made sense to me but I did think that it would be a good way to add the ingredients to the meat mixture without overmixing. The seasonings and bread would be well blended with some of the meat and then you could combine it with the rest without mixing until you get tough meatballs.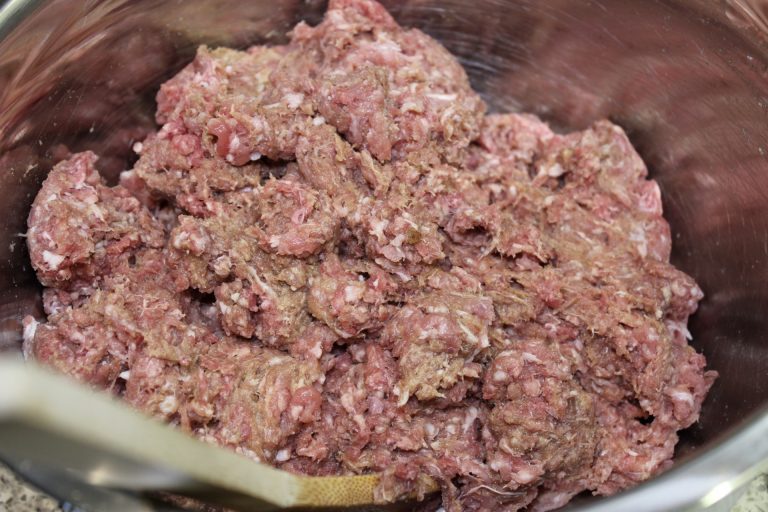 Now roll the meat mixture into balls. You can make any size you like, just try to keep them all relatively the same size. I like to make them around 1 ounce each which is about right for one bite. If you have a kitchen scale you can weight the first ones to make sure you're getting them close to the same size. A one ounce meatball is about an inch and a half in diameter.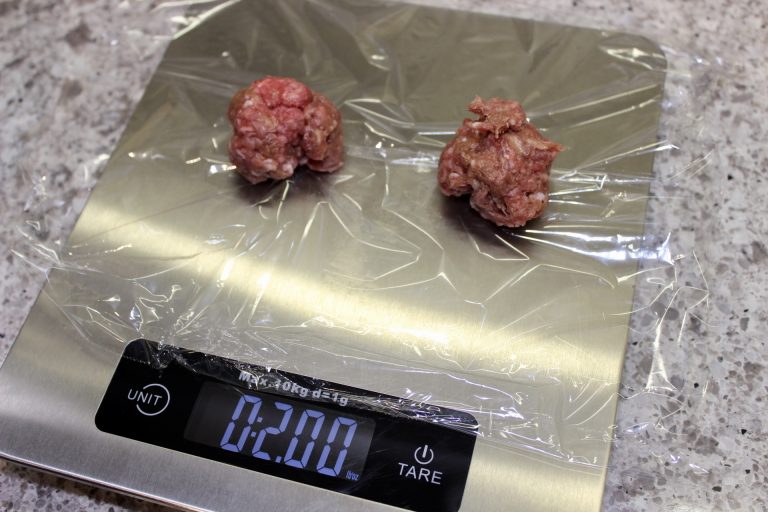 This makes about 60 meatballs. Don't try to weigh each one, you'll drive yourself crazy and no one will notice slight differences in size while they're jamming them in their mouth.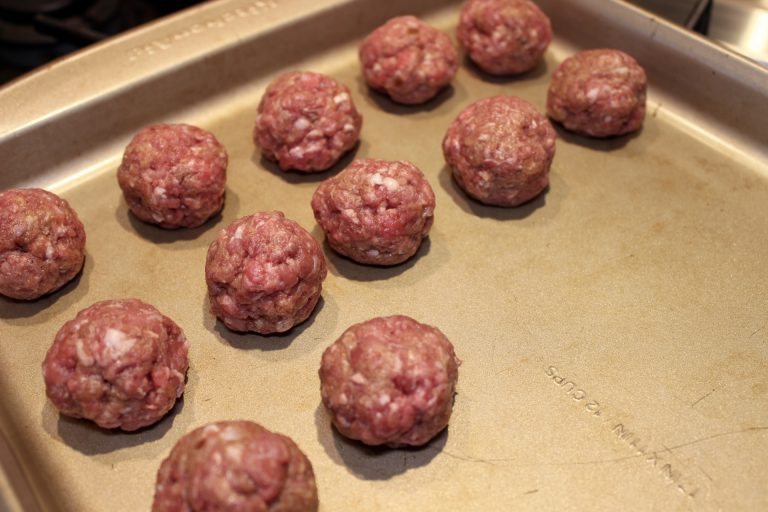 Place them on a large baking sheet and bake for about 15 minutes, until most of the fat and water releases from the meatballs. Pre baking them helps them keep their shape while simmering in the sauce. If  you have a convection bake setting use that. Tilt the pan so that the liquid drains to one end as they cool.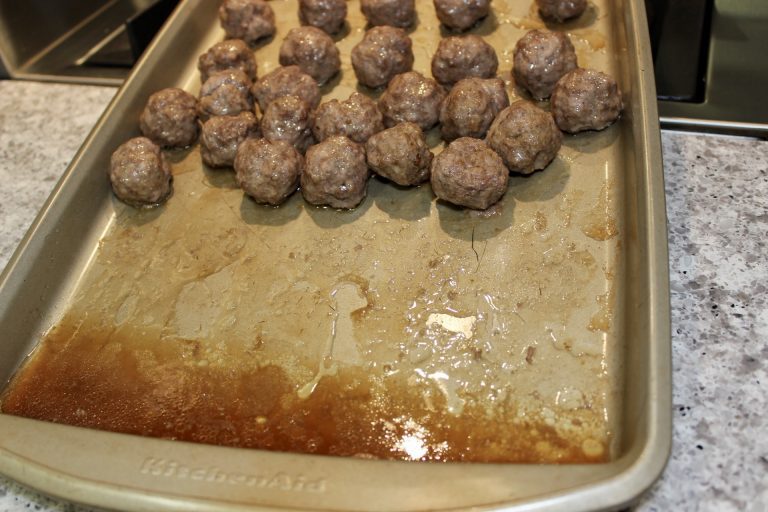 Meanwhile, make up the sauce. You'll need a large bowl or measuring cup with at least a 4 cup capacity. Drain the juice from the pineapple into a measuring cup and add enough orange juice to make 1 cup. I usually use canned pineapple because there's lots of juice. Then add lemon juice, rice vinegar, soy sauce, Dijon mustard, honey, ground ginger, cornstarch and Hoisin sauce thinned with water.
Hoisin sauce is kind of a Chinese barbeque sauce. It's quite thick and has a salty-sweet flavour. On its own it would be too strong and sticky to use as a sauce. The additional ingredients balance it out and the thinner sauce helps add flavour to the meatballs as they slowly simmer away. If you don't have hoisin, just use a regular barbeque sauce that isn't smoky, probably sweet and sour would work best.
You can use lemon or lime juice. You can use regular vinegar if you don't have rice vinegar. Mince 2 large garlic cloves into the mixture. Heat gently in the microwave to ensure the honey has melted and all ingredients are incorporated. Just for a minute or so. The sauce may start to thicken a bit but will continue to thicken as it cooks with the meatballs. Mince the green onions and add to the sauce. Save some to add at the end.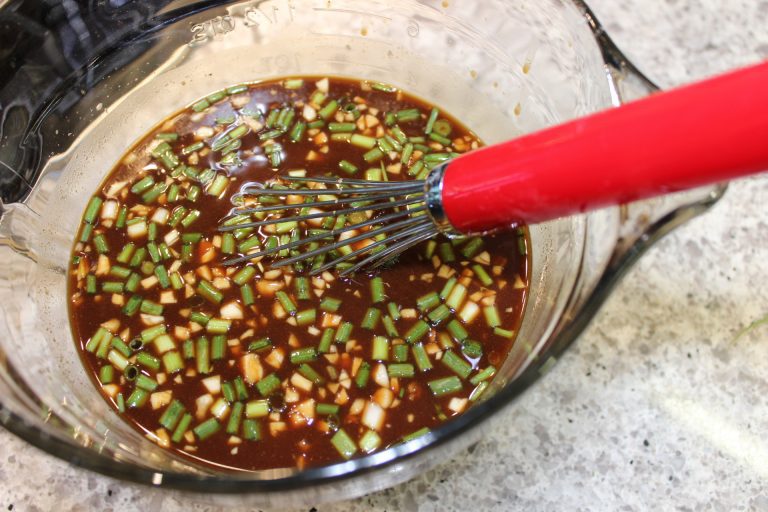 Place the meatballs in a Dutch oven. Or a slow cooker. Chop up 4 or 5 rings of pineapple and add to the dish. Pour the sauce over top and gently combine all the ingredients.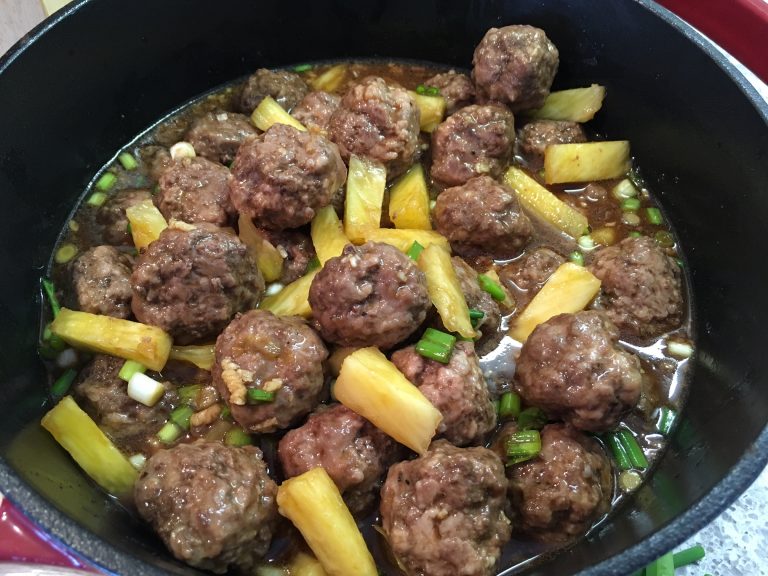 You don't need the liquid to completely cover the meatballs.
Cover and bake at 325 for about an hour. Check and stir after 3o minutes. The mixture darkens and thickens the longer it cooks. Or, if you want to use the slow cooker, cook for about 2 hours on high or 3 hours on low.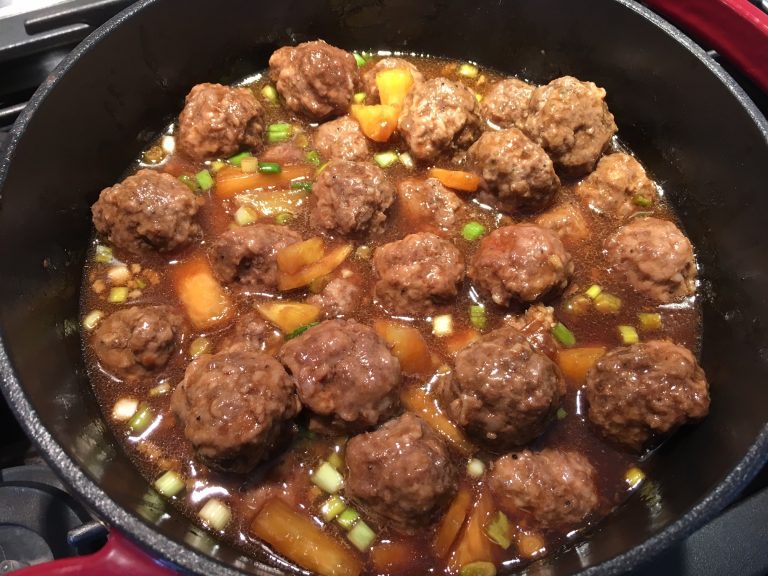 Serve hot with party picks or tiny forks. Sprinkle with extra green onions for garnish.
If you have leftovers (which I doubt) you can make some rice, top with meatballs and sauce and serve with steamed broccoli. Easy dinner.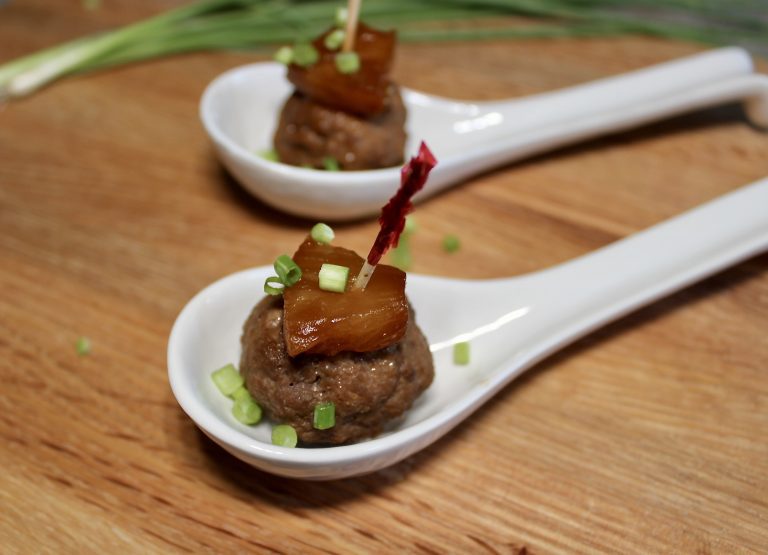 Here's the recipe
Sweet and Sour Meatballs
Sweet and Sour Meatballs


Makes approx. 65 meatballs



Ingredients



1 kg medium ground beef (just over a pound)
500 g lean ground pork (just over half a pound)
2 slices white or brown bread
1/4 - 1/3 C milk
2 tsp garlic powder
2 tsp ground ginger
2 tsp onion powder
1 Tbsp soy sauce
1 tsp sesame oil
generous amount of salt and pepper

3 or 4 fresh pineapple rings or 1 can sliced pineapple
2 large cloves garlic



Sauce



1 C pineapple orange juice mixture
1/2 C hoisin sauce
1/4 C lemon or lime juice
1/2 C rice or regular vinegar
1/2 C soy sauce
3 Tbsp honey
1 tsp Dijon mustard
1 tsp ground ginger
2 Tbsp cornstarch
4-5 green onions, reserve a few for garnish
2 cloves garlic, minced
salt and pepper



Method



Preheat oven to 325 degrees.

Pour milk over bread slices and let soften. Squeeze excess milk from bread and add to food processor along with 1/3 of the beef and 1/3 of the pork. Add garlic powder, ginger, onion powder, soy sauce, sesame oil, salt and pepper to taste. Puree until well blended.
Add meat mixture to remaining meat and gently combine without over mixing.

Preheat oven to 350 degrees. Use convection bake setting if possible.
Roll into bite sized balls, approximately 1 ounce each.
Bake for 15 minutes until most of the fat and liquid has released.
Place meatballs in heavy cast dutch oven or slow cooker.
Cut pineapple into chunks and add to meatballs.
Prepare sauce by mixing together all ingredients except green onions in a large microwave safe container such as a large measuring bowl. Heat in the microwave slightly, approximately 1 minute to ensure honey is melted and all ingredients have blended well. Mince green onions and add to sauce. Reserve some for garnish. Pour over meatballs and stir gently.

Bake for approximately one hour, stirring after 30 minutes.
Or, if using slow cooker, cook 2 hours on high or 3 hours on low.

Serve hot with party picks or as a topping for cooked rice.