The origin of French Onion Soup is highly debated but one thing is for sure, the recipe has stood the test of time with little variations. This soup is quite inexpensive to make so you can splurge on some good quality cheese. This version features caramelized onions simmered in white wine and chicken broth topped with toasted baguette and Swiss cheese. So it's French-ish.
Most versions of the history of French Onion Soup involve a near empty pantry and some stale bread. One claim is that French Onion Soup cures a hangover. I'm not sure if that's true or not but it might make you cry. Literally. So if you're having a tough day, slicing onions and slowly caramelizing them is very therapeutic, as is a good cry if you ask me.
Jump to Recipe
You can slice the onions any way you like, it doesn't matter since they get quite soft and reduced after being caramelized. I like to keep them in rings so you don't get long strings of onion hanging off your spoon. That slow process of cooking the onions until they get a rich golden colour are essential to the flavour of French Onion Soup. Take your time and watch them carefully to make sure they don't get too dark. Adding sugar when they're almost ready helps lock in that caramelization.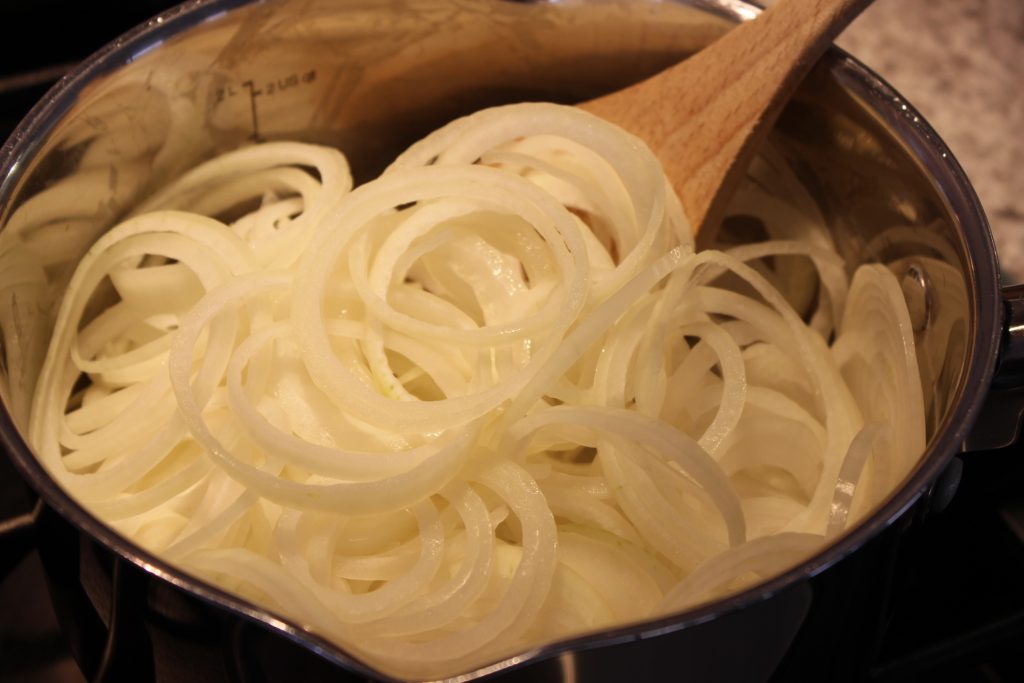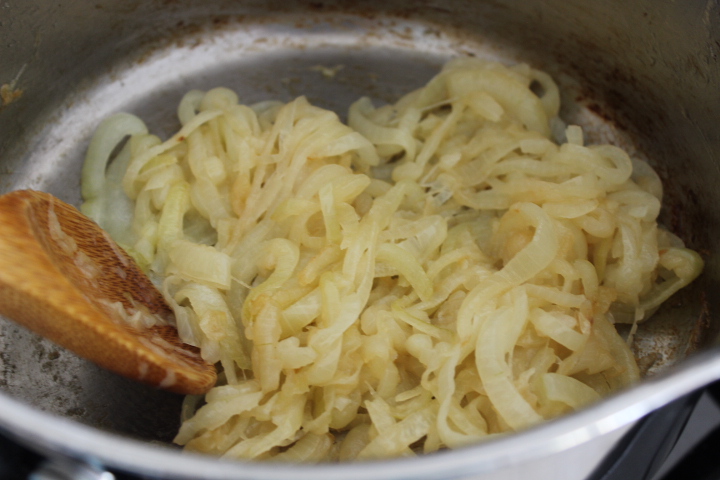 Before adding the broth to the onions, I like to add a splash of white wine. This helps deglaze the pan by dissolving all those brown bits into the liquid. Turn the heat up a bit for this step which also helps cook off the alcohol so you're left with just the flavour of the wine. Then add chicken broth, a bay leaf and a bit of Worcestershire sauce make up the broth. And a bit of fresh thyme is nice too, but dried thyme leaves are fine.
Crusty cheesy bread topping for French Onion Soup
Give the toasted baguette a good rub with a clove of garlic instead of putting garlic in the soup. It basically melts onto the bread and infuses it with lots of flavour. For most people including myself, the bread is the best part of this soup but don't be tempted to use more than 2 slices of baguette because it will soak up too much of the broth. I like to leave the bread sticking out the top so part of it stays crispy.
Lay some thin slices of a good quality cheese on top and roast the individual soups in the oven for about 10 minutes. You want the top to be bubbling and slightly browned. If you don't have a roast setting, which means the heat is coming from the top of the oven you can bake them and quickly broil them at the end. Just watch them carefully so they don't get too brown.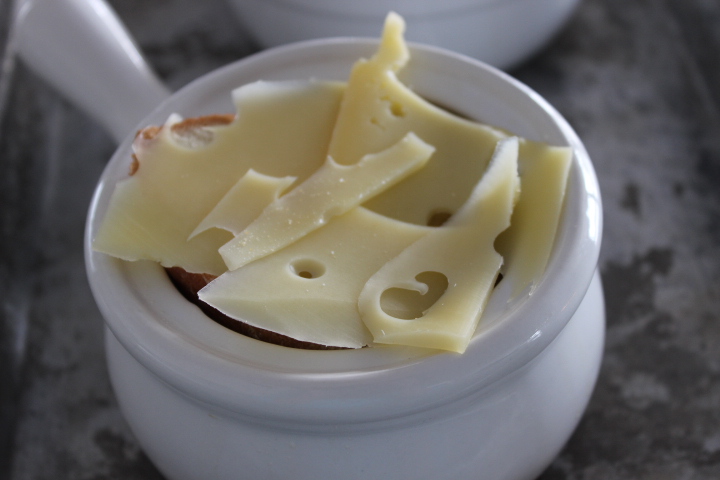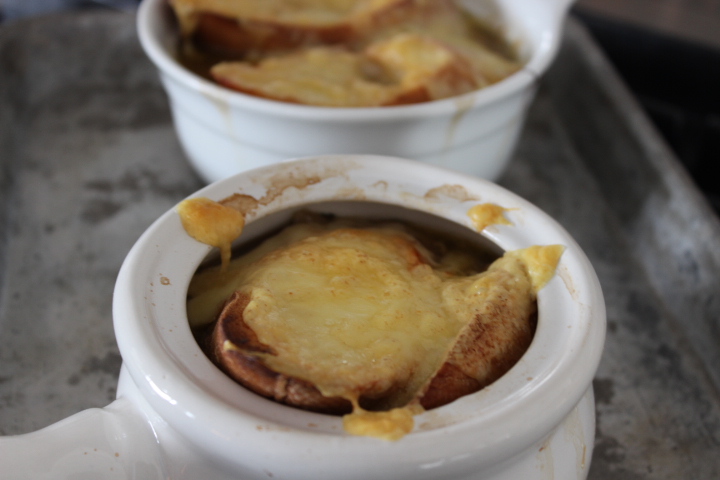 You'll want to dig right in but you'll burn your mouth on that hot melty cheese. It's like molten lava. Be patient, in about 10 minutes your French Onion Soup will be ready to eat.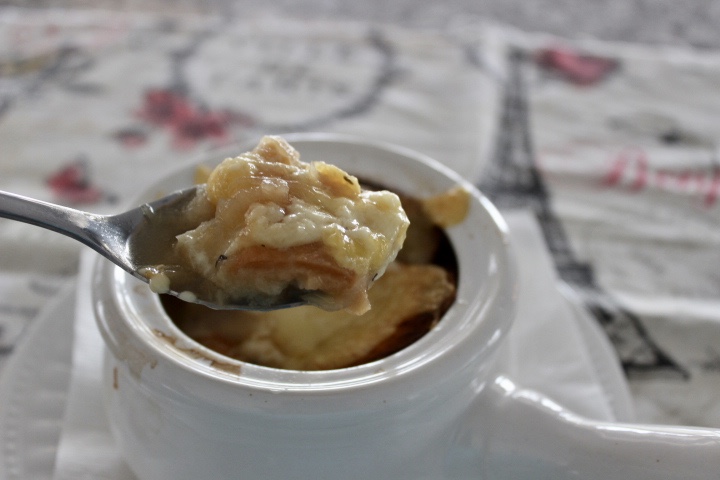 Our good friends Frank and Marilyn were coming for dinner and we hadn't seen them in ages. This soup just feels like good friends! It's warm and comfortable and comes with wine! And it's so yummy and filling you don't have to worry about the main course. In fact you could skip it all together and go right for dessert.
You can prepare the components of the soup in advance and put it together at the last minute. Super easy! And it's easily adaptable to the number of servings so if you use the ratio of about 1 large onion and 1 1/2 cups of broth per person you'll have the right balance. It's a great option if you would rather spend time catching up than cooking. No wonder French Onion Soup is on so many restaurant menus.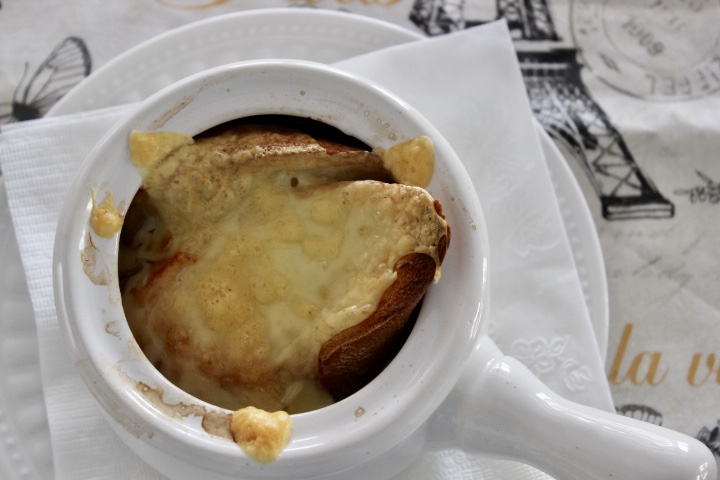 Here's the recipe:
French Onion Soup
A classic soup with slowly sauteed onions in a chicken and white wine broth, topped with crusty bread and Swiss cheese and baked until pure perfection.
Ingredients
4

yellow onions

2

Tbsp

unsalted butter

¼

tsp

sugar

½

tsp

salt

½

cup

white wine

7

cups

chicken broth

homemade if possible

1

bay leaf

2

tsp

Worcestershire sauce

½

tsp

dried thyme

or a fresh sprig if in season

pepper to taste

8

slices

baguette

stale is fine

1

clove

garlic

1

cup

thinly sliced Swiss cheese
Instructions
Remove outer skin from onions and slice very thinly into rings.

Melt butter in a large stock pot over low heat and add onions. Cook, stirring occasionally until onions are very soft, approximately 20 minutes.

Increase heat slightly and add sugar and salt. Continue to cook, stirring frequently until onions turn golden brown and begin to caramelize, being careful not to let them get too dark.

Add white wine and cook over medium heat for a few minutes, stirring. Add chicken broth, bay leaf, Worcestershire sauce, thyme and pepper. Simmer for 20-30 minutes on low.

Meanwhile, arrange baguette slices on a baking sheet. Toast under broiler until lightly toasted, then turn and toast other side. Or grill. Remove from oven and rob garlic briskly over each piece while still warm.

Preheat oven to 400 degrees on roast setting so heat is coming from the top.

Shred cheese. Remove bay leaf from soup and ladle into 4 oven safe bowls. Top with two toasted baguette slices, pressing gently into the broth. Top with Swiss cheese.

Roast for about 10 minutes until cheese is melted and bubbling on top. Use broiler at the end if necessary to slightly brown the cheese.

Allow to cool slightly before serving.
Print Recipe
more comfort soups