One downside to living in a small community is the lack of diversity in the food department. Wouldn't it be great to live in a booming metropolis and have a huge variety of international foods at your fingertips? But that comes with a pretty high price tag and a lot of other stuff that wouldn't work for us. So, we prefer to make the best of it. Instead of driving an hour for authentic Indian food, I'll have to learn to make it at home. And the one thing that almost everyone loves is naan. Garlic Naan Bread is pretty easy to make actually and doesn't require yeast so it's possible you have all the ingredients you need right now. Tawa Naan is traditional naan that is not cooked in a tandoor which is a hot clay oven.

The first time I made naan it turned out pretty good. I wanted to try again and use a few different methods so I knew what worked best with the equipment I have. So of course I consulted the best source of information: youtube! There were 2,110,000 videos to choose from. I watched a few and compared methods and ingredients then stuck with the common elements and went for it.
I used the recipe and method from Manjula's Kitchen but I finished mine a little differently.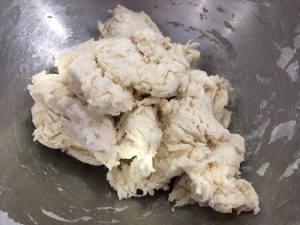 The dough is easy to mix up with your hands. Make sure your yogurt is room temperature.
The result? Pretty good! I cooked some on a pizza stone and they weren't the best. They puffed up and were a little too crispy and dry. But, the upside was you could cook 2 or 3 naan at once on the stone.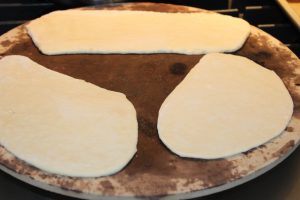 The stove top frying pan was best in spite of having to make one at a time. The only thing that didn't work for me was flipping the pan over and charring the tops over the open flame. The youtube personalities made it look easy and assured me that the bread would stick to the pan but it didn't. How ironic is that? The one time you want something to stick to a pan, it doesn't.
So I just used long tongs to hold the naan over the flame on the stove top. If you don't have a gas or propane oven just flip them over in the pan, they turn out fine. Or, go out and buy yourself a new oven. You won't regret it!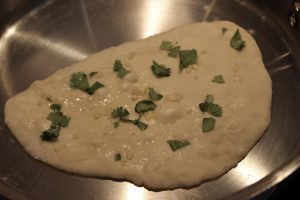 They take no time at all to cook. Press down any bubbles that appear on the surface. Once the naan looks dry at the edges it's time to flip. Hopefully yours stick to the pan. They take about 6-8 minutes
There were quite a few options for topping naan in the various YouTube videos and online recipes I consulted. I expect this is because the actual dough is fairly standard so people personalize their recipe with their finishes.
The one common element is clarified butter. Or ghee if you can find it. Making your own if fairly straight forward. You basically are removing the water and milk proteins by gently boiling them away. Using unsalted butter is preferred because the salt content intensifies as it clarifies. This method allows you to use butter that can withstand a much higher heat than regular butter.
Some recipes for naan had toppings added after cooking, some added before. I used garlic and cilantro and pressed them gently into the rolled dough before cooking so they would stick. Then I brushed the tops with clarified butter and sprinkled a bit of sea salt after they were cooked.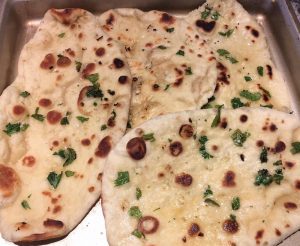 You can make plain naan if you want. No biggie. But they wouldn't look like this.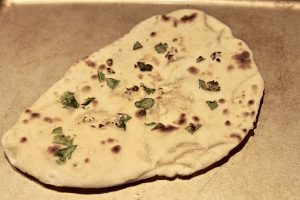 I would say they turned out pretty good. Why not make some Butter Chicken to go with them!
Here's the recipe:
Naan Bread
Naan Bread
Makes 4

Ingredients

1 C all purpose flour + more for dusting and kneading
1/4 tsp sugar
1/4 tsp baking soda
1/4 tsp salt
1/4 C yogurt at room temperature
1 Tbsp oil + more for oiling dough
1/4 C lukewarm water

1 Tbsp clarified butter
1/4 tsp sea salt
1 Tbsp chopped cilantro
2 cloves garlic, finely minced

Method

Mix together flour, sugar, baking soda and salt. Add oil and yogurt and combine with fingers. Add water slowly, continuing to mix with your hands. Knead well on a floured surface.
Shape dough into a ball and apply a little oil over the surface. Cover and let rise for 2-3 hours in a location without a draft. The microwave or oven works well. 
Once dough has rested and risen, knead again with a bit of flour and divide into 4 balls. Oil lightly and cover, allowing to rest again for about 10 minutes.

Roll each ball in flour and using a combination of rolling, pressing and stretching, shape into very thin ovals. Press garlic and cilantro into the shaped dough using your fingers and a rolling pin. Heat skillet pan that is NOT non-stick to medium. Iron works best. Rub a bit of water on the underside of each shaped naan before cooking. This will hopefully help it stick to the pan. Cook for about 6-8 minutes or so until bubbles are forming on the top of the bread. Press bubbles down as they form. Flip pan and hold over flame to char the tops, OR using tongs carefully hold naan over the flame until tops have charred spots. Alternatively you can flip naan over and cook the other side in the pan.

Brush naan with clarified butter and sprinkle with sea salt while still warm.