You might be thinking, "What the hell is Crappie?" It's a fish from the sunfish family found in our waters here at Lake Erie. Right now there are plenty around in the channels. That means you can stand on your dock and catch fish. And it doesn't taste crappy at all! In fact, it's a very mild white fish, delicate and delicious.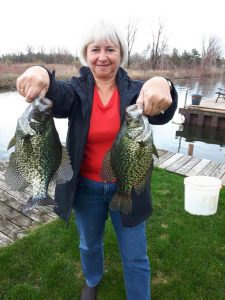 Sue was catching them faster than Gar could clean them. They used a five cent jig and the cheapest pole they owned and had more fun catching these fish than any other fishing trips with their expensive equipment!
So we said come over for dinner and we'll do the traditional Norfolk fish dinner – fried fish, coleslaw and celery bread.
This fish is so delicate it needs to be handled gently so a light crust and a quick pan fry is a great way to prepare it. I decided to use a mixture of cornmeal and plain potato chips and crushed them together in a food processor so the coating would be nice and fine. You could use a blender or just smash them with something like the bottom of a frying pan.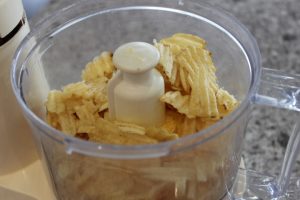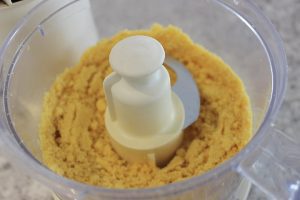 It was Sue's suggestion not to dip the fish first in anything wet to get the coating to stick. And she was right!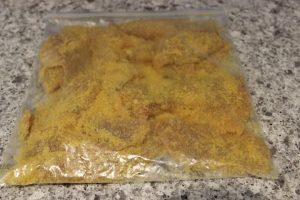 They were perfect shaken in a freezer bag and sent right to the pan with a shallow level of oil mixed with a little bit of butter, just for colour and extra flavour. Make sure you wait until the oil is well heated and add butter right before you cook the fish. Otherwise your filets will just soak up the oil. You can use any type of oil that can withstand a high heat. We used canola.
Plan on 1/3 to 1/2 pound of cleaned filets per person. Before adding all the fish to the hot oil, put the tip of a small piece of fish into the pan. If it doesn't start cooking right away, remove and wait until oil mixture is hotter.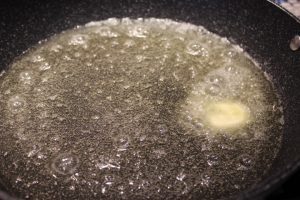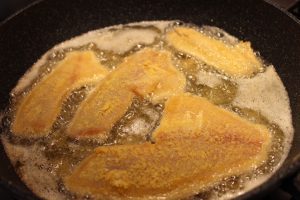 You literally only need to cook the filets for a few minutes or so on each side, depending on their size. Remove them immediately to a rack over a baking sheet. This helps any extra oil drain off and prevents the coating from getting soft. Season with salt while they're hot.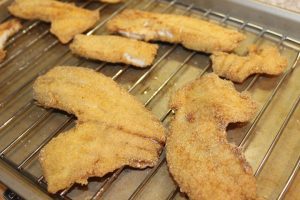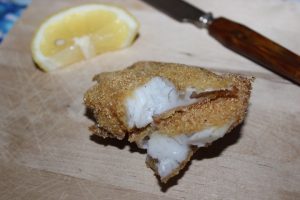 Serve with tartar sauce or just a sprinkle of lemon.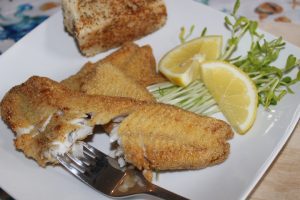 And of course Celery Bread.
Here's the recipe:
Cornmeal Crusted Crappie
Cornmeal Crusted Crappie
Serves 4

Ingredients

1 1/2 to 2 lb fresh crappie filets
3/4 C cornmeal
1 1/2 C plain potato chips
salt to taste
3/4 C canola oil or enough to have 1/4 inch depth in frying pan
1 Tbsp butter
lemon wedges

Method

Add cornmeal and potato chips to food processor and pulse until well blended and finely ground.
Pour cornmeal mixture into a large freezer bag and add fish filets. Shake until well coated.

Add oil to large frying pan until approximately 1/4 inch deep. Heat oil until a drop of water added to pan bubbles and pops. Add butter and allow to melt and foam. Add enough fish filets so that pan is not crowded. You may have to cook in batches. When fish is lightly browned on one side after a few minutes, carefully flip using a heat safe spatula and tongs. The fish is very delicate so use care not to break the pieces. Remove to a rack when both sides are lightly browned. Season with salt. You can keep the cooked filets in a warm over while the other pieces are cooking. 

Serve with tartar sauce or fresh lemon wedges.