I make regular visits to JLK Asparagus Farms during the short season. I always enjoy visiting with my friend Lisa who owns the farm with her husband Jake. I recently talked to her about how she would recommend cooking jumbo asparagus and she told me she wraps it in bacon along with some cheese and bakes it. Of course I had to try it. Anything is better with bacon!
I would usually snap the ends off asparagus to ensure it breaks off at the woody part but these jumbo asparagus are so thick they might break in half so by using freshly cut spears you just have to cut a small amount off. And the asparagus is always super fresh here!
Using a sharp paring knife, slice the spears lengthwise from just under the tip to the bottom.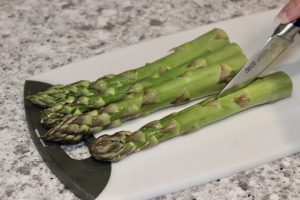 Slice very thin pieces of Parmesan cheese and garlic. Slide them into the opening of the asparagus. It helps if you put the tip of the knife in the slice and twist it to open it up. If you happen to break the spear open, don't worry, the bacon will hold it all together.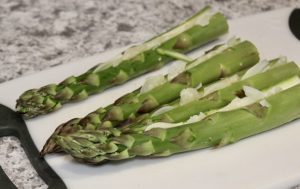 Use real parmesan cheese. Not the kind in the cardboard container that's pre shredded. Seriously. It may seem like the real chunk of Parmesan is expensive but if you compare the volume you get when you shred the entire piece with how much is in the cardboard container, it's not more expensive. And I don't know exactly how much real parmesan is in there and how much is filler but….I'm suspicious.
Wrap each asparagus with one uncooked slice of bacon in a spiral so that most of the spear is covered. You can stretch the bacon a bit and overlap slightly so when it shrinks it helps hold everything in place.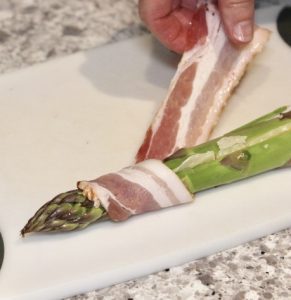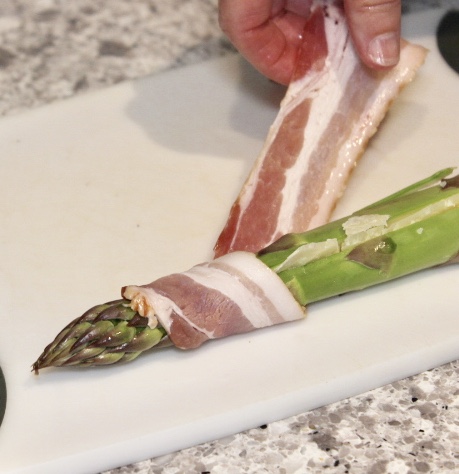 You need to cook these long enough for the bacon to get crispy but you don't want all the cheese to melt out so I used a really good Parmesan which is hard and dry so it doesn't ooze out. And I thought garlic would be great too. Bacon, cheese and garlic…..a delicious trilogy!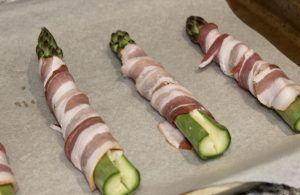 If you cook them on parchment paper they're easier to remove when cooked because it prevents them from sticking to the pan.
You need to cook these in a hot oven so the asparagus doesn't end up too soft before the bacon is cooked. Preheat the oven to 400 degrees set to roast. This way the heat comes from the upper part of the oven and will cook the bacon quicker than baking.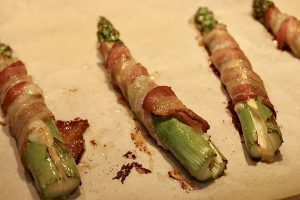 They're done when the bacon is sizzling and crispy. These took about 15 minutes. Very similar to Prosciutto Wrapped Asparagus only slightly more decadent!