My grandmother used to say if company stopped in she could have a pie in the oven before the kettle boiled to make coffee. That isn't going to happen in my house but it really doesn't take long to make pastry. And it freezes well. Certain fruits like rhubarb can be chopped and frozen in perfect pie measurements so you can whip up a fruit pie like a pro. You can use store bought pastry if you like but if you've never made your own, you should give it a try.
There's a few tips and tricks that help you get great results. Even the best pastry makers have flops sometimes. This King Arthur Flour link is an excellent resource with lots of information about different types of flour and fat and how it affects the final product.
Here's the secret to making pastry. The less you touch it the better. You want to keep it cool to prevent the fat from melting before it hits the oven so hands off. And use cold fat right from the fridge. You can use lard, shortening or butter. Or a combination. Use ice water and as little as possible. Too much water equals shrinkage. And finally, wrap the pastry tightly in plastic wrap and refrigerate for at least 30 minutes before rolling it out. So how do you make a pastry without touching it? The food processor of course! Even the pros do this.
Add all the flour and chunks of fat and pulse in short bursts. Watch for the flour to become coarse while still seeing small fat chunks, ideally the size of peas. Then slowly add water a spoonful at a time and pulse after each time. Once the pastry is sticking together (but its ok if there's still some not blended), dump it out onto plastic wrap, seal and refrigerate.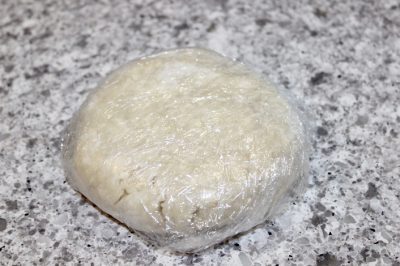 Once the dough is chilled, flour a large clean surface, unwrap the dough and roll it out with a floured rolling pin. You should be able to see the small lumps of fat. If it's been in the fridge for a while you may have to wait five minutes or so for the pastry to warm up enough to roll out.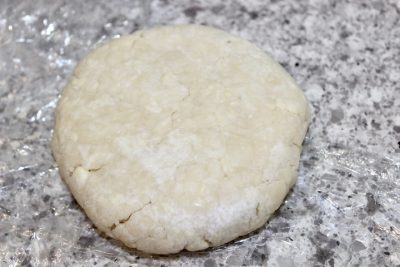 Make sure you flip the dough a few times and turn it a quarter turn after rolling up and down from the middle. Keep it well floured to prevent it from sticking. Try to keep it from having thick and thin spots, especially at the edges where it can get too thin. Don't expect it to be perfectly shaped.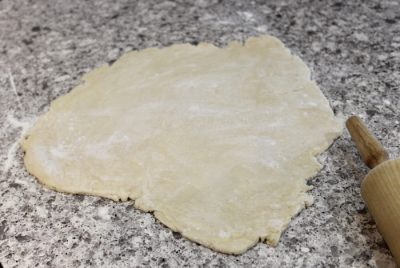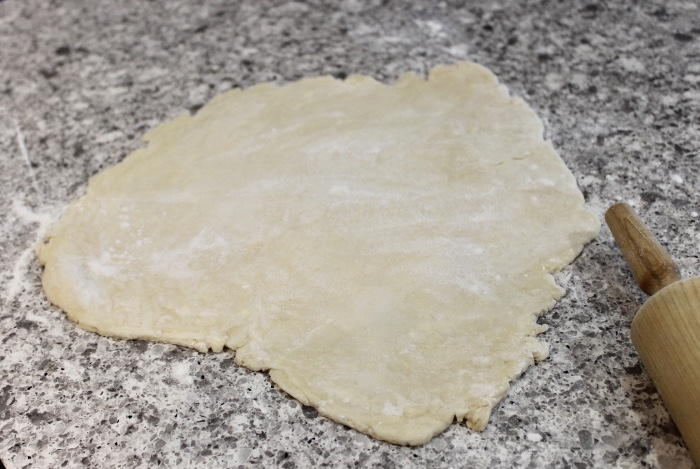 When it's slightly larger than the width of the pie plate, use the rolling pin to fold the dough over and transfer to the pie plate.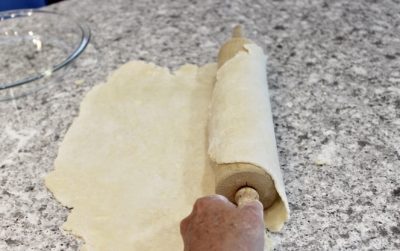 Adjust it so that the dough hangs over and is sunk into the pie plate.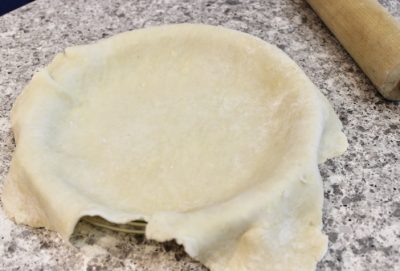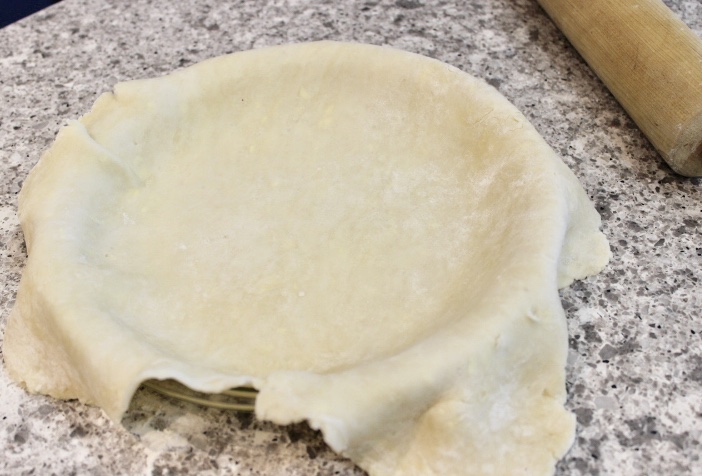 If you have to patch a spot, cut a piece off where you have extra overhang, brush water on the edge and press together. It might hold together. Or not.
If you're doing a single crust, use a sharp knife to trim the edge.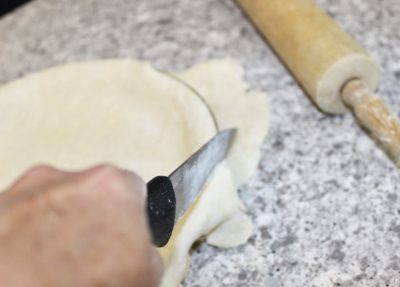 Crimp, fork, pinch, whatever method you like to give the edge a nice finish.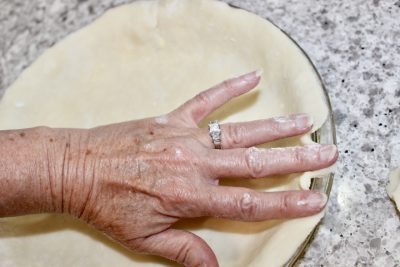 Otherwise, if you're doing a top crust, wait until both pieces are in place to trim. Before adding a top crust, brush the edge with cold water and gently press to stick together. Then trim.
This is the pastry used for Rhubarb Custard Pie.
Some recipes call for eggs or egg yolks and sometimes vinegar or lemon juice. In my family that's called cheating. But lots of people swear by it. This recipe uses a combination of shortening and butter mixed with all purpose flour, a bit of salt and cold water. That's it.
Here's the recipe:
Perfect Pie Pastry
Makes 2 single pie crusts or 1 double crust
Ingredients

2 cups all purpose flour
1/2 tsp salt
1/3 cup shortening
1/3 cup unsalted butter
1/4 - 1/3 cup ice water

Method

Add flour and salt to food processor. Cut very cold butter and shortening into chunks. Add to flour mixture and pulse in short bursts until the flour becomes coarse and fat is reduced to small chunks, approximately the size of peas. Slowly add ice water in spoonfuls and pulse between each addition until most of the dough is combined.
Pour onto plastic wrap, press into a disc, seal tightly and refrigerate a minimum of 30 minutes. You can make the dough a day in advance or freeze for 2-3 months.

Unwrap dough and roll on a floured surface with a floured rolling pin. Flip the dough a few times when first rolling, keeping it well floured on both sides. Roll up and down from the middle, turn the dough a quarter turn after each roll. Roll into a circle at least a few inches larger than the pie plate. 

Gently roll the dough over the rolling pin and carefully lower onto the pie plate, adjusting as necessary to be centered and sunk into pie plate. Trim as necessary.

If pre-baking for unbaked pie filling, bake on the lower rack in the oven at 400 degrees for 10 minutes, then reduce to 350 for about 30 minutes. To prevent the crust from puffing up you can add dried beans or rice over foil, parchment or a coffee filter while baking. Some recipes recommend pricking the bottom with a fork after baking.

For filled baked pies, bake on the lower rack following recipe directions for heat and timing. Usually starting at a higher temperature and reducing after 10 minutes is recommended.

If your pastry edges are browning too quickly, you can cover the edge. There are silicone edge covers available, but you can make your own using a tin pie plate and cutting a circle out of the centre or using strips of foil scrunched into the correct shape.