The growing season is coming to a close and the days are getting colder. We still have local potatoes and leeks so I decided to make some Potato Leek Soup with Bacon. Because everything is better with bacon! But there's something else that makes soups and stews better and I'm adding that too.
Parmesan rind! Yup! Once I've grated a chunk of Parmesan down to the rind, I toss it in a baggie in the freezer and then add it to soups and stews. It adds a hint of umami flavour which works well in this soup. This is yet another reason why you should always use real Parmesan! If you don't have a rind you can grind a bit of parmesan into the soup at the end. Or grind a bit off the rind before dropping it in the soup to stir in at the end.
Jump to Recipe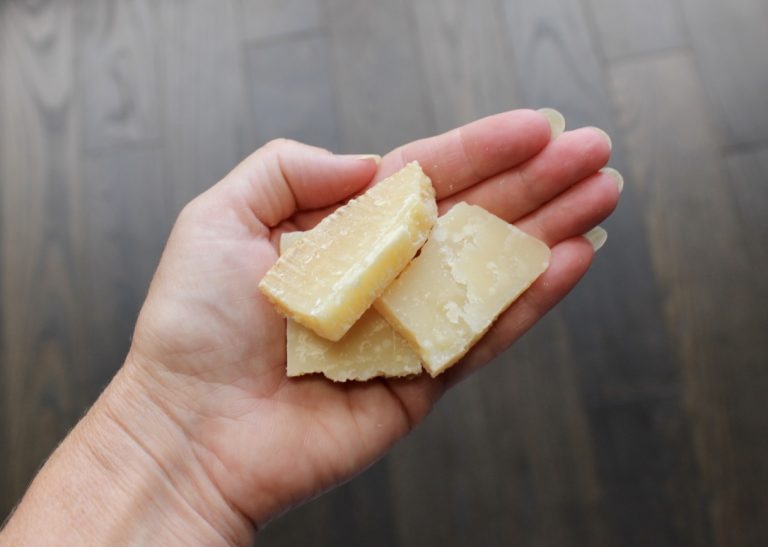 This is a really easy soup to make and it's up to you whether you leave it chunky or purée it. Or purée some and leave some texture. It tastes the same no matter how you finish it. Adding some fresh herbs at the end and a garnish of green onions help balance the heaviness of the soup with some fresh flavours.
Start by slicing 3 strips of bacon in very thin strips. Sauté until they're turning brown and crispy. Remove some of the bacon to use as garnish.
Clean your leeks well. Cut off the bottom and the darker green tops, cut in half lengthwise and wash under running water, fanning the leeks to ensure there's no sand between the layers. Laying the leeks cut side down makes it easier and safer to slice. Cut them into thin half circles.
Add the leeks to the remaining bacon and cook for a few minutes, just until softened.
Dump everything out of the pan onto a plate lined with paper towels. Press to drain the fat.
Peel and cube the potatoes.
Put the bacon mixture into a heavy pot and pour in a carton of chicken broth or 4 cups of homemade. If you're using reduced salt broth, taste and season well as the potatoes absorb lots of the salt. Add some white wine or Vermouth to enhance the flavour. It's optional but why wouldn't you? Add the potatoes, a bay leaf, some fresh or dried tarragon and salt to taste. Drop in the Parmesan rind if you have one. Heat to a boil, then lower heat and simmer about 20 minutes.
If you're leaving the soup chunky, make sure you've cut the potatoes into small cubes. If you are going to purée this, remove the bay leaf and Parmesan rind, then use an immersion blender to partially or fully purée. You can also use a counter top blender but you will have to purée in batches.
I like Potato Leek Soup partially puréed so the potatoes will slightly thicken the broth while still leaving some chunks. If you reserved some grated Parmesan, stir into the soup while still warm.
Add fresh chopped parsley right before serving. Top with minced green onion and crispy bacon. Crack some black pepper over top if desired.
I like to serve this with Olive and Onion Bread.
Here's the recipe:
Potato Leek Soup with Bacon
A thick and hearty soup that's naturally thickened by puréeing the potatoes, so it's gluten free.
Ingredients
3

slices

bacon

1 1/2

cups

sliced leeks, 2-4 leek depending on size

2

cups

peeled and diced potatoes, about 3 medium

4

cups

chicken broth or 1 900 ml carton

1/3

cup

dry white wine or vermouth

optional

1

bay leaf

1/4

tsp

dried tarragon, or 1/2 tsp fresh

1

Parmesan rind, some grated and reserved

optional

salt to taste
Garnish
cracked black pepper

fresh chopped parsley

minced green onion
Instructions
Slice bacon into very thin strips and fry until browning and crispy. Remove some of the bacon and drain, reserving for garnish.

Clean and slice leeks. Add to remaining bacon and sauté for a few minutes, just until soft. Pour mixture onto paper towel lined plate and allow to drain as much fat as possible.

Add drained bacon mixture to large saucepan. Add chicken broth, wine, potatoes, bay leaf, tarragon and parmesan rind. Bring to a boil, then simmer for 20 minutes. Taste and season with salt.

Purée mixture if desired, either entirely or partially. Stir in reserved grated parmesan.

Chop up reserved bacon, fresh parsley and green onion. Garnish as desired and add fresh cracked black pepper before serving.