If you've never had Moussaka it's sort of like a Greek version of lasagna. I've always wanted to make it but I wasn't sure about the combination of spices in the meat. Cinnamon, nutmeg and cloves sound like pumpkin pie to me. But, curiosity got the best of me so I consulted numerous versions on the internet and came up with this recipe that passed not one but TWO taste test dinners!
Moussaka is a three layer dish that starts with eggplant and potato, then a thick layer of meaty fragrant tomato sauce, topped off with a creamy cheesy white sauce. It takes a while to put this together because each layer takes some prep time and the meaty sauce needs time to simmer and reduce, so save this one for a day when you have time. And you're going to have a lot of dirty dishes but trust me, it's worth it.
Jump to Recipe
This is best made and baked on the same day.
Greek Moussaka with Beef and Lamb or Pork
Start with the meat sauce. Traditional Greek Moussaka is made with lamb. I love lamb. I decided to use a combination of beef and lamb because lamb on its own can be rich. If you prefer, you can use ground pork instead of lamb. But you may be surprised, the meat mixture is very tasty in this version of the recipe.
Dice a medium onion and mince a few large cloves of garlic. Sauté in olive oil until softening, then add the ground meat. Make sure you brown the meat before adding any liquid, otherwise you'll be missing out on some important flavour. Once the meat is browned you may have to spoon out some of the fat if it looks like there's quite a bit. It all depends on the meat you use.
Add some red wine to deglaze the pan, meaning when you pour the liquid into the hot pan, the brown bits (called "fond") will melt as you scrape the pan with a wooden spoon and will be incorporated into the flavour. Let the wine cook for about a minute or so. Just to cook off the "boozy" aroma. You could substitute beef stock or water but….like I always say, why would you?
Add the crushed tomatoes and tomato paste. Season with salt and pepper, add cinnamon, nutmeg and cloves, a bay leaf and some dried oregano. If you happen to have a cinnamon stick, use that instead of ground cinnamon. Add some fresh chopped parsley. You MAY want to add some sugar. Sometimes canned tomatoes have a very acidy or sharp taste. The red wine may solve the problem, but if you taste the sauce and it seems "sour" sprinkle some sugar in. It will mellow as it cooks.
What are the spices in Moussaka?
Some Moussaka recipes call for allspice. It's something I don't usually have on hand but cinnamon, nutmeg and cloves are a great substitute and much more common. And they don't overpower the dish, it's more of a subtle scent and flavour.
Let this simmer for at least an hour, stirring often. Leave the lid off at least part of the time to allow moisture to evaporate so you're left with a nice thick sauce….and a great smelling kitchen.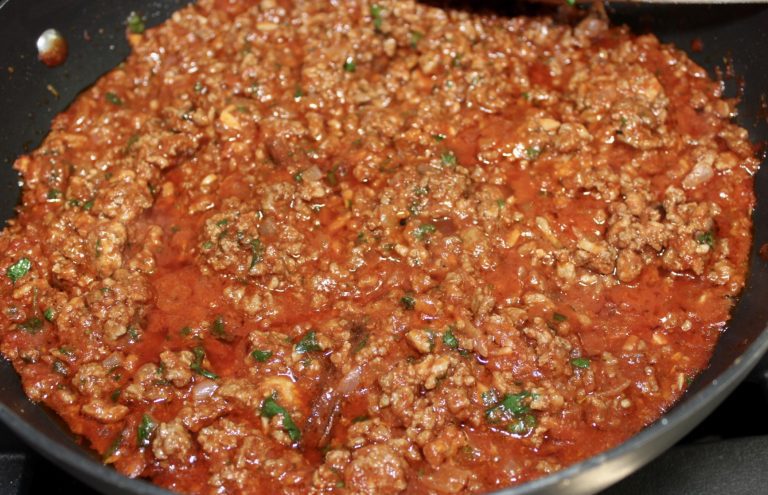 Next, prepare your base layer. I noticed many versions of Moussaka suggest alternatives to frying the slices of eggplant, however it did turn out to be a necessary step for best results. I experimented by roasting the slices on a baking sheet sprayed with oil but the finished baked moussaka had a layer of liquid on the bottom that the fried eggplant version did not.
Do you peel eggplant?
Eggplant skin can be tough so peeling them, even partially is preferred.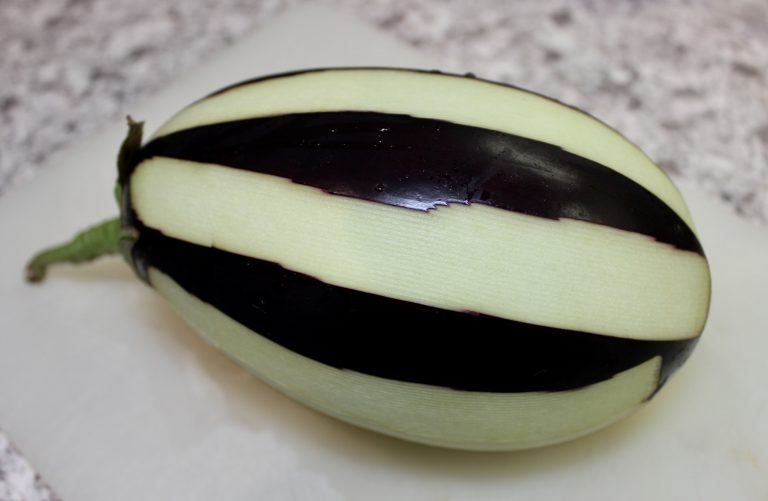 Slice the eggplant into rounds about 1/2 inch thick, lay on paper towel and season with salt. Leaving them for about 30 minutes helps pull the liquid out of the slices which can make the eggplant bitter and watery. If your eggplant is really fresh it probably won't release much liquid. I used one I picked minutes before making the Moussaka. Now that's fresh!
Heat a wide frying pan to medium, drizzle some olive oil in and fry the slices until they're browning, turning to brown each side. Drain on fresh paper towel and layer in an oiled or buttered baking dish, overlapping slightly to cover the entire bottom.
Peel the potatoes, slice and fry, turning once. Pile on top of the eggplant layer, using the same layering method.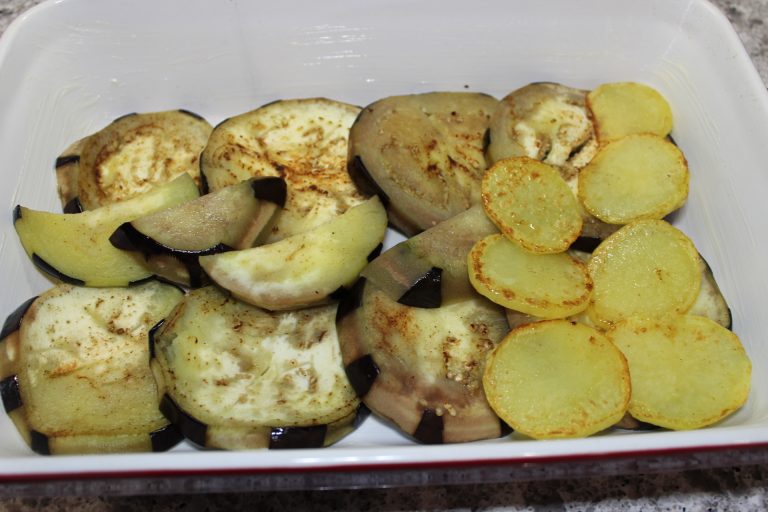 Check the meat mixture for seasoning. Add additional salt if necessary and remove the cinnamon stick and bay leaf. Pour over the eggplant and potato layer.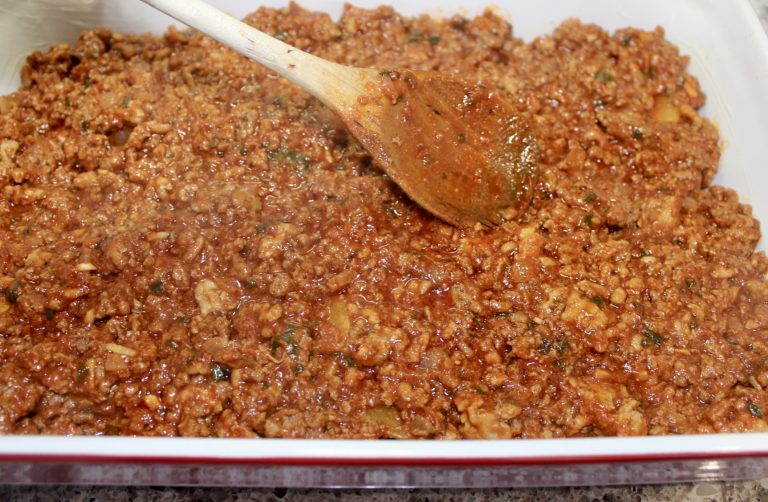 Béchamel Sauce
Make the white sauce (Béchamel) by combining equal parts butter and flour. Stir over medium heat until well incorporated and bubbling.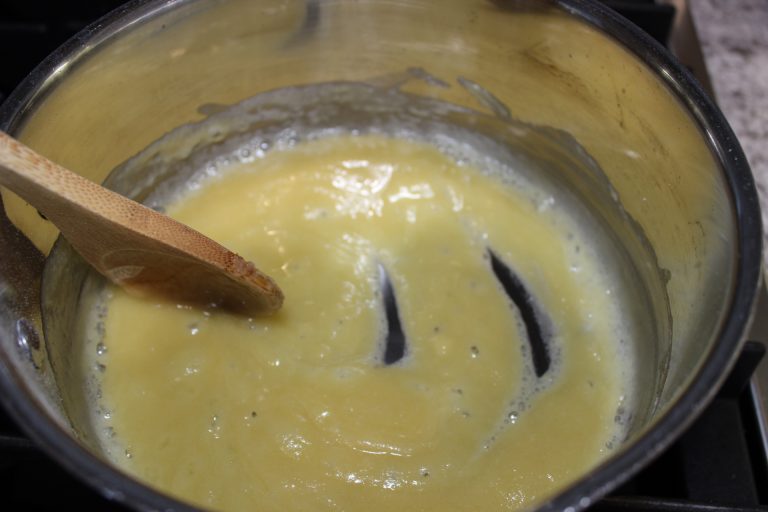 Heat milk and pour in a small amount, stirring well. Continue adding milk and whisk well until you have a smooth sauce. Lower heat slightly and watch carefully, stirring occasionally while the sauce thickens. It needs to come to a simmer.
Turn off the burner and add nutmeg, salt and white pepper. White pepper just looks better in a white sauce. Grate some parmesan cheese and stir it into the sauce. Separate the eggs, reserving the whites for another use while the sauce cools slightly. Whisk the yolks. Don't add to the hot sauce all at once or you'll have scrambled eggs. Best practice is to "temper" the eggs, meaning adding a small amount of warm sauce to the egg yolks, stirring, then adding the yolk mixture in small amounts into the warm white sauce.
Pour over top of the meat mixture. Grate some extra parmesan cheese over top.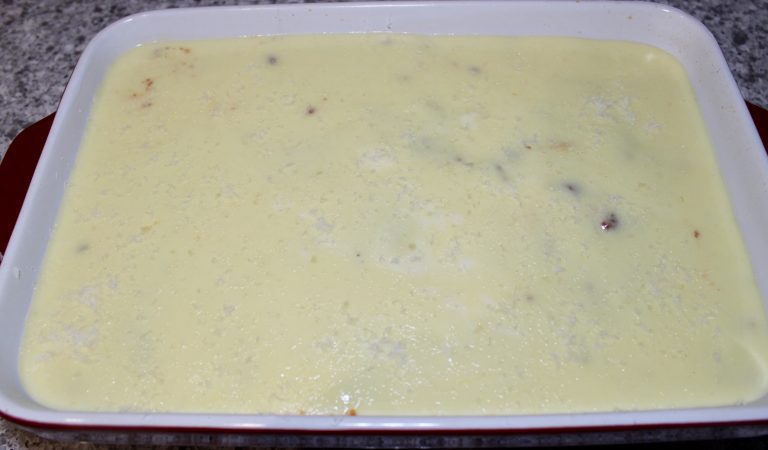 Bake in the middle of the oven for about 1 hour until the top starts to bubble and is browning. If you have a convection setting, turn to convection for the last 5 minutes or so to ensure the top is brown.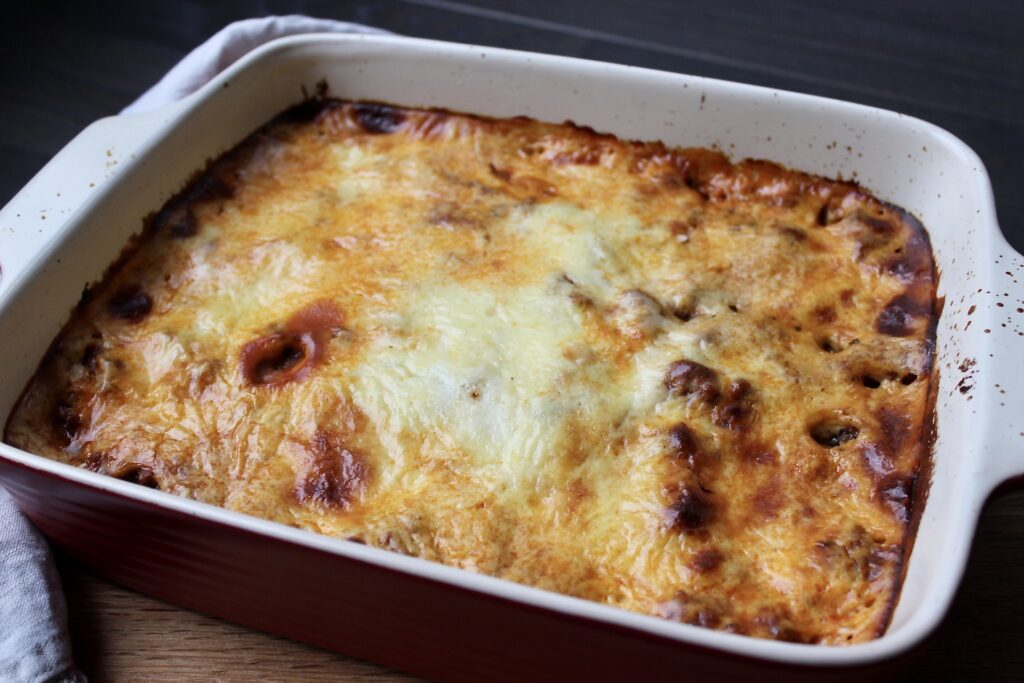 You'll want to dig in right away but you need to let this rest for at least 15 minutes so you can serve it without it falling apart.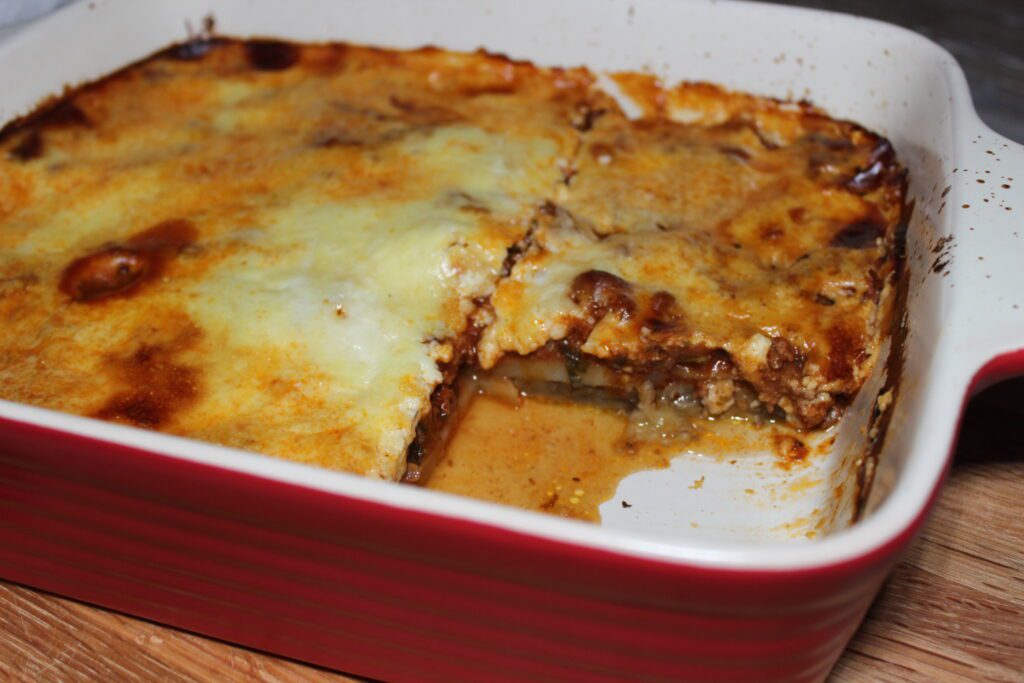 Make this a Greek meal and serve with Greek Salad and Olive and Onion Bread.
Opa!
Heres the recipe:
Moussaka
Greek Moussaka made with a fragrant beef and pork sauce, smothered with creamy béchamel.
Ingredients
Bottom Layer
1

large

eggplant, or 2 small

2

medium

potatoes

salt

1/4

cup

olive oil for frying
Middle Layer
1

medium

onion

2

cloves

garlic

1

Tbsp

olive oil

1/2

lb

ground beef

1

lb

ground lamb

or pork

796

ml

canned crushed tomatoes

2

Tbsp

tomato paste

1/4

cup

red wine

1

tsp

dried oregano

1/2

tsp

cinnamon

or 1 cinnamon stick

pinch

ground cloves

pinch

ground nutmeg

1

bay leaf

pinch

sugar

if tomatoes are sour

handful

fresh chopped parsley

salt and pepper to taste
Top Layer
1/3

cup

butter

1/3

cup

flour

3

cups

milk

pinch

nutmeg

3/4

cup

grated parmesan cheese, plus more for top

3

egg yolks

salt and white pepper to taste
Instructions
Prepare middle layer first. Chop onion and mince garlic. Sauté in olive oil in large skillet until soft. Add beef and lamb. Brown over medium heat and spoon out any extra fat. Add wine to hot skillet and scrape brown bits to incorporate flavour. Add crushed tomatoes, tomato paste, oregano, cinnamon, cloves, nutmeg, bay leaf, parsley and salt and pepper. Simmer for an hour, stirring occasionally, until flavours are well incorporated and sauce is thickened and reduced.

Meanwhile, peel or partially peel eggplant. Slice into 1/2 inch rounds. Lay on paper towel and sprinkle with salt. Allow to sit for 30 minutes to release liquid.

Prepare bottom layer next. Heat a second wide skillet to medium and add half of the olive oil. Fry slices until browning on both sides. Drain on fresh paper towel. Arrange in bottom of oiled or buttered 9 x 13 baking dish, overlapping if necessary to cover entire bottom.

Peel and slice potatoes. Add remaining olive oil to skillet and fry until browned on each side. Drain on paper towel and layer over the eggplant using the same overlapping method.

Pour meat sauce over the vegetable layer. Preheat oven to 350 degrees and ensure rack is set at middle position.

Prepare top layer by heating flour and butter in a saucepan and stir until blended and bubbling. Heat milk and add in small amounts, whisking well until incorporated. Allow to simmer until thickened. Season with nutmeg, salt and white pepper. Remove from heat. Add grated Parmesan cheese and stir until melted. Allow to cool slightly.

Separate 3 eggs, reserving whites for another use. Whisk yolks until smooth. Add a very small amount of white sauce to yolks, stirring well. Add yolk mixture slowly to white sauce, whisking well until blended.

Pour sauce over meat mixture. Grate additional Parmesan cheese over top.

Bake for 1 hour until bubbling at edges and top is browning. Use convection setting in last few minutes if desired.

Allow to rest for at least 15 minutes before serving.
more one pan meals