This recipe came from a book called French Women Don't Get Fat. I'm not sure if that's true or not but the Baguette recipe was worth the price of the book. I make French Baguettes often and this recipe is a winner.
I think bread has a bad rap. Yes, some people can't eat it. I'm sad for those people. But who can resist a warm loaf of freshly baked bread? Not me! If you haven't ever made bread you might be thinking there's some skill involved or secret method. The truth is dough is pretty forgiving. And for the price of a few cups of flour and some yeast, it's worth a try.
Jump to Recipe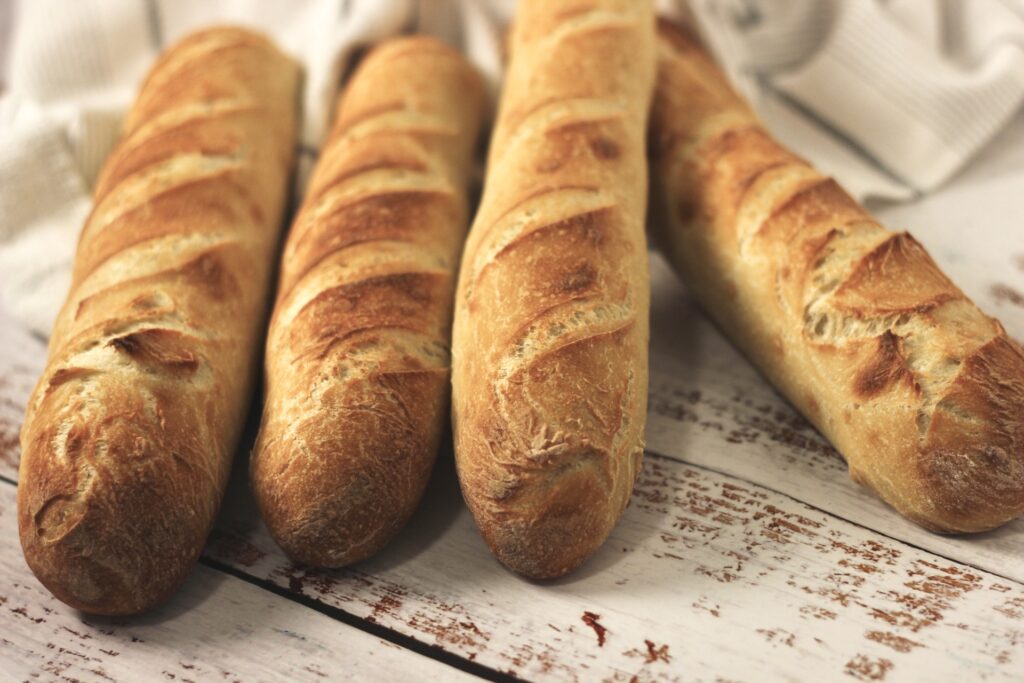 If you have a stand mixer, all the work is done for you. If not, just roll up your sleeves and give it a go!
Maybe you don't think you're ready for bread making at this level. Many people have told me they've tried this recipe and it worked out great. Still not convinced? Try New York Times No Knead Bread which is super easy and doesn't require any special skill or equipment.
How to make homemade Baguettes
Start by proofing the yeast in some warm water. What that means is the yeast will foam up to confirm it's "alive." If your water is too hot it may "kill" the yeast so the temperature should be around 110-115 degrees.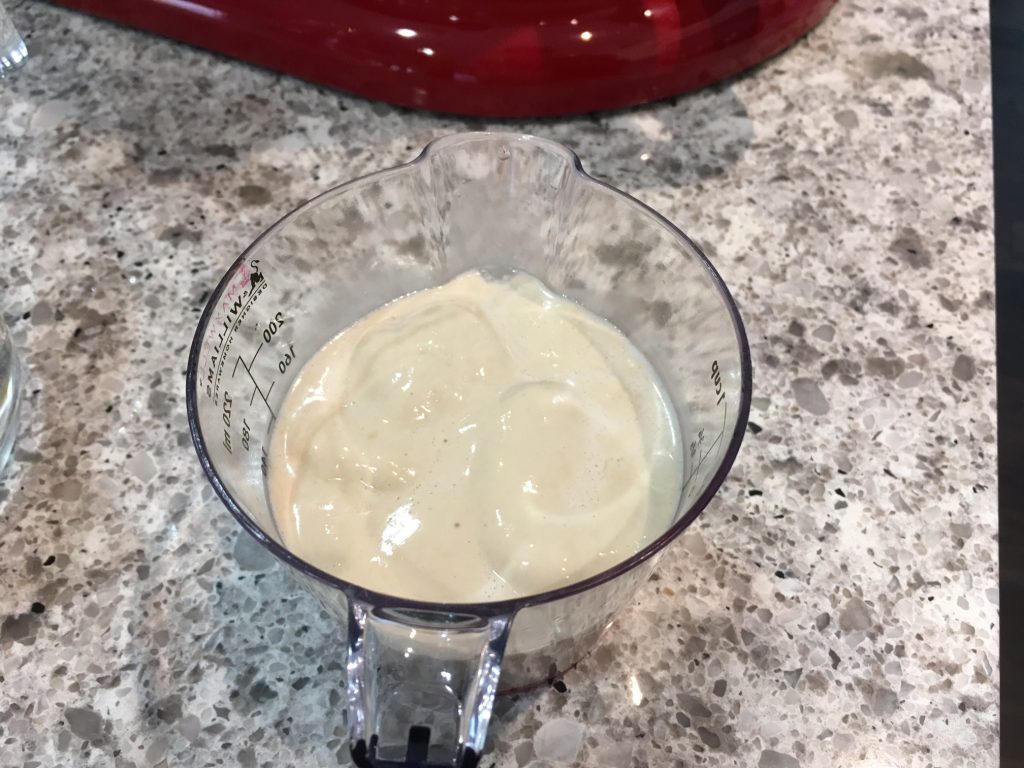 So what if it doesn't foam up? That has happened to me with fresh yeast but I used it anyway and the bread turned out perfectly fine.
Combine the flour and salt in the bowl of a stand mixer. If you don't have kosher salt, use a course salt like sea salt. If you only have table salt reduce the amount by half. Then add the yeast mixture once it's foamy, along with the rest of the warm water. Knead it with the dough hook on a low speed for about 3-5 minutes. I use speed setting #2. By hand you knead it for 5 – 10 minutes on a floured surface.
If the dough is sticking to the bowl after kneading for a few minutes, it needs more flour. The recipe calls for 4-5 cups of flour which is quite a range. Start with just over 4 cups and add in small amounts until the dough starts staying together and not sticking to the bowl. You may also use bread flour which has a slightly higher gluten level. If you do, you won't need as much flour as all purpose flour because the bread flour absorbs a bit more liquid.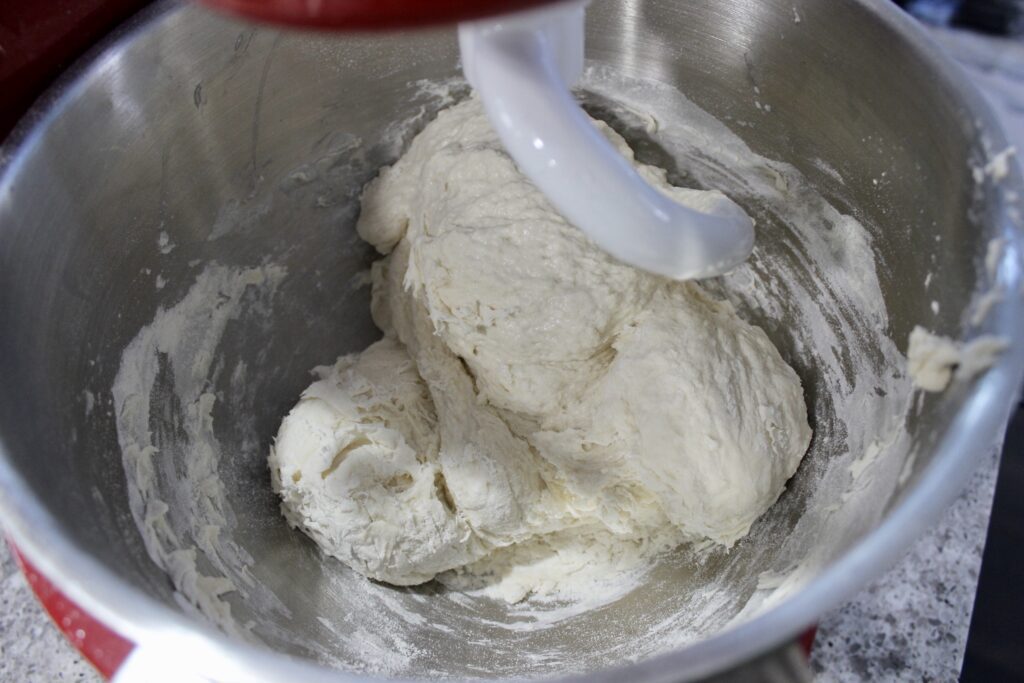 The amount of flour can vary depending on factors such as humidity, how well it's sifted and just plain randomness. In most cases I use pretty much all of the 5 cups of flour. The baguette dough looks fairly shaggy at first but when it stops sticking to the bowl and has a smooth surface, it's ready to rise.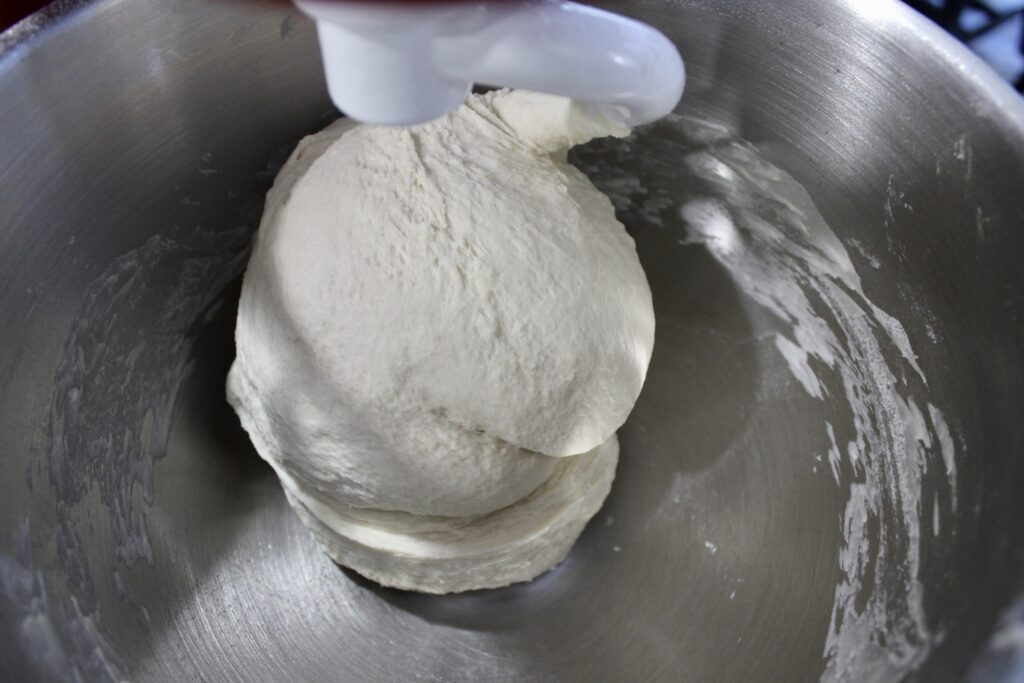 Cover with a damp towel and let it rise until it's doubled in size. This could take about an hour or up 2 hours. You want to keep the dough moist, otherwise it will form a crust on top and interfere with rising. If you leave the bowl in the oven with the light turned on, that's the perfect place to let dough rise. Otherwise, make sure it's not near any draft or cool air.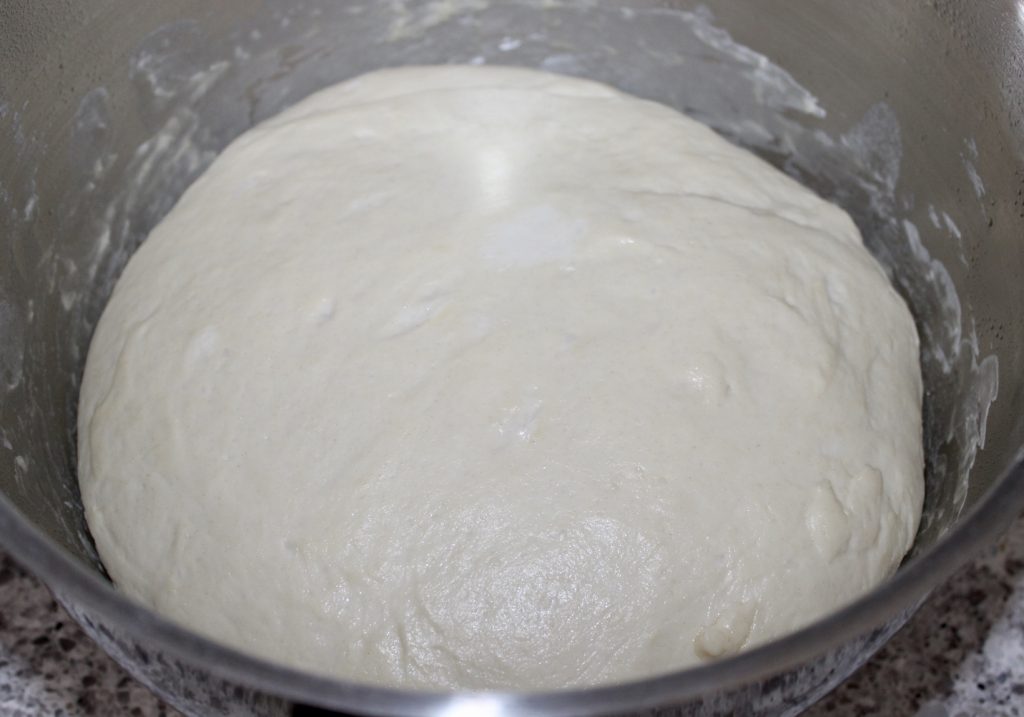 How to shape baguettes
Once your baguette dough is doubled, punch it down a few times to release air bubbles, then turn onto a clean counter dusted with flour. Knead it a few times and cut into 4 equal pieces. Now you just have to roll the dough into snakes, just like when you were a kid. Remember play dough? It was practice for bread making.
Use a rolling, squeezing, stretching technique and don't worry too much about what they look like. You want them to be long and thin. Place them on a baking sheet and let them rise again until almost doubled. This will take around 45 to 60 minutes. Ish. The book suggests an oiled baking sheet but parchment paper works pretty good too.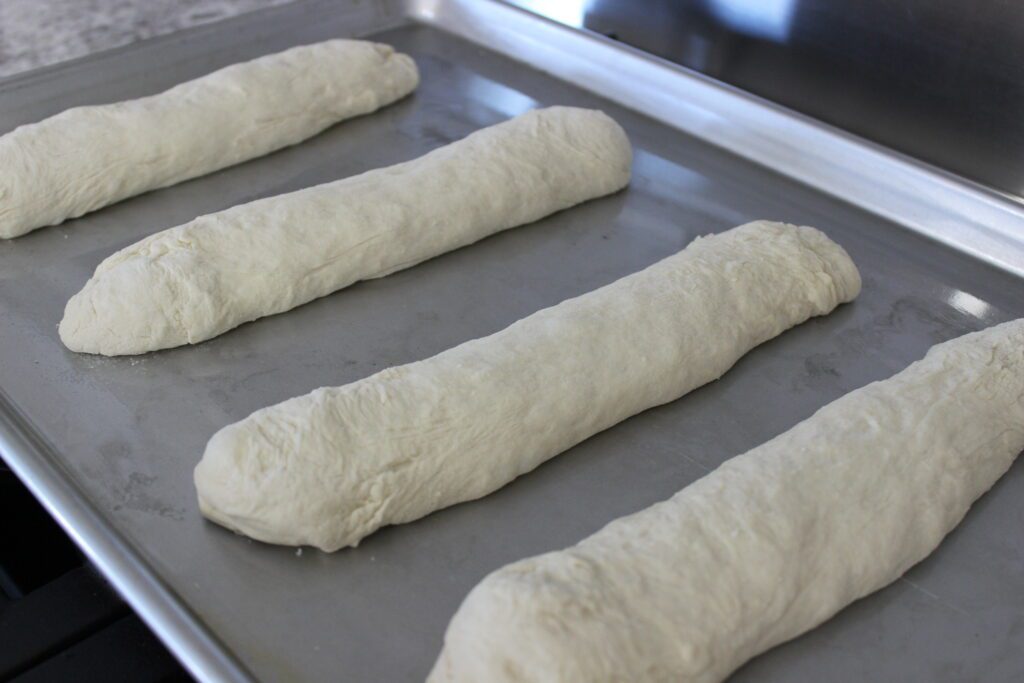 Don't worry if they flatten slightly. Baguettes aren't perfectly round. And they might not look perfect at first but they smooth out as they rise. They continue to rise when they're baking too.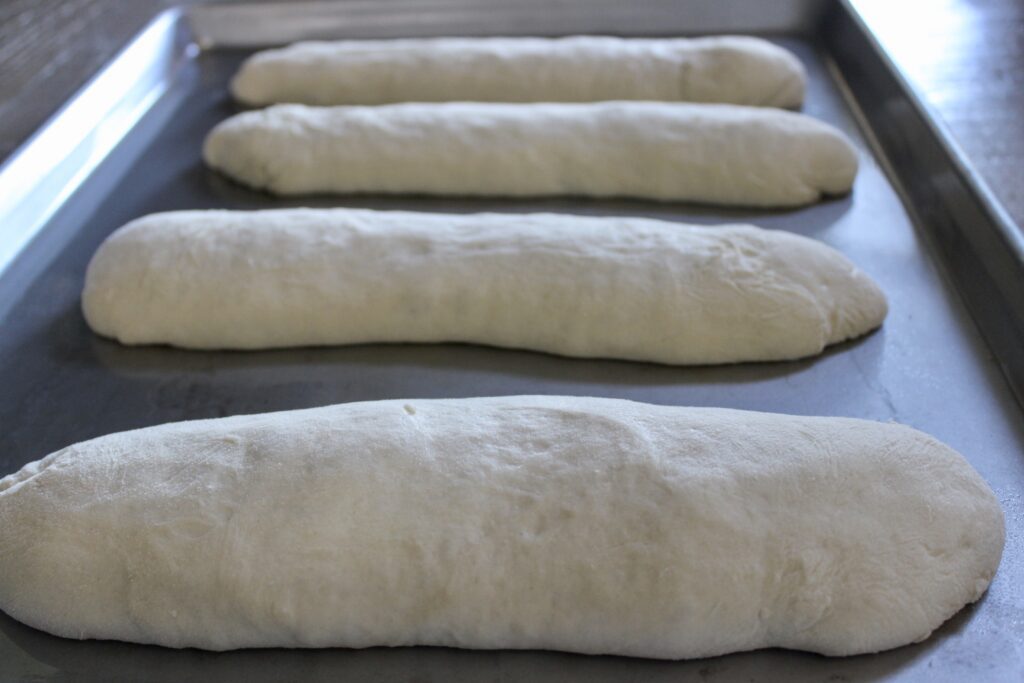 Once they've almost doubled in size and the oven is preheated, brush the loaves with an egg wash to give the exterior a shiny golden finish. OR, what I've discovered works well is a spritz of water. Not too much, but if you have some type of water mister it will help you achieve a crispy evenly browned crust. Use the regular bake setting, not convection, to prevent the loaves from forming a crust too soon before they've had time to rise properly. You can switch to convection for the last few minutes if the baguettes aren't browning enough.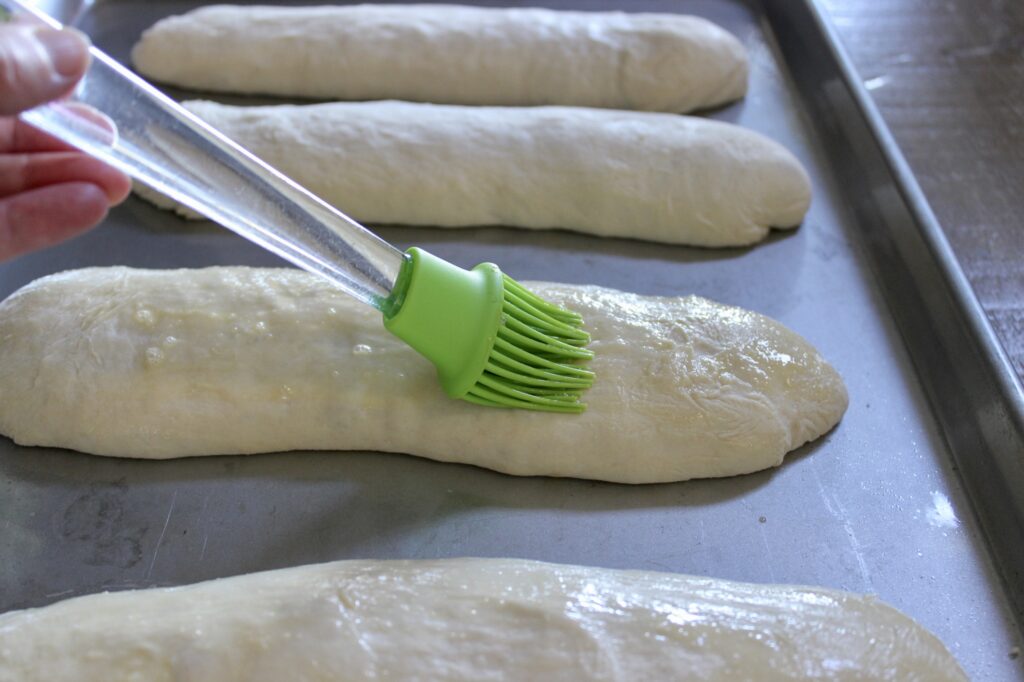 Give the loaves some slashes with a very sharp knife or razor blade to ensure they rise evenly without splitting. It also gives them that authentic French Baguette look. Make a quick one direction slice without sawing back and forth. 
If you're lucky enough to score a baguette pan like this, it's awesome and just happens to be the perfect size for this recipe. The holes help the baguettes bake and brown evenly and it's super non stick so they slide right out.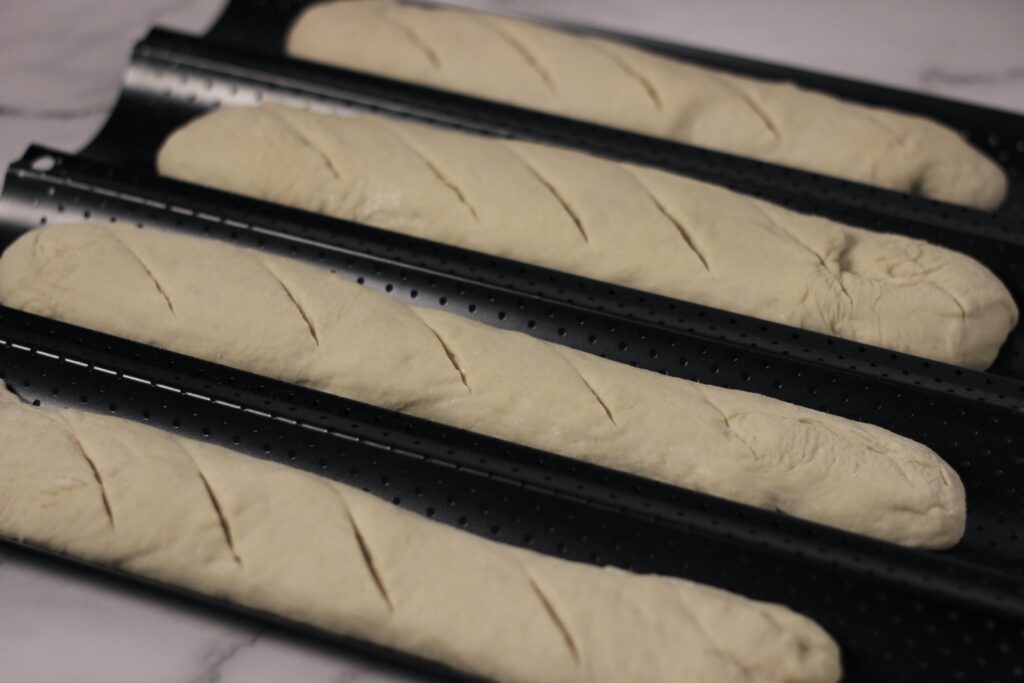 Otherwise, if you've got a full sized baking sheet you can bake all 4 on one pan, laying them crosswise. Or use 2 regular sized baking sheets and lay them lengthwise. Put an old pie plate on the very bottom of the oven under the lowest rack and add 1 1/2 cups boiling water before you preheat the oven. The steam created helps give the bread a golden crusty exterior with a chewy interior. I know that doesn't make sense but it's true.
Bake on the middle rack of the oven if you're using a full baking sheet or on the lower and middle rack if you're using two sheets. Turn the heat down slightly after 15 minutes but don't open the door and don't be tempted to switch rack locations if you have 2 baking sheets. After 15 minutes, the baguettes may look like they're almost done but they need more time to ensure they have a nice crusty exterior. It's also important to cool them on a rack right away so don't leave them on the baking sheet.
Homemade bread has none of the preservatives that store bought has so you'll want to eat these within a day or two. Baguettes freeze well so you can eat some and save a few for another time. Once they're defrosted, pop them in the oven for 5 minutes and they taste like freshly baked all over again.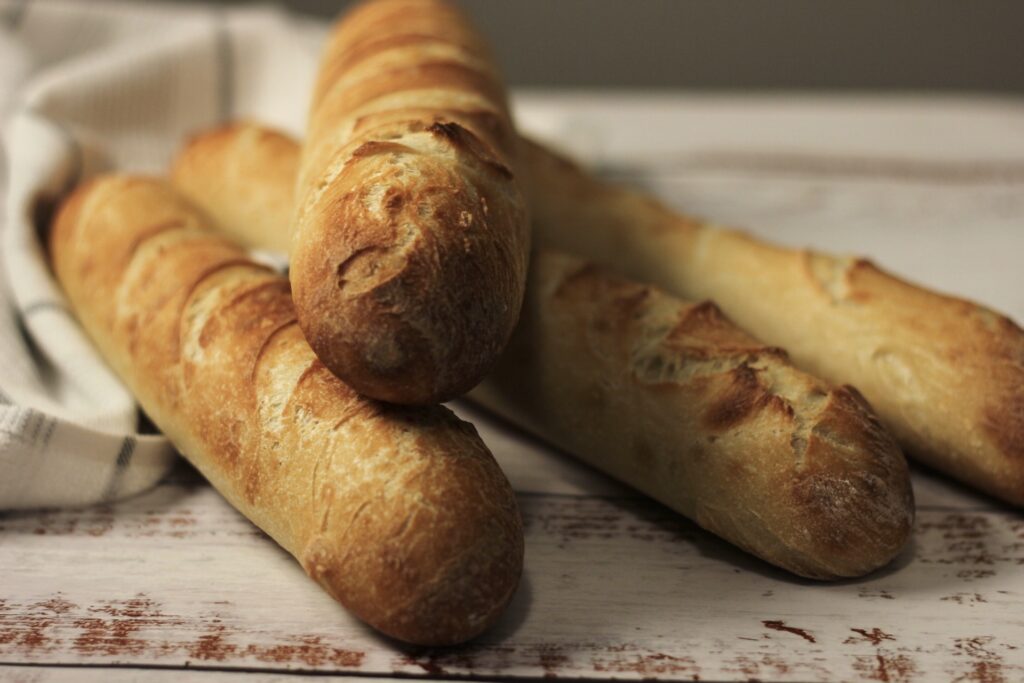 Here's the recipe:
French Baguette
Homemade French Baguettes - let your stand mixer with dough hook do the hard work
Ingredients
1

tsp

active dry yeast

2

cups

warm water, or slightly less

4-5

cups

unbleached all purpose white flour

2

tsp

kosher salt

course salt

1

egg, beaten mixed with 1 Tbsp cold water

or cold water mister

oil for greasing baking sheet

if not using baguette pan
Instructions
Dissolve yeast in a small bowl in 1/2 cup warm water. Stir and set aside until it foams, about 5-10 minutes.

Combine (most of) flour and salt in the bowl of a stand mixer with dough hook attachment. Add yeast mixture and remaining 1 1/2 cups warm water. Knead on speed #2 until the mixture is combines well and dough is no longer sticking to the bowl, adding more flour in small amounts as needed. Knead until smooth.

Take bowl from mixer and cover with a damp towel. Let rise at room temperature for about an hour or longer, until doubled in volume. It may take 2-3 hours depending on the season and where you live.

Punch down the dough and knead a few times on a floured surface. Cut into 4 equal pieces and roll into long thin loaves. Use a rolling, squeezing, pulling technique.

Transfer loaves into a baguette pan or a lightly oiled large baking sheet or 2 loaves onto each of 2 baking sheets. Let rise again until nearly doubled. Cover very carefully with oiled plastic wrap if desired, but that is optional. Second rising normally takes 45-60 minutes.

Preheat oven to 450 degrees on the bake setting, not convection bake. Ensure rack is in middle of oven or if using two baking sheets, the lower and middle location. Place a metal pie plate on the oven bottom under the lowest rack and add 1 ½ cups boiling water.

Beat egg and add cold water. Brush over loaves. OR, spritz gently with water. Using a very sharp knife, slice diagonal slits in the tops of loaves.

Bake for 15 minutes at 450° then reduce heat to 400 without opening the door. Bake another 5-10 minutes until loaves are golden brown. If desired, switch to convection bake for last few minutes if loaves aren't browning enough.
Print Recipe
more bread recipes
If you've tried this recipe, please consider leaving a rating or sharing on the social media links below.