This minty creamy chilled retro dessert is a great way to repurpose candy canes. And if the stress of Christmas shopping is getting to you, you'll be able to work out some of your frustration by crushing the candy into tiny bits with a rolling pin or heavy frying pan! There's even a reduced sugar option that will help you feel less guilt if you've been overindulging, so go ahead and make Peppermint Wafer Dessert.
Jump to Recipe
The original recipe for Peppermint Wafer Dessert is from the Better Homes and Gardens Cookbook that my mom has. My own copy doesn't have this recipe, so for some reason it didn't make the cut as new editions were published. Which is a shocker because it's SO good! I've modified the recipe to take into account the current measurements of prepackaged Gelatine and the correct size of cartons of whipping cream.
Update: I was asked if this dessert freezes well and I wasn't sure. Thanks to Mary for giving it a test run. It works! AND, she came up with the idea to make individual servings in small canning jars. Brilliant!
You need to use red and white candy canes, not the kind with green and red stripes, otherwise your dessert will be a funky colour. And make sure the candy canes are MINT and not other flavours. For the reduced sugar option, instead of using candy canes, substitute Russell Stover No Sugar Added Starlight Mints which are conveniently packaged in 150 gram sizes so they're the perfect amount for this recipe.
How to crush hard candy
The best way to crush the candy is to have it inside a freezer bag or other heavier plastic storage bag, sealed with the air pressed out. Otherwise it could pop and your candy bits will fly all over the place. Bang the candy with a rolling pin or the back of a heavy frying pan until you are left with pretty small pieces. You need about a cup of crushed candy, give or take. If your pieces are really small and you have less than a cup, that's ok.
Add the candy to the milk, along with a pinch of salt and slowly heat the mixture until all the candy is melted. Don't try to rush it, you'll curdle the milk if you heat it too quickly.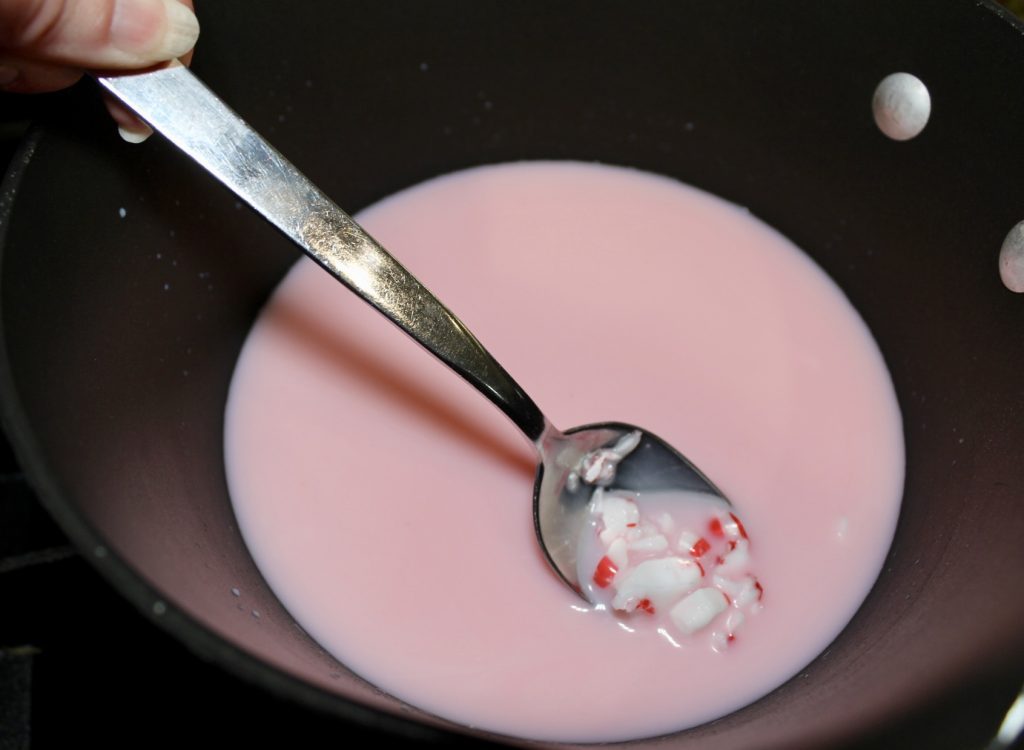 Once all the candy is melted, add one package of Gelatine to a bit of cold water and let it expand. Then add it to the warm candy mixture and stir until it's dissolved. Gelatine is sold in a package with 4 envelopes. You need only one for this recipe but it's so good you'll want to make it again and again.
The mixture will start to gel as it cools. You just want it to be partially set before folding in the whipped cream. Refrigerate it for about half an hour, check to see if it's starting to thicken, then whip the cream until it's pretty stiff. Don't over whip it or you'll have butter.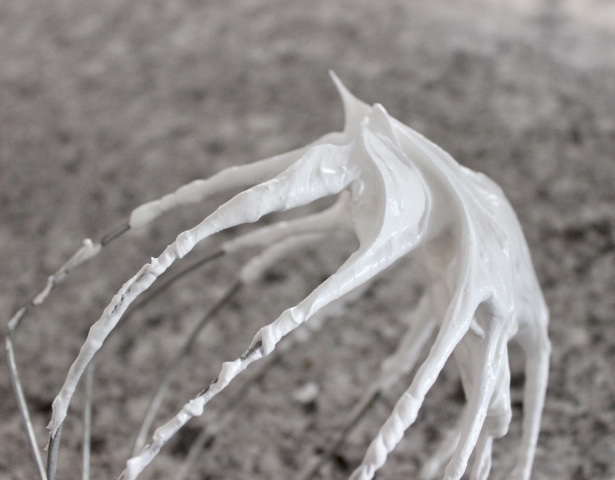 And use only REAL whipped cream, which means the carton of whipping cream found in the dairy aisle that you have to whip yourself. There is no sugar in whipping cream and you don't need it for this recipe, even if you're using no sugar added mints. A medium sized carton of whipping cream is 473 ml which is just shy of 2 cups, the perfect amount.
While you're waiting for the mixture to cool, lay chocolate wafers in the bottom of a baking dish. A nine inch square or similar volume dish is the best size. Break some of the wafers in half to stand up around the edges and use broken pieces to fill in any gaps. Make sure to save some to crush for the top.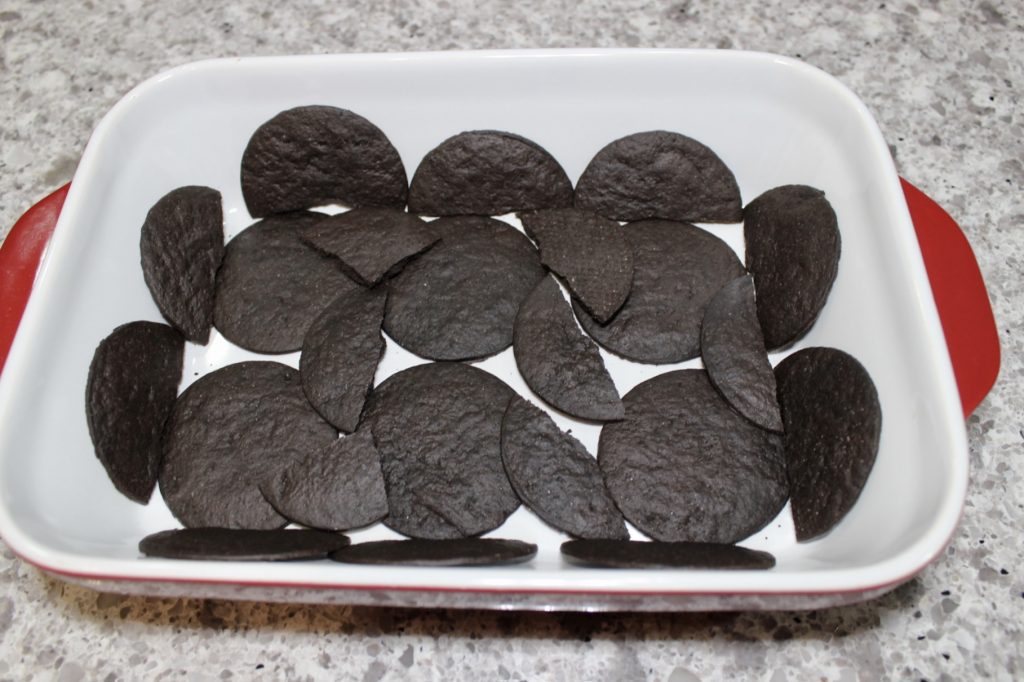 Once the candy mixture is cool and slightly set, fold it into the whipped cream and mix until it's well incorporated. Folding is like a gentle way of stirring so you don't deflate the whipped cream.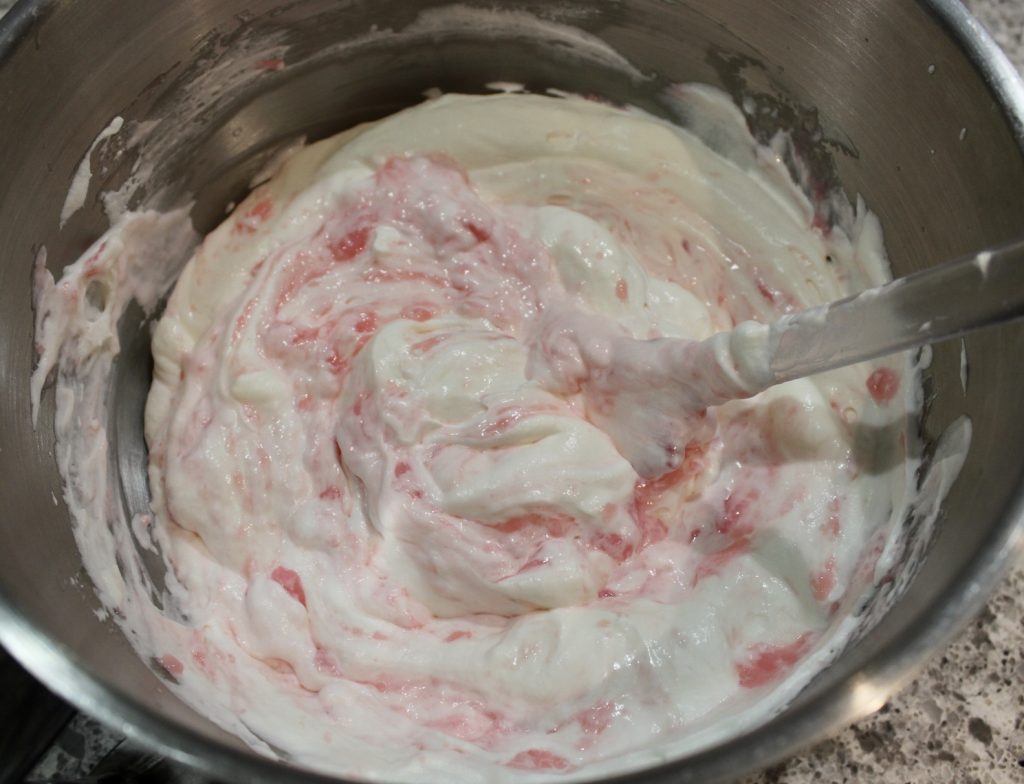 Pour half of it into the dish with the wafers arranged and spread to the edges.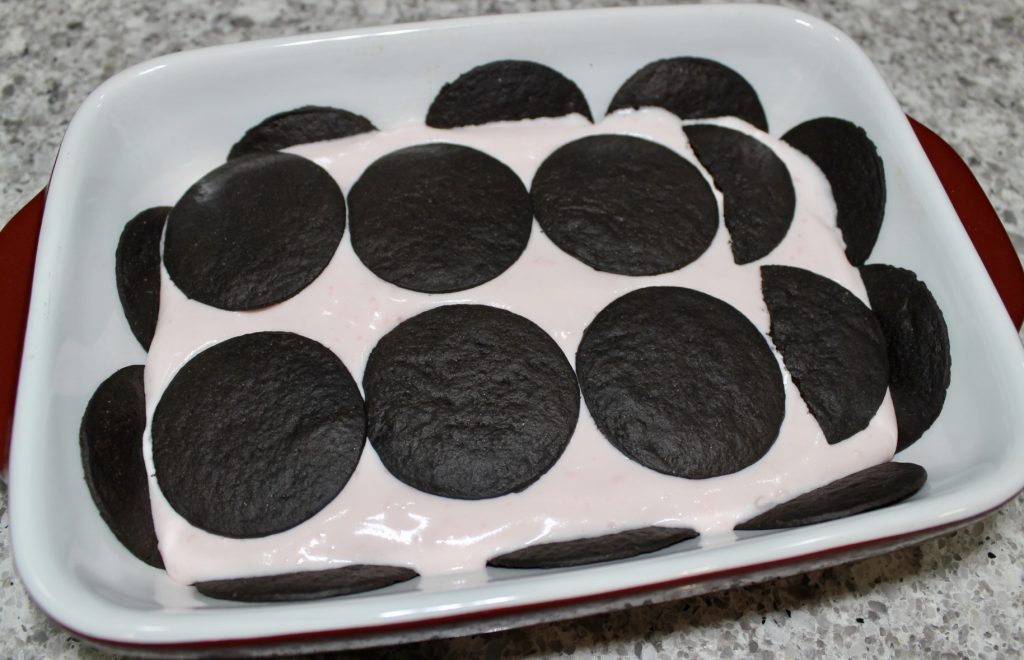 Lay a second layer of chocolate wafers over top, then pour the rest of the cream mixture on top. Crush the rest of the wafers and sprinkle over the top.
Chill until set, at least several hours or better yet, over night.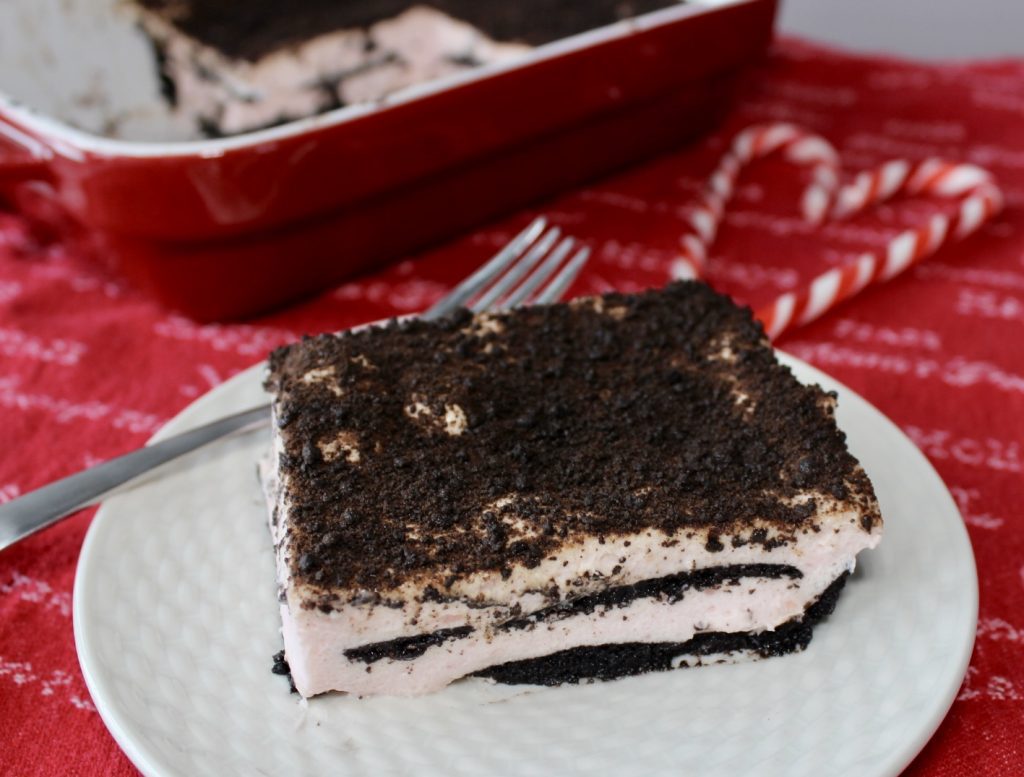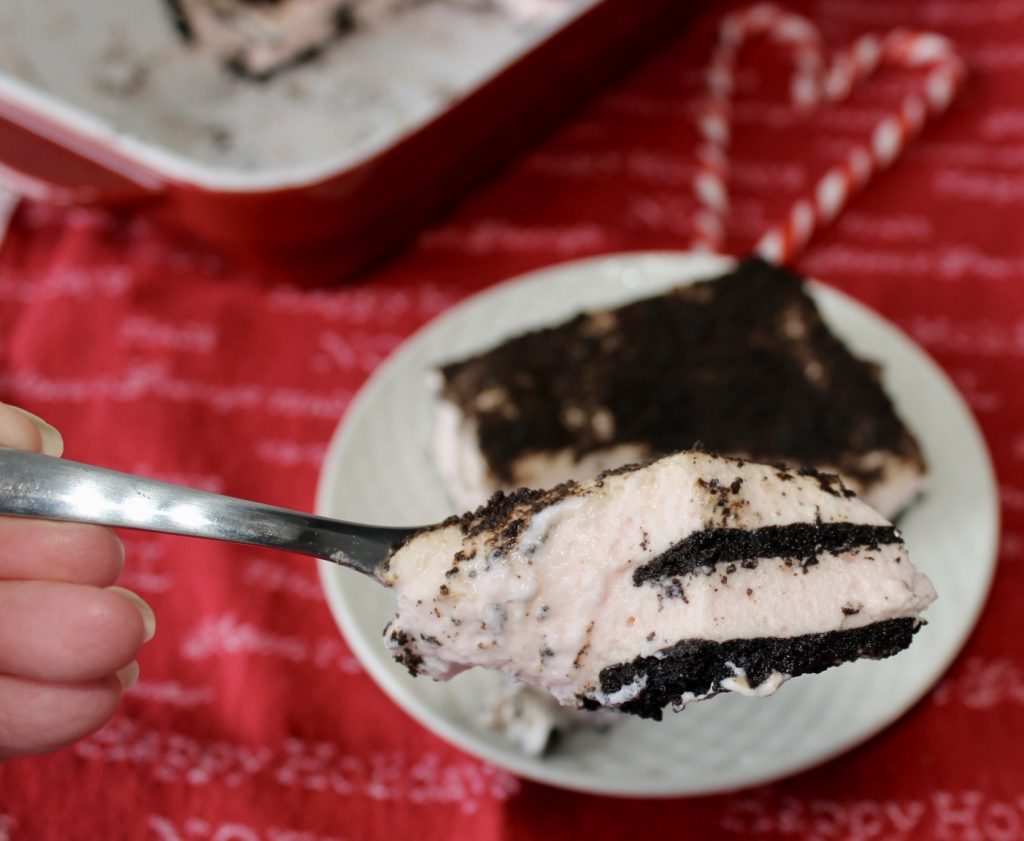 Here's the recipe:
Peppermint Wafer Dessert
A creamy minty chilled dessert made with crushed candy canes with a reduced sugar option.
Ingredients
1

cup

crushed peppermint red stripe candy canes

OR

150

g

Russell Stover No Sugar Added Starlight Mints

1 1/4

cups

milk

pinch

salt

1

Tbsp

unflavoured Knox Gelatine

1 package

1/4

cup

cold water

473

ml

real whipping cream

35%

200

g

chocolate wafers
Instructions
Crush candy in a sealed plastic bag with a rolling pin or heavy skillet until well broken up.

In a large saucepan, gently heat milk along with candy and a pinch of salt. Stir occasionally until all the candy is melted. Do not over heat.

Dissolve Gelatine in 1/4 cup water. Add to milk mixture and stir until melted and smooth. Chill until partially set, about 45 minutes.

Whip cream until very thick, being careful not to over whip. Fold into chilled milk and candy mixture.

Arrange wafers in bottom of dish and along sides by breaking side pieces in half and standing on flat end. Fill in open spaces with broken pieces. Reserve some wafers to crush for the top.

Pour half of chilled mixture over wafers. Lay a second layer of wafers over top. Pour remaining half of chilled mixture on top. Sprinkle crushed remaining wafers over top.

Chill for several hours or over night.
Print Recipe
more festive treats