If you have a cookie press you can make Whipped Shortbread Cookies in various shapes. The dough is very stiff so the cookies maintain their shape during baking. And these cookies melt in your mouth. They make great hostess gifts around the holidays but they're so good you'll have a hard time giving them away.
Jump to Recipe
If you've never worked with a cookie press, basically you're squeezing the dough through a plate that shapes the cookies. The one I used when I was a kid had a metal round top that you pressed with the palm of your hand. It left a dent in my hand for days. This new style works like a caulking gun so one squeeze of the "trigger" and you have a perfectly shaped cookie.
If you don't have a cookie press, try these Shortbread with Chocolate Covered Almonds.
The dough for Whipped Shortbread Cookies is fairly stiff so if you have a stand mixer it will make life a little easier for you. You can actually use a food processor too but you probably don't want to use a hand mixer, you could burn the motor out.
You need to get the butter fluffy before adding the dry ingredients so beat it well. Unsalted butter is best for this recipe. My grandmother always called it sweet butter. Besides having less salt, there's also a different water content than regular butter. You can read all day long about the difference between salted and unsalted butter. But seriously, if you use regular salted butter, that's ok.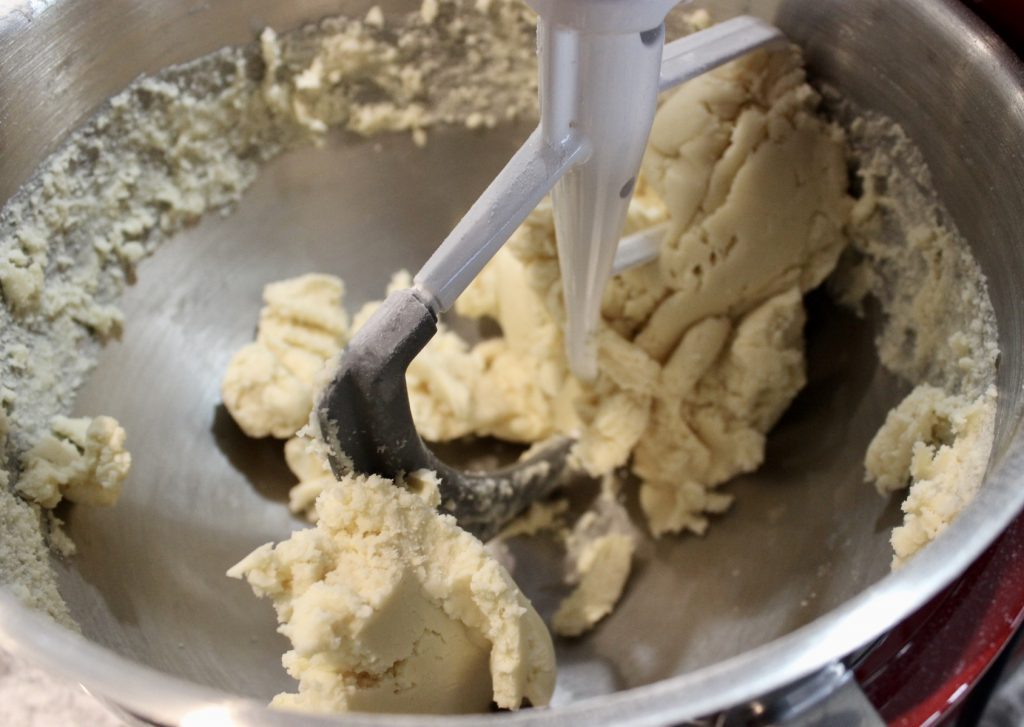 Fill the chamber with dough by either spooning it in and pressing it down as firmly as possible or rolling the dough into a tube and dropping it in. You'll need to squeeze the trigger a few times to press the dough toward the end.
How does a cookie press work?
When the dough starts squeezing through the holes in the shaping plate start pressing out the cookies by placing the end of the press directly onto the flat surface of the cookie sheet. Use an ungreased baking sheet and no parchment paper. You need the dough to stick to the pan to operate the press properly. I discovered this right before firing the cookie press across the room. Turns out it wasn't the equipment, it was the parchment paper. The first cookie may come out weird, just toss that one back into the dough mixture and add it to the next batch.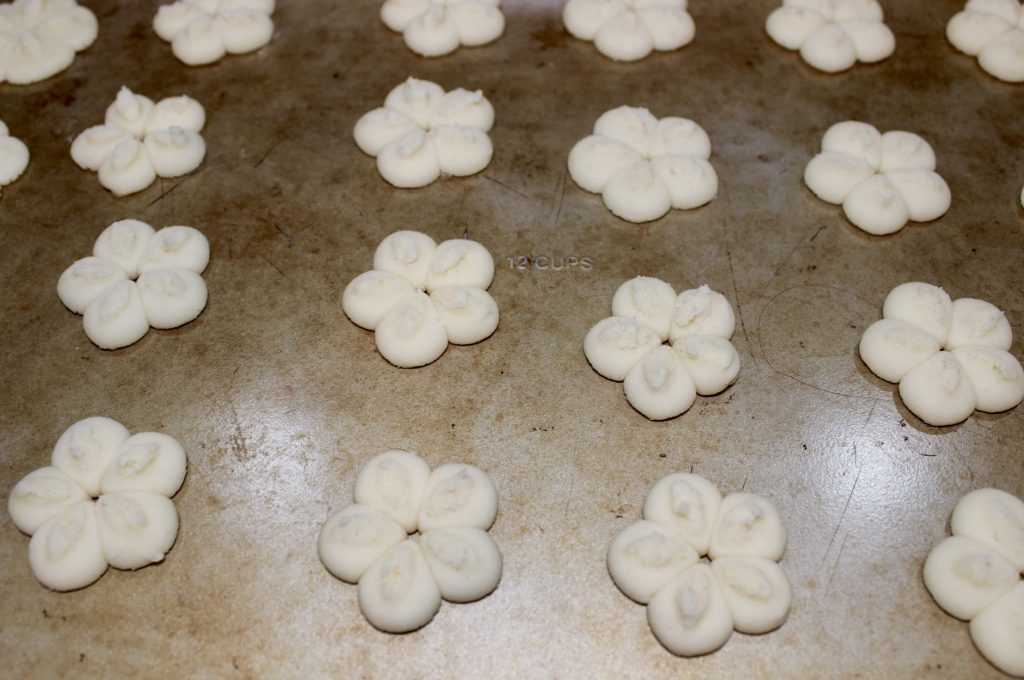 Cookie presses come with different plates for various shapes. I've always been partial to this one. Not the sheet pan, the cookie shape. It's perfect for cookies with a cherry centre. Obviously I need a new cookie sheet.
Cut cherries into tiny pieces and place one in the centre of each cookie before baking. You can use Maraschino or glacé cherries.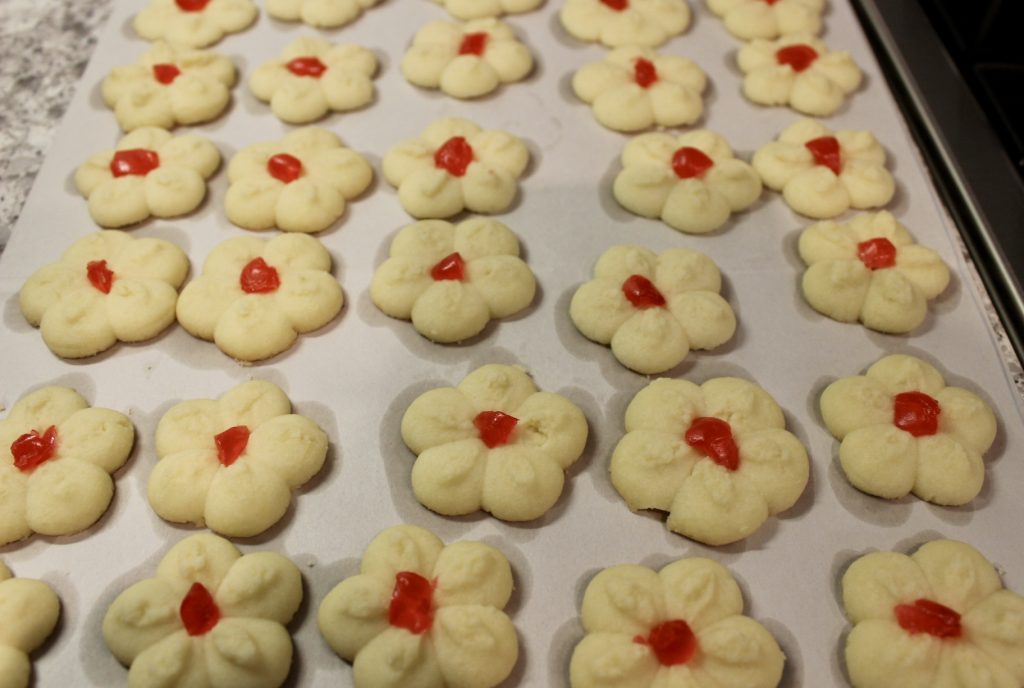 They're baked at a lower temperature and almost melt in your mouth while still warm from the oven. Cookies are best cooled on a rack but Whipped Shortbread Cookies are very delicate and small so you can leave them on the cookie sheet or remove them to unprinted newspaper where you will be able to see the evidence of the generous amount of butter in the recipe.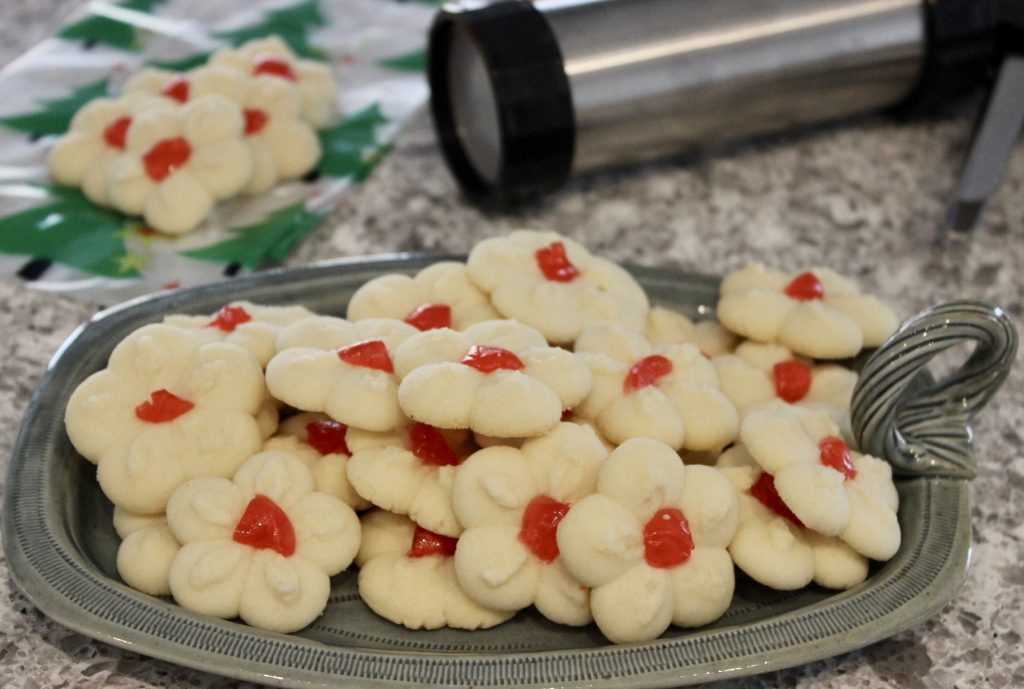 Homemade cookies make great gifts so share some or keep them all for yourself. Another great cookie recipe for sharing is Gingersnaps.
Enjoy some with milk or a cup of tea.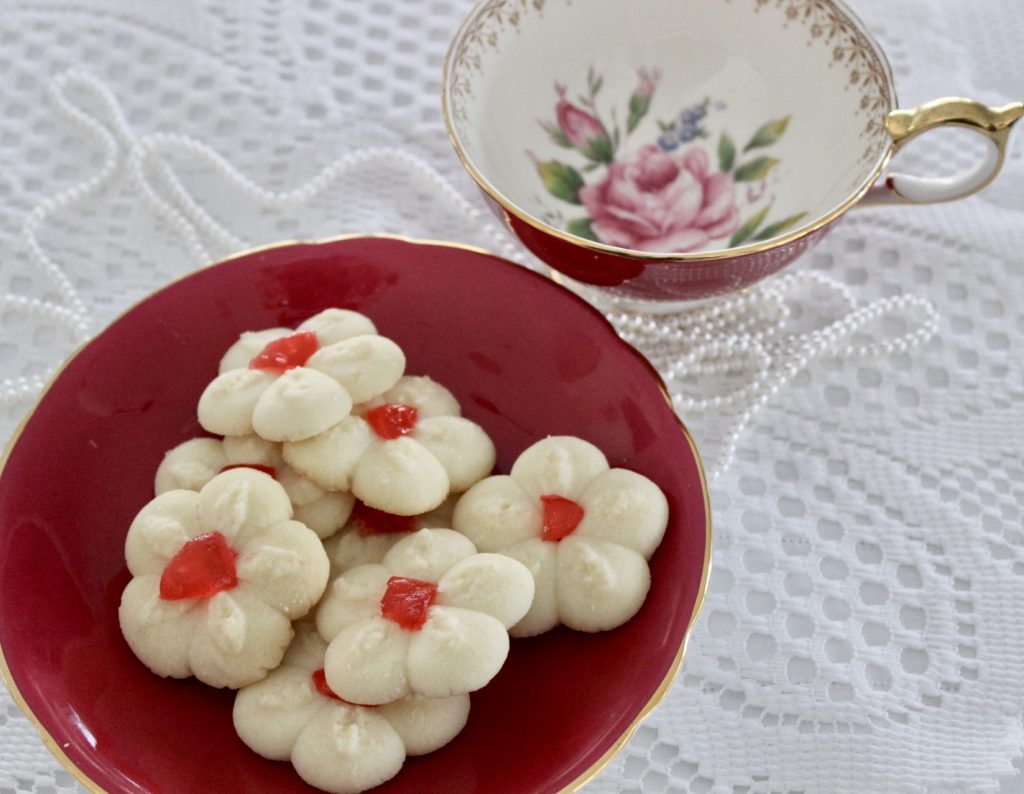 Here's the recipe:
Whipped Shortbread Cookies
All butter shortbread cookies in beautiful shapes using a cookie press.
Ingredients
1

cup

unsalted butter

half pound, room temperature

2

cups

sifted all purpose flour

1/2

cup

icing sugar

1/3

cup

cornstarch

pinch of salt

Marachino or Glace cherries for garnish
Instructions
Preheat oven to 300 degrees and ensure racks are set in upper portion of the oven.

Cream butter in stand mixer or food processor until well whipped.

Sift dry ingredients together. Add to butter and mix until combined and dough stays together.

Press dough into the chamber of a cookie press and squeeze shaped dough onto an ungreased baking sheet. Cookies can be fairly close together as they don't expand much.

Cut cherries into small pieces and place one piece in the centre of each shaped cookie if using a shape with a centre.

Bake for 14-15 minutes in the upper part of the oven until bottoms are just beginning to have some colour.
Print Recipe
more delicious cookies
Shortbread with Chocolate Covered Almonds
If you've tried this recipe, consider leaving a comment or a rating. Or, you can share the post by clicking on the icons below.