Sometimes the simplest things are the best. The humble potato, roasted in olive oil and tossed with rosemary until they're soft on the inside yet golden and crispy on the outside. Make some Rosemary Roasted Potatoes and you'll know what I mean.
I like to use red skinned potatoes for this recipe, mainly because they just look nice. And, make sure you cut them in half so there's a flat side to lay in the hot olive oil to get that nice golden exterior.
Jump to Recipe
You can use larger potatoes too. Just cut them in quarters, that way you'll have lots of flat sides to get browned. If you're barbecuing you can package these up in foil in a double layer and toss on the grill. Flip them over a few times and listen for the sizzle.
Fresh herbs are awesome, except in this case. Since you're cooking the potatoes for quite a while they'll burn. So use dried rosemary or add fresh rosemary for the last 15 minutes or so. If you're making Rosemary Roasted Potatoes in a foil pack on the barbecue you can use fresh rosemary because it doesn't burn as quickly when sealed up.
By covering the potatoes for the first 15 minutes they get a chance to steam, thus giving them that soft interior and it helps them not stick to the pan.
Then, removing the foil and letting them roast for half an hour guarantees the perfect outer golden colour.
I love how the skin gets shiny and wrinkled. That's how you know they're done.
They're awesome just as they are but if you've never tried Raclette cheese, melt some and dip the potatoes in there. Ooey gooey stretchy cheese and Rosemary Roasted Potatoes. A match made in heaven. Well, Switzerland actually.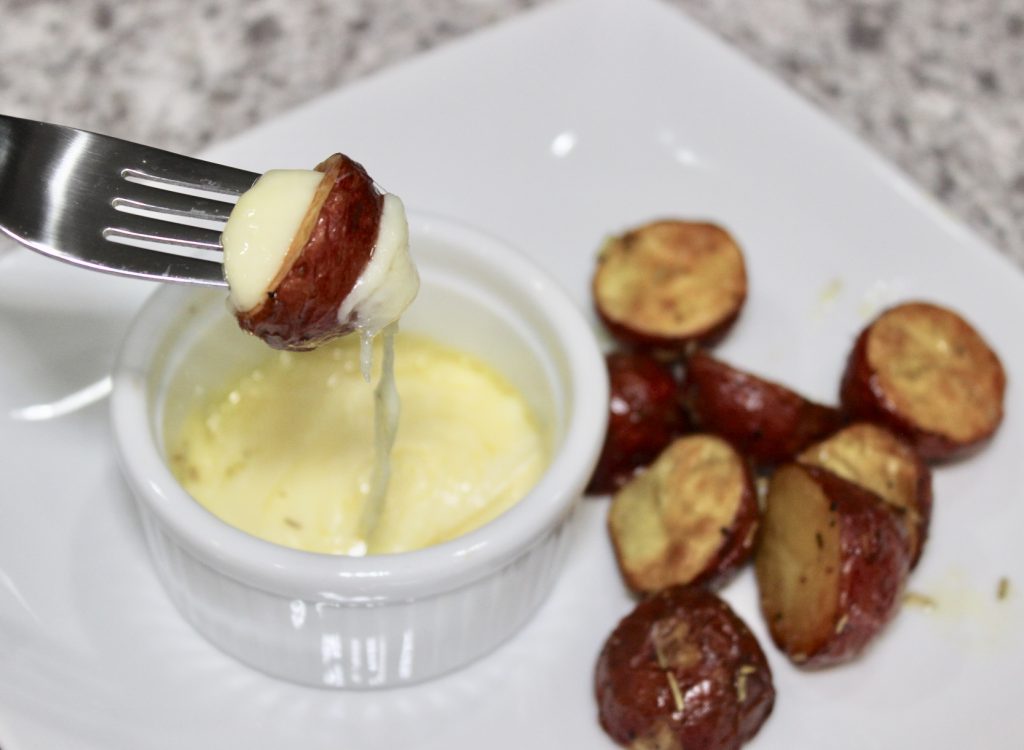 I like to serve these with a rack of lamb.
Here's the recipe:
Rosemary Roasted Potatoes
Slow roasted golden brown red skinned potatoes with rosemary.
Ingredients
24

baby red skinned potatoes

3

Tbsp

olive oil

2

tsp

dried rosemary

or 1 Tbsp fresh rosemary

Generous course salt and cracked black pepper
Instructions
Rinse potatoes and remove any eyes or marks. Cut in half or quarters if using larger potatoes.

Toss potatoes with olive oil and rosemary until well coated. Pour potatoes and all the oil and rosemary into a large baking dish. Arrange potatoes cut side down to maximize browning. Top with generous amount of salt and pepper. Course salt and cracked black pepper is best. If using fresh rosemary, add it during the last 15 minutes of cooking.

Cover with foil and bake at 350 degrees for 15 minutes.

Remove foil and stir potatoes well, exposing the cut side. Change oven setting to roast and return to the oven uncovered for 30 minutes. Test for doneness by inserting a sharp knife into a potato, ensuring it easily pierces it.
Print Recipe
more great side dishes
Roasted Artichokes and Cauliflower