This super simple layered dip is baked in the oven and served hot with tortilla chips for dipping. I've witnessed people eating this by the spoonful right out of the dish. It's that good. I think I've been making Hot Layered Mexican Dip since the eighties so it's pretty retro.
You don't have to make any of the components of this dish. But if you've made Chili it's a great way to use the leftovers. And go ahead and make your own refried beans if you like but seriously, since this gets gobbled up in no time, it's hardly worth the effort. The canned stuff is all you need.
Click here to skip right to the recipe
Use a wide dish that's at least 3 inches deep and oven safe. It's also a good idea to use a microwave safe dish in case you want to reheat it.
Spread refried beans evenly in the bottom of the dish. I like to use the Old El Paso with mild green chilies.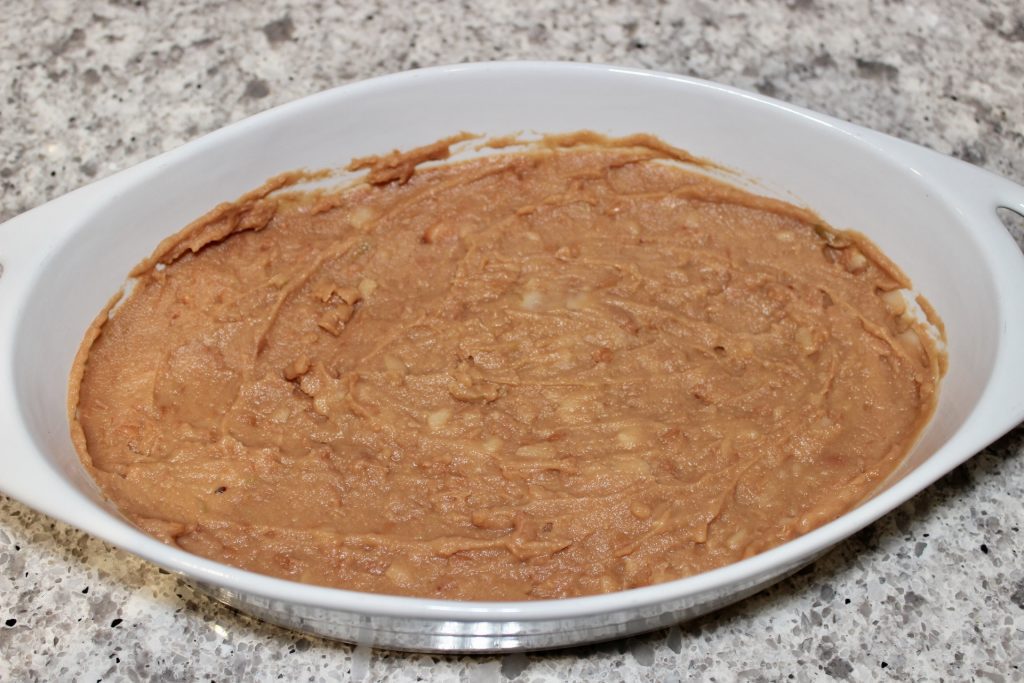 The next layer is a combination of cream cheese and sour cream. Take the cream cheese out of the fridge and let it soften slightly at room temperature. With a hand mixer, beat the cream cheese and sour cream until smooth, then mix in packaged taco or fajita seasoning. See? I told you this is easy. I can't really tell the difference between the 2 seasonings so it doesn't really matter. You don't need the whole package.
Spread that over the bean layer.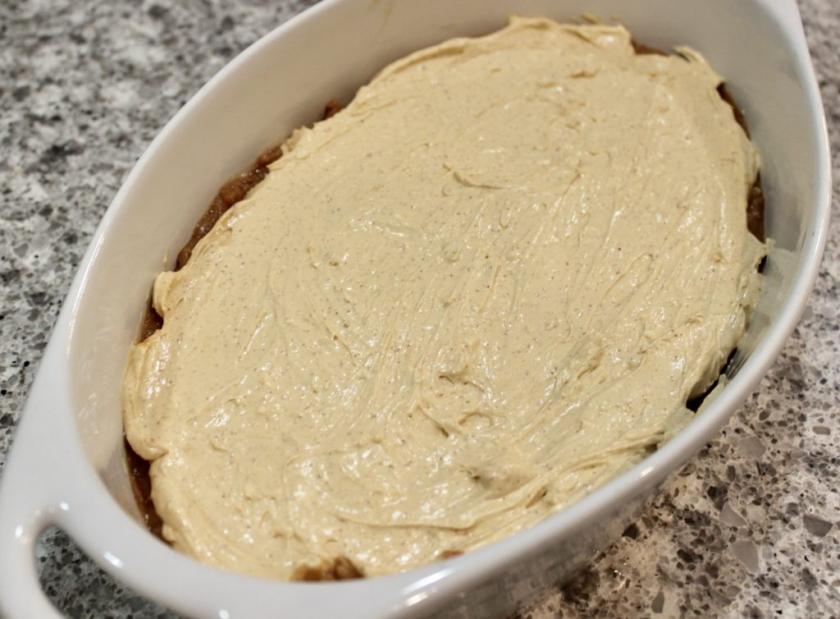 Top with chili. You can use as much as you like, depending on how deep your dish is. So if you don't have leftover homemade chili you can actually buy the stuff in a can. I haven't ever used it but it would work. But even better but still easy, buy some at a take out joint like Wendy's.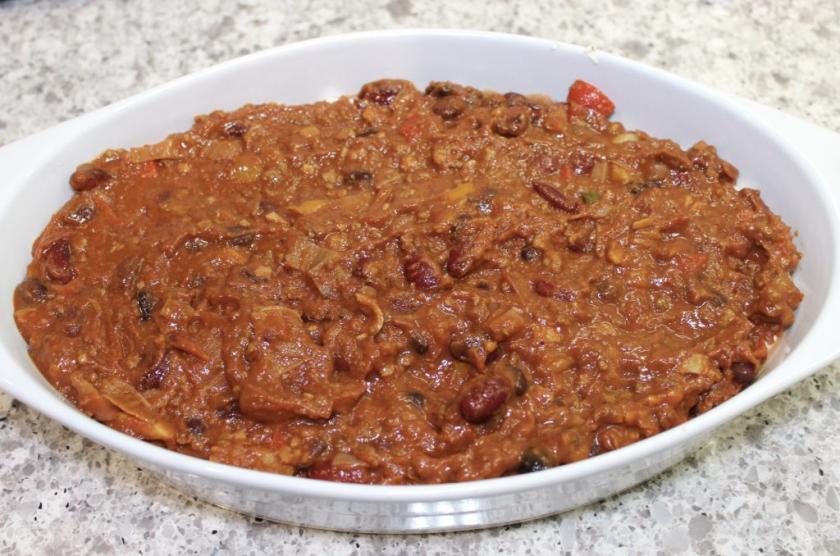 Cover with shredded cheddar cheese. I like to use a combination of white and orange sharp cheddar.
Sprinkle black olives over top. This is a tweak to my original recipe. Modernized. I don't mix the olives in because some people are picky, so they can dip around them. You can use as many or as little as you like or none at all but I like them. Which means I get to eat more dip because the olives keep the picky people away.
Bake at 350 for about half an hour, until it's hot and bubbling at the edges.
Serve Hot Layered Mexican Dip with tortilla chips. Or a spoon.
Most people won't even know they're eating retried beans. It's a great way to sneak some fibre into their diet.
Hungry for more game day eats?
Shrimp Dip
Sweet and Sour Meatballs
Sauerkraut Balls
Here's the recipe:
Hot Layered Mexican Dip
Always a party favourite, layers of chili, cheese and retried beans are baked and served warm with taco or tortilla chips for dipping.
Ingredients
1

can

398 ml refried beans with mild green chilies

1

package

250 g cream cheese

1/2

cup

sour cream

3

tsp

dry taco or fajita seasoning

2

cups

chili

or a little more

2

cups

shredded old cheddar cheese

1/2

cup

sliced black olives

optional
Instructions
Remove cream cheese from refrigerator to allow to come to room temperature.

Preheat oven to 350 degrees.

Spread canned refried beans in the bottom of a wide baking dish.

Beat cream cheese and sour cream together until smooth. Add taco seasoning and blend well. Spread over top of bean layer.

Pour chili over cheese layer.

Shred cheese and spread evenly top.

Bake for 30 minutes until hot and bubbling at edges.

Serve warm with tortilla chips for dipping.
Print Recipe
more great party food to try