I'm not Italian and I'm not getting married, but that doesn't mean I can't make Italian Wedding Soup. In fact, this delicious soup doesn't even have anything to do with weddings, Italian or otherwise.
The name Italian Wedding Soup simply refers to the "marriage" of flavours produced by the combination of meat and greens, based on the Italian name, Minestra Maritata which translates to "married soup."
Not all versions of this soup contain pasta but who doesn't love tiny balls of deliciousness in their soup? I sure do! Any pasta that's very small will work but in my humble opinion, Acini di Pepe are perfect. Translation: seeds of pepper. They cook quickly and will be about the size of a peppercorn when the soup is ready. A lesson I learned is not to use too much pasta. You won't think it's enough but trust me, if you use more you'll end up with pasta casserole. I made the mistakes so you don't have to. You're welcome.
Jump to Recipe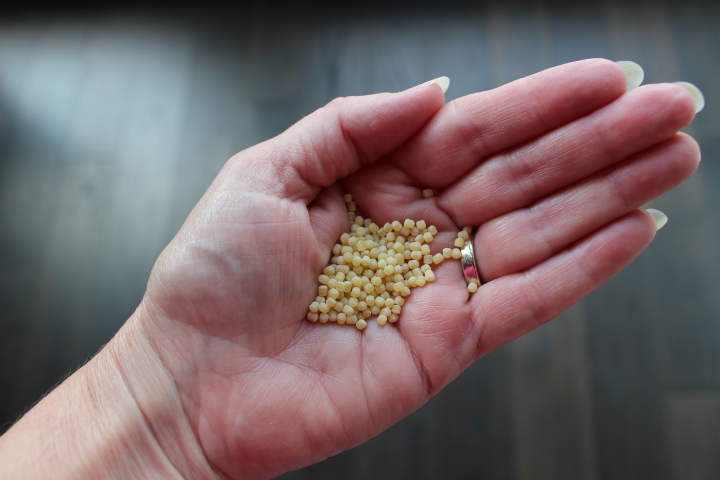 Orzo would work well too which is about the size and shape of a large grain of rice. You might have some in your pantry if you've made Orzo with Smokey Tomato Vinaigrette.
The meatballs are the star of this show so most of the effort goes into making them. You can even prepare them in advance and make the soup later. They freeze well. But honestly, once they're done, the soup will be ready in no time!
How to make meatballs for Italian Wedding Soup
I did a little experimentation with the meatballs. Like all popular recipes, everyone has an opinion. I read what everyone had to say and came up with what worked for me so I used the combination of 1 part pork to 2 parts beef for the meat. I used lots of ingredients to flavour the meatballs. And, I didn't use any egg, the meatballs stayed together just fine. Make sure you use real Parmesan cheese, not the dry cardboard like substance.
Some comments I noticed when comparing recipes were that the soup was too oily if you cooked the meatballs in the broth. Which got me thinking about a cooking class I took where we learned to blanch bacon before wrapping the meat for beef wellington. Yes, we boiled bacon! It rendered off some of the fat so the finished product wasn't greasy. So, based on this, I decided to poach the meatballs first, just for a few minutes, then added them to the soup to finish cooking so you still got that flavour infusion without too much grease on top of the soup.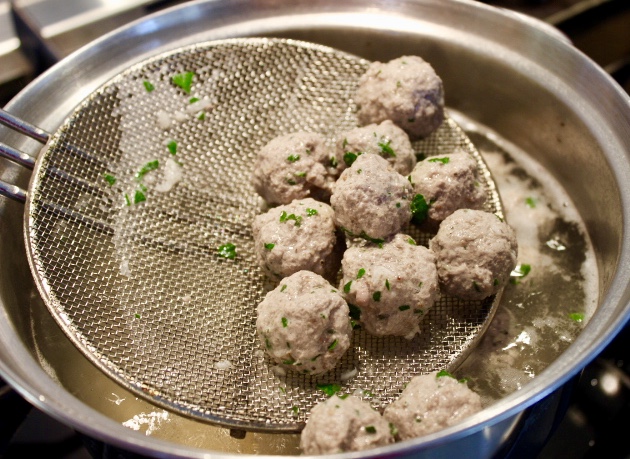 In a perfect world I would've made really tiny meatballs but that would take a long long time. So I made them smaller than a normal spaghetti and meatballs kinda meatball but not so small that it was super labour intensive. I also used the food processor to combine the ingredients which may sound a little unconventional but it helped the meatballs have a uniform shape instead of being lumpy and ensured the garlic and onion were ground up well.
Once the meatballs are made, the rest is easy. Use the other half of the onion to flavour the broth. I like to give the onion a gentle sauté in some olive oil before adding the broth, just to take off the edge. Then pour in the broth and bring to a simmer. You will need to consider the salt content of your broth when seasoning. I like to use reduced sodium broth, or even better, homemade.
Once the meatballs have poached for 3 or 4 minutes in plain water, add them to the broth and let them cook for about 5 minutes. You may have to do this in a few batches. Then add the pasta. Remember, not too much. Always taste and season as you go. The pasta will absorb some of the salt so you may need to add more at the end.
What greens to you add to Italian Wedding Soup
I recommend adding the greens at the end so they don't lose their nice green colour. I used spinach but you can use any leafy greens or even a combination. Some options are kale, endive or escarole. And some fresh ground Parmesan cheese just finishes it off!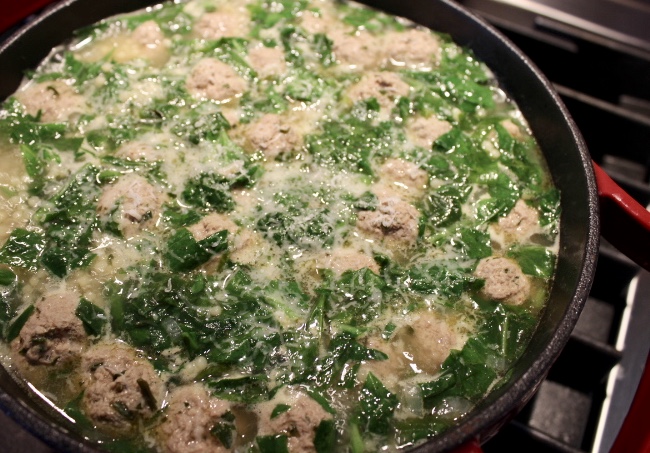 There's no soup police so go ahead and make Italian Wedding Soup and personalize it to your liking. As long as you have some meatballs and greens, and maybe some pasta, you won't be disappointed!
If you love meatballs in soup, you'll want to try Tijuana Meatball Soup too!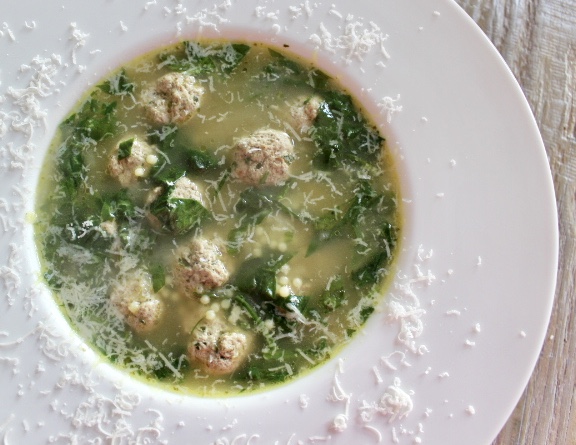 Delizioso!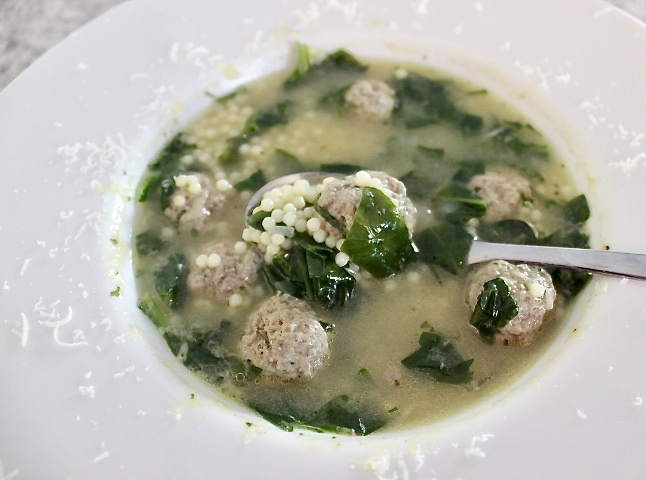 Here's the recipe:
Italian Wedding Soup
A satisfying marriage of meatballs, leafy greens and pasta in a bowl.
Ingredients
Meatballs
1

slice

plain sandwich bread

¼

cup

milk

1

lb

lean ground beef

½

lb

lean ground pork

1

tsp

dried oregano

1

tsp

Worcestershire sauce

1

clove

garlic, minced

½

onion, grated or finely diced

¼

cup

freshly grated Parmesan cheese

1

large handful fresh chopped parsley

salt and pepper
Soup
½

onion, finely diced

1

tsp

extra virgin olive oil

8

cups

chicken broth

¾

cup

acini di pepe pasta

4

cups

chopped fresh spinach or other leafy greens

¼

cup

freshly grated Parmesan cheese

plus more for garnish

salt and pepper to taste
Instructions
Tear bread into pieces and soak in milk. Press to ensure bread is well saturated. Drain any excess milk.

Add remainder of meatball ingredients to food processor and pulse to combine well.

Roll into small meatballs. Refrigerate.

Finely dice remainder of onion and sauté gently in olive oil until softened. Add chicken broth and bring to simmer. Taste and season with salt and pepper.

Bring large pot of water to a simmer. Drop meatballs into pot and simmer for 3-4 minutes. Depending on size of pot, you may need to blanch meatballs in batches. Remove with mesh ladle and add to soup broth.

Simmer meatballs in soup for 5 minutes.

Add pasta and simmer for 5 more minutes. Adjust time if using larger pasta.

Chop spinach and add to soup along with freshly grated Parmesan cheese. Taste again and season if desired with more salt and pepper.

Garnish with extra Parmesan cheese and fresh cracked black pepper if desired.
Print Recipe
other soup recipes you might like
Roasted Garlic and Asparagus Soup