Making Cabbage Rolls is easier than you think with this simple but genius trick. No more boiling cabbage leaves and stinking up the kitchen. And, this recipe has a few steps that can be done in advance so when the mood strikes you, you can easily whip up a batch.
So what's this big secret? Freezing the cabbage. No, really. Seriously. Toss the entire cabbage in the freezer and make sure it's frozen solid. Wrap it tightly in a plastic bag. I recommend at least a week, just to make sure it's had time to get nice and frosty. Over night isn't enough. Then, when you're ready to make the Cabbage Rolls, just pull it out and let it thaw in the sink for about 4 hours. Cut the centre core out and the leaves literally fall off. No boiling needed. They're soft and pliable and perfect for rolling.
Jump to Recipe
And if that isn't exciting enough to learn, here's another tip for you. Cook the rice in advance and freeze that too. Not just for speeding up the process but rice dries out when it's frozen so it absorbs some of the liquid from the meat while the Cabbage Rolls are cooking. You end up with a really good texture inside the cabbage leaves. Using raw rice doesn't work well so this way is ideal.
This is a pretty simple recipe with no special ingredients. Cabbage Rolls aren't exactly sexy.
But they're a popular comfort food kinda meal. So when you've got some free time why not try some? It's fun to get a few friends together and make a huge batch, then everyone can take a pan home.
I worked with a woman a million years ago and she was an expert cabbage roll maker. In fact, she made them for a large Ukrainian Hall so I'm pretty sure she knew what she was doing. The recipe she shared with me was hand written and included ground "back ham." Since that's not an easy item to find, I've revised her recipe to include a combination of beef and pork, using a lean version of both. Somewhere around half and half beef to pork is what you want. Give or take. You can use more or less of either. And a simple seasoning of salt, pepper, paprika and garlic powder is all you need. Don't pre cook the meat.
Sometimes the meat and rice mixture needs a bit of liquid to help it stick together. A little bit of chicken or beef broth works well.
Peel a few outer leaves from the cabbage once you've cut the centre core out (from the bottom) and lay them in the bottom of a large baking dish. Open a can of plain tomato juice and pour a bit in the bottom of the pan, on top of the leaves.
This recipe makes about 20 cabbage rolls so you need either one big cabbage or 2 smaller ones. Once you get to the inside, the leaves get too small and tough so you're best to have a bit more cabbage than you really need. Frozen cabbage isn't really good for anything else so just toss what you don't use. As you peel the leaves off, you may still have partially frozen cabbage but if you run it under warm water, the leaves come off easily.
Now start rolling.
Lay a few leaves on a clean surface and add about 1/3 cup of the meat mixture in the bottom of each cabbage leaf. Roll over, then fold in the sides and continue to roll until you have a nice little bundle.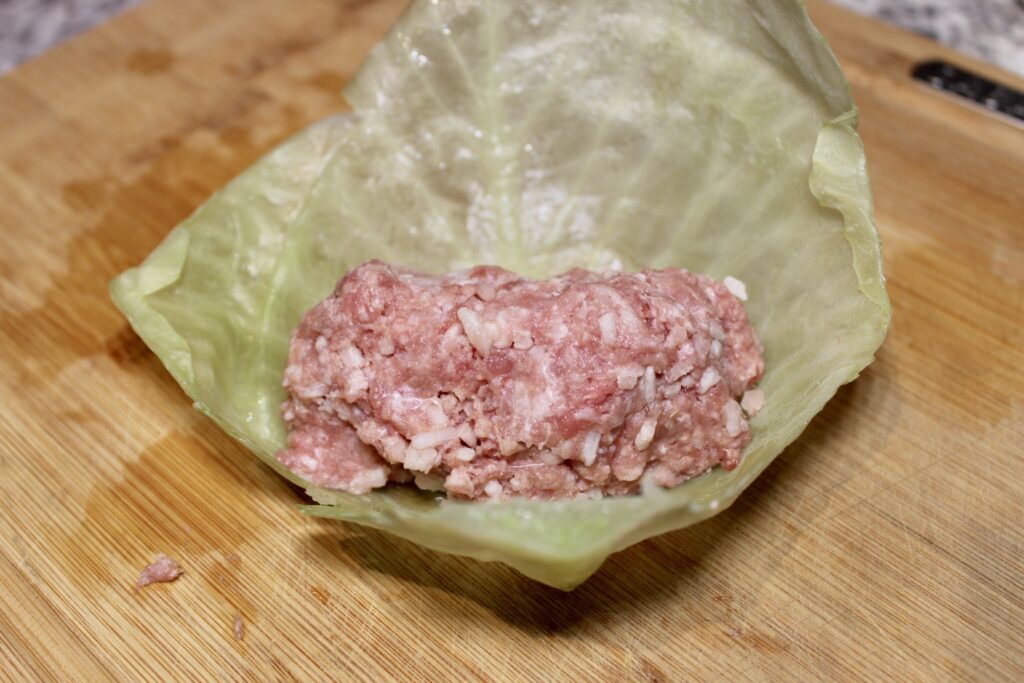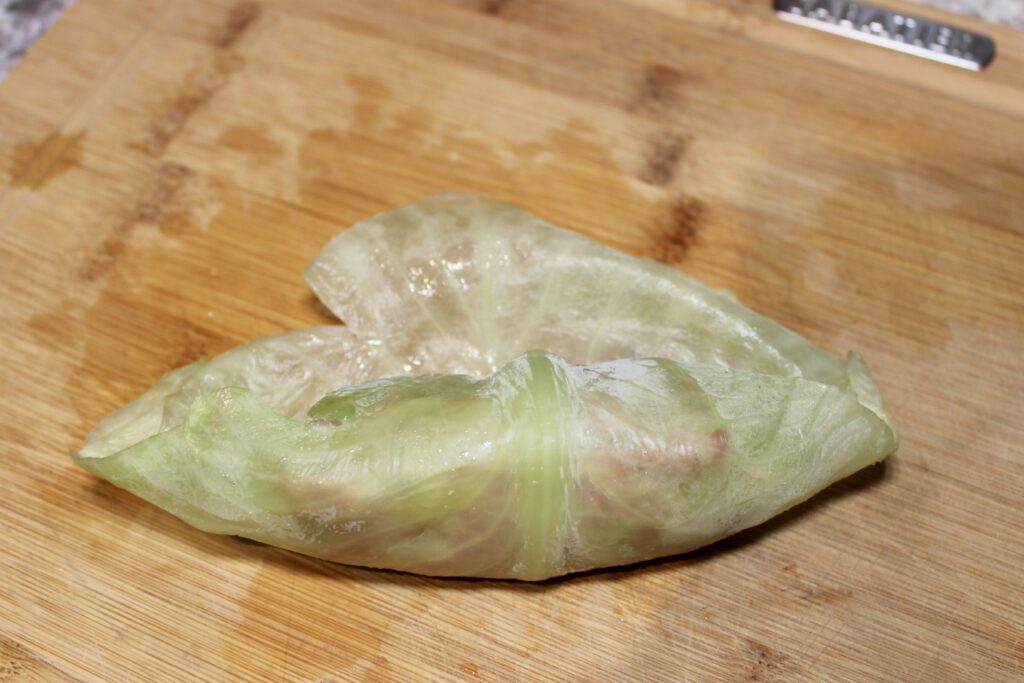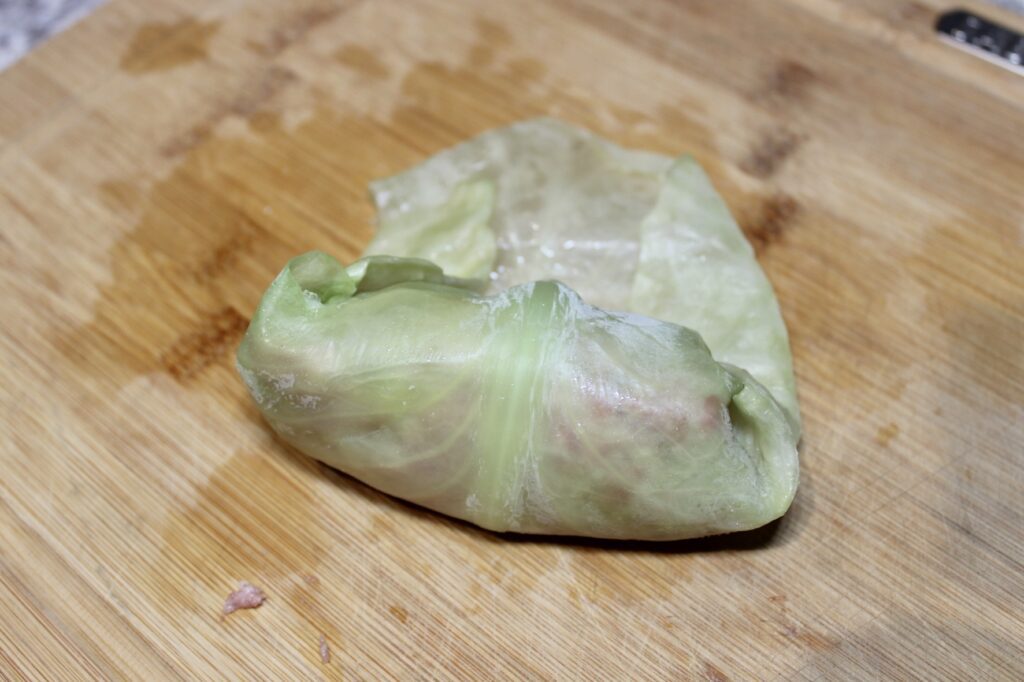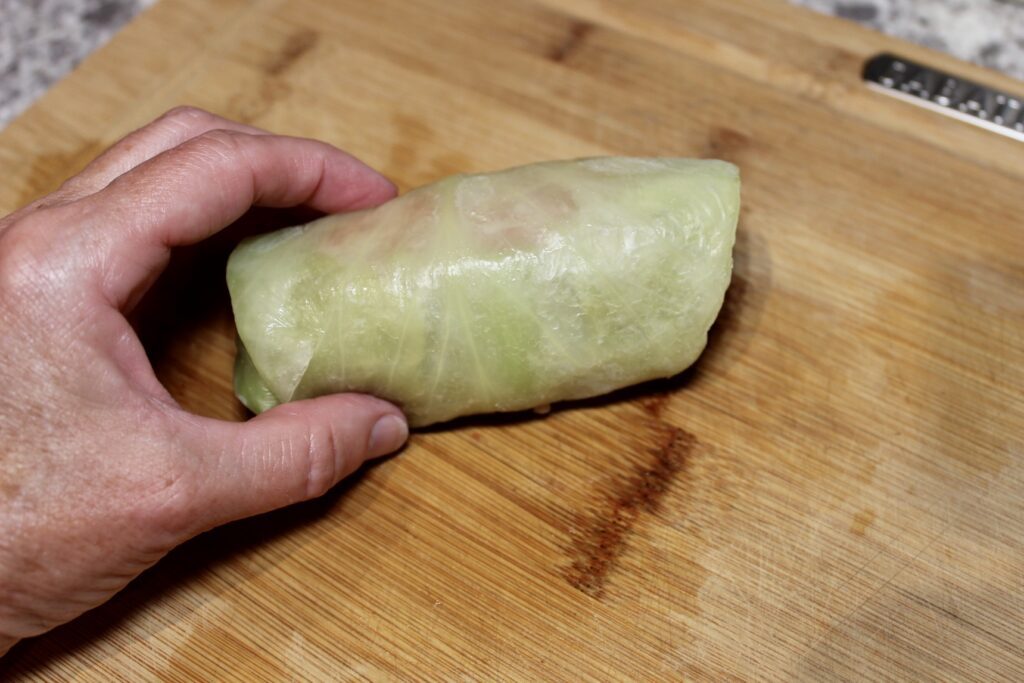 Continue until all the meat filling is used up. Lay them in a single layer in the baking dish. If the leaves start to get too small, the centre vein gets too tough. You can cut that out and cross the open part of the cabbage leave over like this.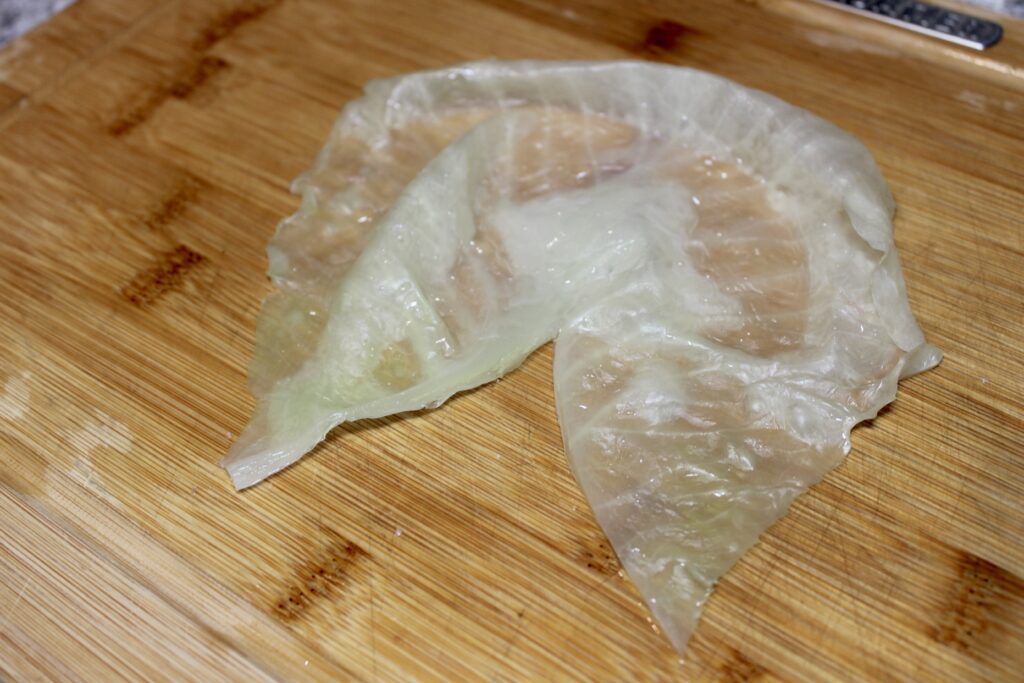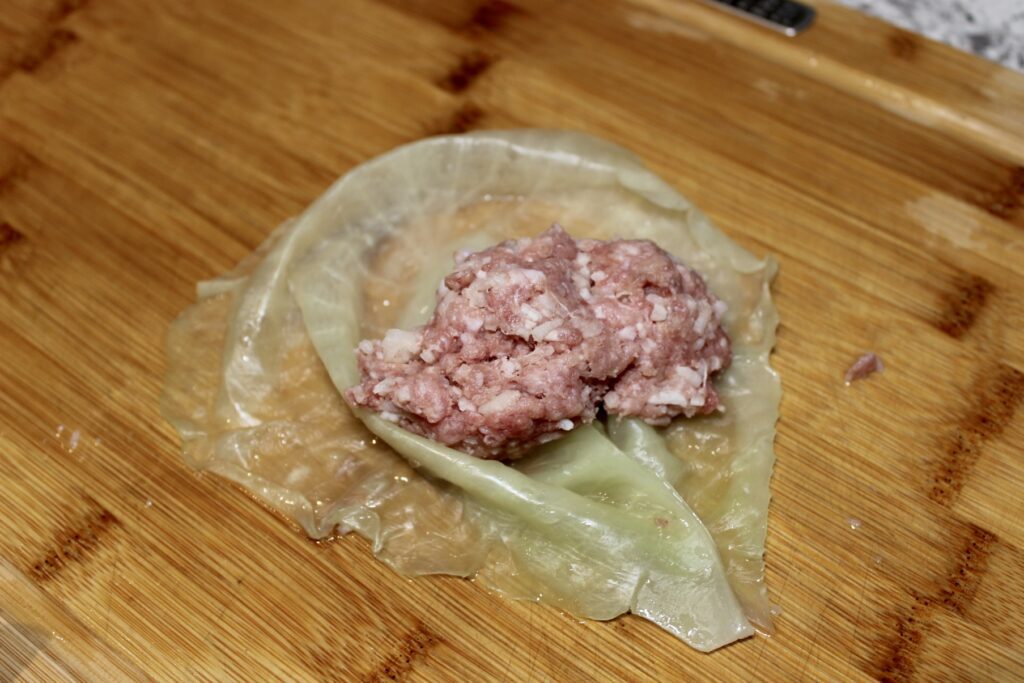 You can also use part leaves and get creative. It all ends up tasting the same on the way down. But choosing a larger cabbage or 2 smaller ones avoids that.
Once they're all rolled, spread canned tomato soup over top of the rolls. Don't dilute the soup, use it right from the can. The sweetness of the soup works well with the sour tomato juice. It balances the flavours.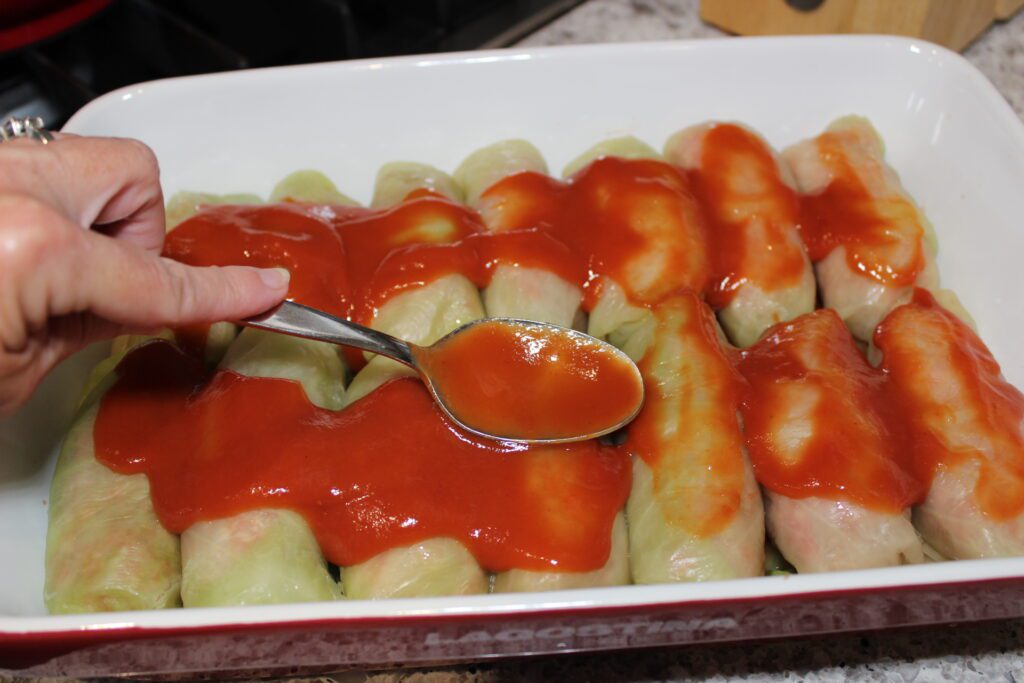 Then pour more tomato juice over top. You won't need the entire can but use enough that it mostly covers the rolls.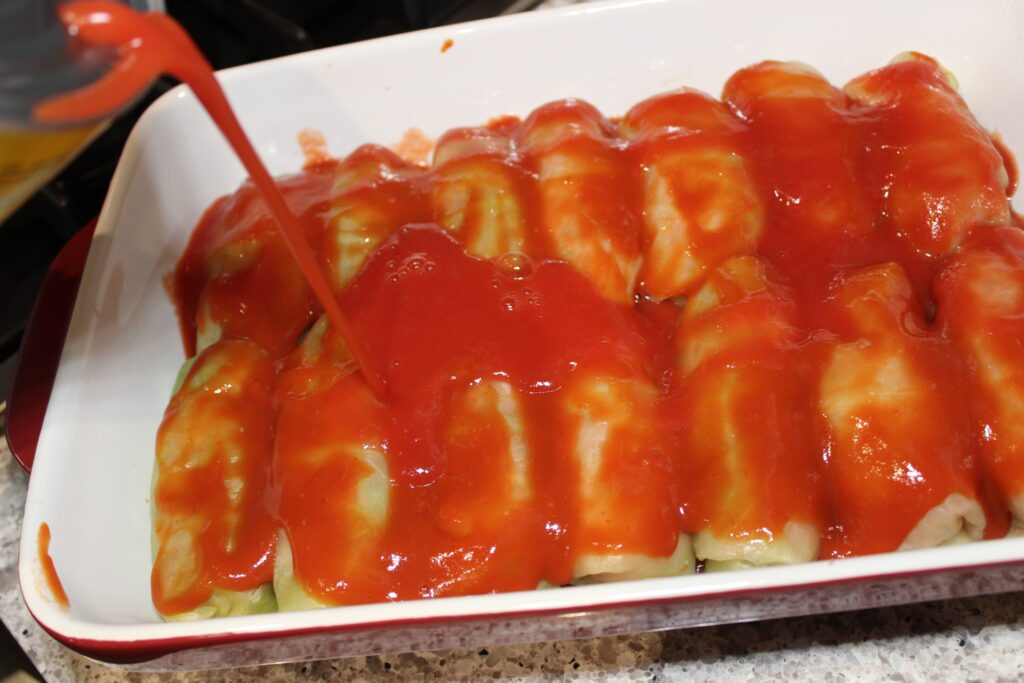 You may need to use more than one baking dish. These freeze well too!
Bake them for about 2 hours in total, covered tightly with foil. You can start at 350 degrees then lower the heat to 300 for the second hour. If you're freezing some, bake them for about an hour, then bake them the other hour before serving. The long slow cooking time ensures the cabbage is very soft so you don't end up with stringy pieces of cabbage.
A popular way to serve Cabbage Rolls is with mashed potatoes. Or even better, roasted garlic mashed potatoes. Cut the very top off an entire head of garlic to expose the cloves, drizzle with olive oil, wrap in foil then toss in the oven for about 45 minutes or so while the Cabbage Rolls are cooking. Squeeze all the garlic into cooked potatoes, add some milk (or CREAM!) and butter and whip or mash. Yum.
Since you've got leftover tomato juice and an open carton of chicken broth, why not make extra meat and rice mixture and use the leftovers to make Tijuana Meatball Soup! I always do.
Here's the recipe:
Cabbage Rolls
Traditional stuffed cabbage with meat and rice, smothered in tomato sauce
Servings
20
cabbage rolls
Ingredients
¾

lb

lean ground beef

¾

lb

lean ground pork

2

cups

cooked rice

previously frozen is best or slightly undercooked rice

¼

cup

chicken or beef broth

optional, if rice is not combining well with meat

1

tsp

white pepper

white pepper is finer ground than regular black pepper

2

tsp

salt

1

tsp

garlic powder

¼

tsp

paprika

1-2

heads green cabbage

1 very large or 2 smaller

1

can

tomato soup

1

can

plain tomato juice

large can, 1.36 litre
Instructions
Wrap cabbage tightly in plastic and freeze solid, preferable at least a week.

Cook rice according to manufacture instructions and freeze.

Remove rice and cabbage from freezer at least 4 hours prior to assembly and thaw at room temperature or over night in refrigerator.

Combine beef, pork, rice, salt, pepper, paprika and garlic powder. Add chicken broth if rice isn't combining well with meat. This is optional but sometimes a little liquid helps.

Cut centre core from cabbage bottom. Pull a few leaves off and lay in the bottom of a large baking dish.

Pour about 1 cup of tomato juice over leaves and spread evenly.

To assemble rolls, spoon about ⅓ cup of meat mixture onto bottom part of cabbage leaf. Roll tightly, folding in sides to make a small bundle. Lay rolls in one layer in baking dish. Repeat until all meat is used up. Discard leftover cabbage. You will likely need 2 baking dishes.

Spread undiluted tomato soup over top of cabbage rolls. Pour tomato juice over top to mostly cover rolls. You will not need all the juice.

Cover pans tightly with foil and bake at 350 for 1 hour. Reduce heat to 300 and bake another hour.

Serve with mashed potatoes if desired.
Print Recipe
got lots of cabbage?
Napa Cabbage and Ramen Noodle Salad