What could be more wonderful than the smell of cinnamon toast baking in the oven? Well, for one, Cinnamon Raisin Baked Breakfast is made in advance so you don't have to do any prep in the morning. And secondly, you can serve this delicious breakfast or brunch to a small group or a crowd with this super easy recipe that won't break the bank.
The first time I had this we were visiting some friends at their cottage. We'd had lots of fun the day before, playing games, boating, eating and of course enjoying some wine around the fire. So we were having a leisurely morning. When Marie pulled this out of the oven I was in love. I can't believe it took me this long to make it myself.
Jump to Recipe
Regular raisin bread is pretty tasty but there's a few ways you can elevate this from great to OMG. Toasting the bread gives it some colour and more flavour. Not too toasty, just a light toast. And, I happened to come across "Cinnabon" raisin bread. I didn't even know it existed but if you can find it, you've won the raisin bread lottery.
How to make a baked breakfast
Arrange the bread in your baking dish any way you like. You can leave the bread whole, like I did, so you have obvious servings. You may have to overlap the pieces a bit. Or, go ahead and tear up or cut the bread, it really doesn't matter except that you want to cover the pan entirely in 2 layers. Butter the baking dish first to help the bread not stick to the pan. Butter adds flavour too.
The bread is then covered with a milky custard. If you pour it over while the bread is still hot you'll end up with scrambled eggs so make sure the bread is cooled, then pour over the custard. There's some heavy cream in the custard mixture for extra richness but if you prefer you can just use regular milk. If you've overlapped the pieces, they'll fit better after the custard goes in because you can smoosh them when they're soft.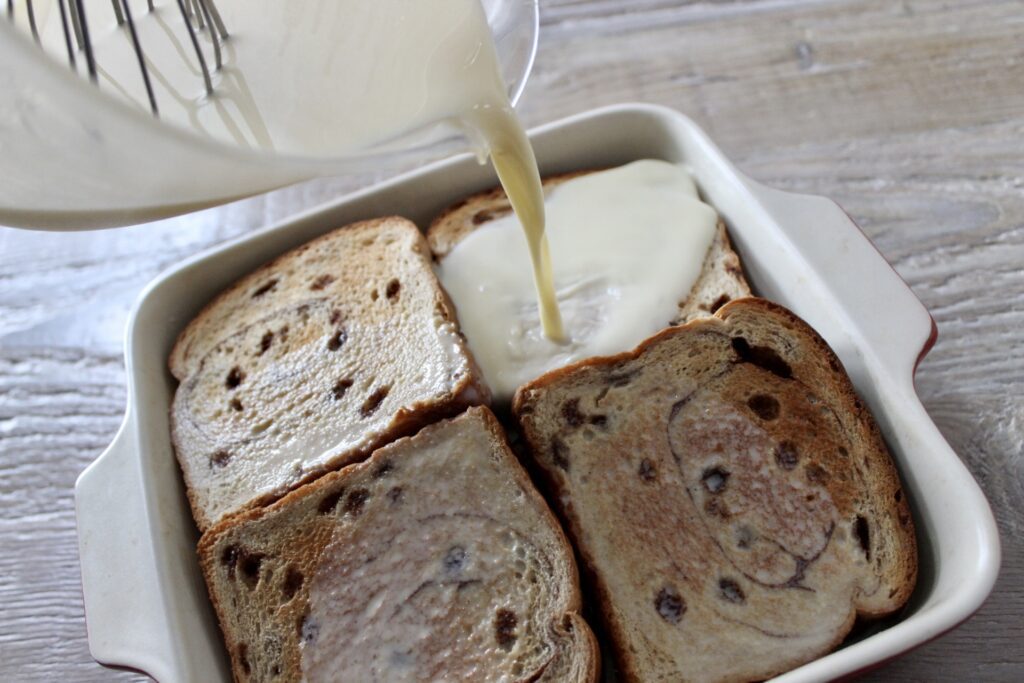 If you're making Cinnamon Raisin Baked Breakfast for a crowd just double the recipe and make a large pan. In this case you would cut the bread into chunks so you can feed more people with smaller servings. Wink.
That's it for now. Easy or what? Just cover with plastic wrap and refrigerate over night. I like to press down gently on the bread to make sure it gets a chance to soak up all the custard. Too much custard will make a sloppy mess. Not enough and it's too dry.
This Cinnamon Raisin Baked Breakfast recipe is ideal for those mornings when you have other things to do or you just want to go back to bed. Simply scatter fresh blueberries over top and drizzle with some maple syrup. You can use frozen berries, they just tend to stain the bread a bit but that's really no big deal. But if you can get fresh berries, especially local blueberries, use them. And don't even get me started about maple syrup. Use the real deal. Please!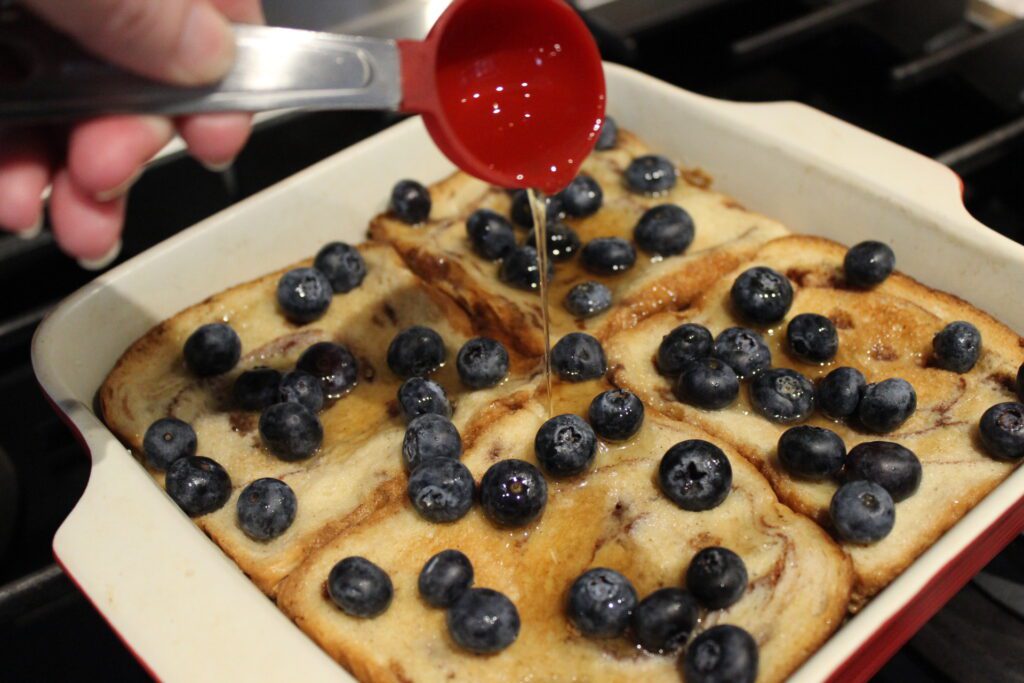 Bake for about 45-50 minutes. Eggs like to be cooked gently so 325 degrees is hot enough. It helps to take the dish out of the fridge while the oven is preheating so it's not quite so cold, thus reducing baking time by a bit. And I like to cover the dish with foil for the first 20 minutes to give it a chance to bake without getting too brown or dry.
When you remove this from the oven it's really puffed up but it will settle quickly. The blueberries are softened but still retain their shape. That's another reason to use fresh berries.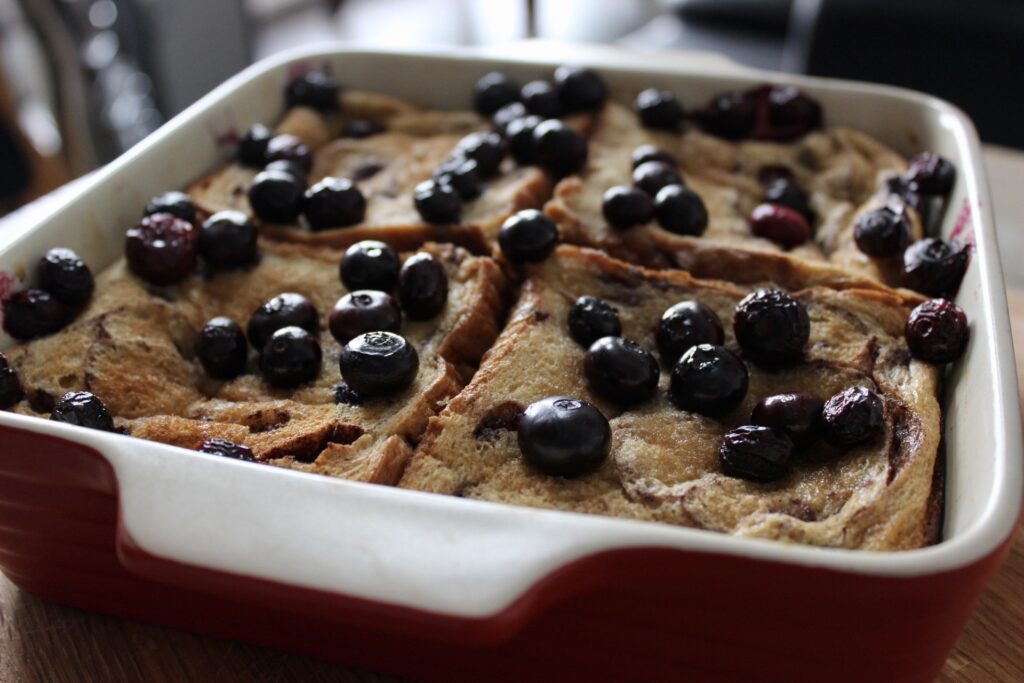 I've made this recipe intentionally not too sweet. There's no sugar in the custard. This way, it's sweet enough for some people and those who like the extra sweet stuff can add more maple syrup to theirs. The non sweet people may like some extra fresh blueberries. Or this savoury version of an Overnight Breakfast.
Serve with some powdered sugar dusted on top if you like.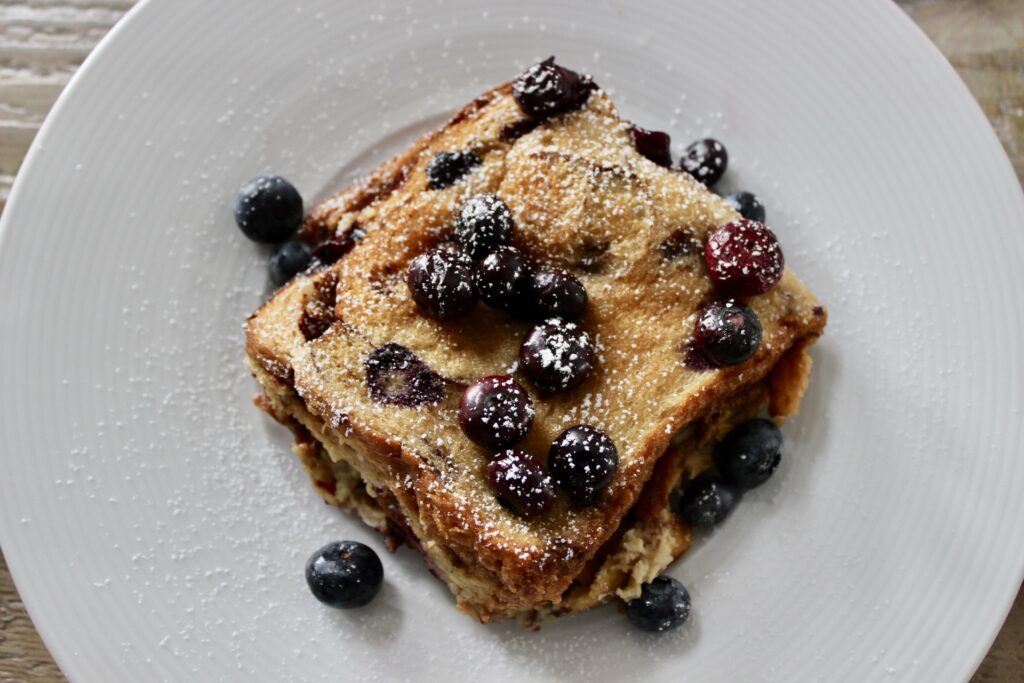 You could actually serve this for dessert!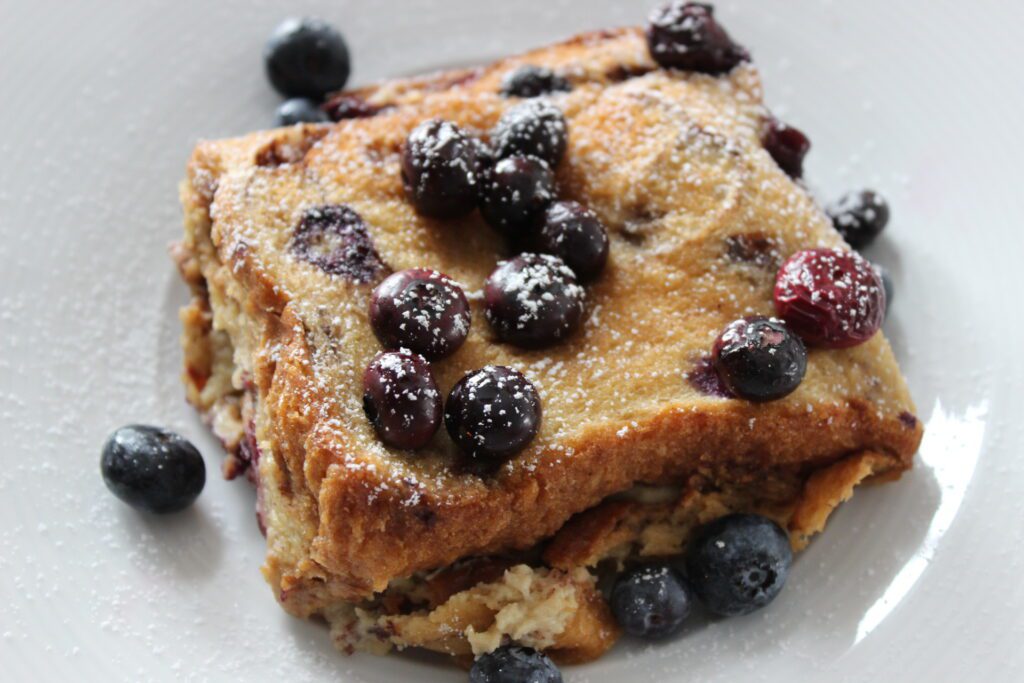 Here's the recipe:
Cinnamon Raisin Baked Breakfast
An easy make ahead breakfast or brunch with custardy raisin bread, blueberries and maple syrup.
Ingredients
8

slices

cinnamon raisin bread

Cinnabon raisin bread if possible

1

Tbsp

butter

3

eggs

1 ¼

cups

milk

⅓

cup

cream

10-18% preferred

1

tsp

vanilla

¼

tsp

salt

½

cup

fresh blueberries

3

Tbsp

maple syrup

1

tsp

powdered sugar

if desired for garnish
Instructions
Grease an 8 or 9 inch square pan generously with butter.

Lightly toast raisin bread and arrange in baking dish in 2 layers.

While bread is cooling, make custard by combining eggs, milk, cream, vanilla and salt. You can substitute regular milk for cream if desired.

Pour custard over bread, making sure to cover each piece evenly. Cover with plastic wrap, pressing gently on bread to ensure the custard has soaked into all the pieces. Refrigerate over night.

Remove from fridge and let sit at room temperature while preheating the oven to 325 degrees. Scatter blueberries evenly over top and drizzle with maple syrup.

Cover with foil and bake in the centre of the oven for 20 minutes. Remove foil and continue to bake for 30 minutes or until top of puffed up and browning.

Shake powdered sugar over top of servings if desired.
Print Recipe
If you've tried this recipe, consider leaving a comment or a rating. Or, you can share the post by clicking on the icons below.
more special breakfasts