You won't believe how moist and delicious this double chocolate loaf is. The secret ingredient? Avocado. No, really. Chunky refers to the chopped chocolate in the loaf and Monkey refers to the banana and avocado. So don't worry, Chocolate Chunky Monkey Loaf doesn't taste like avocado, it tastes like chocolate banana loaf. With a little less saturated fat than a normal loaf recipe. And it's a great way to use up a soft avocado.
Avocado in chocolate banana bread?
Avocado is a good substitute for butter or oil if you want to reduce fat and sodium in a recipe. But it does mess with the chemistry of baking so I thought why don't I try using some avocado but still include butter. There's a little science I learned about how butter and avocado differ when reacting to the other ingredients so using some butter was the right call. You need to use a ripe avocado so it creams together with the butter. If your avocado is fairly large use a little less than the whole thing.
The concept of Chocolate Chunky Monkey Loaf came from my neighbour Marilyn who tried a recipe for chocolate avocado muffins and ended up feeding them to the birds. I pulled out a recipe for chocolate banana bread given to me by a co worker in the early 90s. It always turned out great so I thought I'd use that for a starting point and see if I could come up with something that worked. And I knew for sure that some cocoa powder would be necessary, otherwise the colour of the loaf may not be that appealing. You would have to call it Shrek Loaf.
Coming up with a name for this recipe was the biggest challenge. I could've included "double" because there's cocoa and chocolate chunks. I could've included "avocado" because it's in there but I didn't want to scare anyone away. And if I included avocado, I'd have to also include banana. Monkey covers both of them because they're grown in similar locations also frequented by monkey. Yes, there are monkeys in Mexico! But a 17 word title for a recipe just didn't make sense. So I just decided on a cute title just for fun. Chocolate Chunky Monkey Loaf.
Jump to Recipe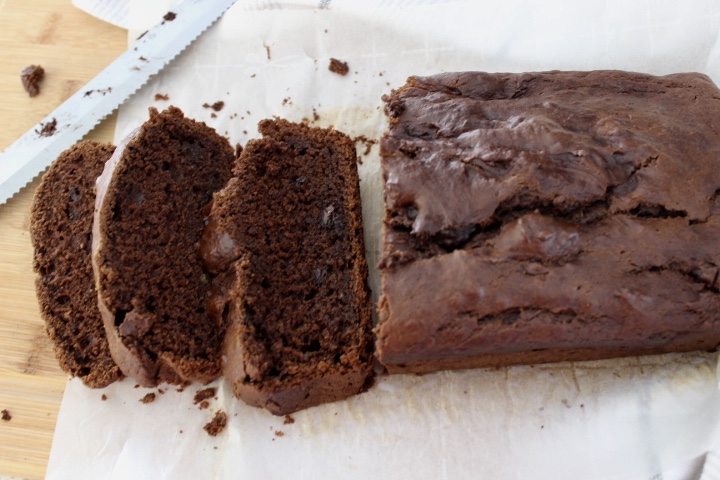 I have to give credit to Marilyn for helping me get this right. She lives across the street and I often run over with a sample or two for her feedback. We both knew the first version needed some work so she pulled out her Grade 9 Home Economics textbook. That was awesome considering she's been out of school for, well, let's just say she has grandchildren. Marilyn suggested a few process tips that really helped with the texture.
Tips for best results in sweet loafs
First, it's so tempting to beat the bananas really well but actually, they're best mashed with a fork. They will get too liquidy if they're over mashed and there's nothing wrong with a little piece of banana in this sweet loaf. Very ripe bananas work best and you can even freeze bananas to bake with. Make sure your banana is totally defrosted before you try to mash it.
Next, it's also tempting to really mix all the ingredients well but they're best mixed on low just until incorporated, then added to the baking pan. Otherwise you will end up with a dense, even rubbery loaf. The only beating is at the beginning when you cream together the butter and sugar. After that use low speed only.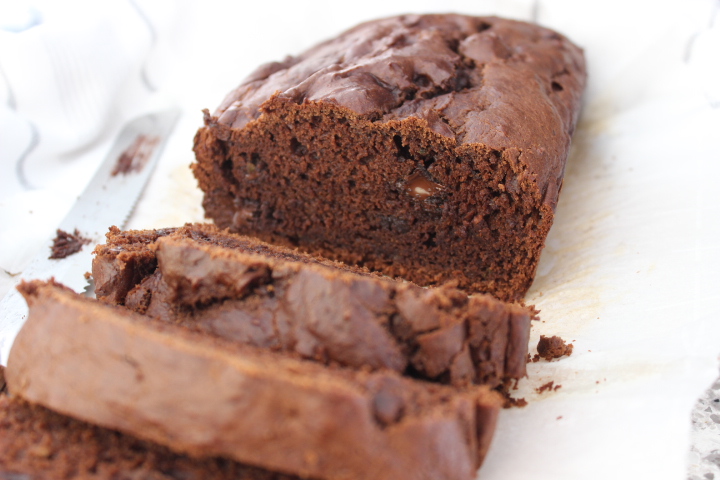 Another important tip is about sour milk. It's important to the chemical reaction with baking soda so make sure you use sour milk and not just regular milk. I don't mean go buy expired milk, sour milk is just regular milk with either vinegar or lemon juice added to make it sour. The chemical reaction is what causes the bread to rise. Remember the science experiment where you made a volcano erupt in school? Baking soda and vinegar.
Finally, use parchment paper. It makes life so much easier for you. It can be a bit tricky to get it in the pan evenly but if you put a second loaf pan over top of the parchment and press down it helps to shape it. Then pour some of the batter, adjust the paper if necessary, then pour the rest of the batter in. Then after baking you can lift the loaf out of the pan once it's cooled for a few minutes. You'll be tempted to slice Chocolate Chunky Monkey Loaf before it has cooled but try to resist because it will fall apart if you don't wait long enough.
To make sure you get the maximum chocolate experience, this loaf includes cocoa powder and added chunks of chopped chocolate. I like to use semi sweet chocolate but any baking chocolate except unsweetened will work. The chunks of chocolate do tend to sink in the batter so you may notice there are more in the lower part. Which means you should eat the bottom first. Problem solved.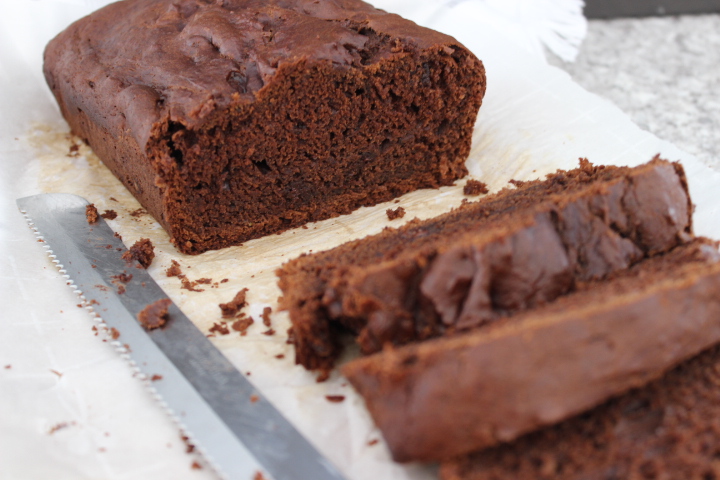 Here's the recipe:
Chocolate Chunky Monkey Loaf
A sweet moist loaf with chocolate, banana and avocado
Ingredients
¼

cup

unsalted butter at room temperature

⅔

cup

sugar

1

ripe avocado

1

tsp

vanilla

1

large egg

1

ripe banana, mashed with a fork

⅓

cup

milk

2

tsp

vinegar

or lemon juice

1 ½

cups

all purpose flour

½

tsp

baking soda

½

tsp

salt

⅓

cup

cocoa powder

4

oz

chopped semi sweet baking chocolate

half a package
Instructions
Use hand mixer or stand mixer to cream together butter and sugar until smooth and fluffy. Add avocado and beat until well incorporated.

Add egg and vanilla and beat gently. Stir vinegar into milk and add to mixer, beat gently.

Mash banana with a fork being careful not to over mash. Add to mixer and gently combine on very low speed.

Sift together flour, baking soda, salt and cocoa powder. Add half to mixture, beat gently, then add other half and beat until just combined.

Chop chocolate. Stir into batter.

Pour into a parchment paper lined loaf pan.

Bake in lower area of oven for 50-60 minutes. Test after 50 minutes by inserting a toothpick into the middle of the loaf. If toothpick comes out clean the loaf is ready.
Print Recipe
If you've tried this recipe, consider leaving a comment or a rating. You can share the post on social media by clicking on the icons below.
more recipes like this