Restaurants often serve enchiladas with either beef, beans or cheese. Beef and Black Bean Enchiladas include all three and are stuffed generously in tortillas, then baked in a thick sauce smothered with cheese. What's not to love?
My friend Shelley and I used to get together and make large portions of freezable meals. We once made a huge batch of enchiladas. Half were chicken and half were beef. The family voted 50/50 about which one was better. Pretty much anything Tex-Mex goes over well in our house. I've added beans to both versions, just to slightly increase the nutritional value but otherwise these Beef and Black Bean Enchiladas are the same recipe that got the thumbs up many years ago.
Chicken and White Bean Enchiladas are made with a creamy white sauce instead of a tomato sauce and include white beans and some cilantro.
You can make the enchiladas in advance and bake them later or the next day. And, they freeze well so don't worry about making a full recipe if you have a small family. Or, make a full recipe in 2 smaller dishes so you have one to eat right away and one for another day. It's so great to pull something out of the freezer in the morning and dinner is just a re-heat away on a busy day.
Jump to Recipe
What type of cheese is best for Enchiladas?
To be honest, many types of cheese work great in Beef and Black Bean Enchiladas. In this version I've used a combination of Monterey Jack and Old Cheddar. You can go for something Spanish like Manchego or even try a cheese from Mexico. Did you know there's a cheese produced in Mexico called Chihuahua? I didn't either. Not to be confused with a Cheese Dog, Chihuahua or "Queso Menonita" was named for the mennonite communities in northern Mexico that originally produced the cheese. What's extra fascinating for me is that the Mennonite communities right here in Norfolk County have strong ties to that exact area, many of whom were born or have lived there. You learn something new every day!
Making Beef and Black Bean Enchiladas is pretty simple. In one large skillet you make the beef and bean filling. In another pan you make the sauce while the meat is simmering in the first pan. Then roll the filling into the tortillas and arrange them in the baking dish over some of the sauce, then top with the rest. And some cheese.
I have to apologize for using only half a can of black beans. I think the whole can would be too much but it's up to you. I've also included some Jalapeño peppers in the meat mixture but again, it's up to you. Sometimes they're hot and sometimes they're not so taste it before adding to the meat mixture in case you don't want any heat.
Canned tomatoes are best if the tomatoes are whole. Crush them with a potato masher or use an immersion blender to purée them for this recipe. You can use crushed tomatoes in a can but the best quality tomatoes are canned whole. Use half the can for the meat mixture and the other half for the sauce.
How to get an even amount of filling in each tortilla
I've learned this the hard way. Using too much or too little filling, then having to take them apart and start again is a pain. So, use your spatula or spoon and divide the meat mixture in the pan in half, then divide each half in two parts. Then you can easily eyeball the amount for each of 8 tortillas by using half of each little pile. Pretty tricky huh?
Spread the meat in a line across the tortilla, then sprinkle with a bit of cheese.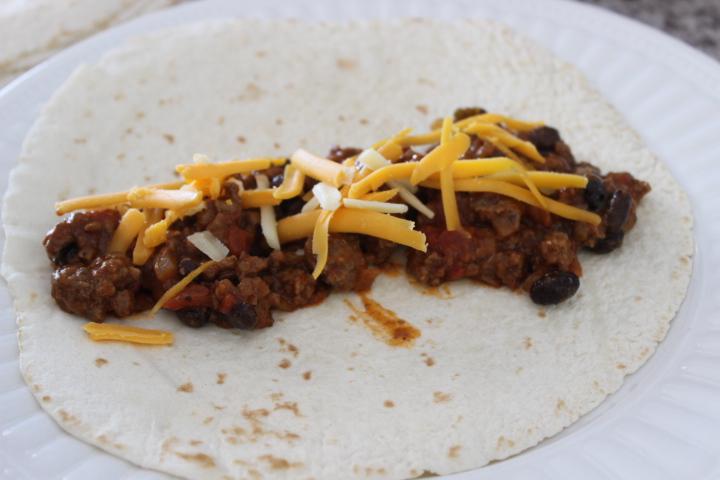 Roll them up tightly and place them in a baking dish over some of the sauce. Leave a little space at each end of the tortilla, otherwise the meat tends to fall out while you're transferring them to the baking dish. You might need to squish them together to make them all fit.
To be honest, this recipe was originally for 10 tortillas. But the large tortillas usually come in packages of 8 and that way you get more filling in each one. The large size work perfectly because they're about 8 inches in diameter so they fit in the pan correctly. Use soft tortillas. I always buy flour but you can use corn if you like. I've never made my own but someday I will try. If you're making two smaller pans, lay the tortillas in the other direction.
Covering the pan for the first part of baking helps prevent the top from getting too brown. To avoid the cheese sticking to the foil, fold the foil and make a tent-like shape and cover lightly, then remove after about 20 minutes. Bake until the sauce is bubbling and the cheese is all melty and gooey.
Garnish with some fresh chopped cilantro for that authentic Mexican flavour.
Beef and Black Bean Enchiladas need to rest for a few minutes before serving. They're very filling so you probably don't need to serve anything else with them. Except maybe a Margarita!
Here's the recipe:
Beef and Black Bean Enchiladas
Soft flour tortillas filled with beef, black beans and cheese, baked in a sauce smothered with cheese
Ingredients
8

large soft flour tortillas

8 inch diameter

2

cups

grated cheese

any combination of cheddar, monterey jack or other melty cheese. Use a small amount in each enchilada and remainder over top

fresh chopped cilantro

if desired for garnish
Filling
1

lb

lean ground beef

1

medium onion, chopped

2

cloves

garlic, minced

1

jalapeño, minced

optional

2

Tbsp

flour

1

Tbsp

chili powder

1

tsp

garlic powder

1

tsp

cumin

1

tsp

salt

¼

tsp

ground sage

½

796 ml can

whole tomatoes, smashed

28 oz can, save other half for sauce

½

540 ml can

black beans, rinsed and drained

540 ml = 18 oz
Sauce
2

cloves

garlic, finely minced

⅓

cup

butter

⅓

cup

flour

1 ½

cups

beef broth

½

796 ml can

whole tomatoes, smashed

1

Tbsp

chili powder

2

tsp

cumin

1

tsp

ground sage

½

tsp

salt
Instructions
In large skillet over medium heat, cook beef, onions, garlic and jalapeño (if using) until beef is browned and onions are golden and soft. Drain fat if there is more than a few tablespoons.

Sprinkle flour over top and add seasonings. Stir to combine.

Add tomatoes and bring to a boil. Reduce heat to low, cover and simmer for 15 minutes.

In second pan, sauté garlic in butter. Stir in flour. Allow to cook for a minute, then gradually add beef broth. Bring to a boil and cook for 2 minutes.

Stir in remaining tomatoes and seasonings.

Ladle about 1 ½ cups of sauce into the bottom of a 9 x 13 baking dish.

Preheat oven to 350 degrees and ensure rack is set to middle of oven.

Divide filling into 8 equal parts. Lay in a line across tortilla and top with shredded cheese. Roll tightly in a tube and place seem side down in baking dish over sauce. Repeat with remaining tortillas.

Pour remainder of sauce over top and spread remainder of cheese over sauce.

Cover lightly with foil, avoiding touching the cheese and sauce, and bake for 20 minutes. Remove foil and continue to bake for 20-25 minutes until sauce is bubbling and cheese has melted.

Allow to rest at least 10 minutes before serving. Garnish with fresh chopped cilantro if desired.
Print Recipe
If you've tried this recipe, consider leaving a comment or a rating. You can share the post on social media by clicking on the icons below.
more tex mex recipes