Turn boring boneless skinless chicken breasts into a juicy, colourful and delicious main dish with only a few ingredients. And there's no need to add any breading or coating, the prosciutto seals all the deliciousness into Stuffed Rolled Chicken Breast.
These chicken breasts look impressive but they're relatively easy to put together and they cook quickly so you can serve them as a quick mid week meal or save them for a special dinner. Your guests will be impressed.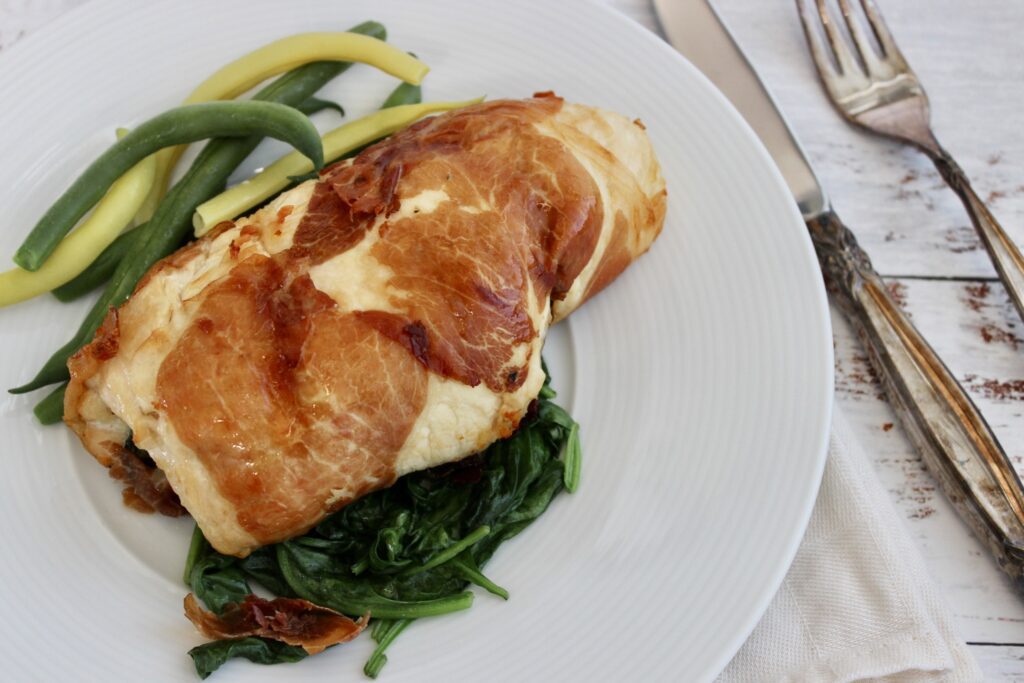 Jump to Recipe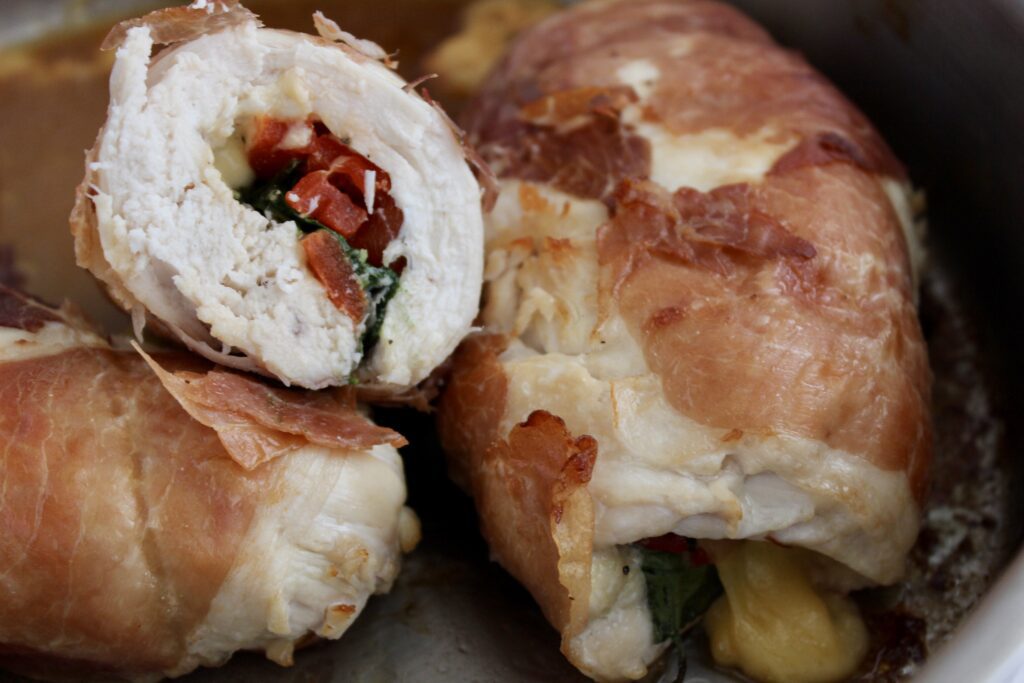 Wrapping the stuffed chicken breasts in prosciutto accomplishes two things. The prosciutto helps keep the chicken in its rolled shape but also protects the exterior so it won't be dry. In fact, the chicken will be tender and juicy with lots of flavour. Prosciutto is very forgiving so don't worry if the pieces tear while you're working with them.
The best type of cheese to use in Stuffed Rolled Chicken Breast is one that has some flavour and isn't too soft. You want it to melt but you don't want all the cheese to ooze out of the chicken and be lost in the pan. Cut the cheese into longer pieces with some thickness. In this case I used Beemster cheese but other good choices would be Swiss, Gouda or Gruyère. Use your imagination. I wouldn't recommend cheddar because it tends to be oily when melted and Brie is too soft. And Halloumi won't melt at all.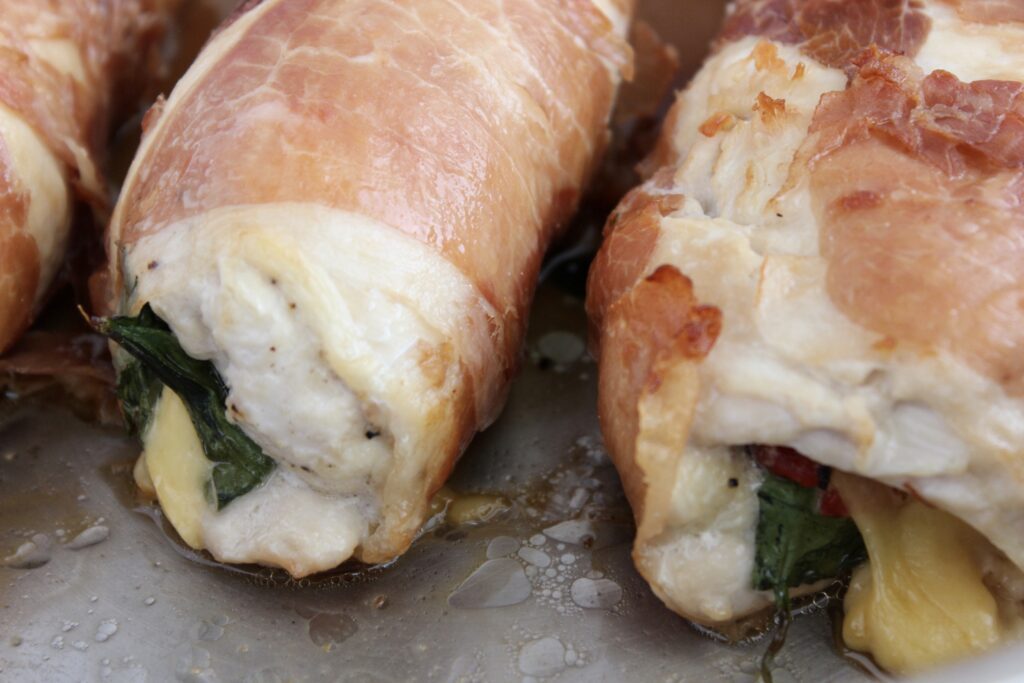 Roasted red peppers add excellent flavour to this dish as well as the intense red colour. You can roast your own but the jarred peppers are loaded with intense flavour and come already cut into strips. Look for fire roasted, they have bits of charred skin! Combined with the bright green spinach, it's visually a masterpiece!
How to flatten a chicken breast
In order to roll a chicken breast it needs to be flattened. You can slice partway through the chicken from the side and open it up like a book. Or, you can work out some frustration with a meat mallet, using the flat end. I actually use both methods, starting with cutting open the thickest part of the chicken, then pounding it to achieve a relatively even thickness. Don't go crazy, you don't want to tear the chicken but if you do it's ok because you're rolling it up anyway.
If you lay the chicken breast between 2 pieces of plastic wrap or parchment paper before pounding it you won't be spreading raw chicken around the kitchen. You'll end up with a shape something like a triangle.
How to make Stuffed Rolled Chicken Breast
Lay two slices of prosciutto side by side, then lay a third slice across the bottom. Slightly overlap them.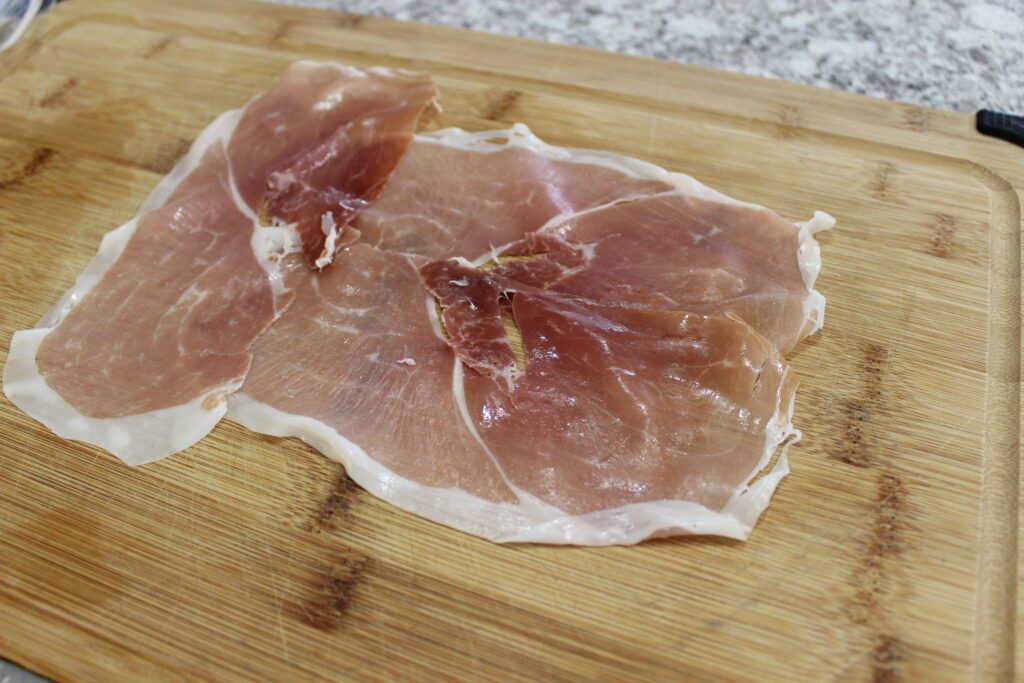 Then lay your chicken breast over top with the wider end of the chicken across the lengthwise slice of the prosciutto. Season with salt and pepper. Now arrange the cheese and roasted red pepper strips across the width, then add a layer of spinach. Roll the chicken breast, pinwheel style. If any stuffings are falling out the side, just poke them back in.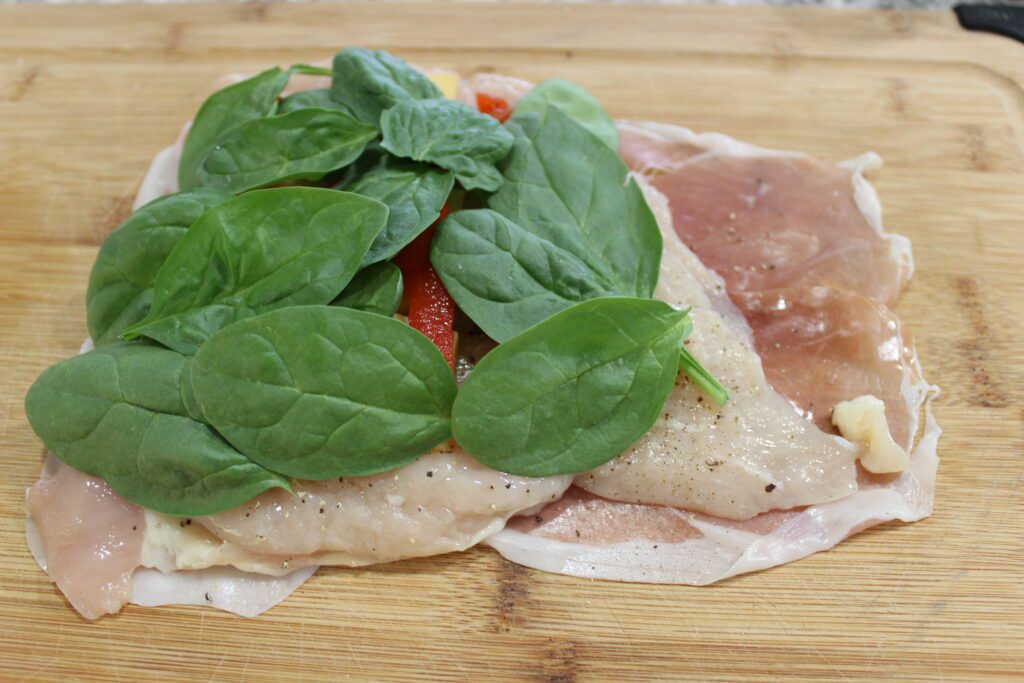 No need to use toothpicks for these Stuffed Rolled Chicken Breasts, the prosciutto keeps them together nicely. And, depending on the size of the breasts you may be able to stretch 2 servings from one chicken breast.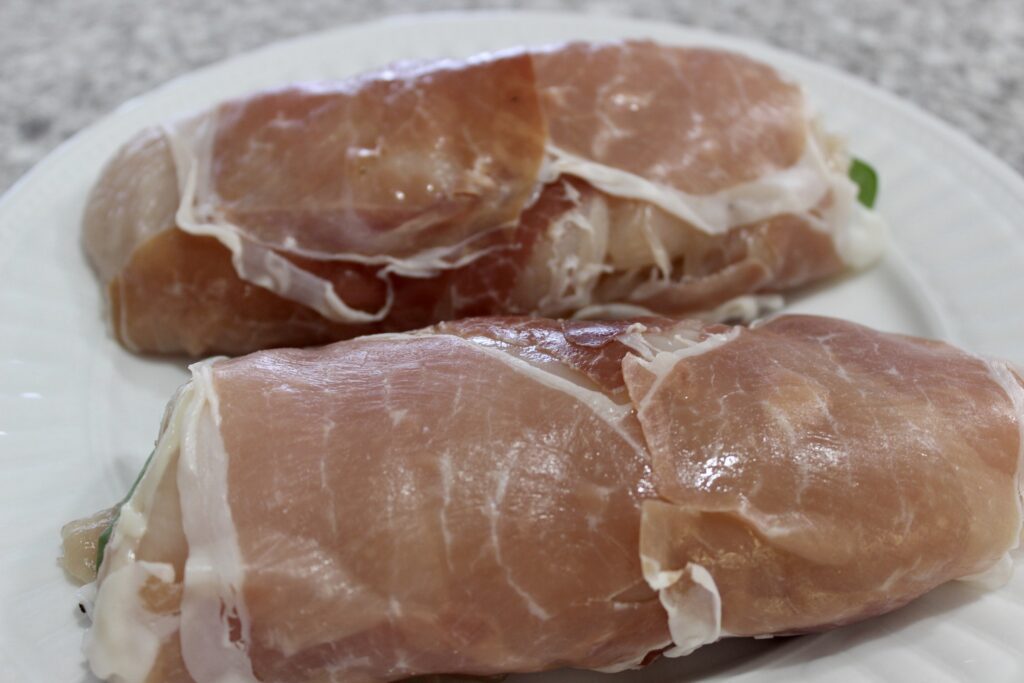 The chicken cooks in less than half an hour. Start them in a hot oven safe skillet and sear them on the stove top for a minute or two on the front, back, side and side. You might have to lean them on each other to cook the sides. This helps brown and crisp up the prosciutto. Turn them gently so you don't tear off the prosciutto.
Then bake in the oven for 20 minutes. You may think that's not a long time but the chicken starts cooking during the searing process and overcooking the chicken will make it dry.
Let them rest a few minutes before cutting in half. Serve over some sautéed baby spinach, add a green veg and you've got yourself a winner winner chicken dinner.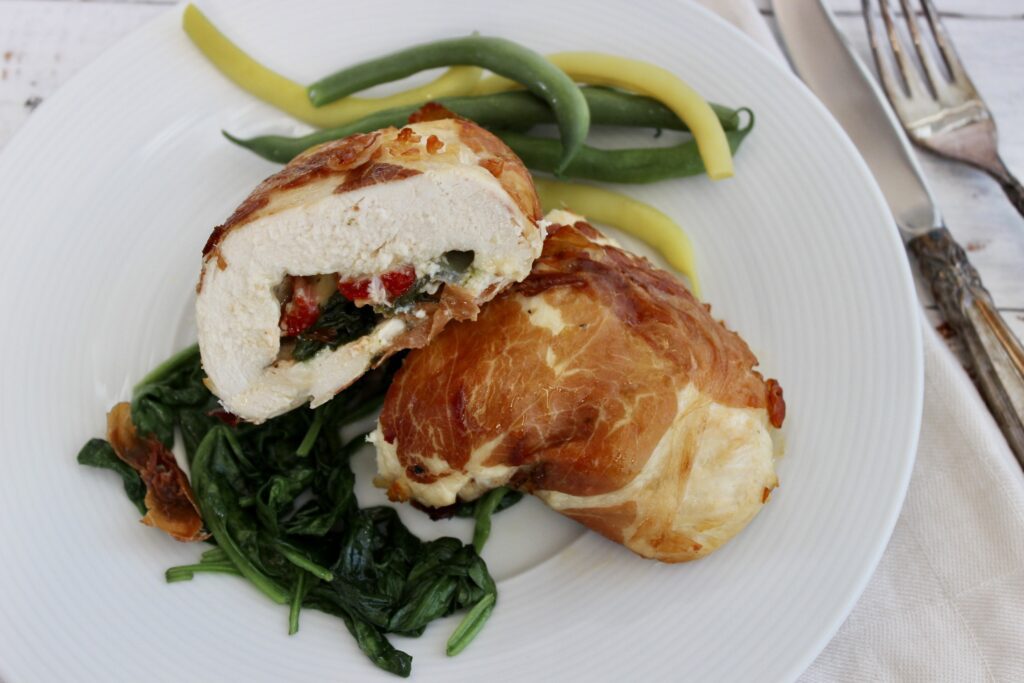 Here's the recipe:
Stuffed Rolled Chicken Breast
Boneless skinless chicken breast stuffed with roasted red peppers, spinach and cheese then wrapped in prosciutto
Ingredients
4

boneless skinless chicken breasts

salt and pepper

12

slices

prosciutto

12-16

strips

fire roasted red pepper

6

oz

Beemster cheese

or other similar cheese ie Gouda, Swiss, Gruyère

4

handfuls

baby spinach

1

Tbsp

extra virgin olive oil
Instructions
Lay chicken breasts between plastic wrap or parchment and slice open then pound flat. Season with salt and pepper.

Arrange 3 slices of prosciutto for each chicken breast in a rectangle shape. Lay chicken breast over top. Arrange 3-4 strips of roasted red pepper across the width of the chicken breast. Slice cheese into thick strips and lay over top, then cover with spinach.

Starting at the widest width of chicken, roll into a pinwheel, wrapping the prosciutto around as you roll. Poke in any fillings that have fallen out.

Preheat oven to 350°. Heat oven safe skillet on stove top to medium-high and add olive oil. Sear chicken breasts for 1-2 minutes per side on each of 4 sides.

Finish chicken breasts in the oven by baking on the middle rack, uncovered, for 20 minutes.

Allow to rest for a few minutes before slicing open.
Print Recipe
more winner winner dinners
Chicken Paprikash over Noodles
Chicken and Rice with Tomato Skillet Dinner
If you've tried this recipe, consider leaving a comment or a rating. Or, you can share the post by clicking on the icons below.