I have to give credit to my friend Deb for the name of this dish. It started out as an idea that changed into another idea, then changed again as I was making it. The end result was surprisingly good but a bit convoluted, kind of like Caesar salad meets guacamole meets lobster roll meets crab legs. I liked the way it looked so I sent Deb a picture and described what it was. She sent back the idea for the name and I loved it. Crabocado Caesar Salad. Catchy!
I'd really intended to have some king crab legs with melted butter but I thought maybe I should make something a bit healthier. So I started thinking about all the flavours that go well with seafood. Lemon. Garlic. Then I started thinking about this amazing lobster roll I had in Maine.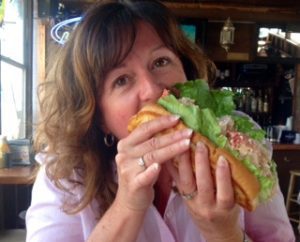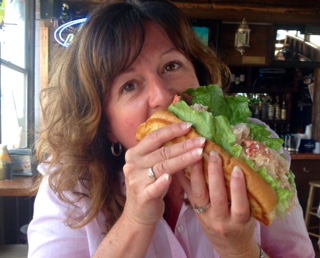 It was delicious! But later, as we enjoyed a rough overnight crossing by boat to Yarmouth, Nova Scotia, I did barf it all up. Sadly. What a waste!