There are a variety of fish species in Lake Erie and pike is one of our favourites. They're best caught in very cold water so spring is a great time to enjoy some fresh caught pike. You can make Blackened Pike Tacos with any type of fish that's thick and dense enough to stand up to the blackening process without falling apart.
Fish tacos aren't actually Mexican. They're popular in California and now you see them everywhere, even here in Long Point where we're lucky enough to have not one but TWO food trucks serving Perch Tacos! This recipe for Blacked Pike Tacos is a healthy twist on the traditional deep fried fish taco. So you can eat more of them!
If you like Fish Tacos you might also like Taco Salad.
Everyone has a different idea of the perfect fish taco.  Fried or grilled fish? Toppings?  Salsa?  Pico de gallo?  Cheese?  Corn or flour tortillas?  Well, if you ask me, all versions are pretty good.  I like a balance of heat, cold, crunchy, zesty and creamy.  You can get carried away with toppings and if you pile them too high you can't actually eat the taco with your hands so the perfect combination of quality toppings that work well together is the secret.
Jump to Recipe
Blackening Seasoning for Fish Tacos
The blackening seasoning adds lots of flavour and heat to the fish. I've worked on the seasoning mix for quite a few years using a base recipe from a cajun grill on the Mississippi delta. The chef wrote the ingredients on a piece of paper and Mr. H brought it home for me. I played with the measurements until I got it just the way we like it. The amount of cayenne pepper can be increased or decreased depending on your heat tolerance. And, from experience, we learned that the amount of blackening seasoning you use is important too. If you just sprinkle the fish lightly you don't really get that true blackened fish flavour. And if you pile it on too thick the fish is almost too hot to eat and it overpowers all the other flavours.
The recipe below makes enough blackening seasoning for at least 2 or 3 batches of Blackened Pike Tacos. They're so delicious you'll make them again and again! And it keeps for ages in your pantry.
Both the lime cream sauce and cabbage slaw can be made in advance. If you've never had capers, they are an edible flower bud in a salty brine. I love them! The combination of the fresh zesty lime and the salty brine in the lime cream sauce is amazing!  And the slaw has lime juice too so use a real lime since you'll need both halves. Purple cabbage looks awesome in the tacos. Once you're ready to make some fish tacos, just cook, assemble and eat.
How to Blacken Fish
There are two factors involved in blackening fish. One part is covering the pieces of fish in a seasoning mixture. The other part is cooking them quickly on a high temperature so the fish has a black exterior. I prefer to use a cast iron pan because it can heat to a very high temperature and it stays hot.
The other important thing about blackening fish (or any meat for that matter) is NOT HAVING THE FIRE DEPARTMENT VISIT YOU.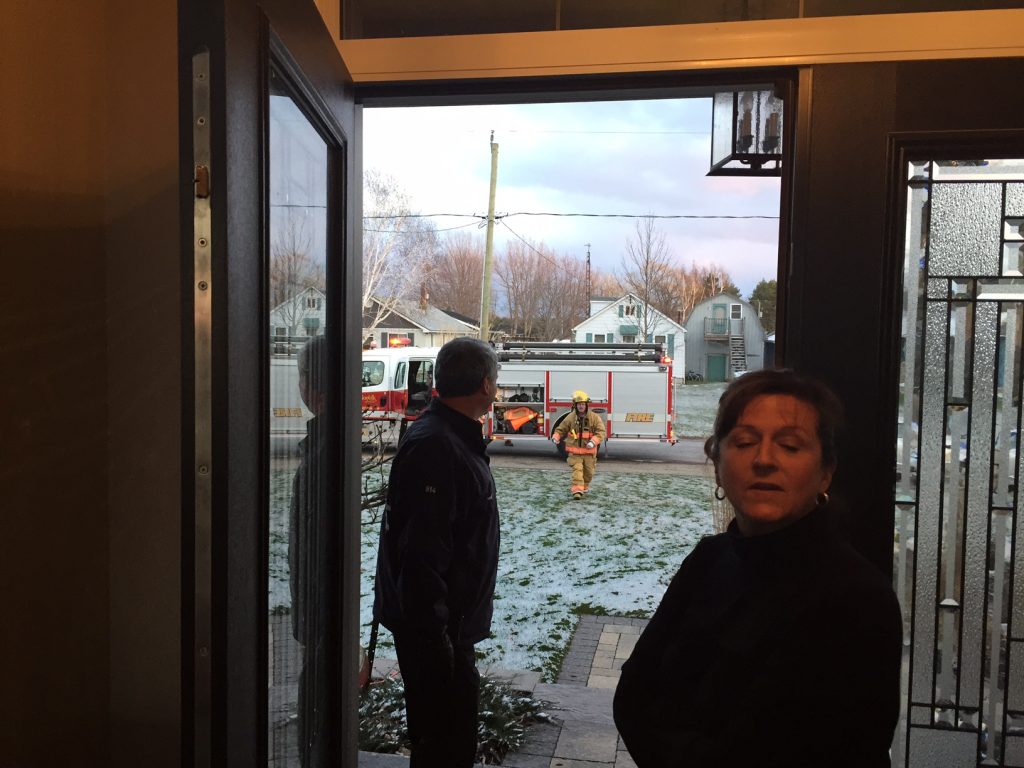 Yup.  It happened!
You need to get the pan very very hot.  Smoking hot.  So if your smoke alarm is set up to send alerts to the fire department, well…you should do this outside. Even when it's cold outside.  Lesson learned!
Fortunately our friend Gord is on the local fire department so instead of a bill, I received a gift.
Thanks Gord and Rose!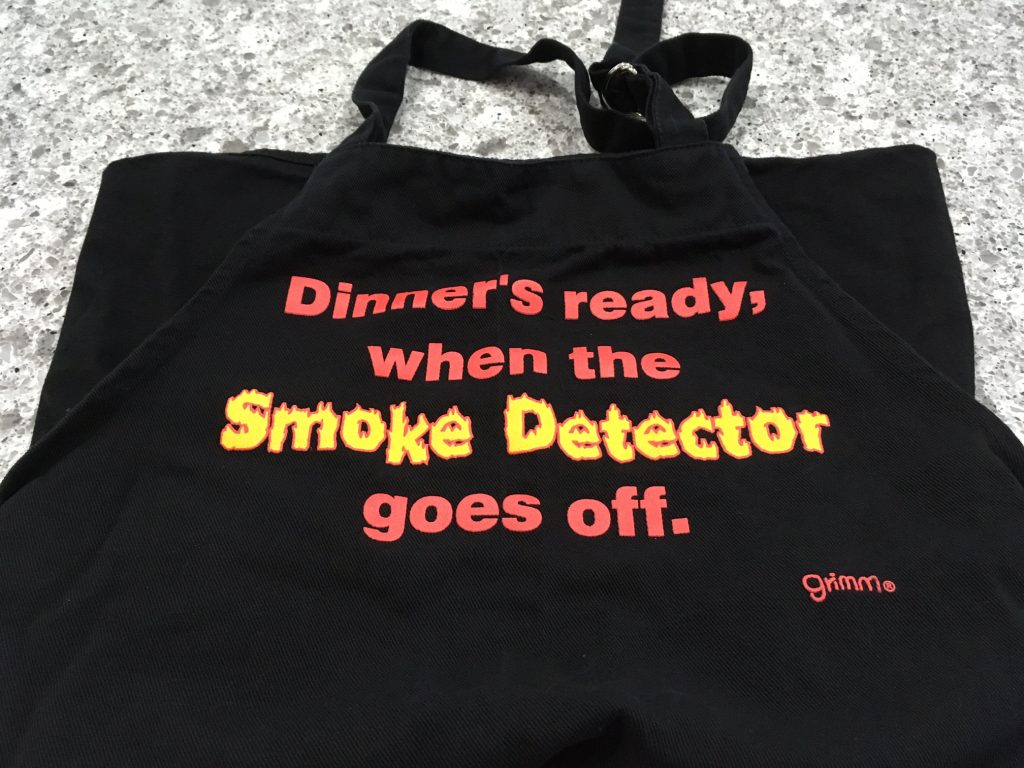 Anyway, moving on…..
You can put your cast iron pan right on the barbecue but it takes a bit of time to heat up enough and it's hard to maintain a specific temperature.  I discovered you can buy single electric burners quite cheap so an investment of $20 was a smart idea. Now I can cook fish on a table right outside my door with better heat control.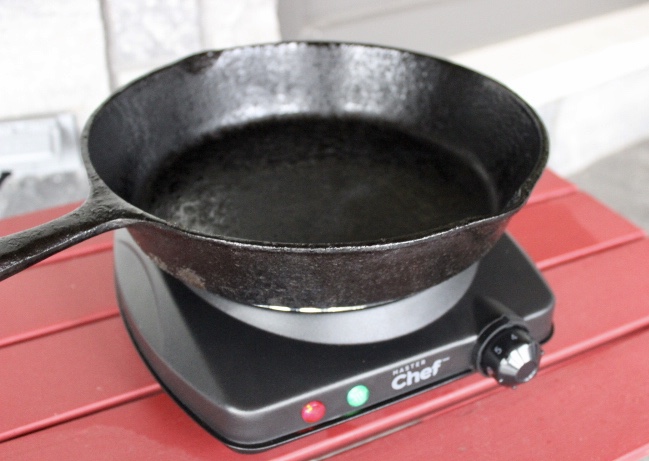 Once the pan is very hot, (you'll know because it will start smoking) add a big lump of butter and it will immediately brown and smoke.  Put the fish pieces quickly in the pan spaced apart so they aren't touching. You may have to cook them in batches depending on the size of the pan and how many hungry people you're feeding.
They don't take long to cook.  Depending on how thick they are this could be anywhere from 1-2 minutes on each side.  You want the fish to get a nice crust.  If you're doing the fish in batches, heat the oven and put the cooked pieces on a baking sheet to keep warm.  Reheat the cast iron pan, add more butter and cook the second batch.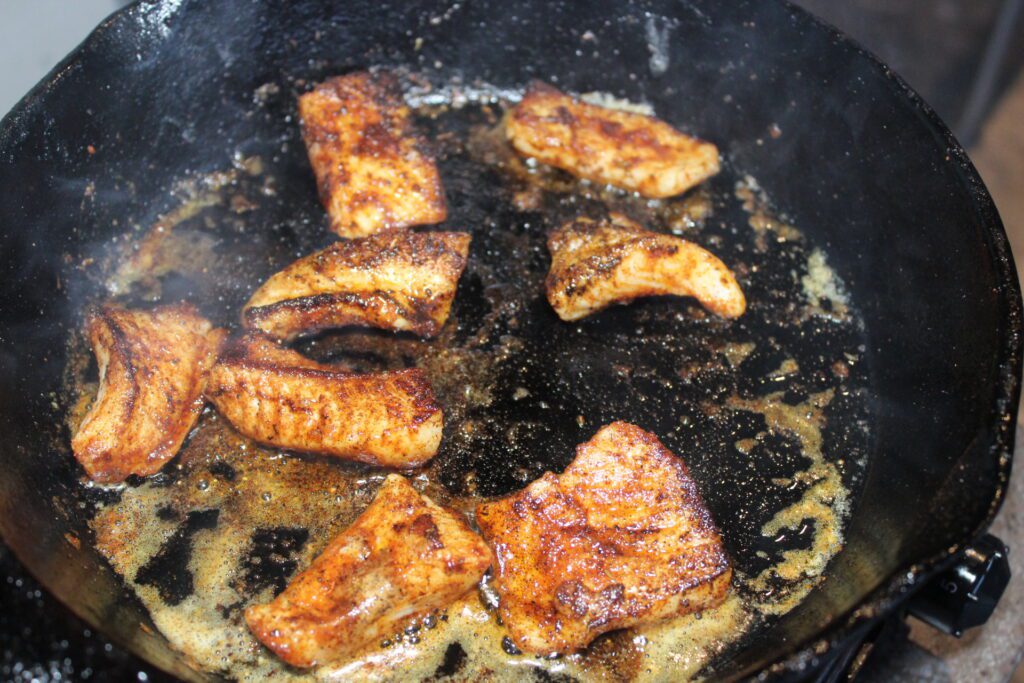 Fish are delicate and shouldn't be over cooked.  And you don't want the pieces to be too large.  1-2 inches by 3-4 inches is perfect for a taco. Depending on the size of the tortilla, you would use 2 – 3 pieces per taco.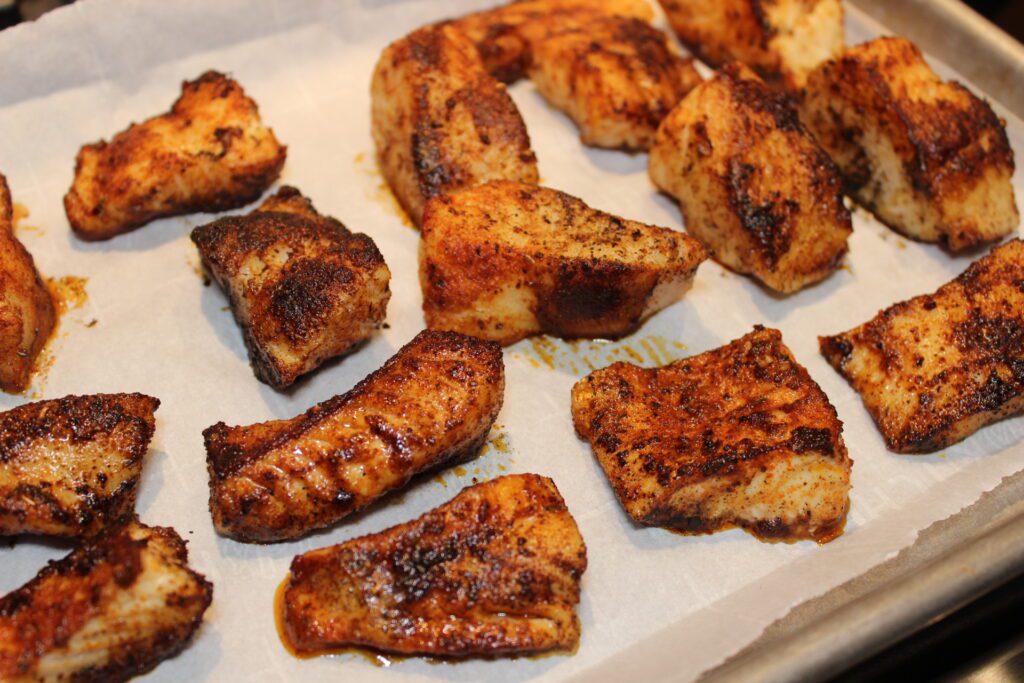 How to assemble Blackened Pike Tacos
Lay the fish in the taco shell then top with cabbage slaw, pickled jalapeno and a lime cream sauce (called Lime Crema).  And fresh cilantro!  Most important to me, least important to Mr. H who is one of those people to whom cilantro tastes like soap.
Right before serving you can slightly grill your tortillas over a gas burner or on the bbq.  This warms them up so they're easier to wrap and it gives them a little charred look and flavour.
Here's the recipe:
Blackened Pike Tacos
A healthy twist on traditional deep fried fish tacos with fresh Lake Erie Pike
Ingredients
1

lb

fresh Lake Erie Pike, 24 small pieces

allow about 1/4 - 1/3 lb of fish per person

12

flour or corn torillas, small sized

or 8 medium

2

Tbsp

butter

fresh cilantro

pickled jalapenos
Blackening Seasoning
4

Tbsp

paprika

2

tsp

salt

1

tsp

smoked paprika, for added smokiness

optional

1

tsp

onion powder

1

tsp

garlic powder

1/2

tsp

cayenne pepper

more or less as desired

1/2

tsp

white pepper

1/2

tsp

ground thyme

dried thyme is ok

1/2

tsp

oregano
Slaw
1

carrot, finely julienned or grated

1/4

small cabbage, finely sliced or grated

1/4

red onion, finely sliced

1/2

lime, juiced

1

Tbsp

white vinegar

1/2

tsp

celery seed

pinch salt

fresh chopped cilantro or parsley

or both
Lime Cream
2

Tbsp

regular mayonnaise (not miracle whip)

2

Tbsp

full fat sour cream

or yogurt

1/2

lime, juiced

1

tsp

capers, chopped

1

tsp

fresh dill, chopped

or 1/2 tsp dried dill weed

1/2

tsp

ground cumin

pinch of cayenne pepper

pinch of salt
Instructions
Mix all ingredients for blackening seasoning in sealed container. Makes enough for 2 or 3 batches. Store leftovers for future use.

Prepare lime cream sauce by combining all ingredients. Allow to chill in the refrigerator for about an hour for flavours to combine. Will keep for several days.

Prepare slaw by combining all ingredients. Allow to chill in the refirgerator for about an hour. Reserve extra cilantro and parsley for garnish. Will keep for several days.

Clean fish, remove any bones and cut into 1-2 inch by 3-4 inch pieces. Lay in one layer on a large plate or platter. Sprinkle blackening seasoning generously over top. Turn pieces and sprinkle other side.

Heat cast iron pan until starting to smoke. Add 1 Tbsp butter and tilt to cover pan. Add half of the pieces quickly to the hot pan. Cook until pieces are very dark, about 1-2 minutes depending on the thickness. Turn and cook until other side is equally blackened.

Remove to warm serving plate. Place in warm oven if desired while cooking second batch.

Once pan has returned to high heat, add second Tbsp of butter and cook remaining pieces until blackened on both sides.

If desired, grill tortillas slightly before assembling tacos to add a bit of char and soften.

Place 2 - 3 pieces of fish into tortilla shells. Top with generous amount of slaw then drizzle lime cream sauce over top. Garnish with fresh cilantro or parsley and pickled jalapenos.
Print Recipe
more ideas for taco tuesday