I would love to take credit for this recipe but it's not mine.  I found it on the internet last year and made the loaf.  It was so good I couldn't believe it was packed full of zucchini!  The concept of delicious and nutritious is a joke, right?  But in this case, I have to say….there is some nutritional value with all that zucchini. I made another batch and used some whole wheat flour and reduced the sugar so now it's even MORE nutritional. This version of the recipe makes 12 perfect Double Chocolate Zucchini Muffins.
This is simple to make.  You don't even need to use the stand mixer.
Not a fan of chocolate? You might like Zucchini Blueberry Loaf instead.
Jump to Recipe
The first step is to shred the zucchini and let it sit in a strainer while you prepare the other ingredients. Sometimes zucchini can be a bit watery so this step will make sure that any liquid drains out. The smaller ones tend to be best and don't peel them because there's nutritional value and colour in the peel. Every little bit helps right?
Mix the dry ingredients in a big bowl. If you don't have whole wheat flour it's fine with all purpose. Whole wheat flour can make breads dense so it's best used in combination with regular all purpose flour.
In another bowl melt the butter and stir in the brown sugar, then eggs once it's a bit cool. You have to really mix it well to incorporate the eggs.
Then chop the chocolate.  The recipe calls for chocolate chips but I used the good stuff!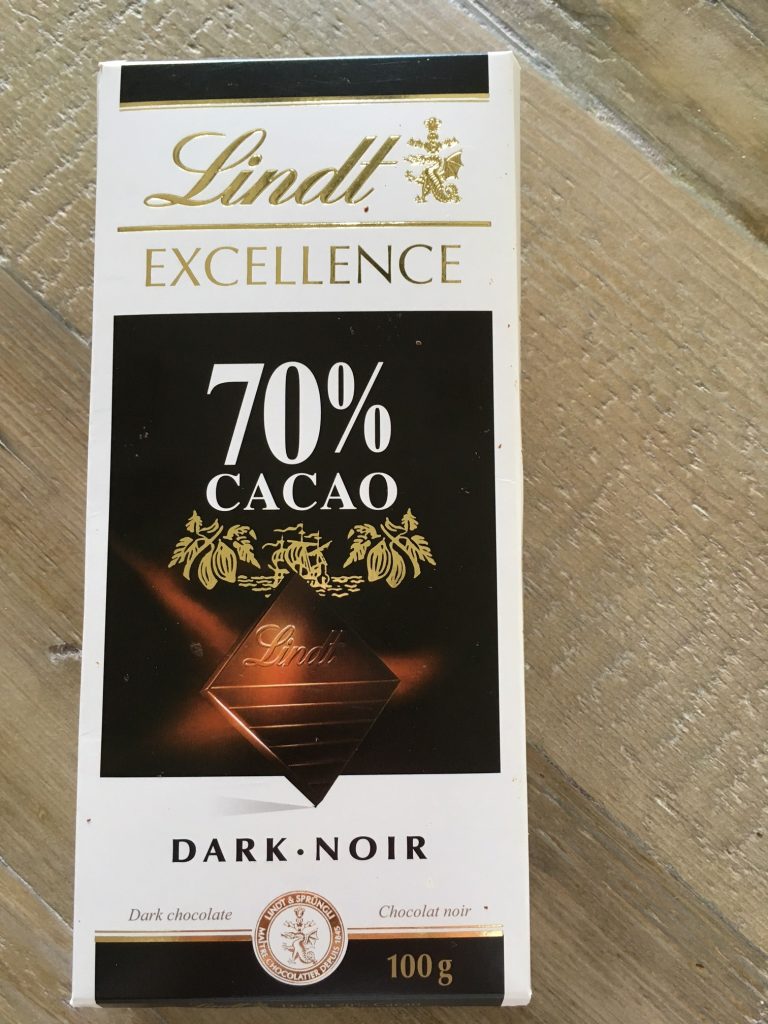 When it comes to chocolate, I don't mess around!  I chopped this entire bar into small chunks.  I read somewhere that dark chocolate is good for you so I'm going to pretend that's true. Another nutritional component! Woo hoo! Just a warning though, I once made these with 80% cacao and they were bitter.
Espresso powder is an ingredient in Double Chocolate Zucchini Muffins.  At first I thought I wouldn't bother but then I realized I have a Nespresso coffee machine and I had a few capsules for espresso so I poked a hole in the foil top and used that! It's optional but if you have some it elevates the flavour.
The batter is really thick. It's very difficult to stir.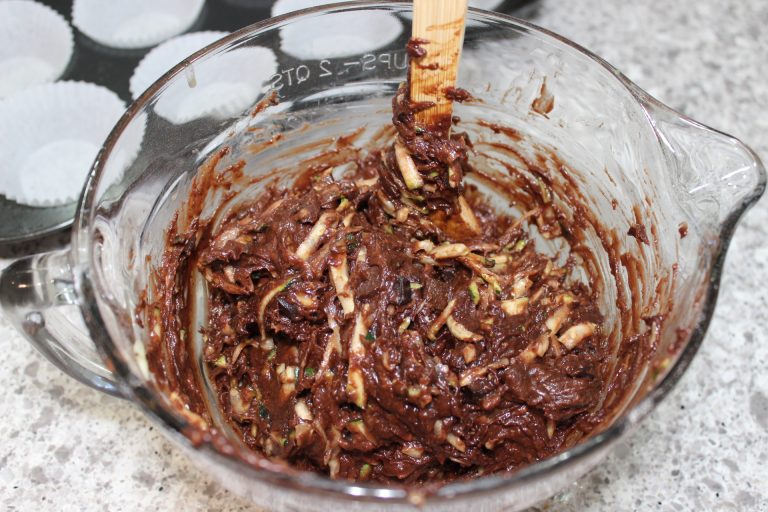 Fill paper lined muffin tins using 2 spoons to drop in the batter.  This recipe made exactly 12 muffins but I ate one as soon as it came out of the oven and told Mr. H there were only 11.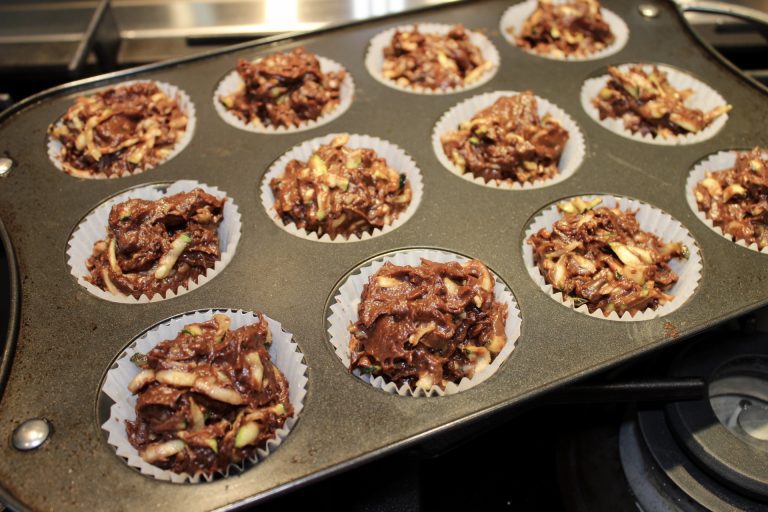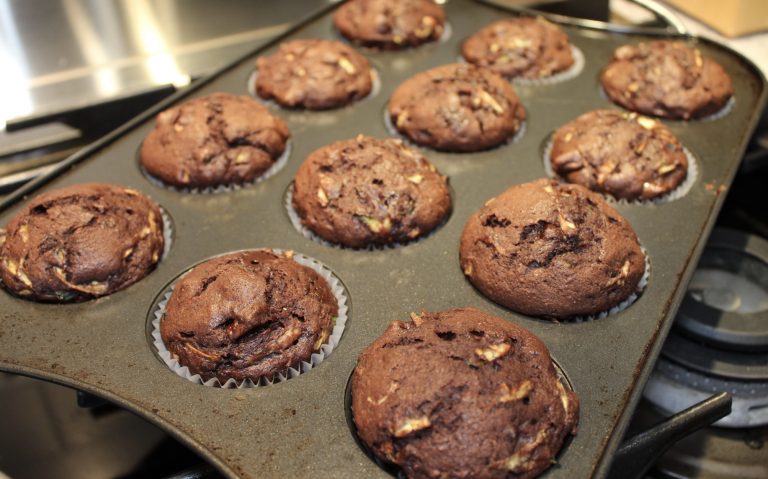 22 minutes later, moist and decadent muffins.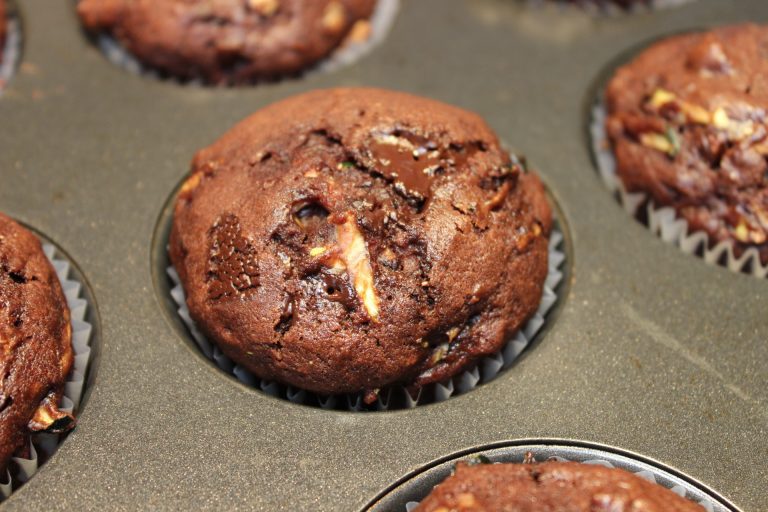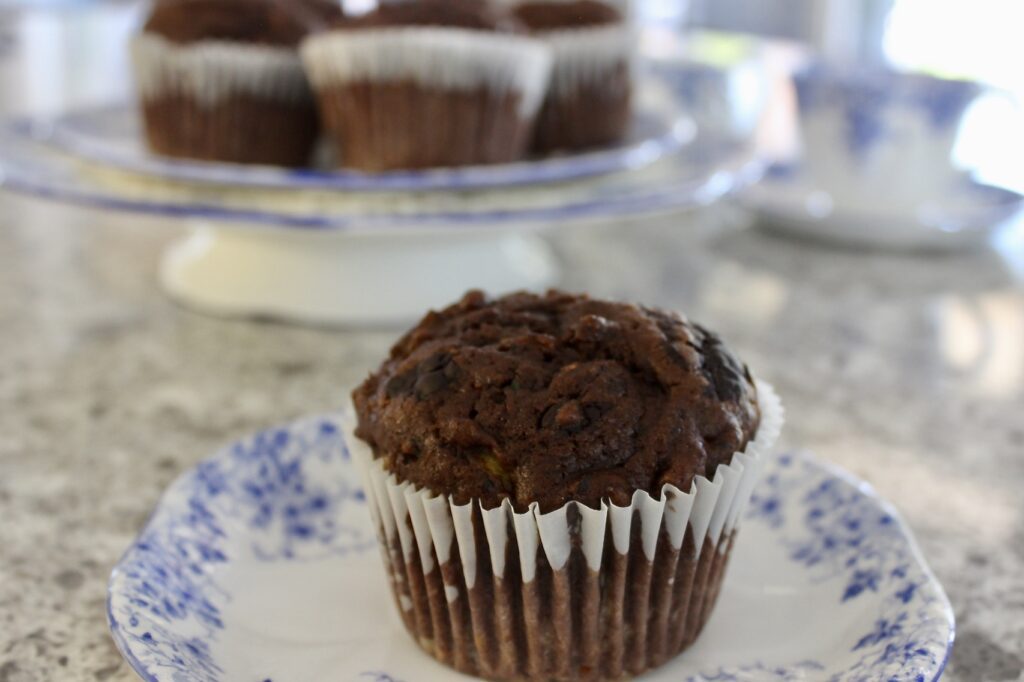 The original recipe that inspired these muffins is from Once Upon a Chef.
If you're looking for another chocolate fix, Maritimer Mint Chocolate Cake will satisfy your craving.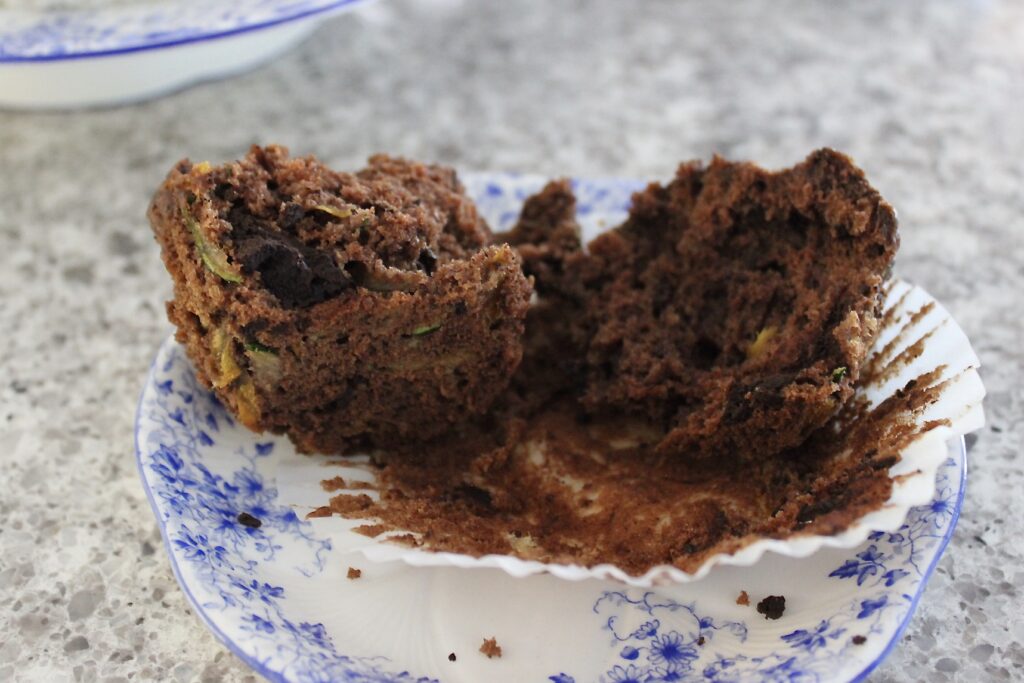 Here's the recipe:
Double Chocolate Zucchini Muffins
Decadent and healthy muffins with loads of chocolate
Ingredients
2

cups

shredded zucchini

1

cup

all purpose flour

⅔

cup

whole wheat flour

or use all purpose

⅓

cup

cocoa powder

½

tsp

baking powder

½

tsp

baking soda

1

tsp

espresso powder

optional but recommended

½

tsp

salt

½

cup

melted butter

unsalted recommended

¾

cup

brown sugar

2

large eggs

1

tsp

vanilla

1

cup

good quality higher % cacao chocolate

not more than 70%
Instructions
Shred zucchini, including skin and let sit in strainer until ready to mix.

In large mixing bowl combine flours, coca powder, baking powder, baking soda espresso powder and salt.

In medium sized bowl melt butter. Stir in brown sugar until dissolved. Add vanilla and eggs when butter mixture has slightly cooled. Whisk well until combined.

Chop chocolate into small pieces.

Add liquid mixture to dry ingredients and stir just until blended.

Add chocolate and zucchini to batter and combine. Do not over mix.

Spoon evenly into paper lined muffin tins.

Bake on middle rack of preheated oven at 350° for 22 minutes or until a toothpick inserted into middle of muffin comes out clean.

Allow to cool before attempting to remove paper liner.
Notes
When checking for doneness, inserting a toothpick will come out clean with no raw batter. Try to avoid an area with a chocolate chunk so you don't confuse melted chocolate with raw batter.
Print Recipe
Need more chocolate in your life?
Chocolate Peanut Butter Reese's Pieces Cookies