When tomatoes are in season and plentiful, making your own Salsa is a delicious way to preserve those late summer flavours. This is a tried and true recipe that's been given double thumbs up from all the taste testers.
Many years ago I made my first batch of Salsa, before the internet was the go-to place for recipes. I can't remember where I found the recipe but it was terrible! I can't really blame the recipe though, it called for coriander so I used coriander seed but I'm sure they meant cilantro. Well that batch went in the garbage. So I consulted with my (then) brother-in-law Rick who was running a new Mexican food company. He said roast your red peppers and use lots of fresh cilantro. The next batch was excellent!
I've tweaked this recipe over the years and I don't want to toot my own horn but….toot toot! I think I've nailed it. My friend Marilyn and I planted a big garden this year and like every other home gardener, we planted too many tomatoes. What a great excuse to make Homemade Salsa. If you don't have your own garden you can buy larger quantities of tomatoes directly from farms for a bargain.
Jump to Recipe
What are the best tomatoes for making Salsa?
Well, there isn't a right and wrong answer to this question. Typically the preferred type are the plum tomatoes which have lower water content and fewer seeds. Think Roma. Also San Marzano are a popular sauce making tomato, although I grew my own once and they were hollow and didn't ripen properly. Maybe it was just me. But, in all honesty, the best kind are freshly picked, any variety that tastes good. Store bought are usually (if not always) picked green and artificially ripened so if you're going to go to the trouble of making your own Salsa, do yourself a favour and get your tomatoes from a farm or market. Or your own garden.
Don't worry about your Salsa being too liquidy if you don't use plum tomatoes. Most of the extra liquid is left behind when you're chopping and since you're cooking everything before canning, it will reduce the longer you cook it. And I have a secret. Tomato paste. More on that later.
Roasting the peppers is the step that really takes this Salsa to the next level. Trust me, it's worth the time. The easiest way to do this is on the barbecue. Just toss the whole peppers on the grill over high heat and watch what happens. Why roast the peppers? Roasting them brings out their best flavour and sweetness and also adds a bit of smokiness. Next time you have some peppers, give this a try. Taste a fresh pepper, then taste a roasted pepper. You'll see.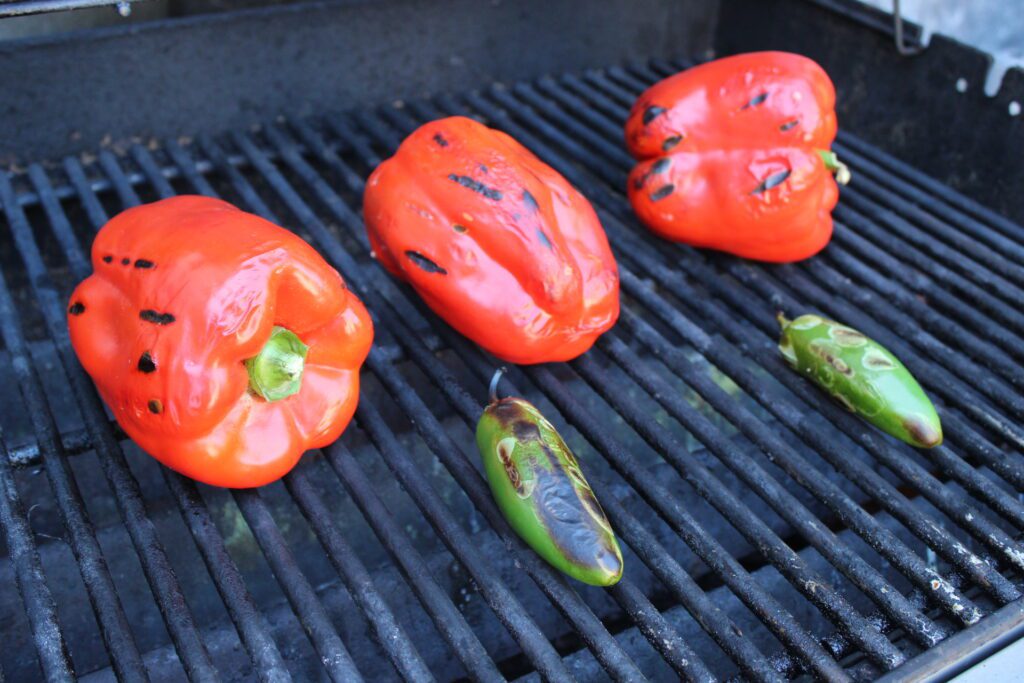 Keep turning them until they're well charred all over.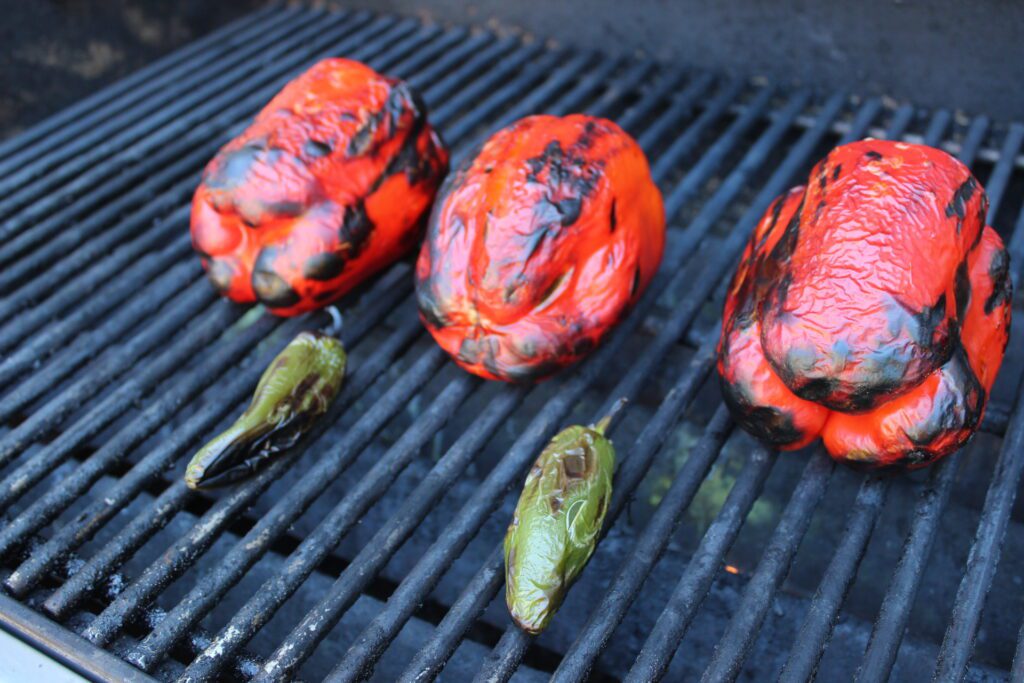 You can also roast your peppers in the oven. To get the charred exterior place them on a baking sheet under the broiler and watch them carefully.
Once you remove the peppers from the heat they deflate.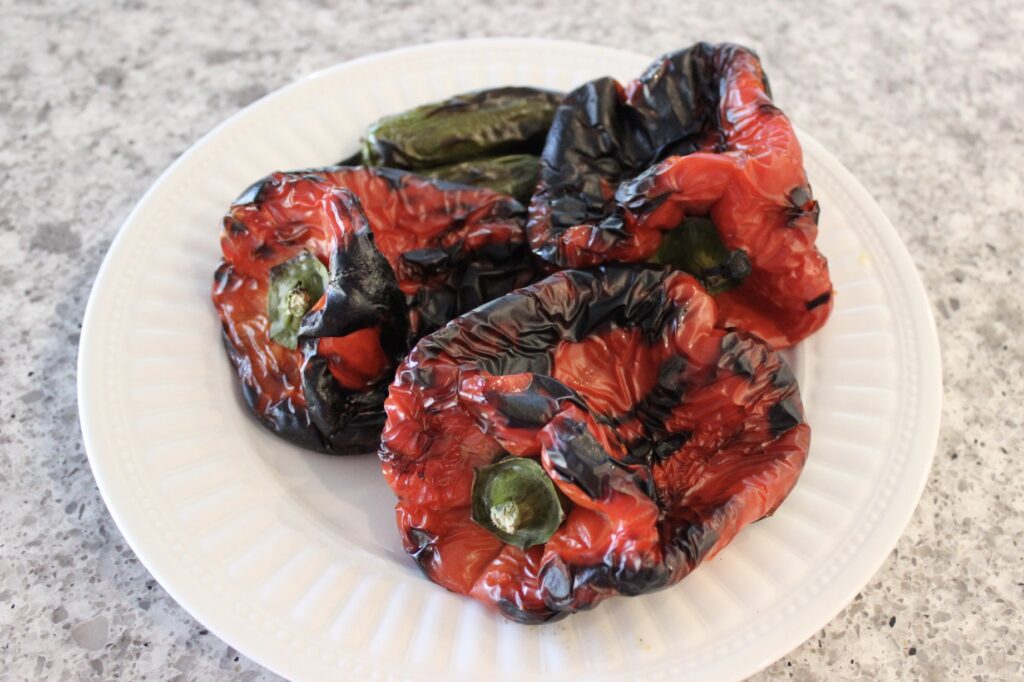 Then cut them open, remove stems, seeds and pith (the white part) and scrape off the skin. It's ok if there are a few charred bits left behind, it adds extra flavour to the salsa. The skin scrapes off easily once they're cooled.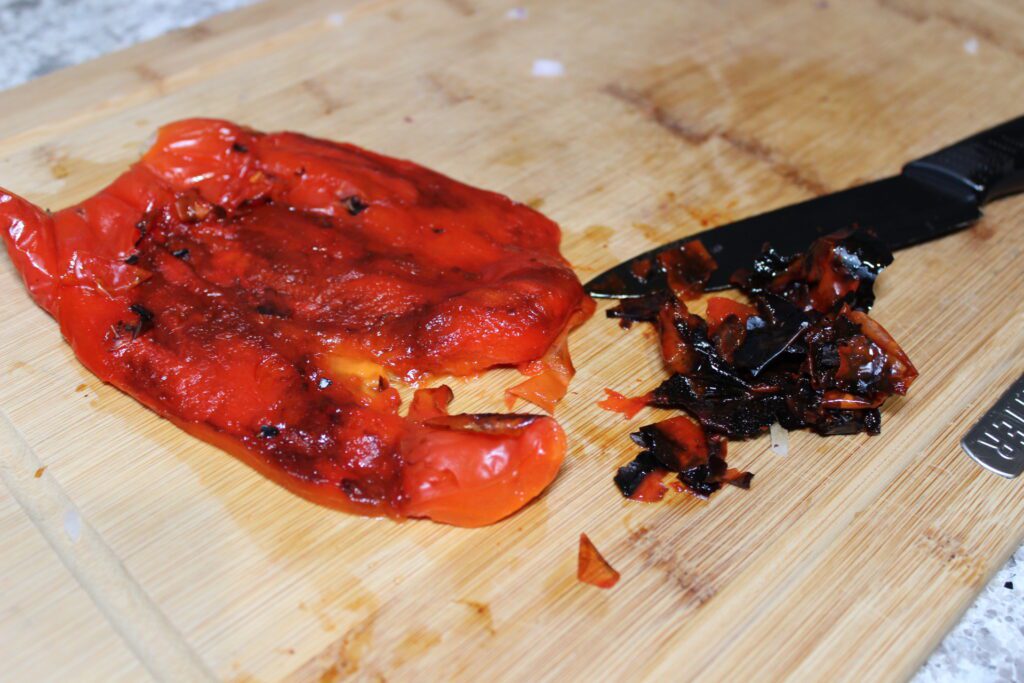 The tomatoes need to be skinned and seeded as well. The easiest way to peel tomatoes are to plunge them into boiling water for about a minute, then put them in a big bowl of ice water. The skin usually splits, giving you a starting point for peeling. A sharp paring knife works great. It's hard to estimate how many tomatoes you'll need because there is a wide variance in tomato sizes. 9 cups of chopped tomatoes is about the right amount but don't get too worried about exact measurement of the tomatoes, peppers and onions.
You'll want to use a huge cutting board for chopping, preferably one with a ridge around the outside to catch the liquid. Chop up all the tomatoes, the roasted peppers and some onions. Feel free to chop to the size you want. If you prefer your Salsa extra chunky, chop everything into larger pieces.
Hot or mild Salsa?
Well it's up to you. And to the peppers you choose. Hot peppers can be tricky. Sometimes they aren't as hot as you expect. And sometimes you need rubber gloves to cut them up. If you aren't sure, cut a tiny bit of pepper and touch it with your tongue. Usually jalapeños aren't really hot. But they add authentic flavour to the Salsa so make sure to use them, even if you're making Mild Salsa. For hot salsa, add a few hot peppers to the batch and taste as you go, adding until you get the amount of heat your prefer. Dicing them very small is helpful so you don't get a big bite of really hot pepper.
You don't have to peel the hot peppers. But remove the seeds or at least most of them. If you like super hot salsa, leave them in.
Once everything is chopped, add the rest of the ingredients, except the cilantro and tomato paste and let the mixture simmer over medium low heat.
It takes quite a while for a large canner pot full of water to come to a boil so you might want to get that going while the Salsa is cooking.
Back to the tomato paste. It's not cheating. But depending on the type of tomatoes you use and how much your mixture reduces, you may want to add some tomato paste. Maybe you like your Salsa thicker. Maybe you don't. There's no Salsa police so add some or don't.
When the Salsa has reached the perfect consistency, chop up lots of fresh cilantro and stir it in. Don't worry about people who don't like cilantro. It has to be in Salsa. It has to.
Why do you have to boil the jars of Salsa?
Canning is a way of preserving stuff for a long time. Boiling the jars ensures there's no bacteria left behind and helps to get a really tight seal. When the jars of Salsa start to cool, the pressure changes inside the jars causing a vacuum effect. Thus that 'pop' you hear when the seal on top of the jar is complete. I love that sound!
The word canning is weird because we aren't using any cans here are we?
If you have a canner pot with the rack to lower the jars into the water that's the best way to do this. But, you can improvise by using a double boiler if it's high enough to cover the jars completely, or you can even put a wash cloth in the bottom of a pot and lower the jars carefully into the water. Just to keep the jars from being directly on the bottom of the pot.
Basically, you need to start with clean jars and lids. And always use new seals. Sometimes recipes say to boil the jars before filling them but an easy way to prep your jars is to run them through a cycle in the dishwasher. They'll be clean and sterilized.
Carefully add hot salsa to the jars, making sure you leave a little space at the top. At least 1/4 inch. Wipe the tops of each jar to make sure you don't interfere with the seal by leaving some salsa on the edge.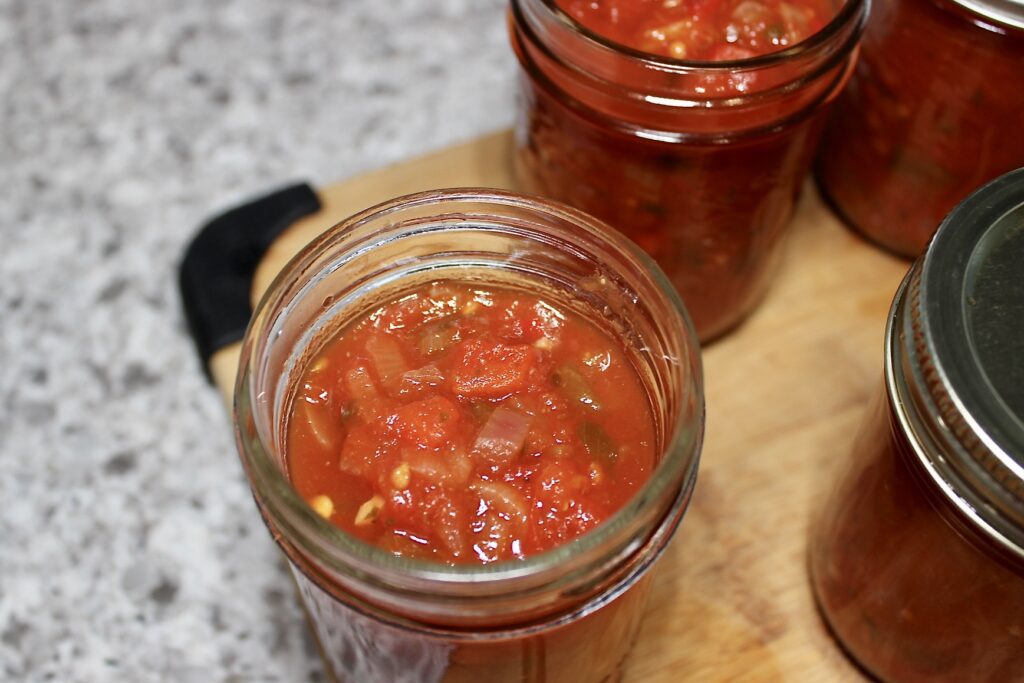 You need to heat the lids and seals for a minute before putting them on the jars to make sure the rubber seal is softened. Remove them from the hot water (pro trip – use the water you're boiling for the jars) and screw them onto the jars. Don't over tighten.
Once the water in the canner pot has come to a boil, lower the jars in, making sure they're totally submerged, and boil for about 10 minutes if you're using 250 ml jars, or up to 15 if you're using larger jars. You will have to do this in batches because this Salsa recipe makes about 15 cups.
Let the jars cool on the counter, then store them in the pantry. They'll keep for at least a year or longer. Just in time to make your next batch.
Here's the recipe:
Salsa
Ultimate authentic Salsa recipe that can be hot or mild and as thick as you like.
Ingredients
9

cups

peeled, seeded and chopped tomatoes

approximately 10-12 medium tomatoes

3

cups

diced onion

1-3

red chili peppers or other small hot peppers

use more if desired for very hot salsa

3

large sweet red peppers, roasted, peeled, seeded and chopped

2

jalapeno peppers, roasted, peeled, seeded and chopped

2

tsp

salt

3

tsp

sugar

1

tsp

ground cumin

2

limes, juiced

approx 1/4 cup

4

large cloves garlic, minced

2

small cans tomato paste

156 ml or 6 oz cans - use less or more for desired thickness

1

large handful fresh cilantro, chopped
Instructions
Roast peppers on barbecue or under broiler until skins are charred and peppers are soft. Scrape skin off when cool and remove seeds and pith. Chop.

Plunge tomatoes into large pot of boiling water for 1 minute, then remove to ice water bath. Peel, remove seeds and chop into desired size of pieces.

Dice onions. Finely dice hot peppers (if using). 1 hot pepper is ok for mild salsa.

Add all chopped vegetables to large pot. Add salt, sugar, cumin and lime juice. Bring to a boil over medium heat, then simmer for about 15 minutes. Add tomato paste to reach desired thickness. Continue to simmer for thicker Salsa.

Chop large handful of cilantro and add to salsa right before adding to jars.

Add hot salsa to jars, leaving at least ¼ inch space at the top. Wipe tops of jars.

Simmer lids and seals for a minute to soften. Add to jars and tighten gently.

Prepare large canner pot for boiling jars. Bring water to a boil, then add jars until fully submerged and boil for 7-8 minutes or up to 15 for larger jars. Continue in batches until all jars are canned.

Cool on counter, undisturbed until lids pop. Lids should be inverted when properly sealed.
Notes
You can substitute white vinegar for lime juice but the limes give it a more authentic flavour
Print Recipe
hola, more from mexico
Chicken and White Bean Enchiladas