Eggplant slices get crispy and crunchy when coated with breadcrumbs and fried until golden. Then, baking Eggplant Parmesan with just the right amount of sauce and a cheesy topping transforms the inside of the eggplant to a creamy texture you won't believe, a perfect combination of textures without being soggy.
Many people don't know what to make with an eggplant. You can grill them, roast them, bake them, fry them, stuff them. The possibilities are endless. They don't have a distinct flavour so most eggplant dishes feature other ingredients as the flavour. Eggplant Parmesan is my favourite way to enjoy these purple beauties. Yes, you'll have lots of dishes to wash but trust me, it's so worth it!
You can make chicken or veal parmesan using the same method as Eggplant Parmesan, you just have to pound the meat quite thin before frying it.  Sometimes I make 2 pans, one of eggplant and one with meat.
Jump to Recipe
When buying eggplant, choose one that feels heavy and doesn't have any dark or soft spots. You can refer to them as "aubergine" in front of your friends and they'll think you're smart. That's what they call them in England. And in France too I think.
Imagine one eggplant making 4 servings of Eggplant Parm. It's true!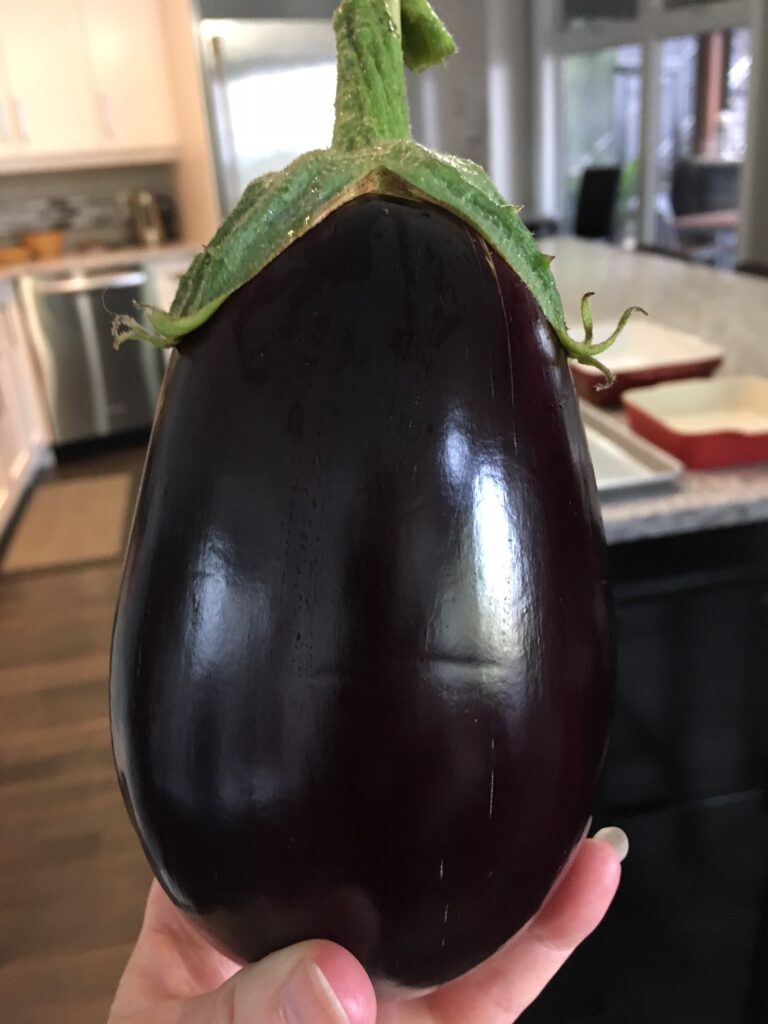 You don't need to peel the entire eggplant but if you peel some strips off lengthwise you'll avoid any chance of long strips of skin. Usually the skin isn't tough but this extra step makes a difference.
Slice the eggplant about 3/4 inch thick and lay the slices on a baking rack set over a baking sheet. Salt them lightly, turn over and salt the other side. Leave them for at least 30 minutes to allow some of the liquid to drain out. If you search on the Internet for "do you need to salt eggplant" you'll see there's quite the debate. My opinion is that I want my eggplant slices to be crispy on the outside so having less liquid should help. And this helps to avoid them having a bitter flavour. Pat them dry on both sides before cooking. They will turn slightly brown but that's ok.
Now set up your assembly line for breading. Flour then egg then breadcrumbs. Season all three dips with salt and pepper, add some cold water to the eggs and add dried oregano and basil as well as some grated Parmesan to the breadcrumbs. I like to use Panko breadcrumbs because they're the crunchiest.
Dip each slice in flour on both sides. Sometimes, if I have extra time, I'll flour all the pieces well, brush and shake any extra off, then leave them for 10 minutes or so. This helps ensure they're nice and dry on the outside so you get a nice crispy coating.
While your oil is heating, dip each slice in egg then breadcrumbs. Make sure you let the egg drip off, then coat well with breadcrumbs. Lay the coated pieces on a baking sheet. Then you'll have your original sheet with a rack to use for the cooked slices. Don't place them on paper towel after frying because they'll get soggy.
Use a wide frying pan with about 1/4 inch of oil on medium-high heat. You can use any light oil that can withstand heat such as canola or vegetable. Olive oil can't withstand the high temperature needed to brown your eggplant slices. Test the oil with a tiny drop of water. If it cracks and bubbles it's ready. If it isn't hot enough your eggplant will absorb the oil. In batches of 3 or 4, dip each slice in flour, then egg then breadcrumbs and fry until golden brown on each side. If possible, do this outside so your kitchen doesn't stink.
Mr. H likes to eat them just like this while they're warm and crunchy. Adding sauce and cheese and then baking Eggplant Parmesan does seem to be counter productive after frying them crispy, however they do need to cook a bit more for that creamy interior and there's only a small amount of sauce. Plus you want the cheese to melt and coat the slices.
Preheat the oven to 350. Put a ladle of marinara sauce in the bottom of large baking dish and spread evenly. Lay your eggplant slices in the pan, overlapping as necessary to fit them all in but avoiding piling them on top of each other. Pour a thin line of sauce over each row, not too much. Grate some Parmesan over slices and top with shredded mozzarella cheese. You don't need the whole jar of marinara but if you're making pasta to serve with your Eggplant Parmesan you can use the rest to toss with the pasta.
Bake for approximately 30 minutes until bubbling and browning on top.
Serve Eggplant Parmesan with pasta on the side, lightly coated with the extra Marinara sauce.
Look at that creamy interior!
Here's the recipe:
Eggplant Parmesan
Crispy coated eggplant slices baked in a marinara sauce topped with cheese
Ingredients
1

large

eggplant

or 2 small

2

tsp

salt

½

C

flour

1

large egg

1

Tbsp

water

2

C

panko breadcrumbs

1

tsp

dried basil

1

tsp

dried oregano

1

Tbsp

freshly grated Parmesan cheese

1

tsp

salt

to season coatings

½

tsp

pepper

to season coatings

1 ½ -2

C

oil for frying

vegetable, canola or other oil that can withstand high heat

1

640 ml

jar good quality Marinara sauce

use extra for pasta if serving as side

¼

C

freshly grated Parmesan cheese

1

C

shredded mozzarella cheese
Instructions
Peel some of the skin off the eggplant in strips from top to bottom then cut into slices approximately ¾ inch thick. 8 slices is perfect for 4 servings. Lay slices on a baking rack over a baking sheet. Sprinkle both sides with salt. Allow to rest at least 30 minutes to allow salt to draw out any extra moisture. Pat dry with paper towel.

Use 3 bowls or pie plates for coatings. Put flour in first bowl, then egg, thinned with 1 Tbsp water, then breadcrumbs. Season all 3 dips with a little salt and pepper. Add 1 Tbsp parmesan cheese to breadcrumbs along with basil and oregano. Mix all coatings well.

Dredge each slice of eggplant on both wides with flour, shaking and brushing off extra. If time allows, let slices rest about 10 minutes.

Place large skillet on burner in safe location and add oil. Heat to medium-high.

While oil is heating, complete coating eggplant by dipping each slice in egg wash, then breadcrumbs. Make sure both sides get coated well. Lay coated pieces on a new baking sheet, reserving previous sheet with rack for cooked slices.

Fry slices in small batches until well browned, turning and frying other side. Shake off excess oil then lay on baking rack until all pieces are browned.

Ladle about 1 cup marinara sauce into large baking dish and spread evenly on bottom. Lay cooked eggplant slices in pan, overlapping slightly to fill in one layer. Pour about 1 cup marinara in small stream in thin line over top of eggplant rows, being careful not to add too much.

Top slices with shredded mozzarella cheese and ¼ cup freshly grated Parmesan cheese.

Bake in preheated oven at 350° for about 25 - 30 minutes until cheese is melted and tops are golden and bubbling.

Serve with pasta tossed in remaining Marinara sauce.
Print Recipe
What else can i make with eggplant?