Mmmmmmmussels. Not to be confused with muscles, of which I have none. But these bivalves are so easy to cook and they're cheap! I mean inexpensive. You can find them at most grocery stores and since they're harvested year round, they're always in season. 80% of the mussels sold in North America are from PEI so include some in your Canada Day weekend celebration!
Sometimes we cook up a batch and eat them for dinner. Just mussels and some bread to soak up the juice. But they're an excellent appetizer too. Mussels are so easy to prepare and can be steamed without any extra liquid or seasoning. But adding some wine, garlic and onion gives them a little something extra. You don't need any salt because the brine they release when steamed is already salty, just like fresh ocean water. It's called liquor.
Here's a great source of information on how to buy mussels. They are actually live so you need to take them out of the plastic bag when you get home so they can breathe. Keep them in the refrigerator covered with a damp towel if you aren't going to cook them right away. Make sure to check the product tag for harvest and best before date. They can be stored for a few days but they're always best fresh.
Jump to Recipe
How to prepare mussels for cooking
When you're ready to cook, give them a rinse and discard any mussels with cracked shells. If you find an open one, tap it lightly and if it closes, it's fine.  If not, it's probably dead so toss it.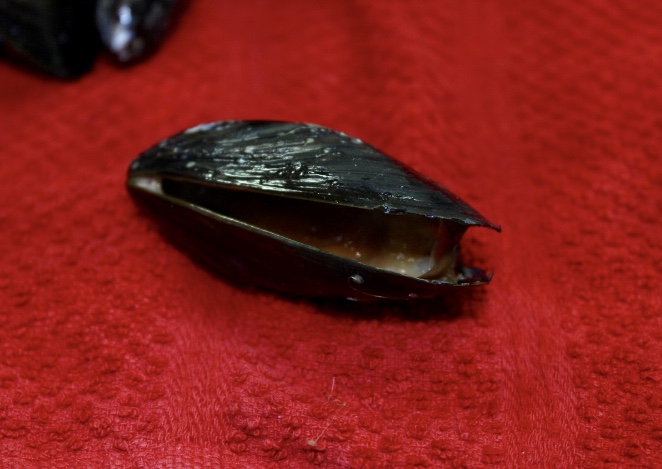 Like this guy. He was definitely a goner.
You can pull off any beards you find, which are the very strong threads that mussels use to attach themselves to stuff in the ocean. They're usually removed but sometimes you find a few strays.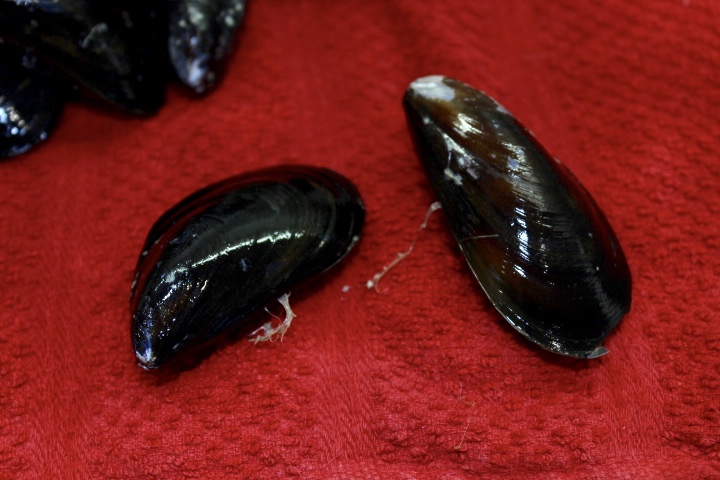 You have to give them a good pull, sometimes it helps to wiggle them back and forth.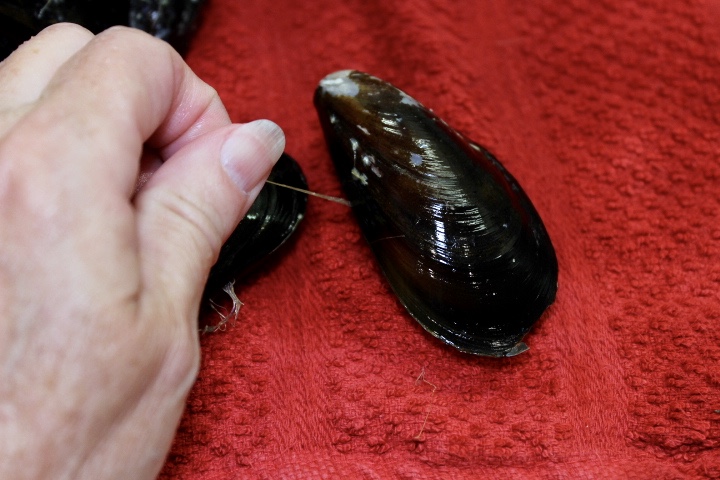 Use a deep pot or wide pan with a lid. Sauté some onion and garlic in butter. Squeeze some fresh lemon juice over top. Add white wine. Nothing too sweet. If you taste this you'll think it's too lemon/wine heavy, however once the mussels release their liquid it combines into a nice tasting dipping broth.
Now turn the burner to high, add the mussels and cover with a lid. You want them to steam for about 5 minutes. No peeking. If you're mussels are a little larger than average, you'll want to steam them for about 7 minutes.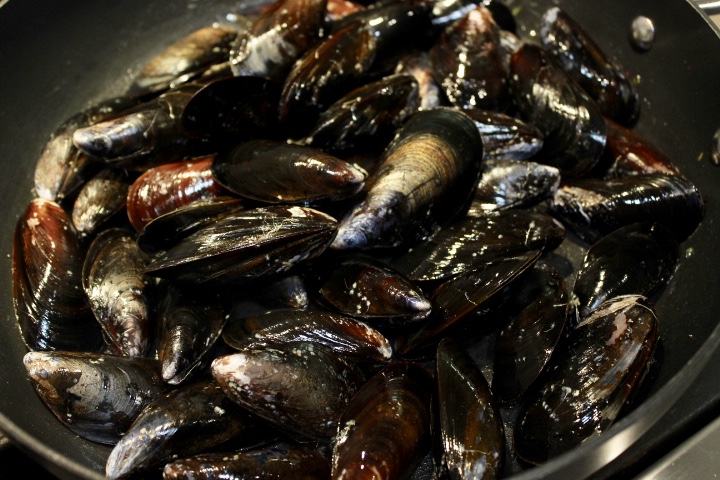 You should see steam escaping from under the lid before you take a look.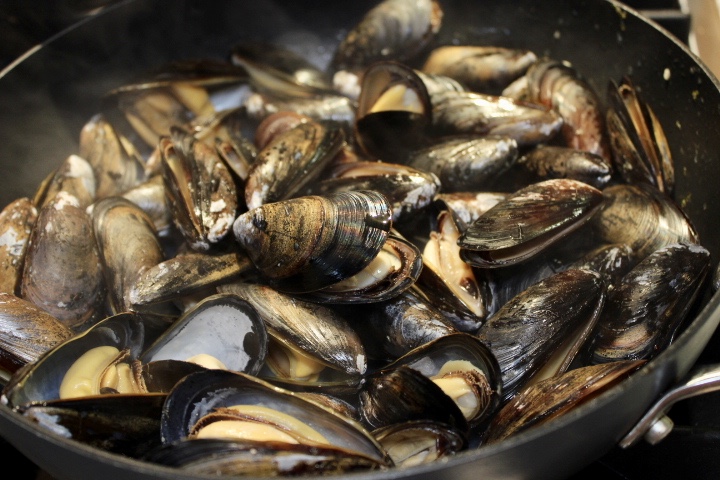 Now give them a stir and top with fresh chopped parsley.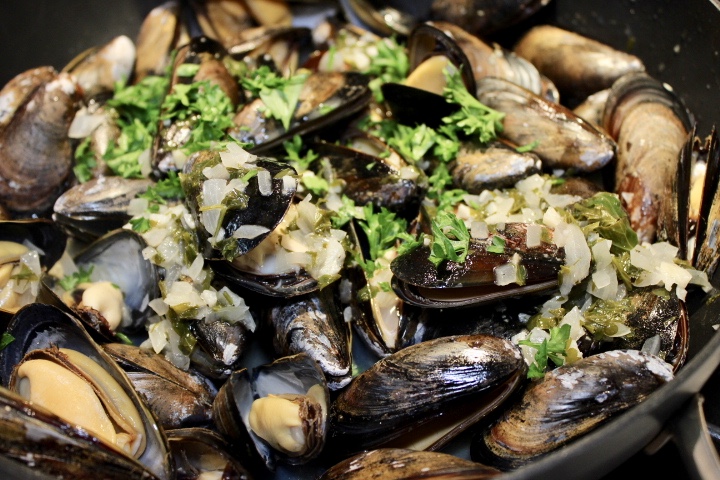 Sometimes I take some of the onion and garlic out of the pan before steaming so I can add it on top with the parsley, which helps get some into the opening of the mussels.
You can just sit around the pan and chow down. No need for dishes. And, you can even use a mussel as a grabber. Instead of a fork. It's kind of tricky if the mussel isn't open enough but try it for fun.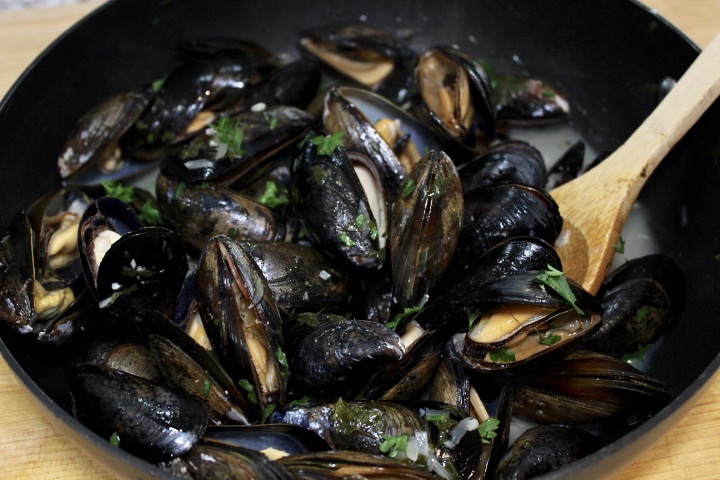 If you find any that aren't open, toss them. There's some debate about whether you should or should not eat mussels that don't open but just for safety sake, toss them.
Here's some interesting  mussel farming information if you want to learn more about the PEI mussel industry.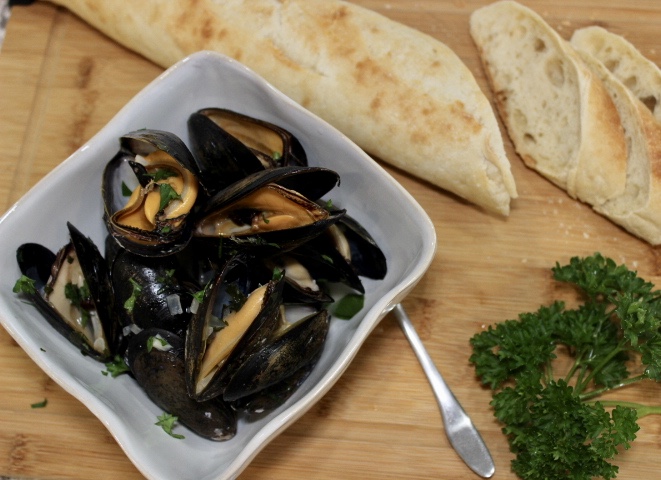 Males are cream coloured and females are coral. See, you learned something!
Here's the recipe:
Steamed Mussels with White Wine, Lemon and Garlic
Fresh steamed PEI mussels with a simple white wine broth for a meal or an appetizer.
Ingredients
2

lb

fresh live mussels

1

large clove garlic

1/4

onion, minced

1

Tbsp

butter

1

Tbsp

lemon juice

about 1/2 lemon

1/2

cup

white wine

fresh chopped parsley
Instructions
Rinse and drain mussels. Check for any cracked shells and discard. Also check to ensure all shells are tightly closed. Gently tap any that re open and discard if they don't close. Remove any beards by pulling strings back and forth until they release.

Finely mince garlic and onion. Saute in butter over medium heat until softened. Squeeze juice of half a lemon over top and add white wine.

Turn burner to high. Add mussels to pan and cover tightly with a lid. Steam for about 5 minutes without removing the lid. Check to see if mussels have opened wide. If not, steam another minute or two. Timing depends on size of mussels.

Remove pan from heat. Stir well to combine juices and get bits of onion and garlic into the opening of the mussels.

Discard any mussels that have not opened.

Sprinkle fresh chopped parsley over top. Serve with crusty bread for dipping.
Print Recipe
love seafood? here's more!