This is a super simple salad that's bursting with zesty flavour and brilliant colours. And when it's harvest season, it's the perfect time to make Green Bean and Red Pepper Salad with fresh local ingredients!
Sometimes the simplest recipes are the best. My friend Wendy shared this recipe with me years ago. It takes no time to throw together but really packs a punch in the flavour department. And it really does look beautiful on a plate. If you make the dressing first you can pour it over the beans and peppers while they're still warm and serve it that way if you like. But serving Green Bean and Red Pepper Salad after it's chilled gives it a chance to absorb the flavours of the dressing.
To make the dijon vinaigrette just mix everything together in a jar and shake well. You'll probably have some leftover dressing. It's great on any mixed green salad.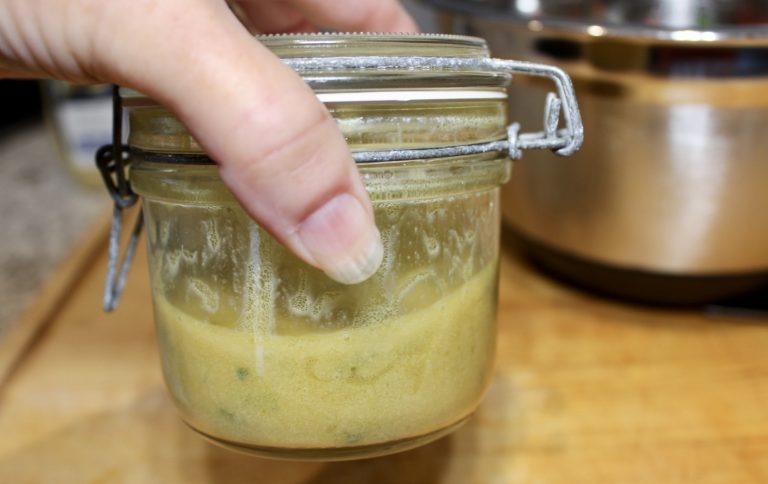 Fresh young green beans are best
Use the freshest long thin beans you can get. Rinse well and trim the stems. Remove any short beans or weird ones. I save them for soups or stews. A full pound of beans is more than you need, allowing for wasting a few duds that don't make the cut. Slice the red pepper into very thin strips, matching the thickness and length of the beans. Use a pot large enough to hold all the beans and peppers, salt the water and bring to a boil. Toss in the beans, cover and cook for 2 minutes. Add the peppers and turn the heat off. Drain after about 30 seconds. Or less. Maybe 20. You don't want to cook them, just give them a quick blanch. Otherwise, they'll be too soft and lose some of the vibrant colour. You want the beans to be tender crisp so everything has the same texture.
Drain well. Rinse with cold water and drain again. Make sure there's no water left behind or it will dilute the dressing.
Pour most of the dressing over, saving some to add just before serving.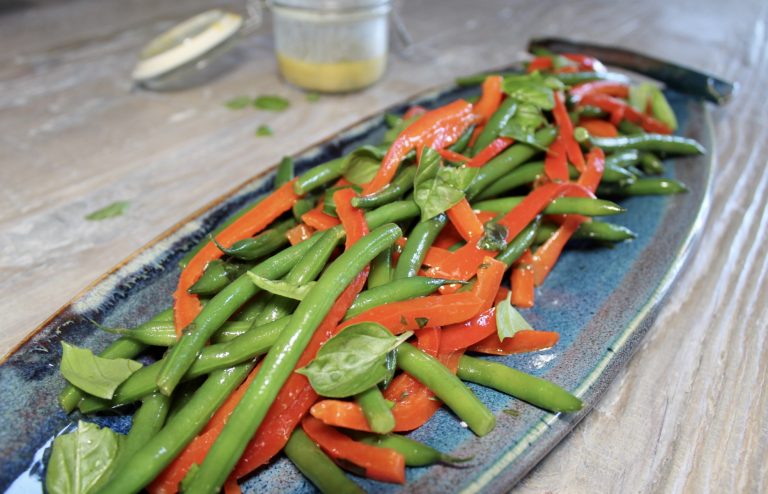 Toss well and refrigerate. This is best served cold so allow enough time for the beans and peppers to cool.
To serve, arrange on a platter and drizzle some extra dressing over top.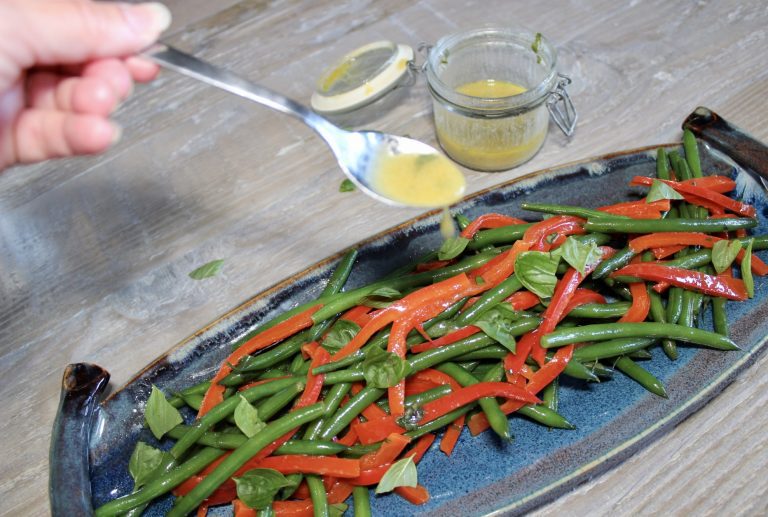 Add some fresh chopped or torn basil and freshly grated black pepper if desired.
Here's the recipe:
Green Bean and Red Pepper Salad
A colourful salad with fresh crisp beans and peppers with a zesty dressing and fresh basil
Ingredients
1

lb

tender thin green beans

fresh picked is best

2

sweet red peppers

¼

cup

extra virgin olive oil

3

Tbsp

red wine vinegar

2

tsp

Dijon mustard

2

cloves

garlic, finely minced

1

Tbsp

chopped fresh basil, plus more for garnish

or 1 tsp dried

½

tsp

sugar

½

tsp

salt

¼

tsp

fresh cracked black pepper
Instructions
Rinse and trim stems from beans. Discard any that aren't full length or are poor quality and save for another use.

Rinse and finely slice red peppers into thin strips similar in size to the beans.

Prepare dressing by combining all remaining ingredients. Shake well.

Bring a pot of salted water to a boil. Add beans and cook for 2 minutes. Add pepper, remove pot from heat and drain well after about 20-30 seconds. Rinse well with very cold water and drain well, shaking to ensure all water is removed.

Return beans and pepper to pot and pour most of the dressing over top. Toss well. Refrigerate until well chilled.

To serve, arrange on a platter and top with fresh chopped basil. Drizzle additional dressing over top if desired.
Print Recipe
more beatuful salads
Spicy Thai Grapefruit Salad with Shrimp