When I say "real" maple syrup, what I mean is someone tapped their trees and boiled the sap until it evaporated and became maple syrup. Once you've had the real deal, the grocery store stuff just isn't going to make the cut. So, the best way to enjoy this quality of maple syrup is to pour it over something that's really just a reason to sop it up. French Toast is that perfect vehicle.
Don't get me wrong. French Toast isn't something you want to give absolutely no thought to. For syrup this good you want to make sure your French Toast is worthy of Real Maple Syrup.
Jump to Recipe
Here's a few ways to do that.
Use French or Italian bread and slice it yourself into thick slices. It doesn't need to be fresh, day old is probably better anyway. But make sure it's white bread.
Use lots of butter in the pan and let it get a bit brown before you add the bread to help it get a nice golden colour and that nutty flavour.
Add a few drops of vanilla to the egg and milk mixture to help maximize the flavour.
Don't use too much milk, about 2-3 Tablespoons per 2 eggs is about right. 1/4 cup is too much. You need 1 large egg with a bit of milk for every 2 large slices of bread.
Mix the eggs, milk, vanilla and a pinch of salt in a pie plate. Use real vanilla if possible and large farm fresh eggs. It helps if the eggs are set out for a bit before mixing up, they break up better at room temperature.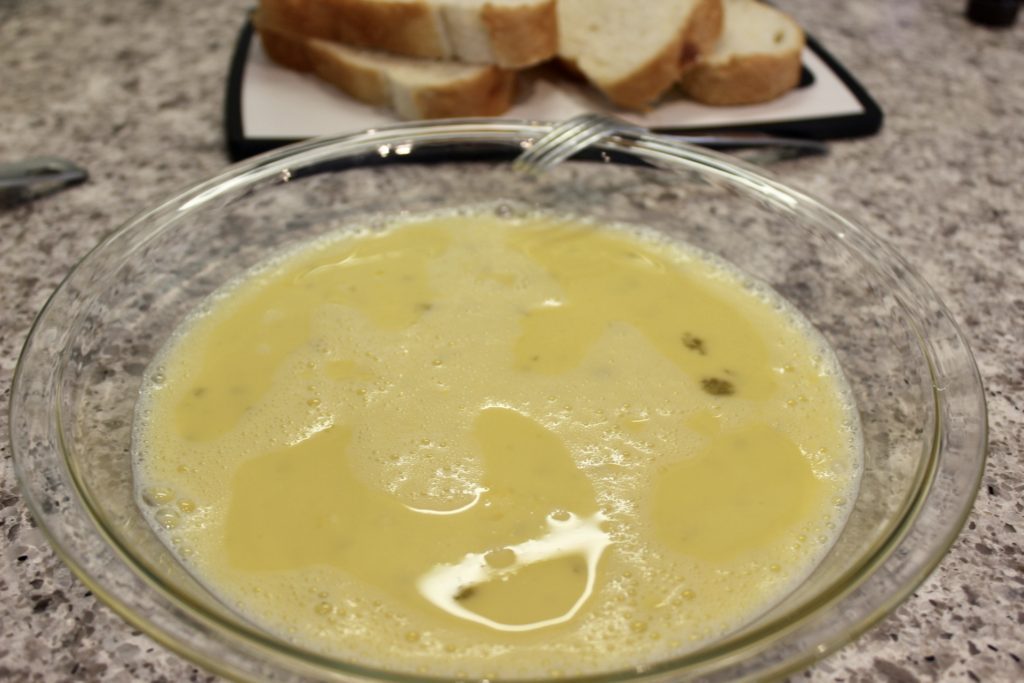 If you're making a large batch, warm the oven and place the cooked pieces on a warm plate while you make the rest.
Grill the French Toast at a fairly high heat, somewhere between medium and high.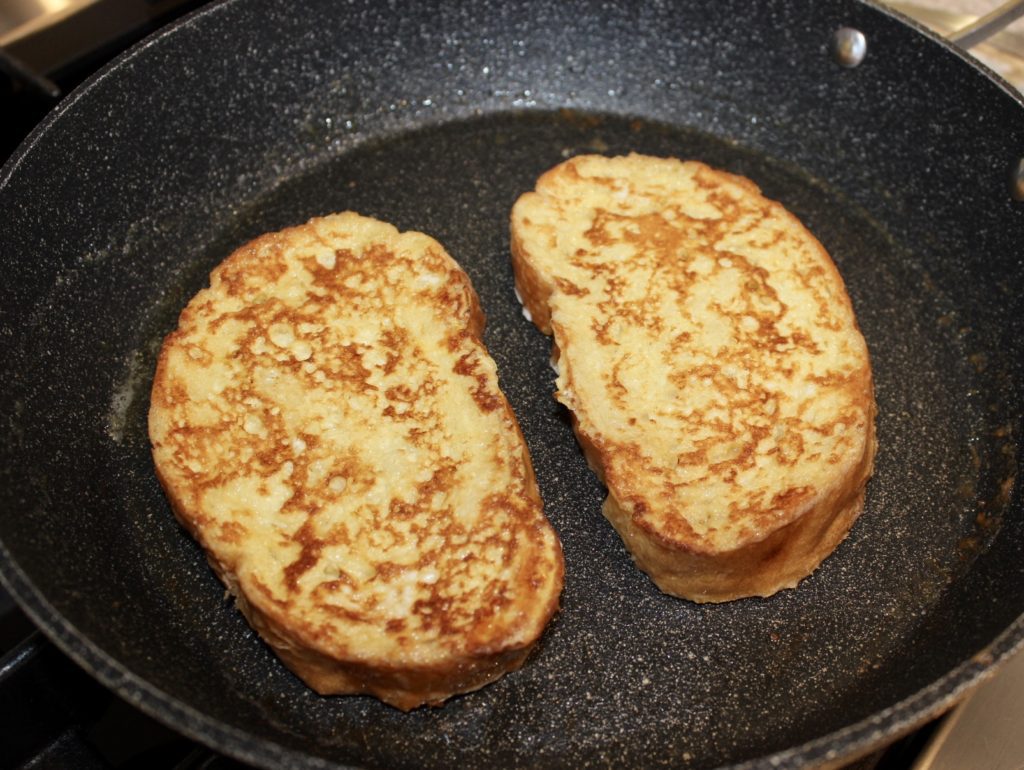 Don't add any cinnamon to the custard mixture, it will just compete with the maple flavour. Real maple syrup has various levels of maple flavour depending on the colour of the syrup which is usually related to the time of sap collection in the season. Typically, the later the season gets, the darker the syrup gets. And the flavour deepens too.
This syrup is marked as batch #3 so it's got a nice dark colour and excellent maple flavour.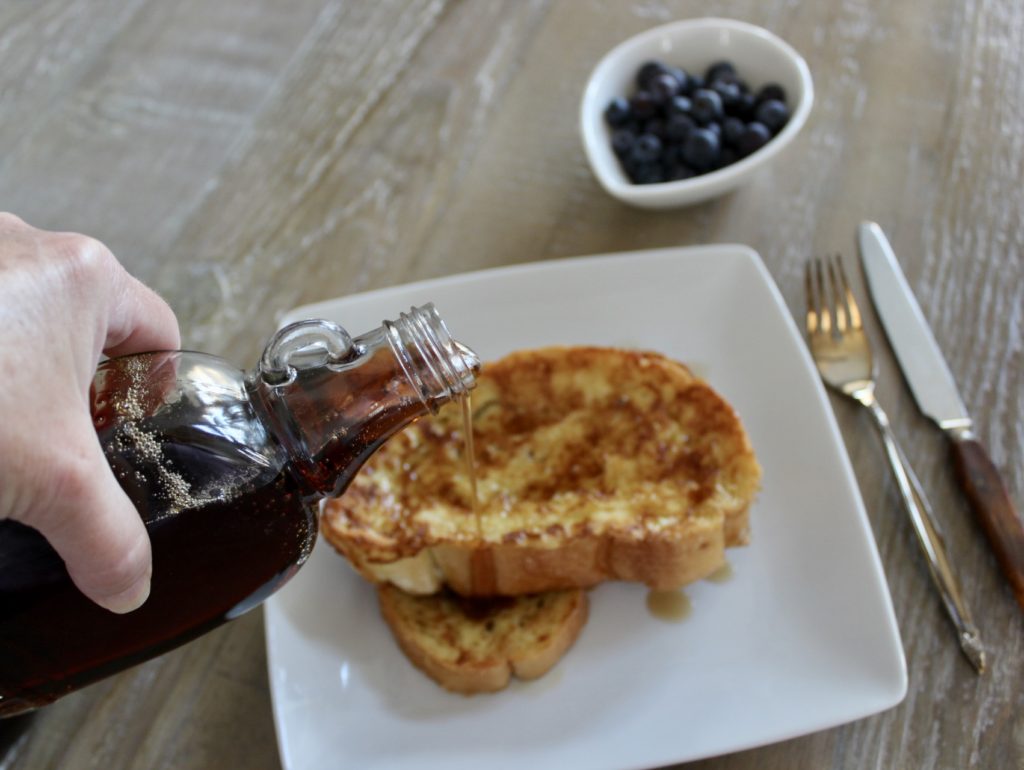 And you don't need any butter or powdered sugar on the French Toast, it's just for show anyway. Trust me, the Maple Syrup is sweet enough!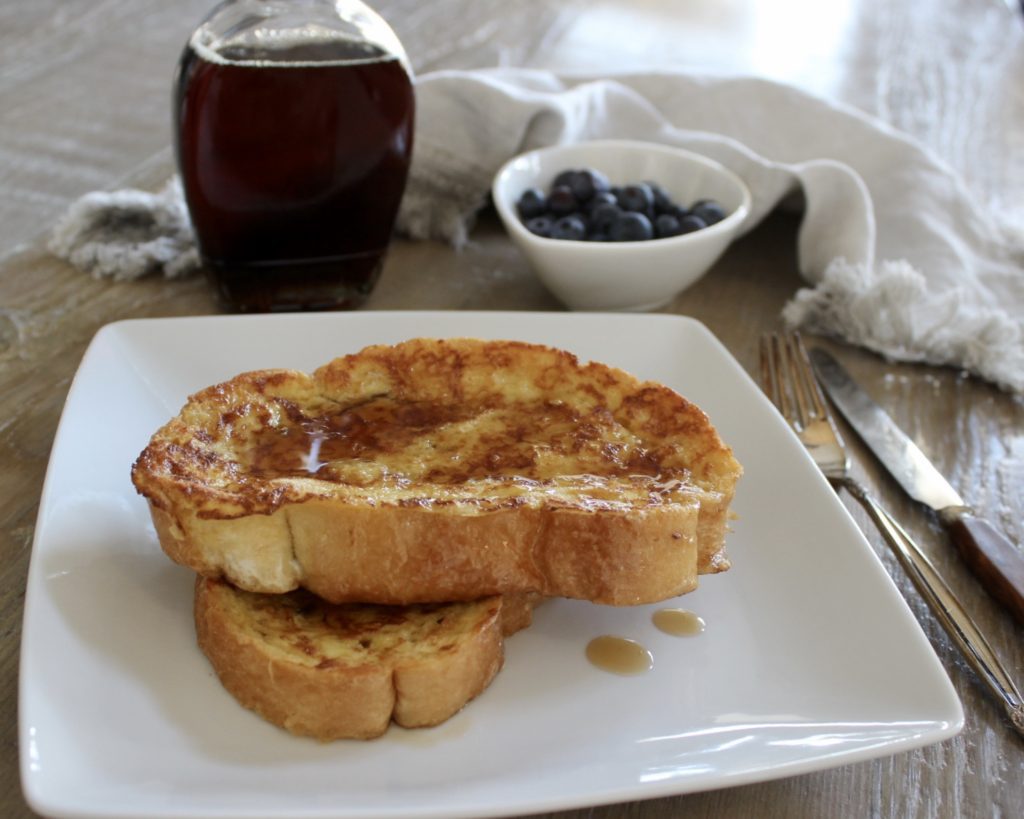 You could make this entirely with fresh local ingredients if you're lucky enough to have dairy and egg farmers close by as well as a good bakery.
My great grandparents had a sugar bush so we always had real maple syrup growing up. I guess you can say maple sap runs in our veins!
Feeling ambitious? Why not tap some trees and make your own Maple Syrup.
Here's the recipe:
French Toast with Real Maple Syrup
Ultimate French Toast made with thick slices of crusty bread topped with real Maple Syrup
Ingredients
4

large eggs

4-6

Tbsp

milk

2-3

drops

vanilla

use real if possible

pinch

salt

8

thick slices crusty bread

white French or Italian is best

2

Tbsp

butter, divided

Real Maple Syrup
Instructions
Whisk eggs, milk, vanilla and salt in a wide shallow pan such as a pie plate.

Heat skillet to medium-high and add 1 Tbsp butter. When butter is bubbling and starting to brown, press slices in egg mixture, flip and place in hot pan. Grill until golden, turn and grill other side.

Repeat batches, adding more butter as needed. Store cooked slices in a warm oven until all the toast is ready.

Serve warm, topped with real maple syrup.
Print Recipe
more ideas using real maple syrup
Spinach Salad with Maple Roasted Pecans and Maple Balsamic Vinaigrette