If  you've got some frustration to work out, pounding boneless pork loin chops into a nice thin cutlet is a good way to get rid of some stress. And the reward of a perfect Pork Schnitzel with a crispy crust and tender interior is worth making it yourself.
Schnitzel originated in Austria but is found in various forms all over the world with differing names and types of meat. Pork Schnitzel is surprisingly easy to make at home and is easy on the budget too. Boneless pork loin chops can be found in most grocery stores and are not too expensive.
Jump to Recipe
You start with a single pork loin chop that looks like this….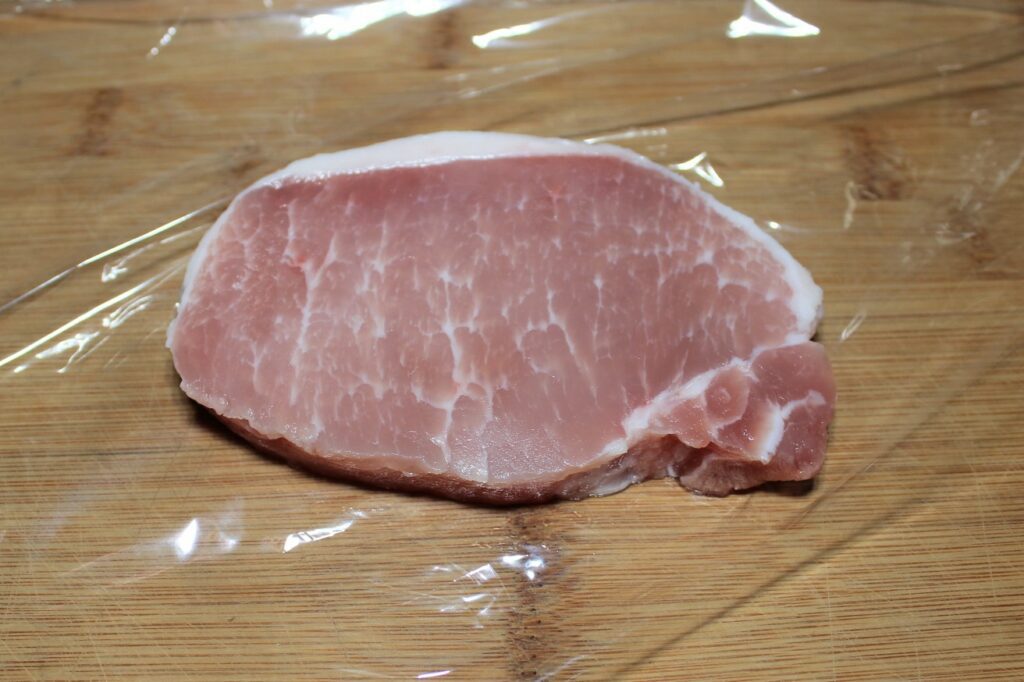 …and pound it to about 1/4 inch thickness. Or less.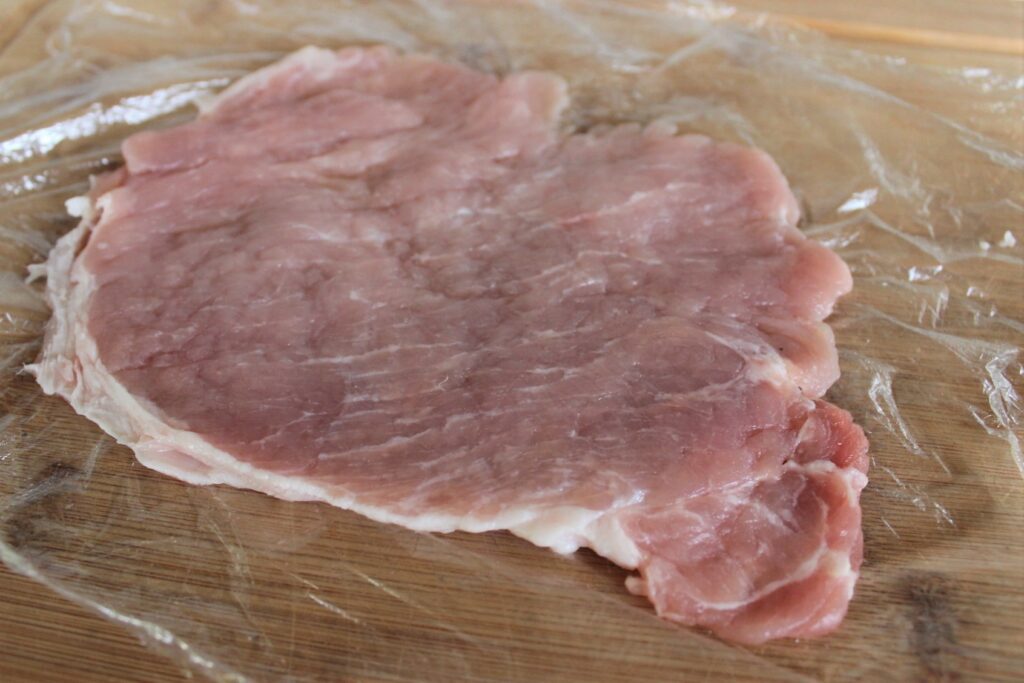 Lay each pork loin on a piece of plastic wrap and cover with a second piece of plastic. Using a meat tenderizer is best and pound gently. With the flat side. But if you don't have one you can improvise if you use your imagination. A rolling pin works well (hitting, not rolling) or you can try using a heavy frying pan and gently banging and pressing. Don't worry about the shape, just make sure you don't get carried away and make holes in the meat. You may need to trim some of the outer fat if it's hard and preventing you from getting the edges thin.
Lay the flattened pork loins on a plate and leave them uncovered in the fridge while you prepare the ingredients for dredging and frying. Leaving them uncovered ensures they stay dry, which helps get that extra crispy coating.
To coat the pork, you need 3 wide shallow dishes. One with flour seasoned with salt and pepper, one with eggs thinned with a bit of milk and one with seasoned bread crumbs. You can use regular bread crumbs too, just add a bit of salt and pepper and maybe some dried parsley flakes. Don't coat them until you're ready to cook. Dredge each piece in flour, shake off any excess, then egg, then breadcrumbs. Make sure both sides are coated well. You'll use less flour than you think but more breadcrumbs so have a bit extra just in case.
Arrange them on a baking sheet and don't overlap them.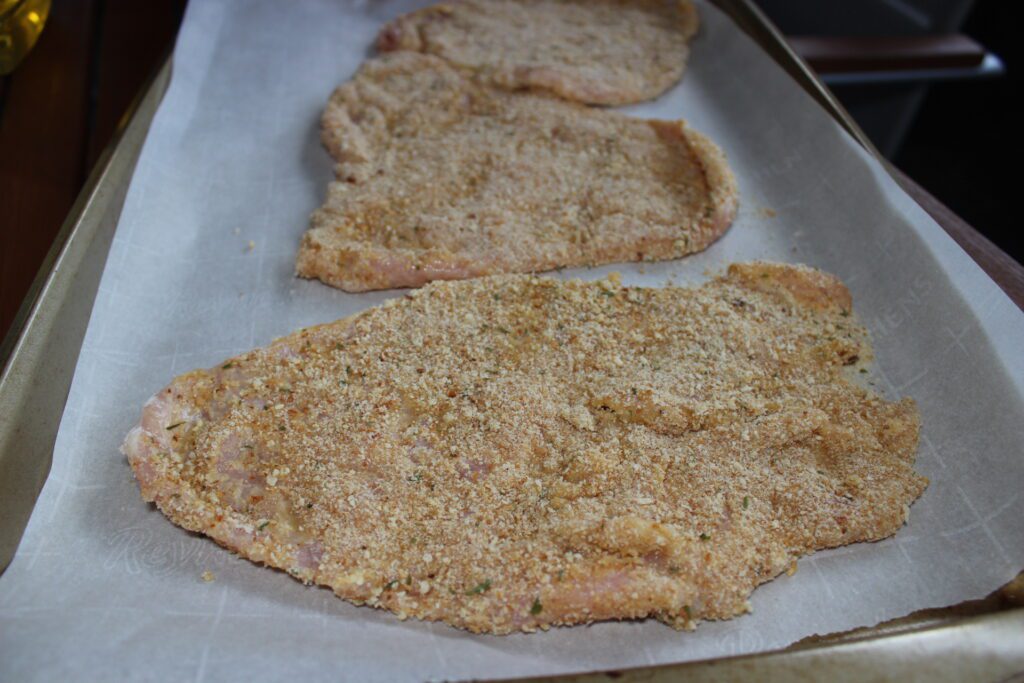 Pork Schnitzel needs to be cooked in a lot of oil to get that perfectly browned crispy coating. If your pan is too wide you'll waste a lot of oil so use the smallest frying pan or heavy pot that's wide enough to hold the biggest piece of schnitzel without having too much extra room. I like to add some butter to the oil to help with browning and flavour. The oil needs to be about 1/4 to 1/3 inch deep and heated to 350 or slightly higher. If you have a candy thermometer you'll be able to be very accurate. If not, you can cut off a tiny corner of meat when you think the oil is hot enough and it should really bubble up and brown quickly when you drop it in.
I highly HIGHLY recommend cooking these outside. Cooking in oil can be dangerous. I have a single electric burner that I set on a very stable surface and I love using the cast iron pan for these because it keeps the oil hot once heated. Just use enough oil that the cutlet is almost covered by oil. It should brown up in about a minute or so. Then flip it to cook the other side.
I've tried using less oil and just browning each side and finishing in the oven but it's not the same. You need to really fry it to get that crust.
What's the secret to crispy coated Pork Schnitzel?
The secret to ensuring your Pork Schnitzel coating stays crispy is to NOT lay them on paper towel after they're cooked. I mean it! Ignore everything you've read about this. What will happen is the heat caught between the paper and the meat will create steam and turn your nice crispy coating to a gooey mess. So when you remove the cooked schnitzel from the oil, give it a bit of a shake to ensure the oil has dripped off, then lay them on a rack. If you see a puddle of oil, you CAN dab it with paper towel but that's it.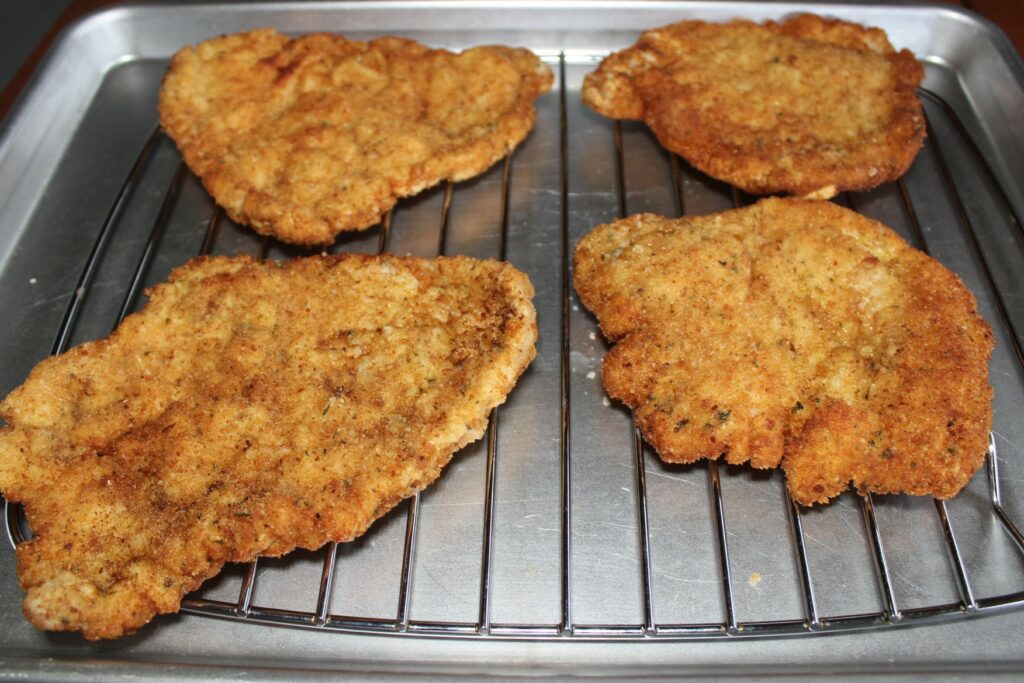 You don't want to mess with this perfection!
These cooked in about 1 minute per side. They may take a bit longer depending on the temperature of the oil. Remember that the oil will lose some heat every time you add a cutlet so wait a bit between each one or even better, check your oil temperature.
Serve these right away with some lemon slices and garnish with some fresh parsley if you like.
Pork Schnitzel is traditionally served with some type of a potato dish. I love sauerkraut with my schnitzel.
Look at that crispy coating!
Here's the recipe:
Pork Schnitzel
Boneless pork loin pounded thin with a crispy coating
Ingredients
4

boneless pork loin chops

trimmed of any extra fat

½

cup

flour

1

cup

seasoned bread crumbs

2

eggs

2

Tbsp

milk

salt and pepper

vegetable oil

about ¼ to ⅓ inch deep

1

Tbsp

butter

lemon slices for garnish

fresh chopped parsley
Instructions
Lay one pork loin between 2 sheets of plastic wrap and pound with the flat side of a meat tenderizer on a stable surface until meat is about ¼ inch thick or less. Repeat with remaining pork loins. Lay on a plate and refrigerate uncovered.

Lay out 3 wide shallow dishes and add flour to first dish. Season with salt and pepper and combine well.

Add eggs to second dish. Add milk and whisk well.

Pour breadcrumbs into third dish.

Heat oil in pan until 350 degrees. Add butter to oil. Ensure you are in a safe and stable area for cooking.

While oil is heating, coat each cutlet in flour on both sides, then egg, then breadcrumbs. Lay on a baking sheet without overlapping.

Gently add one cutlet to oil when heated to 350° and cook on each side until well browned. Remove from oil, shake gently, then lay on a rack to cool. Do not lay on paper towel.

Repeat with remaining cutlets.

Serve with lemon slices and fresh chopped parsley.
Print Recipe
what to serve with pork schnitzel