You can make a thick hearty soup without using thickeners like flour or cornstarch. Potatoes do the job easily. So it's actually gluten free. And adding cheese and sour cream not only adds to the thickness but also ramps up the deliciousness factor.
My friend Kerry asked me to post a recipe for Loaded Baked Potato Soup. My first thought was, I probably shouldn't make soup when I'm loaded. Bahahahaha. But seriously, what a great idea. All the delicious components of a loaded baked potato incorporated into a soup.
Jump to Recipe
Have you ever been served a baked potato in a restaurant and you get a distinct taste of dirt? Well I can assure you that Loaded Baked Potato Soup contains no dirt. None at all. That's because there's no potato skin in the soup. I know, there is some nutritional value lost by leaving it out but sometimes flavour has to win over nutrition.
The ideal potatoes for this soup are russets which are the best for baking. Because they're dryer and fluffier instead of sticky and starchy. You can bake them in advance or even pop them in the microwave while you're preparing the soup base.
The first step is to cut some bacon strips into small pieces and fry them until they're browned and crispy. I prefer to cook the bacon in a frying pan, then make the soup in a separate pot, just so the colour of the soup isn't affected by the brown bits left behind by the bacon. But if the queen isn't coming for dinner, go ahead and fry the bacon in the soup pot. Otherwise, save a tablespoon of bacon grease and use that to sauté your onion and celery, just to soften them and take off the sharp edge. You can use a shallot instead of onion which is slightly milder than a regular onion with a hint of garlic.
Reserve half of the bacon for garnishing the soup at the end and add the other half to the broth mixture.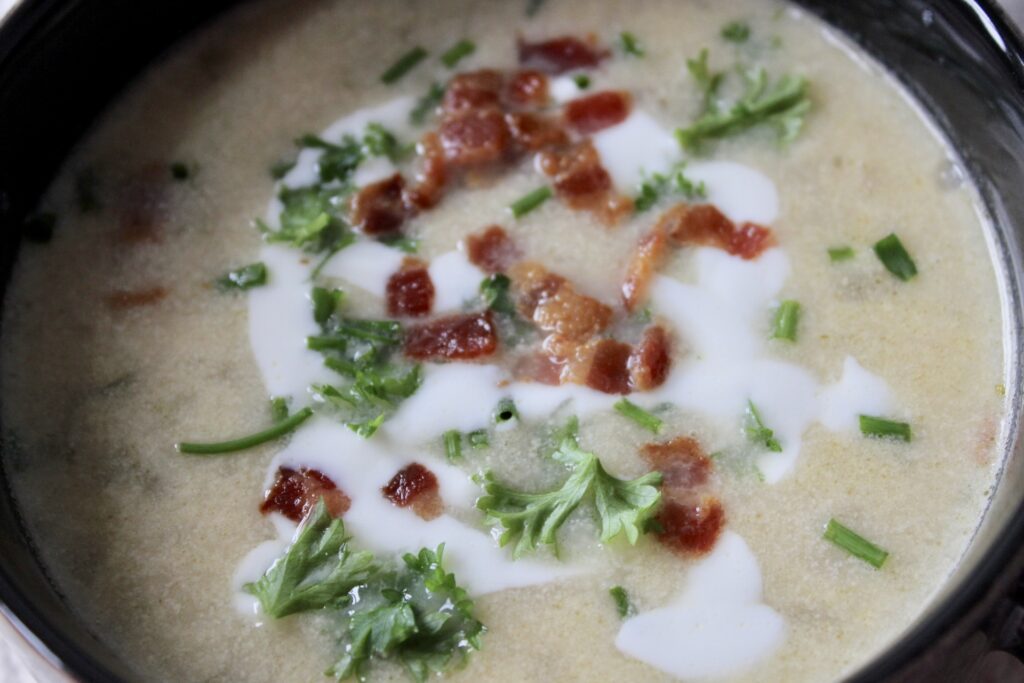 Add a carton of broth. For this Loaded Baked Potato Soup recipe, I'm using vegetable broth. Some broths do contain a tiny bit of gluten so make sure you check the label if you have a serious gluten issue. Vegetable broth actually contains some tomato so you may notice a hint of pinkish colour as it simmers. It also has a hint of sugar which is why I add some Worcestershire sauce to balance the sweetness and the pinkness. You'll need some salt too, the amount depending on the sodium level of your broth. Always taste as you go. Save the pepper for the end.
If you have a potato ricer you can easily press the peeled potatoes into the broth. Otherwise, just cut them in half and use a fork to fluff up the potatoes before adding them to the soup. This step is much easier when the potatoes are still warm. But not much easier when they're still hot. If you've ever wondered about the term hot potato, just pick one up in your bare hands and you'll see.
Let the soup simmer away for a bit after adding the potatoes. I like some puréed soups but this one is not. There will be tiny pieces of bacon, onion and celery. And the potatoes don't entirely dissolve. You can purée if you really want to or just press any larger pieces with the back of a spoon to smoosh them up. You'll notice the potatoes will settle to the bottom of the soup if it's left unattended but a quick stir will bring it back to the right texture.
Once the soup has simmered for a while and you've tasted and seasoned with salt, prepare the final ingredients and garnishes.
No loaded baked potato would be complete without bacon, sour cream, parsley, chives and cheese. All of the above are ingredients in Loaded Baked Potato Soup and on top as garnish. Stirring the chives and parsley into the soup right before serving ensures they stay nice and green.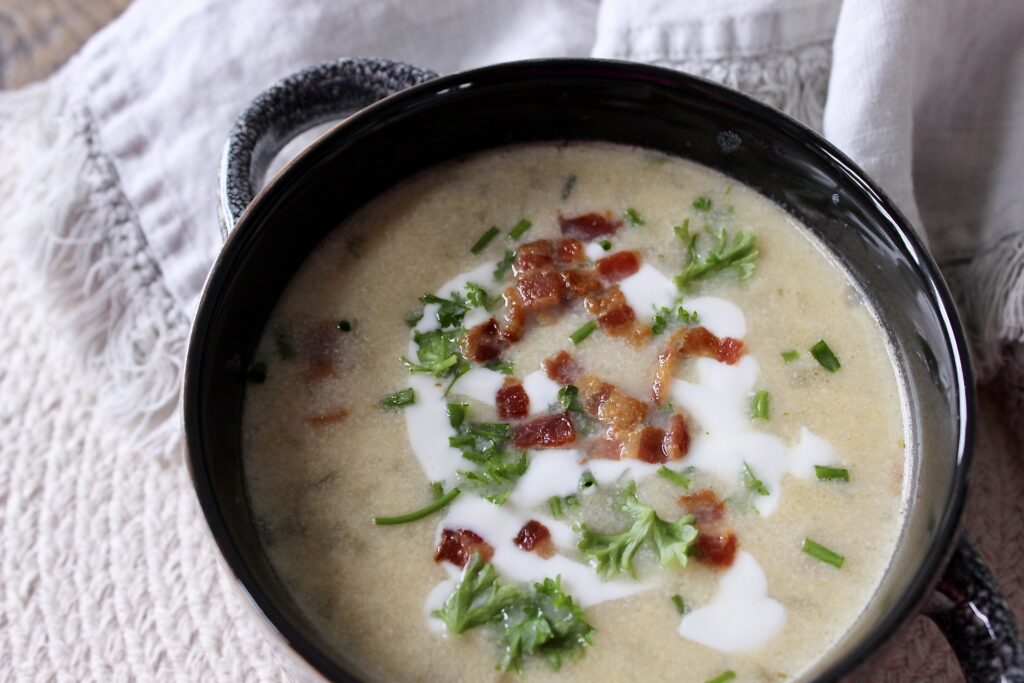 A good old sharp cheddar is recommended and if you use white cheddar you won't have to worry about the soup taking on an orangey colour. The sour cream adds a nice tang too. Just keep this in mind – adding dairy products to cream soups should be done at the end after all the simmering is complete. Just a gentle heat is enough, otherwise you may end up with curdled soup if it heats too much.
What causes curdling in cream soup?
The higher the fat content the less chance of curdling. So use full fat sour cream and at least 10% cream but even better, 18%. And adding the dairy products at the end and heating gently without boiling helps prevent curdling which is basically separation of fats from liquids. You can avoid this by artificially thickening the soup with flour or cornstarch but then you're adding an artificial element which was what I wanted to avoid in the first place. Loaded Baked Potato Soup is not super thick. Like wallpaper paste thick. So it's thick enough but still a soup.
In the extremely rare case where you don't eat all the soup as soon as it's made, it can be reheated carefully. If it does separate, don't worry. It's completely safe to eat.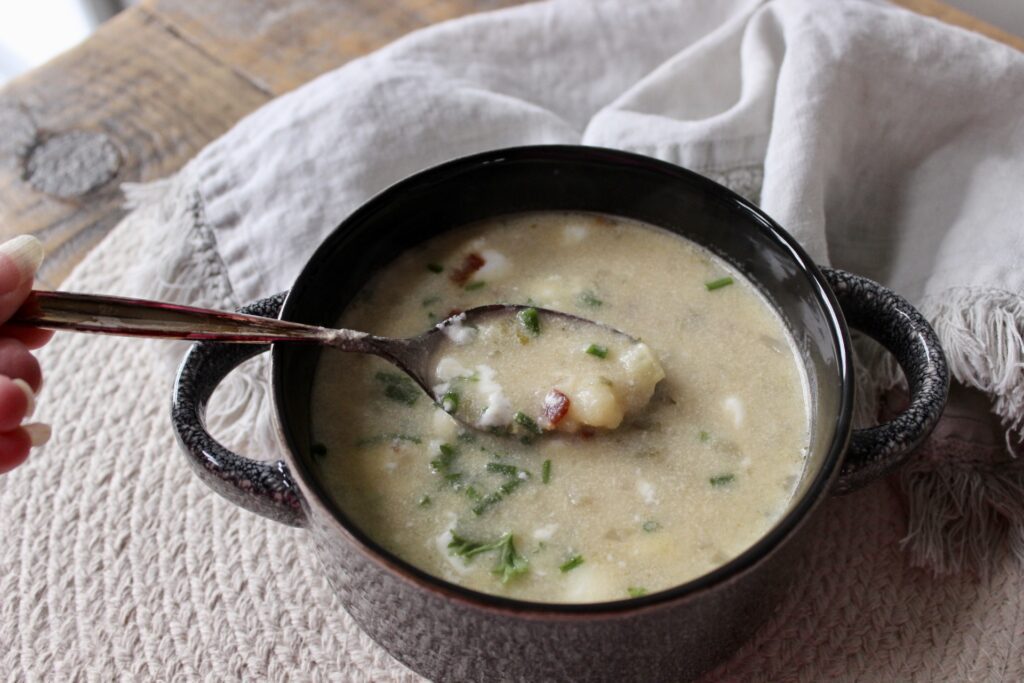 Thin the reserved sour cream with a bit of milk so you can drizzle it over top before serving. Otherwise it will sink to the bottom of the soup.
Here's the recipe:
Loaded Baked Potato Soup
A thick and rich potato soup with ingredients and garnishes found in loaded baked potatoes
Ingredients
3

large russet potatoes

4

strips

bacon

1

large shallot

or half onion

1

stalk

celery

1

900 ml

carton vegetable broth

or about 3½ cups

1

tsp

Worcestershire sauce

½

cup

heavy cream

10-18% fat

¾

cup

full fat sour cream, divided

save ¼ cup for garnish, mix with a bit of milk to thin if desired

1

Tbsp

milk

to thin sour cream

1¼

cups

shredded sharp white cheddar cheese, divided

save ¼ cup for garnish

¼

cup

chopped fresh parsley, divided

save half for garnish

1

Tbsp

diced chives, divided

save half for garnish

1

tsp

salt

fresh cracked black pepper
Instructions
Pre bake or microwave potatoes until very soft.

Cut bacon into thin strips. Fry in small skillet until browned and crispy. Reserve 1 Tbsp bacon fat, remove bacon to paper towel lined plate.

Finely dice shallot or onion. Chop celery into small pieces. Sauté in bacon fat in soup pot until softened.

Add full carton of vegetable broth. Bring to a simmer and add HALF of the cooked bacon and 1 tsp Worcestershire sauce.

Cut potatoes in half and fluff with a fork. Scrape potato into soup, being careful not to add any skin. Simmer for about 15 minutes, stirring occasionally and breaking any larger potato chunks with the back of a spoon. Taste and season with salt.

Turn heat down to low and stir 1 cup of the shredded cheddar cheese into the soup, reserving ¼ cup for garnish. Add cream and ½ cup sour cream, reserving ¼ cup sour cream for garnish. Stir a bit of milk into reserved sour cream to thin so it can be drizzled on top of the soup. Remove soup from heat as soon as dairy ingredients are melted and mixed into soup.

Chop parsley and chives. Stir half into the soup right before serving.

Ladle into bowls and drizzle thinned sour cream over top. Garnish with crispy bacon bits, shredded cheese, parsley and chives. Add fresh cracked black pepper if desired.
Print Recipe
More cold weather soups to try
Curried Squash Soup with Crispy Sage