If you're looking for an easy recipe that doesn't include a long list of ingredients but is packed with flavour, you'll love this one. Who doesn't love a dish with chicken in a sauce served over some kind of noodles? Chicken Paprikash is a popular Hungarian recipe that is flavoured with…you guessed it…paprika. And lots of it!
I actually tasted this for the first time in a grocery store in Florida. A nice lady was serving samples along with the recipe, compliments of Publix Markets. I wasn't sure if it was because I was starving or what but it was delicious. I wasn't even sure how to pronounce the name. PAP- ree-kash? Pa-PREEK-ash? I had some fun listening to audio versions of the correct pronunciation. It seems there are a lot of different opinions but I think, maybe the correct pronunciation is more like POP-re-kosh. But I could be wrong.
Jump to Recipe
When I made Chicken Paprikash the first time it wasn't exactly as I remembered. I had taken the recipe home to Canada and didn't get around to making it for a few weeks. Then it occurred to me she had mentioned she'd used hot Hungarian paprika for an extra spicy kick. So batch number 2 was much better with some extra heat. Make sure your paprika isn't too old, many spices lose their flavour as they age. Since it's the star of the show you want to use the best quality paprika.
Of course you can make this without any heat at all, the regular paprika will only add flavour and colour, no heat. I would recommend, though, that you still use a pasta sauce with a bit of spice just so it has a tiny bit of heat. A friend of mine wondered about using smoked paprika. We agreed that SOME might be OK but 3 tablespoons might be a little too much. But no matter what type of paprika you use, you'll get this incredible colour.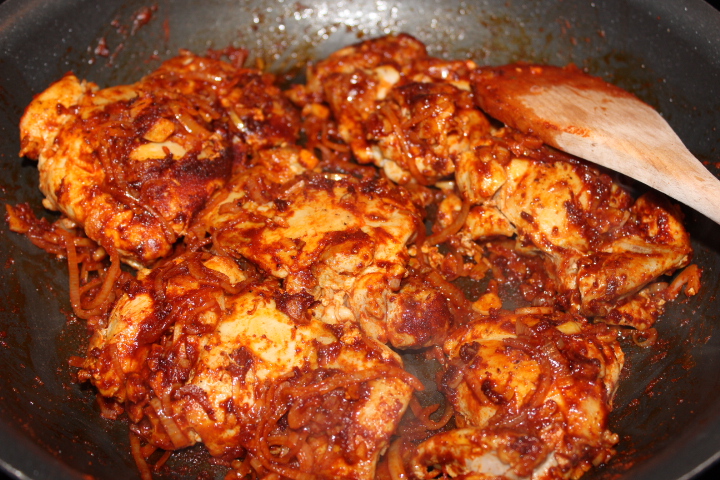 The chicken pieces are cooked whole, then shredded in the sauce before serving. Not into tiny pieces, just torn slightly. You could chop up the pieces before cooking if you wanted, I'm sure the flavour would not change. The recipe calls for chicken thighs which are my favourite part of a chicken. Breast meat would be fine though because of all that delicious sauce. No worries about dry meat.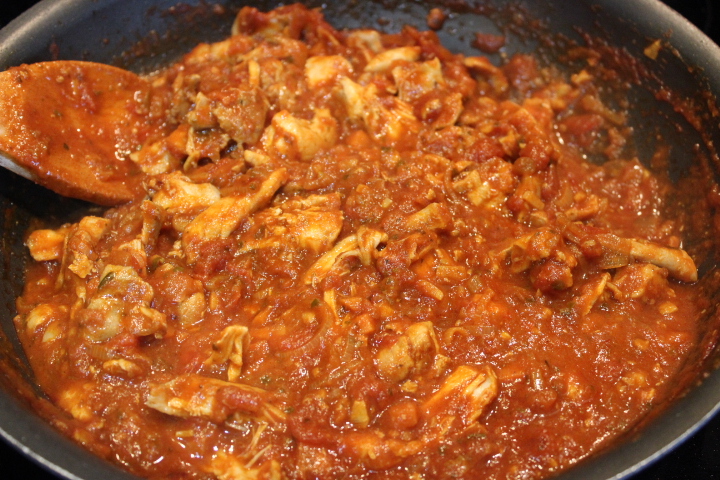 Just before serving, stir in some yogurt and save some for garnish. For best results use room temperature yogurt to help prevent curdling when added to the hot sauce.
I checked some other recipes for Chicken Paprikash and most use sour cream and tomatoes instead of marinara sauce and yogurt. Some include peppers and some don't. Some use whole pieces of chicken. Most have onions instead of shallots. It really doesn't matter. The common denominator though for all the recipes is buttered egg noodles. This recipe is the version provided by Publix.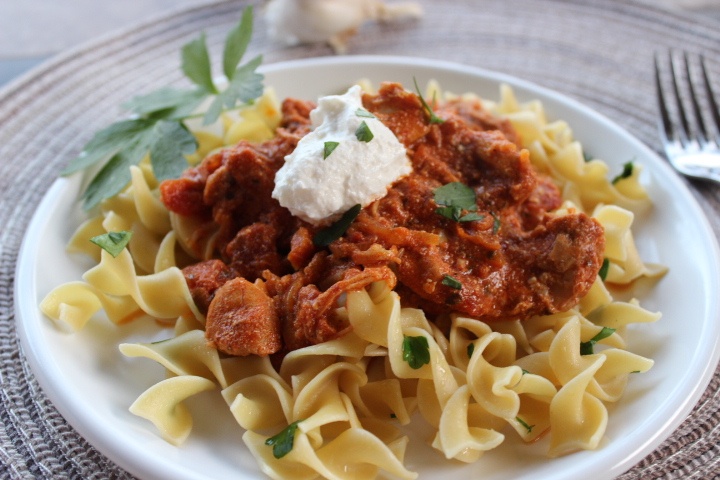 Here's the recipe:
Chicken Paprikash over Noodles
Hungarian recipe with chicken in tomato sauce with paprika served over buttered egg noodles
Ingredients
12

oz

package egg noodles

2

lb

boneless skinless chicken thighs

about 6

1

cup

sliced shallots

or onion

6

cloves

garlic

1

bunch fresh parsley

1½

tsp

salt

1

tsp

pepper

divided

1

Tbsp

olive oil

3

Tbsp

paprika

hot or mild or a combination

2

cups

spicy pasta sauce

3

Tbsp

red wine vinegar

2

Tbsp

unsalted butter

1

cup

plain whole milk yogurt

divided
Instructions
Slice shallots, chop garlic. Chop parsley, about 1 cup. Remove yogurt from fridge.

Preheat large saute pan on medium-high for 2-3 minutes.

Pour oil in heated pan. Season chicken with 1 tsp salt and ½ tsp pepper. Cook chicken for 3-4 minutes on each side until browned. Add shallots, garlic and paprika. Cook 2-3 minutes until fragrant.

Add pasta sauce and vinegar. Reduce heat to low, cover and simmer for 15-18 minutes until chicken is 185° and shreddable.

Meanwhile, bring large pot of water to boil. Cook noodles according to package directions. Drain well. Add butter, ¾ cup chopped parsley and remaining ½ tsp of salt and pepper. Stir to coat.

Remove chicken from heat and lightly shred pieces using fork and knife or 2 forks. Stir in ½ cup room temperature yogurt.

Divide noodles evenly among plates and top with chicken mixture. Add remaining yogurt and more parsley to garnish.
Print Recipe
If you've tried this recipe, consider leaving a comment or a rating. Or, you can share the post by clicking on the icons below.
more saucy chicken recipes